elink.io is the fastest way to create an html newsletter for any 3rd party service like Gmail, Mailchimp, Aweber etc. Whether you are planning to create an html newsletter to provide weekly updates to clients, or building brand awareness for potential customers, elink.io does it all!
You can make quick and simple curated html newsletters right from your browser.
In less than 10 minutes, you can produce email newsletters featuring newsworthy articles, the "best of the web" for the week, reviews of the coolest products, research and much more.
Follow these 5 Steps to Create an HTML Newsletter in Minutes
Step 1: Create a New Post
You can either start building youe elink from scratch or choose from a variety of awesome pre-made templates. Don't worry, you can change the layout of your elink at a later stage too by choosing between 17 responsive email newsletter templates that are all unique and visually appealing.
STEP 2: Add Web Links (Paste any web URL)
By just copying and pasting the URL of a web page into an elink.io, the platform automatically displays an image, title, and description that you can edit.
Easily add articles, videos, images and even online documents. To mix things up, you'll probably want to add a variety of different media sources to each curated newsletter – such as a YouTube video, a blog post, and an Instagram photo. All of your new links will be automatically added to your template.
The outcome will create web content that is fully responsive across any digital device like mobile, tablets, laptops, etc. It looks great, no matter where it is being viewed.
STEP 3: Add a Header
Elink helps you edit and make changes to the title. Create anything catchy for your audience. The optimal title for an email newsletter is less than ten words, so just go with something short and sweet to ensure the highest possible open rates. Something like "Top tech trends of the month" would work just fine.
If you're sending out a brief product marketing newsletter featuring reviews of new consumer tech gadgets from tech bloggers, you can also add brief introductory text (e.g. "Check out all the new products available from Apple this season!").
If you're only using company media assets, this might not be necessary. For example, you could simply send out an email celebrating a recent event with a brief title like "Highlights from our latest industry event in San Francisco" and include YouTube links to videos from the event.
STEP 4: Add Your Branding
Add your brand logo or personal profile, so everyone knows it's coming from you. Quickly add links to your website and social media accounts so that your audience can connect with you on various other platforms.
STEP 5: Choose an email method and hit send (That's it..!)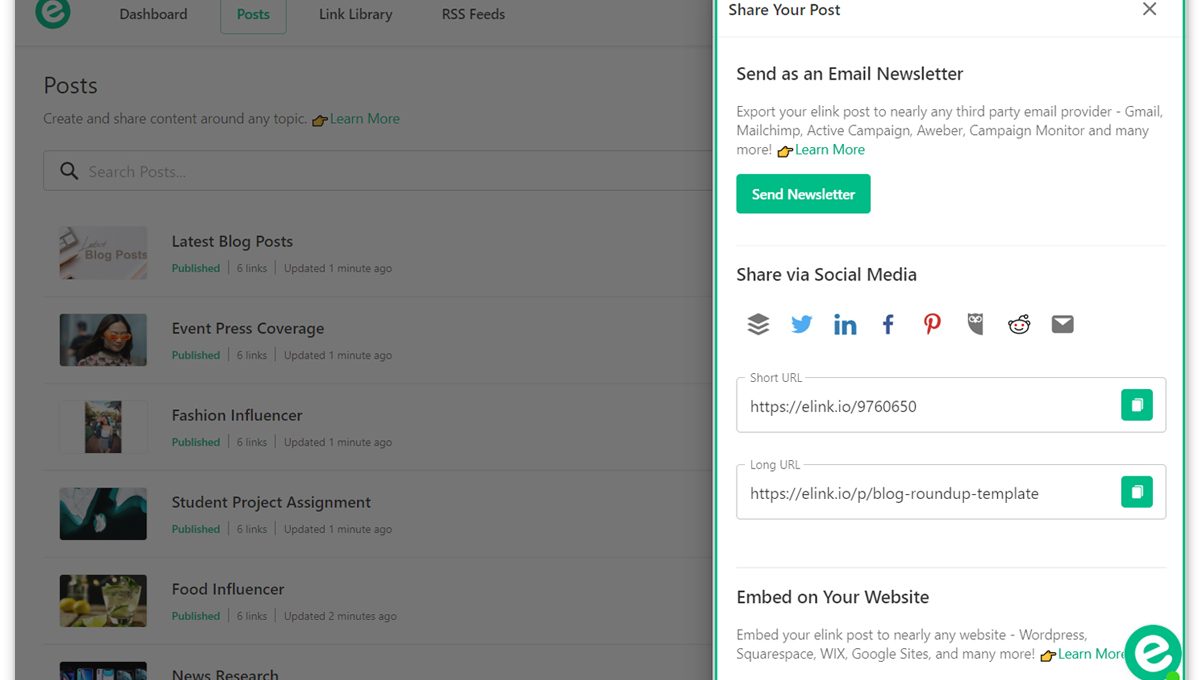 When using elink, you have three email newsletter options – either export it to Gmail, MailChimp or copy the HTML code to any third party email system like Campaign Monitor, Aweber, Active Campaign, etc. Once you've decided where you want to export it, you'll see an email draft populate within Gmail, MailChimp or your 3rd party email provider.
If you are a first time user, it might seem like magic to you! You don't have to go through the long, laborious process coding HTML for each email newsletter. Nor do you have to worry about adjusting your layout and fiddle with formatting.
After creating your newsletter in minutes, all that remains is to choose your audience and hit "send"!
Also Read : Email Marketing Tips That Actually Work
Watch Video | How To Create MailChimp Newsletters in Minutes
Watch Video | How To Create Gmail Newsletters in Minutes
PRO TIP: The best part is you can go back to edit the newsletter anytime, just in case you decide to update or include additional content.
The PRO plan for email newsletters is only $15/month. Create a compelling email newsletter in minutes and see a real boost to your email marketing campaigns, while saving a tremendous amount of time and money!
We would love to hear what you think about elink.io!