Looking for some great blogging tools? You have come to the right place!
Being a blogger, the most important part of your day-to-day life are your writing tools. The software you use for writing can make the process of blogging a lot easier or unnecessarily complicated, depending upon your choice of tools.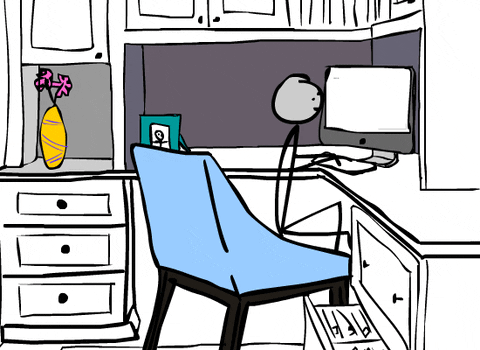 As content writers ourselves, we know that blogging doesn't simply require a tool to write your thoughts on, but something which documents and stores all our ideas, keep us on the grind without distractions and help us improve our writing and make it search engine friendly.
There isn't a single tool that does all of that effectively, but a combination of a two or three good blogging tools can get the job done. Here are some of the best blogging tools out there:
Read more: Power Words To Make You Stand Out From Competition
Blogging Tools to help you write better content:
Guess what's the second favourite activity of us bloggers apart from writing? Reading other people's blog posts! If you are one of the people who read a lot of blogs to get creative ideas or to just see what kind of content your audience likes to read in your type of niche, elink is a great tool for you.
Dubbed by some users as a professional Pinterest, elink allows anyone to bookmark links and read it later or share it with friends or colleagues as an email newsletter, website embed, or as social media posts! elink allows you to easily stay informed by retrieving the latest content from the sites you are interested in. Simply grab the RSS feeds from the sites you love and elink will display them for you to read articles and share bundled web links around any topic. You can also filter and search articles based on keywords and sources to easily discover & curate content.
Bit is a new age editor and collaboration tool for bloggers to get work done more efficiently. If you are looking for a new, advanced yet simple editor, look no further!
The core value proposition of Bit's editor is the ability to work collaboratively with your blogger friends or editors on writing projects while easily adding live digital content like YouTube videos, social media posts and much more. Bloggers can simultaneously collaborate on a blog in real-time and get stuff done quickly. If you are working on a solo project and need suggestions and feedback from fellow writers or friends, you can invite them to the doc.
Bit's smart, minimal editor is perfect for distraction-free writing. From writing project proposals to case studies, you can do all on bit. No more word-styled ribbon with confusing and distracting tabs and buttons. Bit enables writers to use markdown to write quickly. Markdown gets rid of all the distractions of a formatting toolbar and mouse clicks by helping you focus on your writing without lifting your fingers off of the keyboard.

Read more: The Most Common Mistakes When You Start Blogging and How to Avoid Them
If you are one of those people who speak faster than they write or are just tired from typing all those long blog posts and want the machine to do their work for you, you can try out Dragon's Speech Recognition software. From making status updates and searching the web to creating reports and spreadsheets, Dragon speech recognition software lets you do it all—faster and more efficiently—whether you're a blogger, a professional, or an enterprise user.
Just speak as you normally would and Dragon is pretty extraordinary to recognize each word or even learn new ones from you. It claims to be 3x faster than typing and it's 99% accurate!
A writing tool used by novelists, screenwriters, non-fiction writers, students, academics, lawyers, journalists, translators and more, Scrivener is tailor-made for long writing projects. Users can quickly jump right in the editor and start off writing or can build a story outline, write down characters, and build your manuscript organically. You can break your text into manageable sections of any size and leave Scrivener to stitch them together.
If you are a novice writer, Scrivener can feel a bit daunting with all its bells and whistles. However, it's an extremely powerful writing tool once you get the hang of it.
Being a blogger, you know the importance of writing an effective headline. Headlines are your content's first introduction to the world and are often the primary reason why people decide to consume your content, making them an integral part of the writing experience. The tool analyzes the overall structure, grammar, length, keyword density and readability of your headline, and even provides Google search and email subject line previews.
Coschedule claims to be the "#1 Headline Analyzer" on the internet. Coschedule lets you write headlines that drive more revenue, shares, click through rates and search results. You can use Coschedule Headline Analyzer for writing headlines for your blog posts, email subject lines or social media messages.
Paragraphs is a Mac only app for bloggers. If you are not big on toolbars and countless features and just want to focus on your writing, and have a Mac, Paragraphs might be the ideal writing tool for you. Paragraphs is built for one thing and one thing only: writing. It gives you everything you need to create brilliant prose and does away with the rest. All you are presented with is a blank canvas to jot down your thoughts, removing messy buttons and ribbon toolbars of traditional word processors.
Paragraphs app also have multiple layout and font styles that look great by default. There's also Dark Mode, for a comfortable writing experience at night. If you are looking for a minimalistic writing experience, do give it a try!
No list of writing tools is incomplete without mentioning one of our favorite writing tools, Grammarly! Grammarly is a writing enhancement tool that goes way beyond your basic spell checkers and proofreaders. Grammarly includes a spell checker, a punctuation checker, a grammar checker, a plagiarism checker, and a vocabulary enhancement tool. Grammarly scans your text for more than 250 types of grammar mistakes in six distinct writing genres.
Grammarly also provides detailed explanations for all your errors and weekly progress reports. Even though it's free to use, Grammarly takes its paid version a step further, providing word recommendations and checks sentence structure and voice. It's available as a browser extension, a Microsoft Office add-in, a desktop app, and a website.
A big part of blogging is deciding which topics to write about. You need to be well-versed with your niche and know what your target audience is interested in reading. Google keyword planner is a great tool for deciding which topics to write on for your blog/website, thus helping you refine your content marketing strategy.
Integrated within Google Adwords Platform, Google keyword planner lets users add one or more keywords, choose the country and the language, and see approximately how many times that keyword is searched. The tool also helps to find more relevant and related Keywords for your niche, helping you map out the content strategy for your blog.
ilys think that we are our biggest critic while attempting to write and this nagging self-critic often takes out the joy in writing. This might result in a writer's block and you end up taking way more time than expected to complete a given project. ilys wants to solve this problem by entering your desired word count and start typing. Once you start, you can't go back, delete or edit anything until you have completed your word count goal. When you have reached your goal, only then can you edit your text in every way you want.
ilys allows tracks your progress over time and help you see where you're rocking and when you've dipped in your output. It's a great writing tool for bloggers if you want to get more consistent in churning out great content for your blog or business.
Hers's an infographic for your reference. You can save this for the future.
Final Words
Having the right writing apps is essential for bloggers. Not only these tools provide you with a place to write and store all your ideas and content, but also help you provide content ideas, strategies, optimize content, and improve your writing for the better. If you have a tool suggestion for us, make sure to tweet us @bit_docs and let us know!
Further reads : 
Don't want to forget this information?
elink it for future reference!