The internet is filled with great content such as awesome how to videos, documentaries, interesting articles, funny twitter thread, or an immensely knowledgeable Wikipedia entry.
Every day we find tons of interesting content, waiting to be consumed and enjoy. But guess what? We all have a life outside browsing the internet!
It happens to all of us- you are busy doing your work when suddenly your friend sends you this funny Buzzfeed article! Or you get distracted by the newest edition of your favourite newsletter. But at the moment you have pressing tasks that need to be done before you can sit down and read it. What can you do?
You can either open that piece of content and let it sit in your browser tabs and before you know it, you have tens of tabs cramped up.
Or, you can put that stuff in your browser's bookmark site which is already filled to the brim with your other bookmarks. There's a better option, use an online bookmarking tool.
Bookmarking tools have really come up a long way. The ability to save content for later, categorize content and add tags, and have a nice and fluid content consumption experience are some of the many advantages of online bookmarking tools.
If you are a blogger, journalist, or simply someone who likes to read a lot online, we have tried and tested 10 awesome online bookmarking tools for you to manage your bookmarks in one place. So without further ado, let's dive in…
elink.io is a nifty app that is action packed with features to the brim! elink makes it easy for you to save content from around the web. You can save article links, videos, cloud files, social media posts and much more!
You have the option of saving content to your searchable link library or add it directly to content collections you want to share with your world. elink also has a robust RSS Feed Reader which allows you to add RSS feeds and then read them without any obtrusive ads or other distractions.
To make the bookmarking process a breeze, it also offers a bookmarks extension for chrome. Just click on it or right-click anywhere on any page to save the content directly to your elink dashboard. When you save a bookmark or a link you can select an image, capture a screenshot or upload your own image.
You can edit the title and description to add your own voice or notes and even bundle links together and share your link collection with others as a newsletter or embed the collection on your blog/website!
Check out elink's bookmark extension's tutorial video to get an idea of the dynamic functions of elink's chrome extension.

Price: The extension is FREE of cost!
The app which was literally used to be called "Read It Later", Pocket is one of the best bookmarking apps out there. Been called as the save button for the web by many, help you save articles, videos, or nearly any other web content in Pocket that you want to read, watch, or share at a later time.
Its chrome extension makes it easy for people to click add web content to their Pocket dashboard as they browse the web. No need to copy and paste the URL to your Pocket account! Say goodbye to boring old bookmarks and emailing interesting links to yourself!
It doubles as a discovery platform where users can browse through interesting new content that others are reading or "pocketing". Pocket has apps and a responsive website that is accessible from every device. You can also view content offline on the go!
Price: Free; Monthly Subscription($4.99/month) Annual Subscription($44.99/year)
Another famous read-it-later app, Instapaper is similar to Pocket. With Instapaper, you can instantly save all of the interesting articles, videos, cooking recipes, song lyrics, etc you come across while browsing.
With one click, Instapaper lets you save, read, and manage the things you find on the Internet. Just install the Instapaper browser extension and you are good to go! You can then read or view your saved stuff on any device of your choice, be it your iPhone, iPad, Android, or Amazon Kindle!
Price: Free; $30/ year for advanced features like full-text search, no ads, and text-to-speech.
If you love using the note-taking app Evernote, you'll be delighted to know that it also offers bookmarking facilities! With Evernote's web clipper, whenever you find useful information online, you can clip it to Evernote. Save whole pages or just the parts you want to remember, without the clutter of ads and headlines.
You can even take a screenshot of a page, then add text, call outs, or annotations to highlight important information so you never forget why you saved it. Users can also add tags and remarks, edit titles, and save content to any notebook you choose so it's easy to find it again later.
Price: Free; $3.99 for the Premium version
If you loved reading magazines in the pre-internet days, you'd appreciate Flipboard, an app that wants to be your own personalized magazine! Flipboard allows you to collects quality content you like and then presents it in a magazine format so that it is organized and looks visually appealing.
Just choose your preferences and your feed will be curated with articles and recommended stories. You can also follow others who share similar interests.
To make the process of storing content easily, Flipboard offers "The Flip.it button", a web bookmarklet that allows you to directly bookmark articles, videos, etc directly to your Flipboard magazine.
Price: Free for everyone to use!
Read more: Collaborative Bookmarking Tools to Manage Your Bookmarks
If you are a blogger or do a ton of research, Diigo can be the tool you never knew you wanted. Diigo allows you to save not only the whole article but also a highlighted section from it as well. You can then add your own annotations to it and save it to your Diigo library for later reference.
You can also tag your collected web pages with relevant terms for easy future retrieval. With Diigo Groups, users can share their research with colleagues, classmates, and friends through their collaborative platform for knowledge sharing.
With over 9 million users, Diigo is a great bookmarking site for carrying out and sharing research.
Price: Free for everyone but they also provide Standard Plan ($40/year) Professional plan($59/year) Business plan ($10/month per user)
Historious saves you time by helping you find webpages you saw before. Users can bookmark sites with a single click, then find them again by searching for any word in the content of the page; Easy as you like!
Historious always keeps a cached version of the page you bookmarked to make it easy for you to remember. You can also share your bookmarked content with your friends and peers as historious creates a personalized search engine containing the sites you specify. Just give your friends the address and they can search your items!
Price: Free Trial, Monthly Subscription ($3.49/month) Annual Subscription ($29.95/year)
Another bookmark manager, Raindrop.io wants to be your one-stop-shop for all your saved media. Raindrop.io allows users to save anything from around the web be it articles, photos, videos, presentation, web site screenshot and more.
Once bookmarked, you can then organize your content using auto-suggested tags and keep content in nested folders for detailed categorization. You can then use Raindrop's guided search to quickly find any piece of content.
Raindrop bookmarking tool also allows you to share your bookmark collections with your friends and peers in private as well as public workspaces. The browser extension makes it easy to bookmark content and it to your Raindrop dashboard quickly.
Price: Free, premium version comes at $2.99/month ($27.99/year).
Last bookmarking tool on our list is for the developer community. Larder is an online bookmarking manager for curating lists of libraries, tools, and reference material for developers. Developers can star a GitHub repository, and Larder will automatically add it to your bookmark list.
Users can also connect Stack Overflow to sync their favourite questions, automatically adding related tags. Larder also provides extra context from synced metadata about question score and number of answers.
You can organize your bookmarks with tags and multiple levels of folders and search by tags, title, URL, description, or any combination of each. If you are a developer, Larder is a must have bookmarking tool!
Price: $24/year for subscription!
Here's an awesome looking Infographic that you can Pin on Pinterest!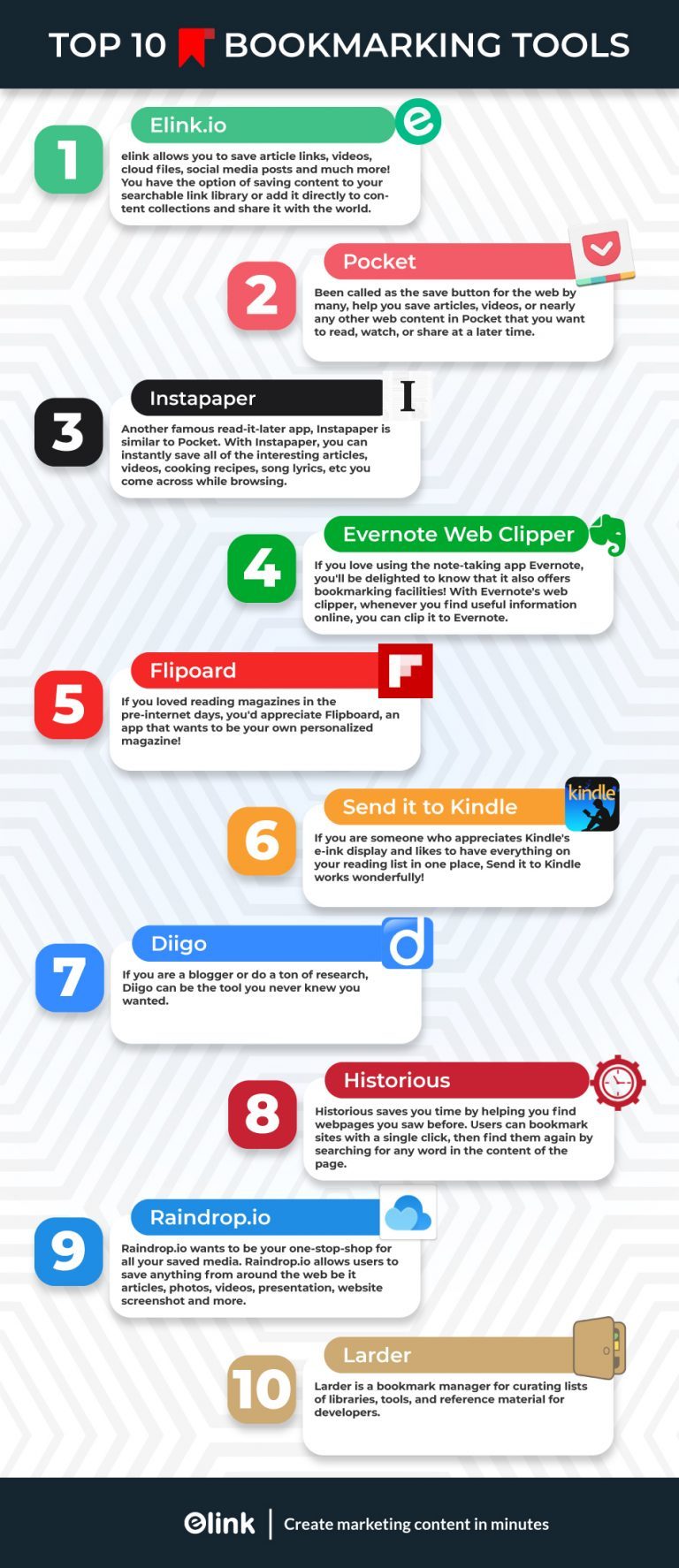 Final Words
There are a ton of bookmarking sites online. It really boils down on your use case and how you want to use the app and to save what type of content. For bloggers, marketers, or someone who creates a lot of content, elink is a great bookmark site to bookmark, read, curate, and share your bookmarks with the world.
Now save and organise links with smart search to create beautiful Newsletter & webpages!
If you just want something to read on the go, Pocket and Instapaper are tough competitors and provides awesome reading experience. No matter which app you choose, we are sure you won't be disappointed! Happy Bookmarking!
Further reads : 
Don't want to forget this information?
elink it for future reference!