Did you know that WordPress websites power more than 35% of the web? Or, how about the fact that WordPress has approximately 60 million blogs!
Today, Blogging on WordPress has become an essential source of communication for most businesses! As one of the best website hosting and building platforms in the world, WordPress allows you to perform various activities- from content management to hosting a scalable, user-friendly website!
However, one thing it can't do for you is to produce high-quality content! You can explore customizable WordPress dashboard & themes -but it won't help with content automation or generation. So, what's the solution?
Well, this problem can be solved via auto-blogging plugins and tools!
Developers in the WordPress community build custom plugins to face any digital needs you might have related to your website. From content blocking tools to advanced sharing features, WordPress plugins are an indispensable resource for anyone with a website.
Especially, as a content manager or writer of a blog, you are likely already to be familiar with the kinds of extra assistance you might need when managing website content!
We've highlighted 10 of our top picks for the best WordPress auto-blogging plugins and tools for your website, each addressing a different purpose:
elink.io
NextScripts SNAP Free and Pro
WP Robot Autoblog Plugin
WP RSS Aggregator
RSSImport
FEEDLY RSS Feeds Lite
CyberSyn
Auto Post Scheduler
WPeMatico
WP Crawler
Before we talk about each one along with their pricing and decide which one is the best fit for your website, let's first learn what exactly is auto-blogging.
What is Auto-Blogging? (Definition)
Remember the time when you didn't want to do an assignment in school, so you just gathered bits and pieces from your friends' assignments and used that?
Well, auto-blogging is kind of like that.
Simply put, auto-blogging is when a website automatically gathers and compiles content from other websites using RSS feeds.
This way, you can automatically publish new blog posts without breaking a sweat. All you need to do is select specific feeds, set schedules, and a little more.

This is done using auto-blogging plugins and tools. Want to know what they are? Read on…
Auto-blogging Plugins and Tools – What Are They? (Definition)
Managing a blog and adding fresh content every day to it can be a daunting task. But, with a WordPress auto-blogging plugin or tool, you can easily autopilot your blogging efforts and post new content on a daily basis.
An auto blogging plugin and tool imports content from various RSS feeds to your WordPress website. Some of these plugins even rephrase your website content and ensure you have no plagiarized content.
These plugins and tools make it easier for you to post engaging content daily on your blog website, rather than simply copying and automating articles. Auto-blogging plugins curate content in such a way that your website doesn't get penalized for content duplication.
Read more: 11 WordPress Widgets to Make Your Website Even Better!
The List of Top 10 Auto-Blogging Plugins and Tools to Consider For your WordPress Website:
Once you go through this list, we are sure you'll never have to Google WordPress auto-blogging plugins ever again! So without spending any more time talking about it, let's dive in…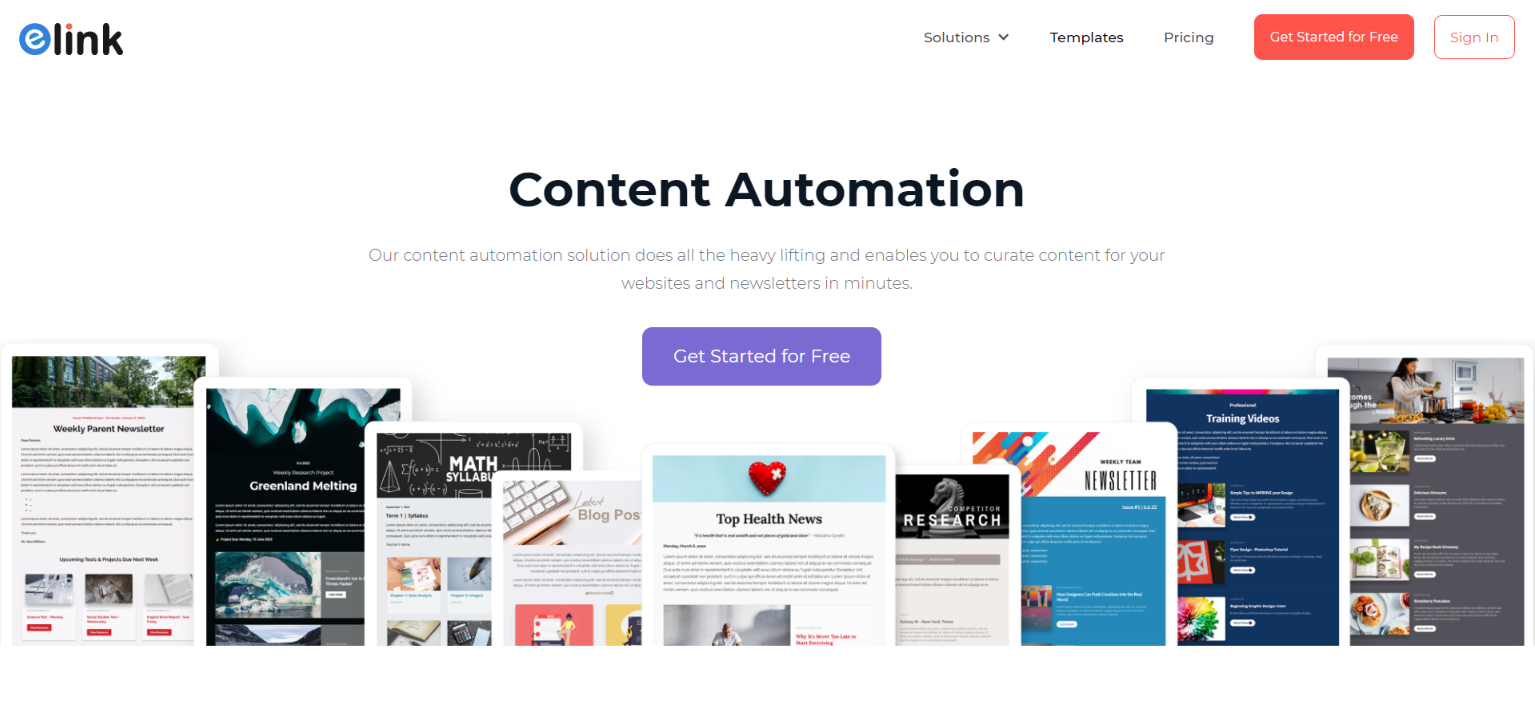 Pricing: Starts at $10 per month
Elink is a must-have tool in every blogger's 'tech pack.' It's a marvelous platform that helps automate content creation and publishing on just about every platform, including WordPress.
You can choose sources and add filters to make your content relevant.
Elink enables you to curate information from anywhere or the web manually or via RSS.
Elink turns weblinks into beautiful visual content that you can embed on your website and automatically update it from your chosen RSS Feeds or bookmarks you collect from elink's Chrome Extension.
That's not it. Your curated content can be shared as HTML email newsletters via Gmail, Mailchimp, and any 3rd party email provider that allows HTML emails.
You can publish and share elink content to your social media platforms at any frequency!
We highly recommend creating an account, downloading elink's Chrome Extension, and using elink's RSS feed for your blogging needs.
Pricing: Pro version for $49
NextScripts SNAP is a handy plugin that automatically publishes the content from your WordPress website to various social networks such as Blogger, Twitter, Facebook, Tumblr, Diigo, LinkedIn, YouTube, etc. Along with posting content, you can also send your blog posts as emails to opt-in respondents using MailChimp integration on the plugin.
The free version includes filters, message formatting tags, auto-import comments, URL shorteners, replies from social media, repost existing blogs, and the potential to spin messages. The pro version gives you access to post scheduling, control auto reposting, add unlimited social media accounts, as well as advanced filters on your posts.
This tool is a great starting point for you to build a social presence via share socially, and social media engagement.
Must read: Top 13 Squarespace Plugins You Must Have!
Pricing: $59
WP Robot is an excellent auto-blogging plugin for WordPress that will help you publish premium-quality, curated content to your website within minutes. WP robot can be used with any WordPress theme pr dashboard, such that you can easily define the feel and look of your site.
This plugin offers a lot of flexibility regarding how you use the plugin to find content, and how you select content based on your keyword or niche.
Wp robot plugin can also automatically insert your affiliate marketing links from Amazon, eBay, and other referral sources into your blog posts. With this auto-blog plugin, you will be able to make money on autopilot.
Read more: Top Blogging Tools to Make You a Better Blogger
This WP RSS Aggregator plugin is one of the most famous, effective, and easy-to-use RSS feeds aggregator any for WordPress website.
With this auto-blogging plugin, you can showcase posts from various content feed articles or sources to keep your website updated with fresh content all the time. Using this plugin is a great way to build a niche of news & media platform, where a user can easily search for articles from multiple sites all in one place.
WP RSS aggregator provides you multiple customization options to organize the feeds as per your needs. You can simply set the feed import time gap, and you can also choose whether or not you are willing to show the feed's date and source. You can even set the links to open in a new window to reduce the bounce rate.
Read more: Content Aggregator: Definition, Importance & Tools!
Pricing: Free
RSS Import is a great WordPress plugin for all those who want to present their feeds on the blog site using a PHP, widget, or shortcode. Just to avoid using any external libraries, this amazing plugin makes use of basic WordPress themes and functionality only.
The plugin is well-matched with the latest versions of WordPress and works wonders across different browsers. It even offers flexibility in customizing the feed content.
RSSImport can be personalized to various languages and can be downloaded directly from the WordPress directory.
Pricing: Pro version for $64
Anyone who is looking to build an outstanding RSS feed for their WordPress website, FEEDZY RSS Feeds Lite is the best plugins to consider.
You can benefit from its excellent RSS aggregator and auto- Blogging feature for the perfect content automation experience. With this WordPress auto-blogging plugin, you can simply extract quality content from all around the internet and create a feed so dope no one will be able to resist it.
A pro version of the FEEDZY RSS feeds plugin is also available and brings some advanced features to the table like cross-browser compatible, responsive working on all devices. Also, it's quick to install and simple to use.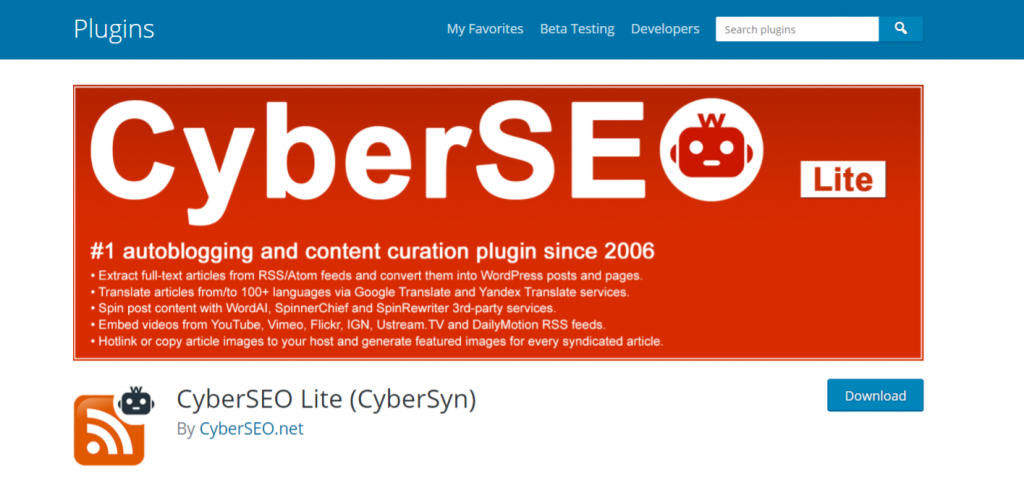 Pricing: Free
As far as we talk about the free options, CyberSyn is one of the best auto-blogging plugins that you'll find in the WordPress community.
This traditional plugin is the most user-friendly plugin from the ones mentioned on the list. You simply have to install it, set up your preferences, and let it do the job. You can either put it on autopilot on feeds publishing or do it manually when you need more control over the blogs being published.
You can even fetch the full version of any article, create tags, group feeds by categories, set the post status, accept or reject pings/comments from the users, set the maximum number of words for each excerpt, and embed the videos that exist in the original article.
Read more: Top 7 Blog Name Generators to Get More Attention
Pricing: Free
Auto Post Scheduler is not a regular auto-blogging plugin like others on the list, it comes with a twist! Auto Post Scheduler is a blog post scheduler for your WordPress website that works with both old and new content.
This means you can simply keep your blog relevant and fresh all the time even if you have not published a new article in a while. With this plugin, you can set up scheduling your posts well in advance, before you forget about it.
Auto Post Scheduler works well when it comes to fetching loads of content from different sources. You can start publishing posts and feeds with this plugin at any frequency you choose.
Pricing: Pro version for $82
WPeMatico is an advanced yet easy-to-use RSS aggregator plugin for auto blogging on WordPress! This plugin extracts content from RSS feeds to arrange them based on the categories available on your site. It will do it on autopilot and keep publishing content while you do other important tasks on the site.
The feed discovery functionality will assist you to get awesome content even without knowing the final URL source, along with a nice WordPress type interface to edit each post as you like it.
This plugin comes with a powerful setting panel options where you can easily set your preferences as per the limited number of posts you publish each time, you even have the option to turn the comments off or on and a number of other advanced options to manage auto-blogging.
 10. WP Crawler
Pricing: $23
Another flexible plugin for WordPress that is built to import a large range of content on autopilot is the WP crawler. It allows you to publish design collections from Behance or Dribble, product lists from Alibaba or Amazon, images from Unsplash or Flickr, social media posts based on hashtags, and lots of other resources.
With WP crawler, all you need is add your content sources, select your preferred options, and run your website. You can easily receive the feeds from other sites by using the HTML selectors and attributes. You can even set the posts category, status, type, and check the text for plagiarism.
This amazing plugin allows you to import data from unlimited sources. In case you do not want the plugin to publish data randomly, you can schedule it to run twice per hour, once a day, or however, you like.
Over to You!
If you are managing a content-based website, auto-blogging is unquestionably one of the most effective ways to go with as you can easily fetch viral content from various sources, curate articles and customize them as per your needs!
Auto-blogging plugins can be the perfect option to generate and automate fresh content for your WordPress website on autopilot.
Therefore, we tried to cover all the essential auto- blogging plugins and tools for your WordPress website in this article, if you know about any other plugins or tools that falls right under this category, do let us know in the comment section below.
Further reads: