If you have prior experience of making sites with Squarespace, you've probably thought about purchasing a Squarespace plugin or extension at least once in your lifetime.
There are some Squarespace plugins and extensions in the market that add functionality that isn't already built into the platform.
These plugins enable you to copy content from site to site, embed Google reviews, and make your Squarespace website multilingual.
Honestly, who would not want to work with such cool features?
Well, nobody we know of.
So, we thought to collate a handful of the plugins and extensions we feel are the most useful.
Before that, let's understand what Squarespace plugins are.
What is a Squarespace Plugin or Extension?
On Squarespace, plugins and extensions are simply coded fragments that can be enabled and updated on your own Squarespace platform.
These snippets improve the flexibility of viewing elements on a page and allow the user to add functions to a Squarespace website that weren't there in the base template.
Although certain individuals call them extensions, they are different from plugins for WordPress. These extensions incorporate features that are not already integrated into the application.
Why choose a Squarespace plugin or extension? Read on to find out…
Why Plugins and Extensions are a Must for your Squarespace Website?
Before you go ahead to try a thing first hand, it's important to recognize the factors that make it stand out from the other alternatives out there.
Here are some reasons why you should totally use a Squarespace extension.

They help add some fresh elements and make your website feel more unique.
Plugins also help make the website more fun.
Live chat plays a major role in business websites. Live Squarespace chat plugins will help you do the job by making it very convenient to constantly chat with your customers and clients.
Plugins and extensions allow a website to highlight advertisements and commodities to users. They help you build your own personalized pricing table for your Squarespace website.
In reality, it's easy for your site to get lost in the pack because everything on Squarespace comes from a series of well-designed templates. So here is a list of the best plugins we could hunt down for Squarespace.
List of top Squarespace plugins and extensions
elink is a smart content curation tool that will help you create beautifully designed website and blog content.
There are 70+ responsive layouts and templates that you can choose from. Once you've added relevant links, elink will automatically turn them into distinctive and aesthetic looking visual blocks, depending on the layout you've chosen.
You can edit the weblink image, title, and description that are automatically pulled. Quickly add a header image and introductory text via this content curation tool.
Customize your fonts, text colors, background colors, and more! There's also an option to update the SEO settings of your elink posts so you can add keywords and meta descriptions that will make your content more search engine friendly.
Once you're done curating you embed it on your website!
Using elink, you can collect links from RSS feeds and embed them on your website IN MINUTES. All you've to do is select any of your RSS Feed articles and start bundling them. Once you're done, you can convert them into a content post, customize it, and share it with the world!
Read more: Create fastest content using elink and squarespace integration
The Collection ID and Block ID of every other item on your Squarespace website can be seen in the Squarespace Collection/Block Identifier's Chrome extension. This helps you to target particular pages and components without digging into the back-end of a website.
Just install the plugin, click the button and then click the block to copy the ID number.
When approaching a particular block with custom CSS on their client's websites, bloggers use this plugin all the time!
Lightboxes are a perfect way to display extra content without making the users leave the page. You can activate a lightbox pop-up from any text, button, or picture attachment with this plugin.
It is useful for:
Showcasing tables
Forms for newsletters
Galleries and anything you might add to a page.
Here's how the Lightbox Anything Plugin works:
Create a page for your lightbox content directly. This plugin will show it as a pop-up lightbox if you connect to it on your website. And that's it! The setup is a breeze.
You can use it for almost everything.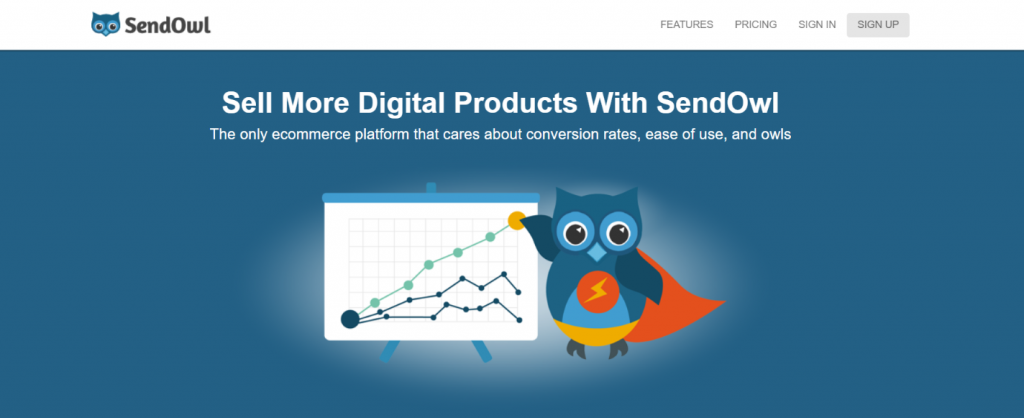 SendOwl is an e-commerce software that is suitable for any user of Squarespace who needs to sell digital items. It enables digital subscriptions (Squarespace only allows you to sell subscriptions to physical products).
It has some really nifty functions, including the option to send subscribers drip e-mails and an associate scheme.
While digital goods are the main focus of SendOwl, it also encourages the sale of physical products as well.
Read more: 9 Squarespace Integrations You Must Know About!
The Collection ID and Block ID of any item on your Squarespace website can be seen in this Chrome extension.
This helps you to target particular pages and components without digging into the back-end of a website.
To use the plugin, install it, click the button, and then click the block to copy the ID number.
It is that easy!
People are totally in love with this plugin. It enables you to add a sidebar (which is not just a blog sidebar), to every Squarespace design.
You can choose any section on your website and add a sidebar to it.
This plugin is so handy that you can totally configure it, without writing a single line of code!
Variants and photos of the product do not sync without inserting some extra coding.
This plugin avoids guesswork and makes it easy to pick the right variant for customers. Y
You'll be super-pleased with the performance, and with the plug-in's ease of use.
If you're really messing up your site, then that's something which is not going to happen anymore!
Read more: 11 WordPress Widgets to Make Your Website Even Better!
Creating a completely compliant GDPR cookie banner for a Squarespace site is actually really complicated, but this plugin makes it easy!
CookiePro searches the website for cookies and allows you to create a banner that provides users total control of how cookies are run, including a 'prior permission' option, logging consent, and withdraw consent.
You can have it for free, but that depends on the scale of your site.

This plugin helps you to add a countdown timer to your website.
This is perfect for creating hype before a major launch and growing the email list!
To see all the countdown timer choices, you should check out their Squaremuse store!
Commenting on blogs is a perfect way to build a genuine bond with guests.
Almost every person nowadays has a Facebook account, so if you can incorporate your Squarespace blog with the Facebook comment system, your followers will be able to add comments to your blog very quickly without logging into your website.
You can customize this plugin and conveniently add comments from Facebook to your site.
From the options section, you can control what to show and what to hide. It is totally up to you!
Read more: Squarespace RSS Feed: How to Create it?
Squarespace Website Tools Pro Chrome extension gives you extra controls, like adding more than 20+ objects to a Summary Block.
If you wish to invest in making more personalized changes to your Squarespace website, this plugin is the best for you.
Universal Filter Plugin gives its users a Squarespace store, page, and gallery to add customized filtering options.
For example, if you have a business that offers clothing for men and women, you might prefer jackets, shirts, bottoms, etc. as filtering options.
If you have real estate clients, you add this plugin so that visitors can browse property listings by the number of spaces, bathrooms, etc.
The Universal Filter Plugin installation includes Javascript to be written. Although comprehensive tutorials are offered by the plugin developer, this can be confusing and time-consuming for many.
However, you can employ a plugin developer to do the installation for you.
Memberspace is a way to build a membership scheme for your Squarespace site.
You can select which existing features and content on your website are for members only and even decide the cost of accessing them.
After making your desired choices, Memberspace then automatically enforces these for you.
Conclusion
We all know that Squarespace offers limited functionalities.
If you require some additional features on our Squarespace websites, the plugins and extensions we have mentioned above have got your back.
Break the constraints of Squarespace with these plugins/extensions and enhance your website!
Did we miss out on any of your favorite plugins and extensions? Let us know by tweeting us @elink_io!
Further reads:
How To Create Press Page for your Squarespace Website?
How To Add Newsfeed to Your Squarespace Website?
7 Best WordPress RSS Feed Plugins for Your Website
Auto-Blogging: Definition, Plugins, and Tools for WordPress!
Best WordPress Slider and Carousel Plugins For Websites