Looking for some great WordPress RSS Feed Plugins to make your site better? We have got you covered. Read on…
There are a lot of aspects of WordPress that we might find difficult to grasp as a beginner. Luckily, WordPress has evolved and made itself beginner-friendly in many ways.
RSS Feed or Really Simple Syndication or Rich Site Summary is one such part. The simplified term for it is the RSS feed or Newsfeed for WordPress. Although this is not a new topic of conversation when it comes to the method of using the RSS Feed, it is always the subject of confusion.
Some of us really don't know exactly what RSS feeds are and how to use them. However, it is not a difficult job now, thanks to all the WordPress RSS Feed plugins available in the market.
Let's dig into the fundamentals first before we introduce you to the best WordPress RSS plugins!
What is an RSS Feed?
As we have already described before, RSS stands for Really Simple Syndication. This means that these are the contents of the pages that are automatically syndicated so that people can read them in their mailboxes, feed readers, and even other tablets.
Basically, it is a standardized XML document that contains the entire amount of material on the site in a summarized form. This concise document can then be read via programs such as RSS Reader or a Feed Reader.
However, the question then arises is that why is it relevant that you read your website's RSS feeds? Well, RSS feeds help you grow and nurture the loyal followers on your blog.
Furthermore, this will also make the content adaptable for your subscribers. And most notably, you can also increase the readers' reading time on your website by using your RSS feeds effectively!
By now, you must have understood the essence of RSS Feeds. It is important to note that one of the fastest ways to get to read your RSS feeds is via the WordPress RSS feed plugins. Before discussing the options available, let's talk about how these plugins actually work.
How WordPress RSS Feed Plugins Help Your Website?
There are several different ways to use the plugins on your website after you have set up RSS feeds on WordPress. You can:
Pick tidbits from multiple websites and view them without leaving your WordPress dashboard. An example is collecting what people have to say in the media or on social forums about your business. You could show it in the About Me or Testimonials section of your website after filtering.
By merely curating material from other websites, create a whole WordPress website of your own with the help of WordPress RSS feed plugins. A good example of this is auto blogging pages, and you can also import content into your blog through RSS feeds and publish them as individual posts.
Link to a particular feed and update your readers about what is significant to them. You can view the company's livestock prices in a ticker on the home screen of your company website.
Increase your visibility on social media forums by posting posts on your social network automatically from the feeds.
Sounds awesome, right? So today, we're presenting our list of the best RSS feed plugins for WordPress out there! Make sure to try them out and install the one that best fits your needs.

List of the Best 7 WordPress RSS Feed Plugins
The best and robust WordPress RSS feed plugin out there is elink! elink allows you to easily stay informed by retrieving the latest content from the sites you are interested in. Only grab the RSS feeds from the websites you love, and elink will show them to read articles and share packed web links around every subject for you.
You can create and share content in a faster and smarter way than ever before. It's just a three-step process:
Step 1: Add RSS Feeds
Step 2: Read and bundle content
Step 3: Share with the world!
Directly from your RSS Feed Reader, you can bundle articles and create professional email newsletters, single web pages, and web material to share with audiences, consumers, partners, and internal teams. It is possible to download all the published content in real-time. To bring your own voice to the content, you can also edit the titles, descriptions, and images.
Price: Although it comes with limited features, elink is free to use. Its monthly pro plan with unlimited features starts at $15 per month.
Read more: Top RSS Feed Widgets For Your Website!
To transform a WordPress website into a content aggregator, WP RSS Aggregator is the perfect WordPress RSS Feed plugin.
Without any coding, it helps you to import, combine, and view RSS feeds on your WordPress website. You can extract content from your other web properties, third-party sources, and other blogs.
The content can also be imported into WordPress as blog posts and be saved in the WordPress archive. You can use your favorite sites to get job listings, real-estate listings, news stories, or curate top content.
You can also pull complete content with their add-ons, including images from RSS feeds that only contain extracts. The plugin can be used for auto blogging as well. Using it to scrape complete material from third-party websites, though, can result in copyright infringement and legal trouble.
Price: Beginning at $59 a year with assistance and upgrades for one year.
Another excellent WordPress RSS feed plugin for a website is Feedzy RSS Feeds. It enables you to fetch and view content from endless RSS feeds on your website.
To monitor how you view feeds, Feedzy comes with many templates. You can rearrange the post style that makes the content appear native to your website and modify it according to your taste.
It also connects with your affiliate connection by sending affiliate traffic to third-party websites, enabling you to view items with your affiliate ID and make money. Feedzy comes with an article spinner that uses WordAI to rephrase posts you upload into your site for those searching for auto-blogging functionality. However, that can also lead to violations of copyright and legal issues.
Price: Beginning at $59 monthly. It has a lifetime package that begins at $159, too.
The Super RSS Reader is an outstanding way for your WordPress sidebar to display content from various RSS feeds. It comes with a simple plugin to use. You can also display post titles as a ticker for news. It is great for websites that use other outlets to screen breaking news.
Tabbed formats are also supported by the plugin to display feeds from various outlets. It includes featured image support, multiple styles, and color choices.
Pricing: free
The Custom Post Types CBX RSS Feed is a simple way to view feeds of your custom post types in your default WordPress feed. WordPress enables you to add RSS feed support for each custom post form by default. Most individuals who login to your website, though, may only see your main feed, which only contains blog entries.
The plugin solves this problem, and you can integrate the custom post style feeds into the main WordPress stream. In your key RSS feed, you can simply pick which post styles are shown and save your changes.
Price: Free
Read more: RSS to Email: Create Automated Email Newsletters Using RSS!
6. RSSImport
Among the best WordPress plugins for RSS feeds, RSSImport is a lightweight and simple solution. To make it functional, you only need to install it and use either a shortcode, a widget, or a PHP feature. No extra clicks or inconvenience! It is a great example of how to be simple and sufficient at the same time.
Price: Free. For the pro version, contact sales.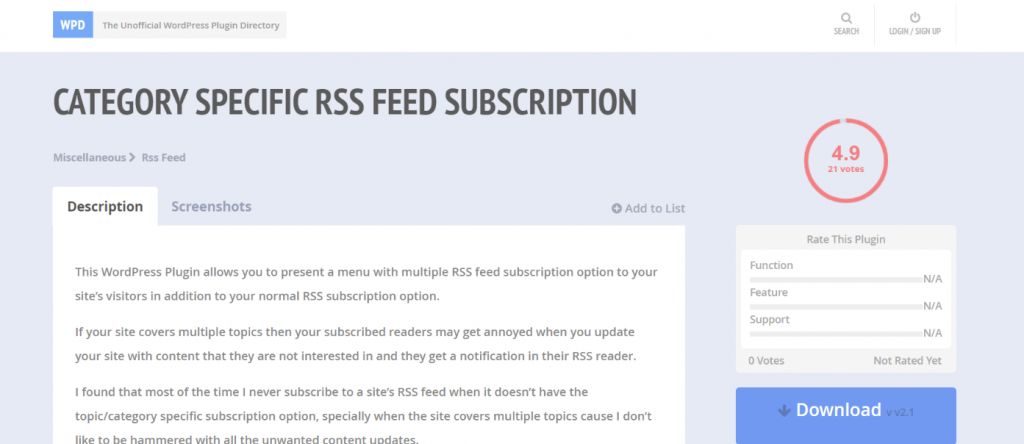 This plugin is a different option available out there. While most plugins are about importing things, this one is about giving your readers the option of subscribing to your blog for category-specific RSS feeds. Say that you are publishing a lot of different content, and it does not interest the audience in its entirety. You can make individuals subscribe individually to categories like food, travel with this plugin.
After downloading the plugin, go to the wp-admin Configuration section and then to the Relevant RSS tab. You'll see a list of the categories with which you can create a feed.
Price: Free
This list provides an insight into some of the best RSS plugins but do you know the right way of selecting the most suitable plugin for your website? Well, wait no further.
How to Choose the Best WordPress RSS Feed Plugin for Your Website?
The plugin you chose can focus on the way you want your RSS feed objects to be viewed. Here are some factors on how to choose the best:
Higher user engagement and retention of customers: If consumers can quickly update to your RSS feed, they are more likely to stay up to date with the new content you are introducing. That contributes to a stronger user experience and awareness of the brand.
Embedded content on other websites: Your RSS feeds may be embedded on other websites or news feeds, thus raising your content's level of visibility.
Readability of content for consumers: Mobile devices are growing their market share continuously. For users on mobile devices, RSS makes it easy to follow your posts.
Promotion of content: It can bring a lot of value to the website by adding RSS feeds from other blogs and news feeds. Your followers would love the content you create and have quick access to any RSS feeds to choose to post.
Conclusion
In the end, it doesn't matter if you want to post material directly on your WordPress website or from other sections of the internet.
The point is that there are some excellent WordPress RSS feed plugins that give you all the functionality and resources available on your website to build beautiful, highly functional feeds.
Importing and editing RSS feeds will have a lot of advantages for your WordPress website. And using RSS feed plugins for WordPress is the best way to do so! We hope you have found the one that fits the best for you with a wide range of free and paid WordPress feed plugins. Good luck!
Further reads:
How to Embed Custom RSS Feeds (HTML Code) on Your Website?
10 WordPress eCommerce Plugins You Need In 2021
11 WordPress Widgets to Make Your Website Even Better!
Top 13 Squarespace Plugins You Must Have!
Best RSS Feed Generator Tools You Must Try!
Podcast RSS Feeds: The Best Way To Keep Up With Your Favorite Podcasts
Top 8 RSS Reader Apps for News Enthusiasts!