Looking for some awesome RSS Feed Generators and Creators? We have got a great list of some of these tools. Read on…
With millions of websites, new social media platforms, and unique content being posted daily on the internet, there's never been an information overload on a scale we see today. In fact, a mind-boggling 2.5 quintillion bytes of data created each day. Moreover, over 90 percent of the data on the internet has been created since 2016! With so much new content all around, keeping track of the things that matter the most becomes impossible.
Enter RSS feed generators and creators!
RSS feed generators or creators fetch all new content from your favorite websites, organize them in one place, and provide you with a distraction-free environment to consume content that matters to you.
However, with so many RSS feed generators out there, how do you know which one to pick? This is why we decided to take matters into our own hands and cherry-pick some of the best RSS feed creators and generators out there in 2021. So, without further ado, lets dive in…
List of Best RSS Generator and Creator Tools Ever Existed:
If you are looking for a modern-looking and feature-rich tool, you must check out elink.io. You can choose from an unlimited number of RSS feeds and make sure you never miss out on new content from your favorite publications. Users can also embed these feeds on their website and dynamically update the content in real-time, keeping your website fresh with new content.
One of the best features of elink is the ability to search and edit content pieces to add your voice. Easily filter and search for articles based on keywords and sources, and find exactly what you are looking for. Once your feed is populated, you can click any headline and read the entire article on the publication's website. With a clutter and distraction-free interface, elink puts your entire focus on the content you are reading.
On top of being an excellent RSS reader, elink is also amongst the best content curation tools out there. You can use elink to bundle articles directly from your RSS Feed and create amazing email newsletters, web pages to share with your social media followers, or can even embed content on your blog or website. Cool, right? Design-wise they have the most options with 50 plus layouts to choose from.
You can update the titles, descriptions, and images to add your own voice to the content you're sharing and can even update your content after it has been published! All-in-all, elink is not only a great RSS feed generator and creator but is also a great tool for content creators and curators.
Cool features of elink:
Clean, distraction-free RSS reader and publisher
Bundle links to create newsletter and web content
Fun and easy to use
Pricing: Free, Pro plans start from $10/month
Read more: How to Embed Custom RSS Feed Content on Your Website with elink?

Next up is FetchRSS, a simple yet effective RSS feed creator. FetchRSS allows you to create RSS feeds out of any webpage: Twitter lists, YouTube videos, Soundcloud sets, Facebook posts, etc apart from news media websites. Simply enter the desired URL and hit enter! Once you have set up your RSS feed, it starts updating automatically.
Every time there is a new content posted on your favorite website, your RSS feed gets updated with fresh content. If you are looking for a quick and easy RSS feed generator, FetchRSS ticks all the boxes.
Cool features of FetchRSS:
Generate RSS feeds from eBay, SoundCloud, and more
Create RSS for websites that don't have it
Simple to use
Pricing: Free, Pro plans starts from $4.95/month
Like most RSS generators or creators on this list, The Old Reader works by adding links to the websites or publications you want content from and letting the tool do the rest. You can organize your content by interest and further segregate your reading list based on your preference. Over 500,000 people get their news from The Old Reader, making it a great choice.
Connect your Facebook or Google account with The Old Reader and you can instantly see what your friends are reading or recommending to read. This social aspect of the app gives it an edge over some of the other tools on this list. Once your social media accounts are connected to The Old Reader, you can follow friends and family members and discover new blogs, sites, and channels. Not sure what to read? Check out the "trending" tab to see what other users of The Old Reader are reading and recommending!
Cool features of The Old Reader:
The social aspect of RSS reading
Trending tab to discover new content
Available on nearly all platforms and devices.
Pricing: Free with ads for up to 100 subscriptions; Pro plans start from $25/year.
Read more: Best WordPress RSS Feed Plugins for Your Website
Feedbin is a web-based RSS reader that allows users to subscribe to RSS feeds, read articles, and manage their feeds all in one place. It has a clean and simple interface that makes it easy to navigate and use.
The main dashboard of Feedbin displays all of your subscribed feeds and any new articles that have been published, with the option to organize them into folders for better organization. The interface also includes a search function, so you can easily find specific articles or topics of interest.
Feedbin also has several customization options, allowing you to tweak the appearance and behavior of the reader according to your needs. If you are interested in using Feedbin as your RSS reader, simply subscribe to the RSS feed of any website or blog and it will automatically appear in your Feedbin account.
Cool features of Feedbin:
Ability to integrate with other services.
Clean and simple interface
Feedbin's servers are encrypted using HTTPS
Pricing:
Feedbin offers a 14-day free trial period
$5 per month.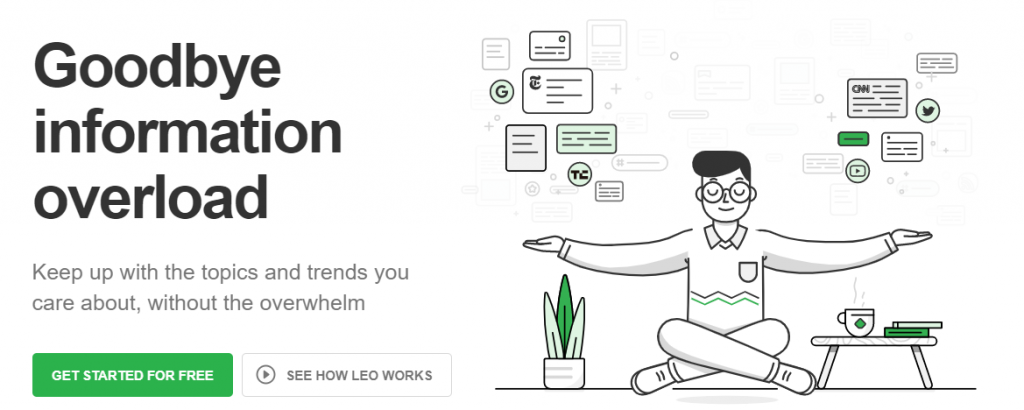 Feedly is a popular RSS feed generator/creator used by over 15 million users worldwide. Feedly allows you to organize your favorite publications, podcasts, YouTube channels, and more into collections and receive updates when new content is published. While it's a great app for individuals, its real charm comes out when used for collaboration with teams.
Feedly has an AI research assistant called Leo that declutters your feed and helps save you time. Leo can read all your articles and prioritize content based on your reading habits. You can also set up keywords that Leo can look for or trends you want to stay on top of.
Upgrading to a Pro plan allows you to add notes and highlights to your content, search your feeds, get Google Keyword Alerts, and more. For team collaboration, employees can use Feedly can create shared boards and add notes to the content they want their peers to read. Feedly has apps for both Android and iOS for you to access subscriptions both at home and on the go.
Cool features of Feedly:
Save articles for future use
AI Assistant for recommendations
Share and discover content in new niches.
Pricing: Free, Pro plans start from: $6/month, Pro+: $8, Team: $18/month
NewsBlur is another web-based RSS feed reader offering various features and tools for managing and organizing RSS feeds. It enables users to create personalized news feeds based on their interests. Its machine learning algorithms analyze the content of each article and categorize it based on its topic or subject matter. This allows you to quickly filter through your feeds and find articles that are relevant to your interests.
Newsblur highlights articles that have been popular among other users. Its "Popular Stories," feature displays articles that have been shared and read by a large number of users, thereby allowing you to discover new content and stay up-to-date with trending news topics.
What's more? NewsBlur offers a range of customization options that allow you to choose from various themes and layouts, adjust the font size, and other display settings to make the reading experience more comfortable. NewsBlur also integrates with a variety of other services, such as Instapaper and Pocket which allows you to save articles for later reading.
Cool features of Newsblur:
Creates personalized news feeds
Allows users to download articles for offline reading
Uses machine learning algorithms for intelligent filtering
NewsBlur Pricing:
Free for subscribing to up to 64 sites
$36/year for a Premium account

The last tool on our list of amazing RSS feed generators is Feedspot Feedspot allows you to read all your favorite blogs, YouTube channels, podcasts, and RSS feeds from one single location. With its combined newsletter features, you can combine multiple newsletter subscriptions and get one single, long-form newsletter for ease of reading.
With brand monitoring, Feedspot helps you track your brand, products, keywords, authors, competitors, or any other topic. Monitor over a billion sources including notable blogs, magazines, and even YouTube channels. You can filter your searches for just title, topic, or search an entire article.
Another great feature of Feedspot is its "media contact database" that improves your outreach efforts by helping your brand connect with influencers, authority bloggers, YouTubers, and more. Get a list of targeted influencers in your niche and improve your marketing campaigns multifold with Feedspot!
Cool features of Feedspot:
Brand, product, competitor, keyword monitoring
Access to over 250k + bloggers, YouTubers, and Instagram influencers.
RSS widgets for your website or blog
Pricing: Free, Pro plans start from $19/month.
Final Words…
Even though the world has seen an extraordinary amount of technological advancements in the past few years, with news websites having their own apps and social media feeds acting as your daily source of breaking news, RSS still holding on to its position as the best way to consume content.
You can't really go wrong with any of the above-mentioned RSS feed creators and generators. If you have some other RSS feed generator or creator to suggest, let us know by tweeting us @elink_io.
Further reads:
Top 8 RSS Reader Apps to try in 2022!
Read RSS Feeds in 9 Different Ways!
RSS Feed Url: Definition & Ways to Find it?
RSS to Email: How to Create Automated Email Newsletters Using RSS!
Top 35 World News Websites & RSS Feeds to Follow!
Top RSS Feed Widgets For Your Website!