If you are a blogger, a solo-preneur, a professional (lawyer, doctor, real estate agent) or part of a small team, you know creating quality content on a daily basis is a huge problem. Creating content requires a ton of time and effort in terms of finding a topic, doing the research, writing the copy, optimizing the content, creating visual assets, and more. Don't worry though, we got you covered!
Adding a constant stream of news articles to your website can help you keep your website fresh and your fans engaged. This stream of relevant content is called a Newsfeed. Today we're going to help you understand what a newsfeed is and how you can too, add a newsfeed to your website in minutes! Keep reading…
What exactly is a Newsfeed?
According to Business Dictionary, "a continuous transmission of data, consisting of news updates, to web sites through a syndicated news service provider. Subscribers receive the news feed, also known as a web feed, as summaries or links that refer the user back to the original news source".
In simple terms, a newsfeed is a collection of all the latest news in your chosen industry or niche. Your news feed will show your viewers little visual snippets of articles, resources, video links, and more so that if your audience wants to read more, all the information they seek is just a click away! It's like a Twitter feed but in the form of blog content on your website!
Why Adding a Newsfeed to Your Squarespace Website is Important?
Did you know that there are over 1 billion websites in the world?! Yep, a billion websites, all trying to get people's attention by publishing awesome content every day. In order to compete with all these websites and stay relevant and on customer top of mind, you need to push out quality content on a regular basis.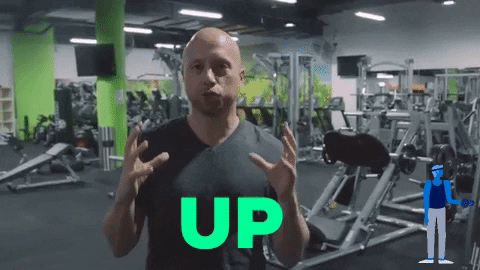 Moreover, in the past two years, content consumption on Facebook has increased to 58 minutes a day and 53 minutes on Instagram every day. People's appetite for new content has increased multifold, thanks to social media, putting small teams, bloggers, and professionals under tremendous pressure to regularly push out engaging content!
It's extremely difficult to come up with the time and energy to create interesting, valuable content on a daily basis. This is especially true when you have limited resources by your side. Enter, Newsfeed! Adding a newsfeed to your Squarespace website/blog is one of the smartest and fastest ways to update your content frequently and keep your audience coming back for more.
Adding a newsfeed not only fulfills your criteria of publishing fresh content regularly but also makes you a thought leader in your industry. Curating content with distinct perspectives and from several sources helps you gain credibility with your audience, making you the go-to source in your field.
With so many great benefits, why wouldn't you have an awesome news feed on your website?!
So, now that you understand the importance of keeping your website up-to-date, regardless of your profession or industry, we're going to share the HOW.
Read more: How to create a news page for any website

How To Create A News Feed For Squarespace Website?
Elink.io is one of the fastest content creation tools on the market and it will help you create a newsfeed to your Squarespace website in minutes. In addition to newsfeeds, you can create press pages, blog roundups, resource pages, email newsletters, and much more!
Simply add any weblink into elink's platform and it will turn it into a visual card with an image, title, and description. You can continue adding weblinks or use elink's Chrome Extension to add web links to your newsfeed on the go. You can choose from a number of beautiful layouts that will make your newsfeed match the look and feel of your website.
Sounds good? Alright, then! Let's see how you can add an elink newsfeed to your Squarespace website in minutes!
Must read: Top 13 Squarespace Plugins You Must Have!
Steps for Creating and Managing Your Newsfeed
Step 1: Choose a Template
You can either start building your elink newsfeed from scratch or choose from a variety of awesome pre-made templates. All of the templates are responsive and look great on all devices. They have been designed to blend in seamlessly with your website to make your awesome feed look beautiful.
Step 2: Add Weblinks
Copy the links to various articles, websites, products, videos, etc. you want to add to your feed and paste them into the template one by one. elink.io automatically makes the link visual by giving it an image and a short description.
It's a great idea to add your own commentary in the description below explaining to your audience why they should care about the content you are sharing. Also, you can change the layout of your elink news feed by choosing between 30+ responsive layouts!
Step 3: Give Your News Feed a Title
Add a quick title and intro to put your personal touch and commentary on the importance of your news feed. It's a great way to engage your audience and have them understand the importance of the content you're sharing.
Step 4: Design and Customize
It's important to add your own design elements to the content you create. In addition to header images, header text formatting and visual weblink formatting, elink allows you to:
Change the primary color.
Update your heading font style
Choose your body font style
Update your Call-to-action button text on templates
Choose a font that is highly visible and blends in well with your overall website experience. It's a great way to help you increase your social following and create authority with your content recommendations.
Step 5: Publish & Embed Your Content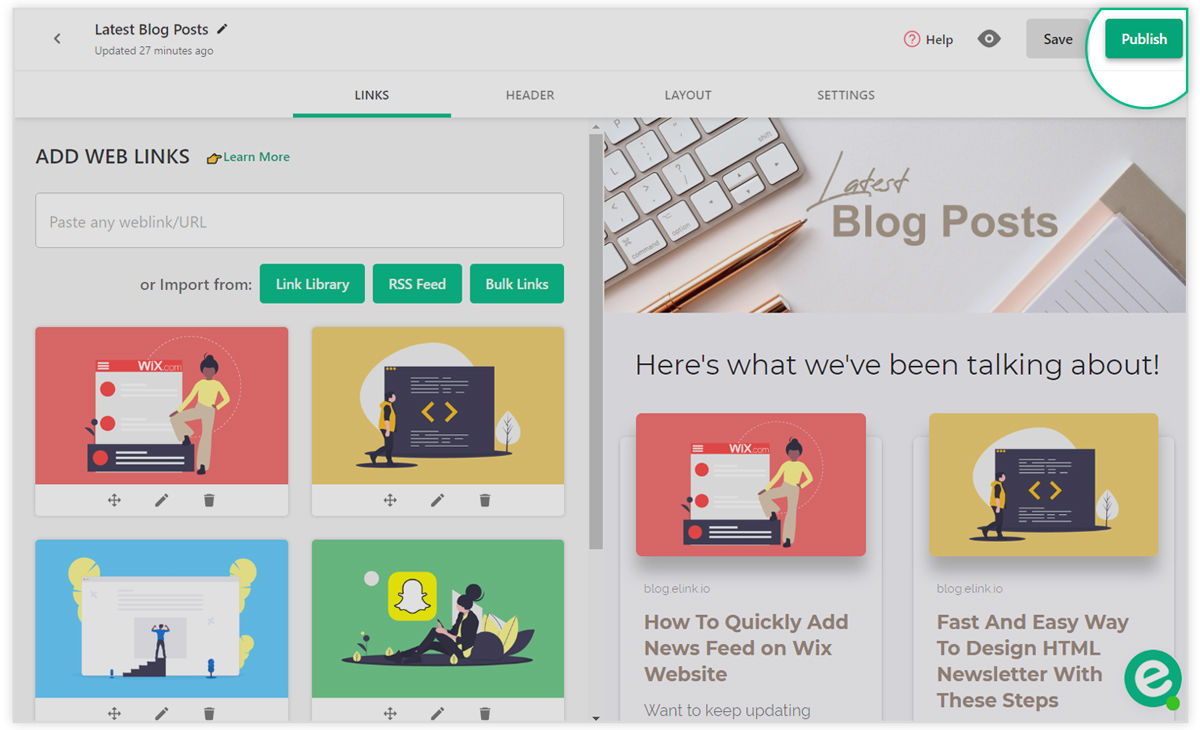 Once you're done, click on publish and voila! Your news feed is ready.
Now to export this feed to your website, go to your dashboard and click on the share icon next to your elink collection.
Now to export this feed to your website, go to your dashboard and click on the share button next to your elink collection.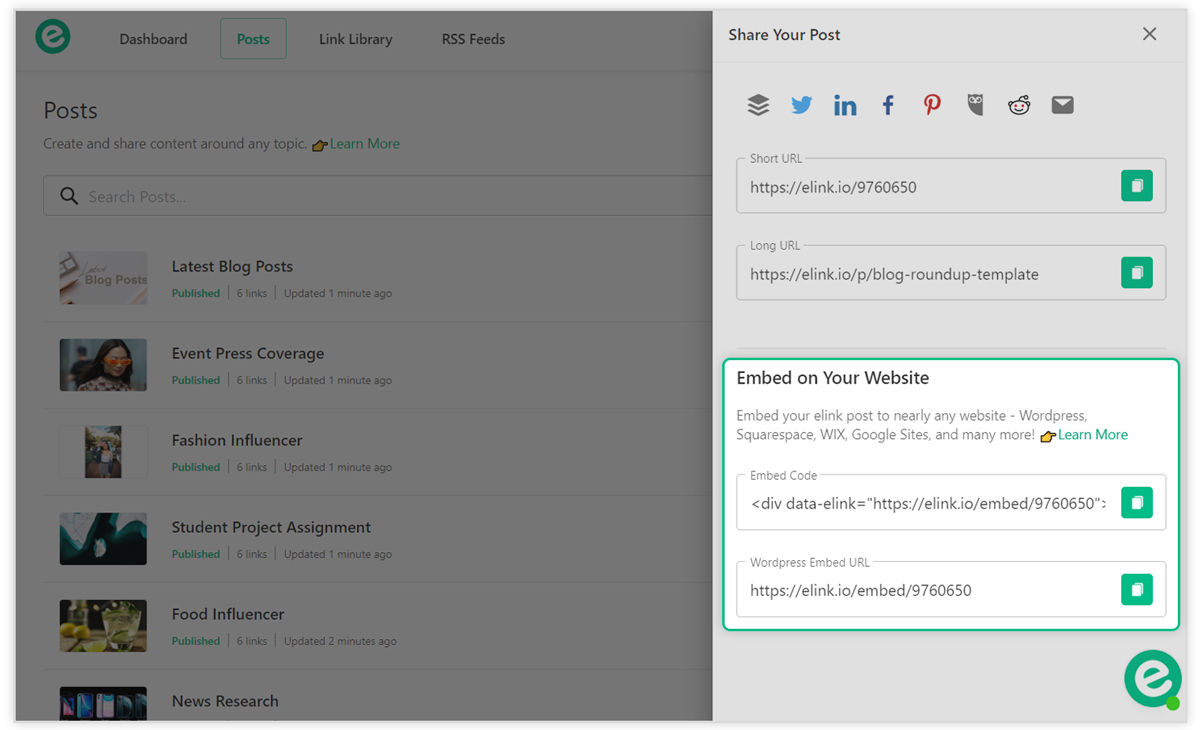 Copy the javascript or iFrame code and add it to your Squarespace website the same way you would if you added a YouTube video.
Save the changes, and you'll see your news feed has been added to your website!
Watch the video below if you are having trouble embedding your newsfeed on your Squarespace website!
THE LAST STEP & THE MOST IMPORTANT
Download elink's Chrome Extension.
Whenever you are browsing the web and find something that is 'share-worthy,' click on the elink.io Chrome Extension button and it will allow you to add that link to the top of the newsfeed on your website!
It's the fastest way to add content to your website. As you go through your daily 'internet' life, elink's Chrome Extension will be your lifesaver and will help you publish content to your website on the go.
How to add Elink chrome extension
1. Make sure you're using a Chrome Browser.
2. Click on this link to go directly to elink's extension.
3. Click on Add to Chrome.
4. You will then see a small popup asking for permission and click on Add Extension.
5. Once downloaded, you'll see a page from elink.io that briefly describes how you can use elink's Chrome Extension.
Final Words…
Having a constant stream of new and exciting news on your website keeps it from growing stale while keeping your fans engaged. If you have a Squarespace website, adding a newsfeed using elink is as easy as reading this blog post!
If you are using any other content management system like WordPress, Wix, Google Sites, etc, you can check out our tutorials gallery and learn how to add newsfeed to your websites easily!
Further reads: