Back in the day, we used to get up in the morning, brush our teeth, get dressed, enjoy a cup of coffee, and step out into the world. Nowadays, we connect with the outside world long before we even get out of bed. With growing technology like smartphones by our side, the very first instinct after the alarm goes off is to take our mobile phone, scroll down our feeds and catch up on everything we missed!
News Today Has Become Digital!
People across the globe spend an average of 7.5 hours per day on digital media. With this type of increasing engagement as well as the ever-evolving internet, there's relentless competition when it comes to digital content and everyone wants to be on the 1st spot!
To keep up in the digital market, creating quality content on a daily basis is imperative. Adding a consistent stream of news or media articles to your website can help you keep your website fresh and your audience engaged. However, it's not easy to constantly update your website with fresh and relevant content.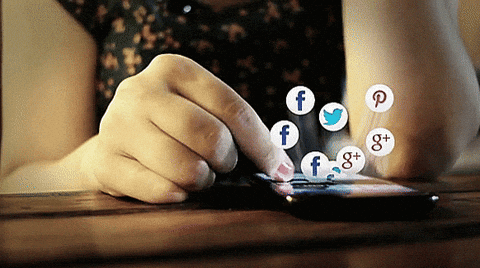 Content creation needs a lot of time and effort to find a topic, do the relevant research, create a draft, optimize the content, design visual assets, and more. Well, no more stressing out, we have a solution! Adding a newsfeed to your website is a quick and easy way to generate value for your website, add engaging information, and keep hold of your existing audience!
In fact, big brands received 40 to 151 more impressions from a newsfeed page than other website pages!
Whether it's on CNN, Facebook, Buzzfeed, or any other digital media site, news feeds provide an instant summary of what's happening in the world, stories that are trending, or heartfelt ones worth sharing!
So without further ado, let's get straight into the top 9 highly-responsive, professional-looking, and aesthetically-pleasing newsfeed templates that will usher your website into the digital age. You can try out different designs to figure out which template your audience prefers the most!
Read more: How To Create A News Page For Any Website?
Top 9 Newsfeed Examples:
Let's explore each of these 10 Newsfeed Examples and help you choose the one that fits your needs!
1. Technological Newsfeed
Whether you are a gadget reviewer on YouTube, own a tech news website, or want to share quality tech content with your friends and social media followers, embedding a curated technology news feed on your website is one of the most valuable ways to increase traffic and capture fame! Take a look at this technology newsfeed example.
2. Environmental Newsfeed
If you want your audience to have a global perspective on environmental issues, educate or inform them about different platforms for environmental action, and environmental newsfeed for your website might play a significant role in spreading awareness. You can roll together all of your amazing environmental news, benefits, social media posts, blogs, etc. in one place! Here is an Environmental newsfeed example you can create for your website.
3. Health Newsfeed
Owning a health website can get a little hectic when it comes to updating it with the latest content about breaking medical news, weekly articles on COVID news, or health benefits of drinking red wine! (I am sure your audience would like to read this one) Well, one great way to curate fresh content for your health website is to embed health newsfeed page with links to all the resources from the industry! Take a look at this health newsfeed example.
4. Sports Newsfeed
If you are a sports influencer, run a sports blog/website, or just a fan who wants to share quality sports content, its important to keep your readers or visitors hooked and one way to do it is by curating all the sports buzz in one place with the help of a curated sports newsfeed page for your website! Here is a sports newsfeed example for you!
5. Financial Newsfeed
Have your readers make intelligent investments by giving them the ups and downs of the stock market, your stock picks, market insights, etc. by creating a curated financial newsfeeds page for your website. It is a great way to gain credibility by showing your audience all the sources of noteworthy financial updates and attract more traffic. Take a look at this financial newsfeed example.
6. Political Newsfeed
The value of political journalism is significant in the world of media, where various channels and resources are covering every inch of the industry! So, to organize these top political stories, trends coverage, and news altogether in one place, a political newsfeed is one of the best solutions! Here is a political newsfeed example for you!
7. Entertainment Newsfeed
Hosting an entertainment website, movie blog, or a fashion brand is the best way to get your audience hooked on to the latest entertainment news, upcoming movie release date, reviews, box office collection, celeb gossips, etc. and a way to keep the excitement constant is by curating these feeds all in one place with the help of a beautiful entertainment newsfeed. Here is an entertainment newsfeed example you can create for your website!
8. Style Newsfeed
Wow your social media and website fans by sharing and curated news content about top fashion labels, style brands, and influencers all in one place. A beautiful style newsfeed page will do the job by making you look professional and will surely impress your audience! Take a look at this beautiful style newsfeed example
9. Travel Newsfeed
Now, curate all the latest travel & tourism news, portals, market updates from across the world all in one place with the help of a travel newsfeed page, and keep your reader hitched by embedding it to your travel website or blog! Here is a travel newsfeed example for you!
Well, there you have it, folks, these are the top 9 newsfeed examples with templates to help inspire you so that you too can get started with curating your content and updating it for better engagement!
Before you go, we have an amazing tip for you! Did you know that these newsfeed examples have been created in minutes with minimal effort using an amazing tool called elink.io!
Create your Visually Appealing Newsfeed with Elink!
Elink.io is one of the fastest content creation tools on the market and it will help you create a newsfeed for your website in minutes. In addition to newsfeeds, you can create press pages, blog roundups, resource pages, email newsletters, and much more!
With elink, you can build professional-looking newsfeeds in a few easy steps. Just collect articles that you want to show or any news coverage you found on social media and elink will generate a beautifully designed newsfeed in minutes. You can then:
Share your newsfeed as a single web page on different social media channels.
Embed your newsfeed on your blog or website for the world to see.
Send your newsfeed as an email newsletter to your subscribers.
The best part is you can easily continue updating your newsfeed in real-time by using elink's Chrome Extension and adding new links as you surf the web. Whenever you find a political trend or COVID update, click on the elink.io Chrome Extension button and it will allow you to add that link at the top of your newsfeed on your website.
Excited to learn more?
You can simply check out our tutorials gallery and learn how to add newsfeed to other content management systems like WordPress, Wix, Google Sites, Blogger, etc easily!
Explore Elink's Newsfeed Templates Now!
Wrapping Up
Having a consistent stream of fresh and exciting news on your website or blog keeps it from growing obsolete while keeping your visitors hitched. So what are you waiting for? It's time to overpower your competition and highlight your presence in the digital space!
Further reads: