With the coronavirus pandemic taking the world by the storm, the desire to be informed is at its peak. However, according to Statista, only 29% of US citizens trust the news media. Add to that, the problem of fake news on social media and you get a growing distrust in the very idea of news. In the middle of a global pandemic, this distrust can cause fatal outcomes. This is where news curation comes in.
Curation has been used widely as the go-to tool for sourcing a variety of content from different sources and give a 360-degree review of a story.
The demand for news curation has developed over the years as people look for reputed, subject-matter experts to help them find quality and informative content on topics without having to spend time on search engines and social media to browse and scan multiple news sources themselves.
However, news curation is no easy feat. Curation is a time-consuming activity carried out by experts on the subject matter who diligently look for various news sources and come up with only the best content along with their intelligent commentary.
If this sounds like a lot, don't worry, we got you covered! In this blog post, we are going to understand what news curation really is, why is it important, and how to carry out news curation using an easy to use curation tool. Read on…
What is News Curation?
In plain and simple language, news curation is going through a lot of content sources, selecting exceptional ones, and sharing it with your audience, either as singular pieces of content or as a digest (in the form of an email newsletter) or simply adding it as a feed on your website.
When you curate news, you are filtering through content and adding your own distinct voice (context) to the content you're sharing. The best way to do news curation is to use a content curation tool to curate and share news with your audience.
A content curation tool allows you to search for engaging news pieces, make a fine collection, and share it with your audience via social media or on your website. Such news curation tools help you save both time and effort, helping you be consistent and keeping your audience informed with trusted content.
Why News Curation is Important?
The need for news curation arises because of the plethora of news content we have now available online, that too, for free! Search news on Google and you will be presented with millions of results in no time. No one has the time to swift through millions of news sources, check their reliability, verify its authenticity, and finally, consume it.
"Curation is more than packaging – it is to help readers (discern) what is important in the world." –Maria Papova, Brainpicker
This is why out of all the content that is created on a particular topic, only 25% of it actually reaches readers. The rest of it gets lost in the endless pit of the internet.
This is exactly why there has been a growing need and demand for news curators- people who are experts in their field and share only the most trusted and relevant news with their audience. There are a ton of benefits to news curation, some of which are mentioned below:
1. Building connections
Since curation involves sharing someone else's work along with your own thoughts or commentary, you are essentially giving a "shoutout" to the original author of the content piece. This helps in building new connections and relationships in the industry as these authors might reach out to you and thank you for sharing their work.

Read more: Best News Aggregator Websites (And How To Build Your Own)
2. Growing your readership
It's tough coming up with fresh content and maintain its quality day in and day out. Since people's appetite for content has increased multifold, thanks to social media, it's been impossible for content creators to come up with new content ideas daily.
Curation solves this problem handsomely as it allows you to share other people's content without the trouble of coming with something completely new. You can easily create news digests from varied sources daily and not worry about your audiences forgetting about your existence simply because you don't share content as frequently.
3. Helps your audience
As we discussed earlier in this blog, the problem is not finding news, but finding relevant and trustworthy news. Curation acts as a savior as the onus of sharing relevant and quality content is on the curator. The news curator spends time and effort sifting through news sources so that he/she can only present you with something useful and valuable.
Since you are saving your readers a ton of time looking for information, your audience is surely going to reward you for it by following you on social media, subscribing to your YouTube/Podcast, or engaging with your email newsletter.
4. It's the ethical way of sharing content
Since plagiarism is considered a sin in the content world, curation gives you a workaround as it allows you to share other people's content without being unethical. You are not taking credit for somebody else's work with curation. Rather, you are acknowledging their hard work by sharing it with your audience and giving them the proper attribution for the content.
5. Establishes authority
If you're curating news on a particular topic, you are essentially proving your expertise on that subject. Since you are presenting only the best information to people and add your own insights to it, you will be viewed as a go-to expert in that field by your audience. However, the content you share should be of the highest quality and your insights should be valuable for your audience.
Read more: How to Embed Custom RSS Feed Content on Your Website with elink?
How to Curate News the Right Way With elink?
If you want to become an expert news curator, you are going to need the best software tool at your disposal to do so. This is why we introduce you to an awesome tool called elink.
elink.io is one of the top content curation platforms out there. elink is the fastest and most professional way to share curated content on any topic in a visually appealing way. Think of it as a professional Pinterest.
Follow these steps to curate news for website, newsletter or social media:
Step 1 : Install the Elink Plugin
a) Go to your admin dashboard in WordPress.
b) Click on the Plugins menu on the left sidebar and select Add New.
c) Search for the Elink plugin and select Install Now.
d) Click on the Activate button.
e) Go to https://elink.io and log in or sign up for an elink.io account. Your WordPress site and elink account will be connected and you can get started creating awesome web content in minutes!
Step 2 : Follow these directions to curate news for your WordPress website
a) Choose a Template.
Select from one of the many news ready templates. All of the templates are responsive and look great on all devices. They have been designed to blend in seamlessly with your website and make them look beautiful.
b) Add a collection of web links.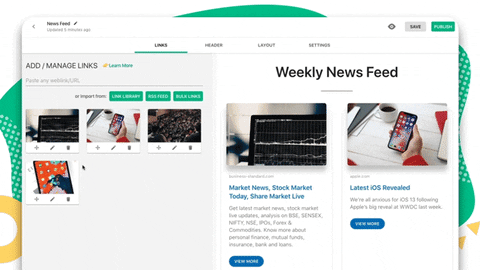 Copy the links of various articles, websites, products, videos, etc. you want to add to your news. Elink.io automatically turns the web link into a visual link by pulling an image, title and a short description from the content.
You can even edit the image, title and description if you'd like. It's great to add your own commentary to the description below and explain to your audience why they should care about the content you are sharing.
c) Give your curated news a Title.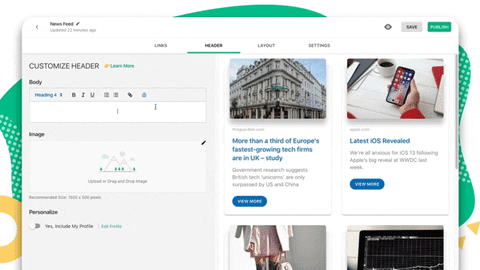 Add a quick title and intro to put your personal touch and commentary on the importance of your news feed. It's a great way to engage your audience and have them understand the importance of the content you're sharing.
d) Publish your content.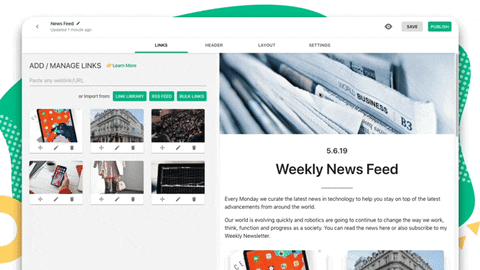 Step 3 : Embed Elink in your post in WordPress
a) After publishing, you'll see a share slider appear on the right-hand side. Scroll down to the embed section and click the Copy the WordPress plugin code.
b) Next, go to WordPress and open up the post or page you want to add your Elink content to and click on the plus button inside of the WordPress editor.
c) Search for Elink and you'll see the Elink icon display. Click on the icon.
d) Paste the Elink WordPress embed code in the field and that's it!
e) Click on preview to view your Elink within your WordPress site!
Your curated news is ready to be shared with the world. elink's curated content can be shared in three different ways:
Email newsletter: Share your curated news digest as a responsive email newsletter. All elink templates have been tested with 90+ email clients and are fully responsive to look great on all devices! Once you are done curating your news, you can export your newsletter to Gmail, Mixmax, Mailchimp, or any other 3rd party email provider.
Social media content: elink's curated pages make awesome social media content as they are highly interactive and engaging. Simply share the link to your content on Facebook & Twitter or add it as your bio link on Instagram.
Website embeds: If you have a website, you can easily embed your elink pages onto your website in one click. Whether you use WordPress, Squarespace, Wix, or any other content management system to run your website, elink works perfectly with every single CMS and looks wonderful.
A must-have in your tool belt regardless of your profession, elink makes news curation a breeze with its plethora of exciting features.
Most Powerful Bookmarker: Use elink's chrome extension to bookmark news articles on the go and add them to your elink collection. It is by far, the fastest way to bookmark and curate content as you can create folders, sub-folders and use various filters to find your content when you need it, unlike other tools where things just get lost.
RSS feed reader: elink's RSS reader allows you to add RSS feeds of the news publications you trust the most. You can choose from an unlimited number of RSS feeds and make sure you never miss out on new stuff from your favorite websites. You can also build your curated news pages directly from your RSS feeds and embed them on your websites.
Templates: elink offers over 50+ mobile-ready and responsive beautiful templates for you to choose from. The best part is you can always go back in case you change your mind and switch to a different template with a simple click, even after you elink has been published! Cool, right?
Content tracking: Want to know whether people are engaging with your content or not? elink makes it easy for you to track your curated content and get detailed engagement insights. You can check referral sources, total views, device and location of your audience, and more.
Over to you!
We hope by now you have a good understanding of what news curation is, why you should deploy a content curation strategy, and how you can start curating news and other content today. Want to learn more about curation? Tweet us @elink_io and we will be happy to be at your service! Cheers!
Further reads:
The Best Online Press Clipping Tool: Elink
Data Curation: What is it & How to Do It?
Top Business RSS Feeds You Must Follow!
RSS Aggregator: What is It, How It Works, And Why You Need It
How To Add Content To Your Website in Minutes?
How To Create A Newsfeed for Your WordPress Website?
Link Management: What, Why & Tools!