Let's face facts – subject lines are the first thing people notice before opening newsletters. It's what decides whether they want to open the newsletter or not.
A newsletter subject line can be seen in the email inbox next to the sender's name. Typically, it will be in bold letters and offer a short description of the newsletter's content.
But why is this brief line of text given so much importance? Let us explain that with the help of some statistics:
64% decide to open emails based on subject lines.
33% of email recipients open emails because of catchy subject lines.
69% of email recipients report emails as spam after reading the subject line.
All of this is to highlight the importance of crafting compelling subject lines that will entice people to click through and view the contents of your newsletter.
Newsletter subject lines can make or break your newsletter. So do you want to know how to write a good one to draw in your readers? Let's find out in the next section!
How to Write a Compelling Newsletter Subject Line?
1. Target Audience
Knowing your target audience is essential if you want success. The main objective of a newsletter subject line is to make the recipient want to click on it and read it. For this to happen, your subject line must be compelling and, to some degree, relatable.
If you don't know your target audience's interests and needs, you can't craft a subject line that will resonate with them. So, the first order of business would be to research your target demographic. You can do this by exploring email metrics, conducting surveys, or even purchasing market analyses. Armed with this information and data will make customizing subject lines for your newsletter easier and more accurate.
2. Highlight the Solution to the Problem
Once you know your target audience and their needs and interests, you should ensure that you incorporate them in your subject line. Try to mention a challenge or problem they could be facing and capture their attention by offering a solution to it and highlighting it in the subject line. This will entice your readers and get them to open your newsletter.
Here's an example: "Unable to focus at work? Here are some great tips!"
3. Use Action Words
‍Action words are words that denote an action. And they are what makes your marketing content stand out. They make any newsletter subject line compelling and promote readers to take action.
Some examples of action words include – ANNOUNCING, INTRODUCING, LAUNCHING, PRESENTING, etc. Including these words in your newsletter subject line will help capture the reader's attention, create a sense of excitement and urgency, and encourage them to take the next step.
4. Invoke an Emotion
One surefire way to grab your readers' attention is to target their emotions and get them to feel something. Use words and phrases that tickle their funny bones, nudge their curiosity, or gain their trust. This will make your newsletters appealing, making your readers more inclined to click on them.
5. Use Numbers and Statistics
Something about having numbers or statistics in the subject line gets people to open an email. This might seem like an insignificant detail. However, studies show that email subject lines with numbers have 57% better open rates.

This is probably because numbers and statistics prove that the newsletter is well-researched. Not to mention, it makes it digestible and intriguing. So, using numbers and statistics in your newsletter subject line might do the trick for you!
6. Options are a Must
It's always best to write several newsletter subject lines, try different approaches, and keep your options open. You can experiment and have fun with the process.
Try subject lines with a joke, witty punchline, a more serious or business-like tone, or perhaps an explanatory approach – try everything! It is also wise to consult different people and have them read the different options to gain new insights, opinions, and perspectives.
7. Be Wary of the Length
Every content writer for any marketing campaign or company will agree that it is easy to get carried away when working on any writing. In an attempt to fit everything in and make it interesting, it is easy to go overboard and over-explain. A great tip we want to tell you is that you have to be wary of your newsletter subject line length.
Most people have many emails they receive daily, making it tempting to ignore them. So, if you do not adhere to length guidelines, not only will you bore your recipients, you will risk displaying an incomplete subject line that is awkwardly cut off. Remember to keep it short, simple, and sweet.
8. Conduct a Trial Testing
Many companies and brands do this, and you should do it too. For any marketing campaign, be it a newsletter or an email, it is crucial to preview and conduct a trial of testing to see how the subject line looks. The subject line may not be displayed the same way on two devices.
The best way to approach this is to send a trial newsletter and try viewing it on multiple devices, such as computers, tablets, and smartphones. This will give you an idea of how it will look on different devices and make improvements to it.
9. Analyze Available Metrics
Analyzing available metrics can provide helpful insights and information. After all, statistics and data never lie. So keep in mind to review crucial metrics such as – open rates, click-through rates, new subscribers, social media shares, etc. This data will help you in the process of crafting future subject lines.
Now that you know the steps in crafting amazing newsletter subject lines, let's look at some examples to help you understand things better. We've curated some good examples of newsletter subject lines you can reference when crafting your own.
Newsletter Subject Lines Examples
1. Monthly Newsletter Subject Lines
The first example we want to showcase is the monthly newsletters. Because these are sent only once a month, you need to make them extra exciting. This does not necessarily mean the newsletter has to be all-embracing and comprehensive. The key is to keep it compelling and capture attention. Here are some examples to give you an idea:
We've Got Some Exciting News This Month!
Learn More About This Month's New Updates!
Coming June, We're Offering a 20% Discount!
Find Out Why December is Going to be Special!
2. Seasonal Newsletter Subject Lines
Utilizing the seasons can be a great way to stir up customer interest. Just like fashion brands have seasonal collections that excite customers, seasonal newsletters can be made exciting enough to maintain and gain new customers. Here are some examples of subject lines for seasonal newsletters you can utilize:
What's Hot This Summer? Find Out Now!
A Guide to Fall 2023!
Here's a Trick and Treat for This Halloween!
Winter Wonder Coming to You: Read to Find Out More.
3. Witty Newsletter Subject Lines
With everyone bombarded with emails and newsletters daily, a newsletter's subject line must be catchy and leave an impression to stand out. This is why you need to craft a witty, witty, if possible, humorous subject line. Check out some examples:
Knock-Knock! Who's there? End of Season Sale!
Silent Night, Holy Night. Time to Book Your Flight!
New Year, New Mega Sale!
Did Someone Say Secret Santa?
4. Industry-Specific Newsletter Subject Lines
Every industry has its jargon. So, specific newsletter subject lines are required for different industries to focus on a special demographic. Here are a few examples:
Real Estate – Updated Housing Prices in the Bay Area.
Non-Profit Organizations – Conscious Ways You Can Save Power.
Healthcare – 7 Tips for Better Digestion.
Education – Inclusive Learning Catered to Each Student.
Now that you know how to write an efficient newsletter subject line and have gone through some examples, here are a few crucial dos and don'ts to remember.
List of Do's
1. Be Transparent
Don't con your customers into clicking a newsletter subject line that promises unavailable content. Tell your customers exactly what they should expect because false promises only garner mistrust. After all, transparency is key.
2. Personalization
Your newsletter subject line should be about your customers, not the brand. We mean that the more you can personalize the subject lines to cater to your target audience, the more they feel special and included.
3. Context is Key
Just because a line is funny or witty does not mean you should use it. If a joke in the subject line is humorous but has no context or connection to the actual content of your newsletter, it honestly makes no sense.
4. Tap into the FOMO
FOMO, or the fear of missing out, is a real thing, making people take action quickly. So tapping into people's FOMO is something you should try. Creating a sense of urgency and offering products in small quantities or for a limited time will get your recipients to take action.
List of Dont's
1. Stay Away from Spammy Words
If you use words often characterized as spam, there is a high chance your newsletter will be directly moved to spam email. Steer clear from using words or terms like – free, dear, bonus, apply now, my friend, etc.
2. AVOID USING ALL CAPS!
We used it, but it's only to get the point across. Using all caps and extreme function (we're talking !!!! or ????) in a newsletter subject line can directly land your emails in the spam folder.
3. Don't Be Overly Promotional by Nature
No one wants a product or service constantly shoved down their throats. So try not to sound overly promotional or sales-y. Instead, please focus on the audience's needs and how your product or service can improve their lives.
4. Using Newsletter in the Subject Line
Just because you are sending out a newsletter does not mean you must include the word in the subject line. Many people find the word boring and will be inclined to skip it.
You have probably learned how to write a compelling newsletter subject line by now. But you must create a newsletter before deciding what to write in the subject line.
What if we told you we have something that will make creating newsletters easy? And by easy-peasy, we mean just with a few clicks. Intrigued? Scroll down to the next section to find out more!
Create Your Newsletter with Elink Today!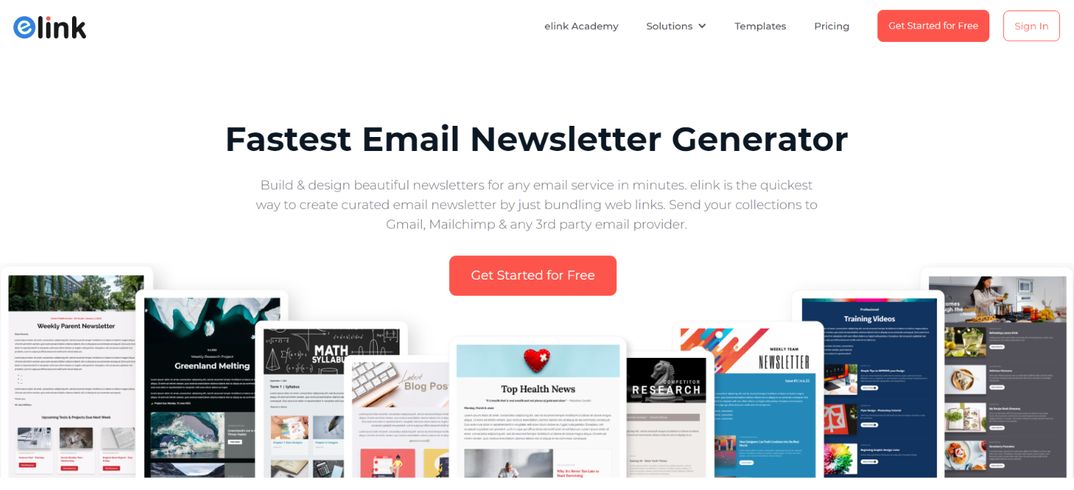 We present to you elink.io, a newsletter creator that helps anyone create and send out visually appealing and responsive newsletters in minutes! It is easy on the budget and simple to use.
Why do we say elink is the best? Let's go over some of the awesome features of elink!
Elink offers over 50 pre-built templates from which you can choose your favorite. You can customize the design of your newsletter with various design settings and over 50+ design layouts so that it has its unique look. Not to mention, all the templates are responsive and look perfect on all devices. This means you don't have to worry about the design aspect of it, and you can focus on growing your company.
Elink lets you add your images, text, bullet lists, numbered lists, buttons, social icons, and dividers in your header and footer body. You can even add a search bar in the newsletter to make it easy for your readers to find what they want.
A unique feature of elink is its automation tool that does all the heavy lifting for you and saves you tons of valuable time by automating content creation for your newsletters. You must pick sources and add filters to make your content more effective and relevant.
Not just this, you can access elink.io's Chrome Extension to add links to your newsletter on the go. It's another tech-savvy feature to add relevant content to your newsletter like it's a piece of cake!
And unlike most other newsletter creators, elink.io lets you collaborate with your team in real time so that you and your team can work together on bundling, creating, and sharing content.
What's more? On elink, you can convert collections to email newsletters and export them to MailChimp, Gmail, and all third-party email providers that allow HTML code!
Now if all of this doesn't entice, we don't know what will! If you wish to create amazing newsletters quickly and easily, there's no better option than elink. So do yourself a favor and get elink right away!
Wrap Up
Newsletter subject lines are an effective way to increase brand awareness and a great gateway tool to interact with current customers and potential ones.
Remember, the right newsletter subject line can do wonders to improve the chance of your newsletters being opened. We hope this blog has equipped you with the knowledge to write a compelling one!
Don't forget to check out elink.io! Wish you all the best! Adios!
Further Reads:
7 Tips & Tricks For Sending Outreach Emails That Get Replies!
10 Email Preheader Best Practices To Boost Open Rates!
Best Email Subject Lines to Boost Your Open Rates!(Examples)
What are Editable Newsletter Templates & Where to Find Them?
8 Business Newsletters You Must Subscribe To In 2023!
How To Write An Award-Worthy Press Release? (Types & Steps)
13 Newsletter Ideas For School You Can Use!
How To Write An Award-Worthy Press Release? (Types & Steps)