School newsletters are a great way for schools to communicate news, information, and updates about the school to parents and students.
However, running a school newsletter is not easy because school newsletters require you to be regular and consistent in providing information to the readers.
And it's only natural that after you make the usual announcements about classes, sports, award nights, or any other special events, the time comes when there is an awkward gap between everything – where you are fishing around for content to share.
So what do you do in such a situation where you are running short of ideas? Not to worry, in this blog, we will provide you with the answer to that question!
Here, we will share some cool content ideas that you can include in your next school newsletter edition. So without much ado, let's dive right into this blog!
Newsletter Ideas for Schools
1. Share What's Happening in the Classroom
Parents are always curious about what's happening in their children's everyday classes, so it's a great idea to provide them with a glimpse into the classrooms and show them the behind-the-scenes of their child's school life.
In this newsletter, you can briefly describe the curriculum and offer updates about what units are being covered in classes. Here, you can also share photos of class activities, the group works, role plays, and other events to highlight how engaging the classes are. It's a great way to showcase the value and quality of your school's education.
Read More: Newsletter For Parents: How to Create & Send them?
2. Interview a Staff
Why not, for a change, shine the spotlight on the amazing academic staff of your school and share their stories? A newsletter with an interview with the teaching faculty and non-teaching staff will help the parents, students, and alumni know more about their teachers and other staff members.
This newsletter can include a narration of the staff's professional journey and what led them to your school, discuss why they are passionate about their subject, and give a glimpse into who they are outside their profession. It can be presented as a Q&A session accompanied by appropriate photos.
3. Share Inspirational Quotes
What's a school without an inspirational quote to kickstart the week or day? They are a great way to motivate students, staff, and parents for the week. So dedicate a daily or weekly newsletter to share motivational and inspirational quotes and sayings that align with your school's motto and vision. You can also add shareable images or illustrations along with this.
4. Recommend Books to Read
Cultivate a reading habit amongst your students by sharing weekly book recommendations. Provide a list of fiction and non-fiction books suitable for each grade and a brief synopsis to get students interested in the books. The best part? Parents and faculty can review these book recommendations for their leisure reading!
Check out Elink.io's Book Recommendation Template! Click Here.

5. Celebrate Awareness Days
So many awareness days, weeks, and months are often dedicated to good causes. Try to find out the upcoming awareness days and show your support by dedicating a newsletter to create awareness.
If you intend to celebrate it or drive a fundraiser or donation, mention all those details in this newsletter so that the parents, staff, and students can all get equally involved.
6. Post-School Club Activities
Whether it is drama club, music club, debate club, or math club, schools take great pride in showcasing all the clubs they offer to their students. These extra-curricular activities encourage student development and social interaction. So what better way to flaunt them than through weekly or monthly newsletters?
Assign club presidents and members to post updates and highlights about their respective clubs in the school newsletter. Add pictures of their work and activities to keep everyone informed. This will also encourage more people to sign up and actively participate in school activities!
7. Share a Good News Story
Look for the happy, positive, and inspirational stories happening in your city and worldwide, and share them with your school community through a weekly newsletter. You can involve your students in writing or re-share news articles, images, and videos. It's a wonderful way to spread a little joy!
8. Highlight Student Achievements
Sending newsletters about student achievements is a great way to acknowledge and congratulate your students' talents and skills. This school newsletter highlights students who have performed well and received prizes and awards in competitions, academics, sports, arts, and more. You can also include achievements or performances that were conducted outside the school.
9. Show-Off Your Alumni
Ever thought about what your school alumni are doing or what their achievements are after they left your school? After all, they are the by-products of your school's education, and it's only fair that you celebrate their success.
Maintain connections with your alumni and showcase their achievements and works in your school newsletter (with their permission!). This would be a great way to keep your school community updated about former students and create future connections for current students. It's also an excellent way to flaunt the success rates of your school.
10. Include Trivia
Occasionally, you can share trivia related to your school, its history, architecture, and more. It can be anything from the story behind a particular building or statue in the school to fun facts about its history, the origin story of the school mascot or school colours, and lots more! The point is to keep your school community engaged and informed.
11. Share a Recipe
There's nothing that can bring people together like food can! That's why we recommend you share a recipe once in a while to educate your school community about healthy diets for school children.
The recipes could be popular recipes from renowned chefs or healthy recipes from health magazines, or even crowdsourced family recipes from within the school community. You can add fun photos and cooking videos to make things more interesting.
12. Incorporate Blog Content
If you already have a school blog run by students or faculty, sharing newsletters about the written articles would be a great way to promote the blog. If you don't have a blog, you can re-share informative and educative articles or blog content that will spark your school community's interest. It can include a variety of topics, such as health, fitness, career, history, entertainment, and more!
13. Include Games and Activities
How about some fun and games for the entire school community once a week? Create newsletters with simple contests through crosswords, quizzes, sudokus, riddles, and more to engage your readers. You can encourage your readers to solve and find the answers before others and feature the winner in the next newsletter. It's a fun way to keep everyone engaged and enthusiastic about school newsletters.
With these creative ideas, you can be confident you'll never run out of content for your school newsletters.
Before you leave, we want to say that we know how exhausting it can be to create newsletters, especially when you have a school to run. That's why we want to introduce you to an awesome tool called elink!
elink.io: The Best Tool For Creating School Newsletters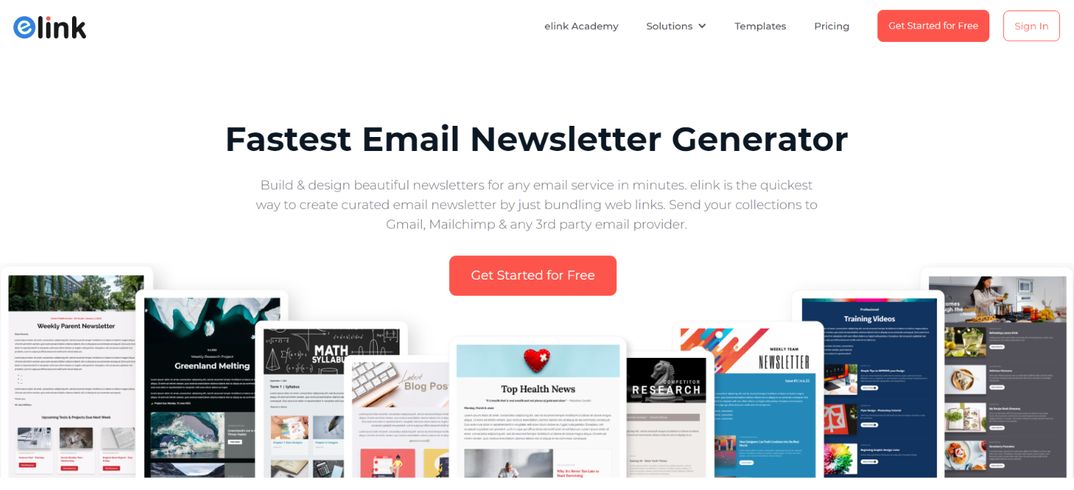 Elink.io is a content curation platform in your tool kit regardless of industry. It is easy on the budget, simple to use, and has all the features to create and share beautifulnewsletters, webpages, social bio links, and more.
elink is the fastest, coolest, and most efficient way to create and share newsletters on any topic in a visually appealing, smooth way. Add links to the content you need to share, and elink will create a stunning newsletter for you in minutes.
The platform offers over 50 pre-built templates, so you don't need to think about the design aspect, and you can focus on growing your company. Moreover, you can add your images, text, bullet lists, numbered lists, buttons, social icons, and dividers to your header and footer body. What could be better than that?
The best part? Unlike most newsletter creators, elink.io lets you collaborate with your team in real-time. So you and your team can work together on bundling, creating, and sharing content. You can even add a search bar in the newsletter to make it easy for your readers to find what they want.
There's more! elink has a robust RSS reader that lets you add RSS feeds of your loved publications. You can bundle links directly from the RSS Reader and create a stunning newsletter in seconds.
And the most amazing feature of elink is – content automation! Using Elink's nifty automation tool, you can automate content creation for your newsletters, websites, and more.  You must pick sources and add filters to make your content more effective and relevant. 
Check out Elink.io's Education Templates that curated for you!
Conclusion
So there you have it – some amazing newsletter ideas for school when you feel you are running out of content to share!
Now that you have some creative ideas up your sleeve, you need to remember that no matter what content you choose to create for your school newsletters, be sure that you are consistent.
After all, these school newsletters aim to keep the community inspired and engaged. Now go out there and whip out some killer newsletters for your school. Cheers!
Further Reads:
10 Educational Newsletters You Should Sign Up For!
7 Awesome School Newsletter Templates!
School Newsletter: What is it & How to Create it? (Free Templates Included)