Education empowers an individual personally and professionally. It helps shape a person's life and forms the very foundation of their character.
With technology playing a huge role in our daily lives, we are now able to get education through various forms of media. Information and content are being widely shared on the Internet with the help of social media, emails, video-sharing platforms, and more.
If you are an educational professional or someone who is interested in the field of education, a great way to consistently keep up with the latest news and information from the world of education is through educational newsletters.
Now, if you are not familiar with educational newsletters, then don't worry. In this blog, we have curated for you a list of educational newsletters that you must check out and sign up!
Ready to find out what they are? Then scroll down now!
List of Educational Newsletters
The New York Times offers an educational newsletter called The Learning Network which provides various resources for teachers related to topics such as English language arts, social studies, science, math, current events and more.
Their newsletter also offers lesson plans, writing prompts, quizzes, student contests based on the articles and images published by The New York Times. These are generally geared towards high school students.
Politico is a popular journalism company that also offers educational newsletters. Its 'Morning Education' counterpart delivers newsletters on a daily basis while the 'Weekly Education' delivers on a weekly basis.
In this newsletter, you will find all of the latest highlights of the national education news. It includes everything from preschool education to higher education. It also discusses education politics and policies!
Read more: Top 12 Educational YouTube Channels in 2021
Thomas B. Fordham Institute offers a weekly newsletter that contains research, commentary, and analysis done by their staff and experts on various education issues.
Other topics in their educational newsletter include career and technical education, curriculum instructions, personalized learning, and many more. They also have a blog focusing on education policy and politics.
The Education World site offers many educational newsletters such as Education World Weekly Newsletter, Education World Headlines Newsletter, etc.

The newsletters provide updates about the new resources available at their site. The Education World Headlines Newsletter offers a collection or summary of the key education news that has happened during the week.
National Geographic is one of the most popular networks and magazines out there. Their newsletters are known for their coverage of various educational topics relating to the environment, wildlife, history and culture, travel, science, and many more.
Some of their newsletters are Inside National Geographic, National Geographic Education Update, and National Geographic Earth Current, etc. These are often published bi-weekly or monthly.
Brain Pickings is a literary blog that provides interesting and informative articles around a myriad of topics and subjects. They offer a mid-week newsletter and a Sunday newsletter.
Their Sunday newsletters offer various articles about art, science, psychology, philosophy, and lots more, and their mid-week newsletter provides thousands of essays from their archives that is worth resurfacing.
Fritz Edelstein created a newsletter service called Fritzwire, which offers a comprehensive daily education newsletter. This newsletter provides updates on federal education legislation, news reports, studies, conference and webinar schedules, and listings for jobs, internships, and fellowships across the country.
Read more: Business Newsletter: Definition, Types, Steps to Create & Examples!
Hack Education Weekly Newsletter created by Audrey Watters focuses on the intersection of education and technology. It has a very personal approach.
This newsletter mainly discusses how education and technology work together and also offers a series of research and writing projects about the history of the future of education.
From the US Department of Education, you can receive several dailies, bi-weekly and monthly educational newsletters.
These newsletters cover everything from ED news, updates on ED activities, education research news, updates on policy, research, grants, and more.
Education Week is one of America's most trusted sources of independent K-12 education news and information.
This newsletter provides comprehensive coverage of education policy through articles, photographs, and video journalism. It also contains expert opinion, research and analysis, events, and more.
Now that you are equipped with some of the best educational newsletters out there, what if we told you that you could create your own in just a matter of minutes!
Don't believe us? Then scroll down!
elink.io: The Fastest and Easiest Way to Create Newsletters
elink.io is a content curation tool that helps you send out visually appealing and responsive newsletters, webpages, social bio links, and more in minutes. Just add links to the content you need to share (articles, videos, images) and elink will create a stunning curated page for you in minutes.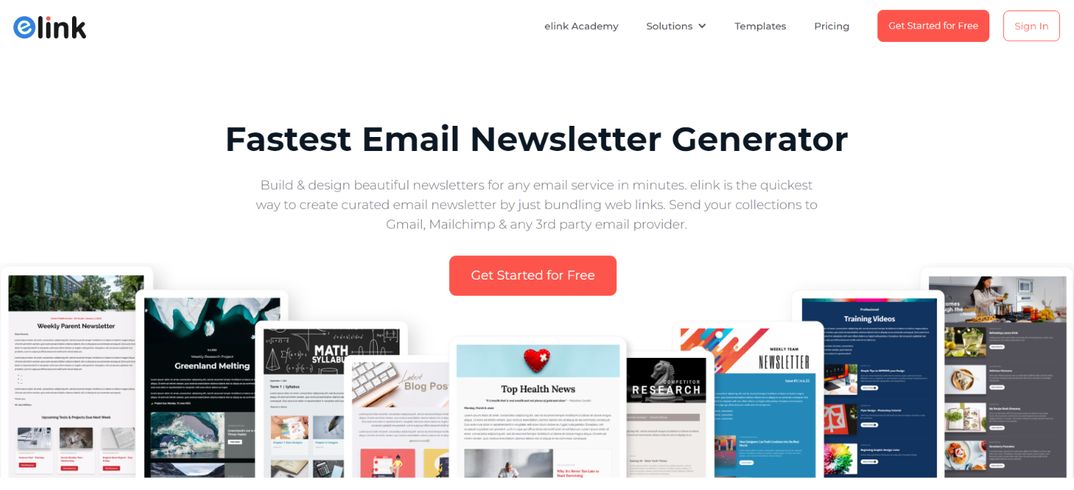 This nifty tool offers a huge collection of beautiful and fully responsive newsletter templates from which you can choose your favorite, and customize it however you want. You'll get a perfect combination of colors in our templates. But, if you want to change the colors, you can do that too.
elink has a robust editor that allows you to add elements like images, texts, bullet lists, numbered lists, dividers, buttons, and even social media icons in your header and footer body. You can even add a search bar in the newsletter and make it easy for your readers to find what they are looking for.
Moreover, elink has a robust RSS reader that lets you add RSS feeds of the publications you love. You can bundle links directly from the RSS Reader and create a stunning newsletter in just a few seconds.
Using elink's nifty automation tool, you can automate content creation for your newsletters, websites, and more. All you have to do is pick sources and add filters in order to make your content more effective and relevant. What could be better than that?
Not only that, elink.io also lets you collaborate with your team in real-time. That means you and your team can work together on bundling, creating, and sharing content. The best part? elink integrates with all major email clients like Gmail, Constant Contact, Mailchimp, and more.
How to Create a Educational Newsletter on elink?
Step 1: Choose a Newsletter Template
The coolest thing about elink is that you don't have to worry about all the tricky design rules. With elink's stunning newsletter templates, you're already way ahead when it comes to designing.
Now, here's what you need to do: choose a template and customize it the way you want. We've quite a splendid collection to choose from, so take your time to find the one that fits your needs the best.
By the way, you can also create a newsletter from scratch. It's totally up to you.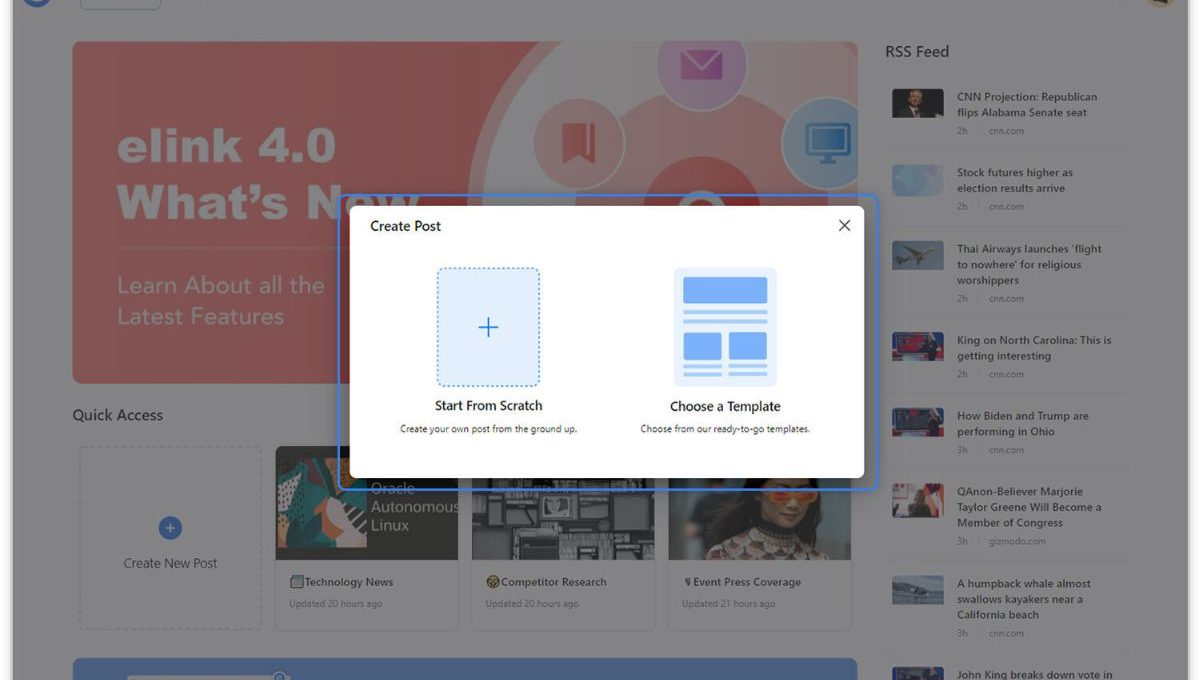 Step 2: Add Links to the Newsletter
Here comes the fun part. You can add links to the content (articles, videos, products, etc.) that you want to show up in your educational newsletter.
elink is so robust that it will automatically generate an image, a title, and a short description with each link. Of course, you can modify and customize any of this information if you want.
elink is also an RSS reader and a bookmark manager so you can quickly select your preselected links directly from the link library or the RSS feeds or enter them manually.
Step 3: Add Header
We know that a compelling email header design decides whether the reader would read your entire newsletter or bail on it. That's why we've given you the option of designing your header body the way you want.
You can add images, text, bullet lists, numbered lists, buttons, social icons, and dividers in your header body. elink even lets you choose from over 6 font sizes for your header body.
What's more? You can also use elink's Canva integration and design an eye-catching banner directly in elink.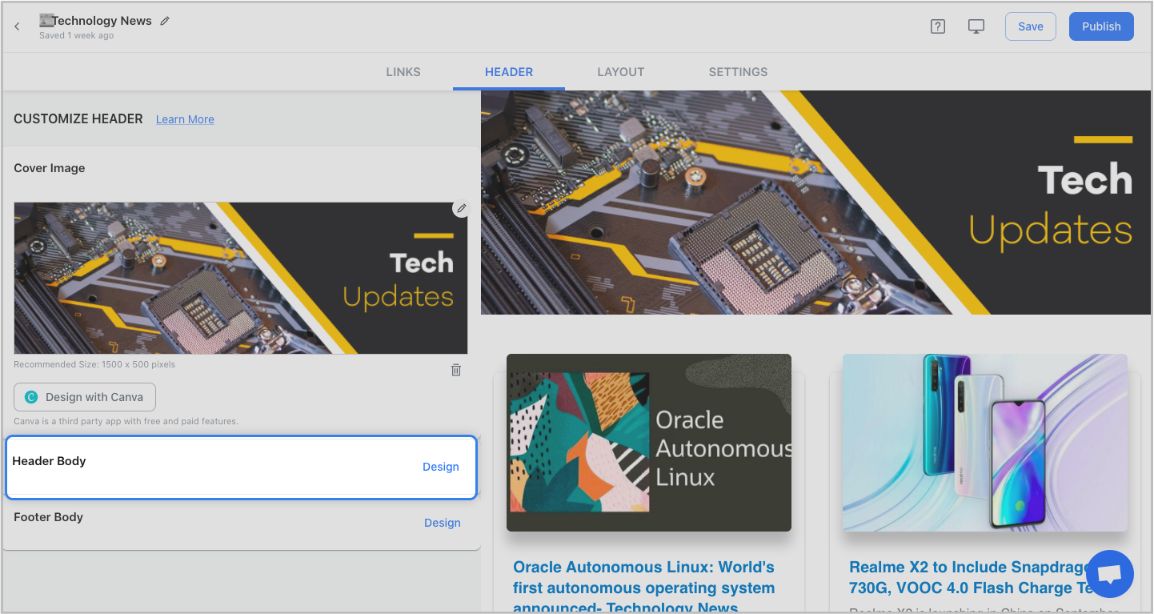 Step 4: Add Footer
An email footer is a place where the recipients would look for details about your brand. It is a place for transparency, clarity, and good design – exactly what elink provides.
You can add images, text, bullet lists, numbered lists, buttons, social icons, and dividers in your footer. Moreover, you can link the social icons with your own social media accounts in seconds.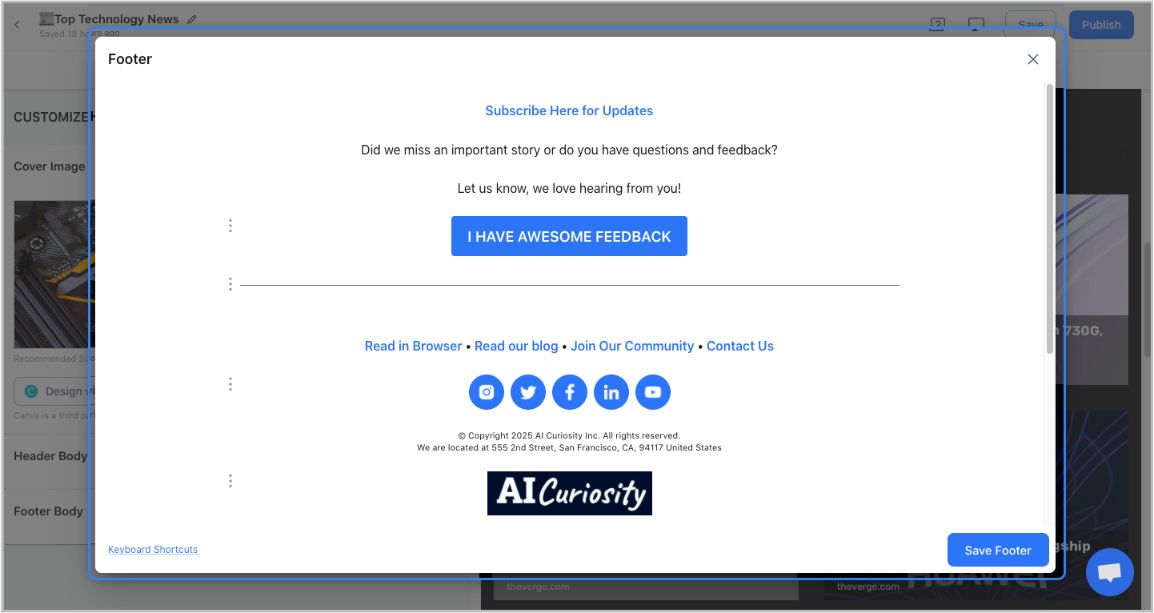 Step 5: Choose a Layout for your links:
Just jump right in and don't worry about wasting valuable time designing the layout of your educational newsletter. elink has already done all the heavy lifting for you. You can choose your favorite layout from all the different options with a simple click of a button and elink will change the formatting of those tiles to your chosen style.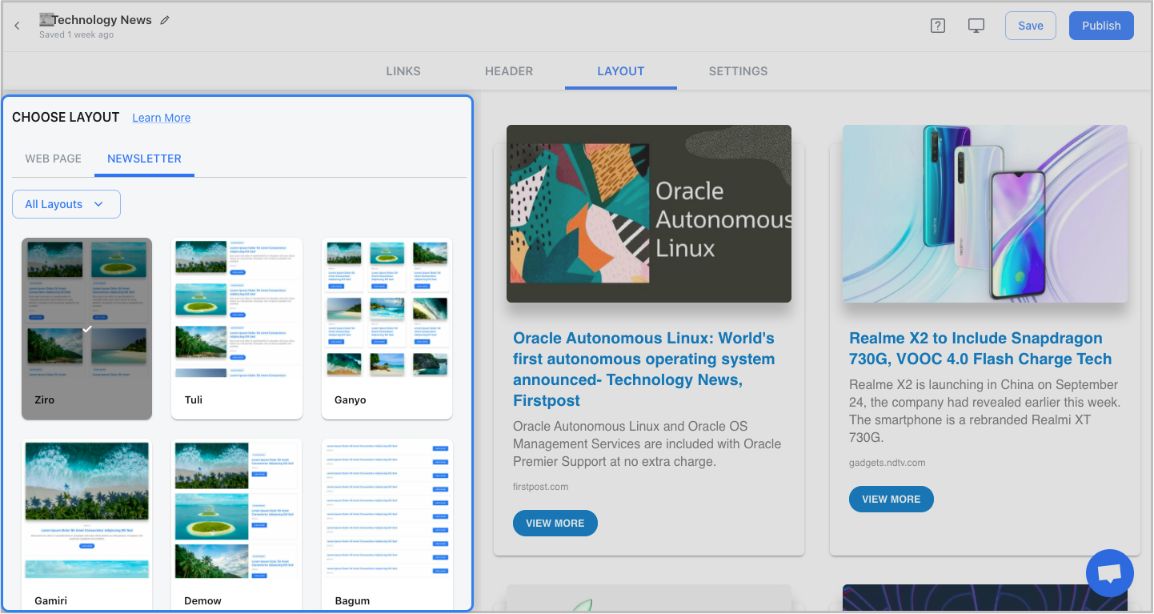 Step 6: Design and Customize
You'll get a perfect combination of colors in our templates. But, if you want to change the colors, you can do that too. Apart from that, you can also customize the font styles, button text, and more – in just a few clicks.
One of the most robust features of elink is that you can even add a search bar if you are adding a bunch of links such as resources etc.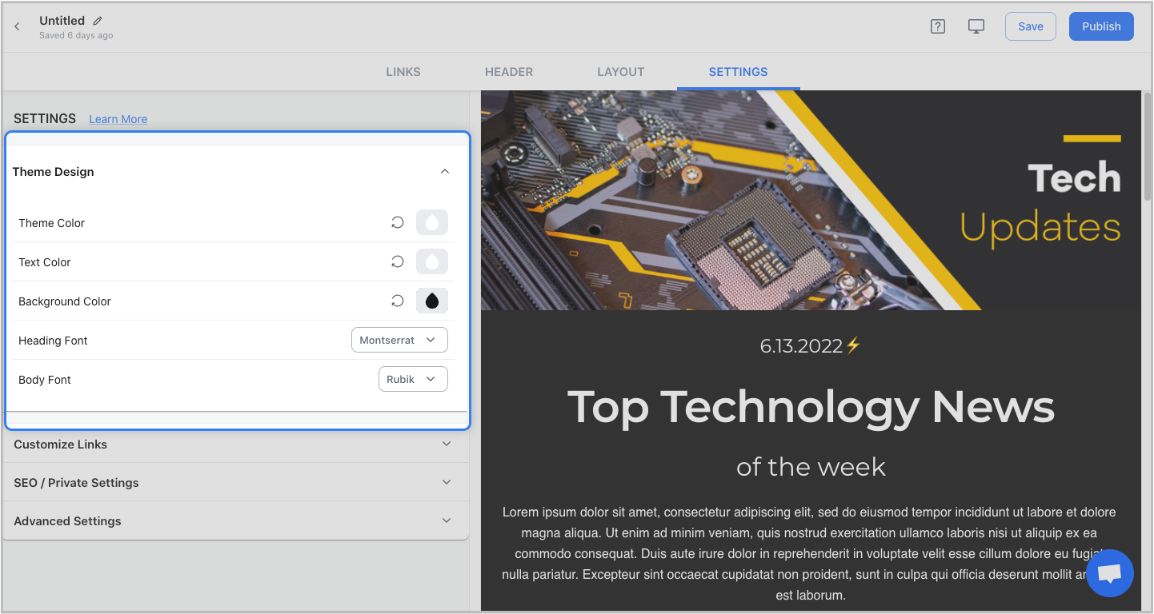 Step 7: Share Your Newsletter
Yay! You've now created a stunning educational newsletter that is ready to be shared with the world. Now, hit the 'Publish' button on the far right corner of the screen, and a pop-up will appear, allowing you to customize your content URL.
Once you have customized the URL, another popup will appear where you need to select the 'newsletter' option. From there, you can share your masterpiece via Gmail, Mailchimp, or any other third-party email marketing tools like Get Response, Mailchimp, etc.!
Examples of Educational Newsletters created on elink:
Example 1: Weekly Research Project
Example 2: Science Research
Checkout our Templates!
Conclusion
Learning never ends and we are fortunate enough to live in a time where knowledge is available at our fingertips.
With educational newsletters, you can not only garner more information but also stay informed and updated about the latest educational policies and issues.
In this blog, we have provided you a list of the educational newsletter that covers everything from school subjects and research topics to policies and updates about education.
Sign up for these educational newsletters and continue to learn!
Further reads:
Classroom Newsletter: What, Why, and How to Create it?
What are Editable Newsletter Templates & Where to Find Them?
7 Gaming Newsletters You Cannot Miss! (& How to Create Your Own)
School Newsletter: What is it & How to Create it? (Free Templates Included)
7 Awesome School Newsletter Templates!
6+ Awesome Newsletter Templates for Teachers!