If you are here, then you're probably a hardcore gamer or a video game enthusiast.
And being one, you probably already know that tons of video games get released every year and you do not have enough time on your hands to find out which of those games are really worth your time.
So what can you do? Subscribe to some amazing gaming newsletters!
They help you save time from browsing all over the internet for the latest gaming news, headlines, releases, suggestions, reviews, and more. What's more? They are free!
So here we have curated for you a list of some of the coolest gaming newsletters to help you stay informed and up to date about gaming!
Ready to know what they are? Then jump right in!
List of Gaming Newsletters!
Nintendo is a highly popular Japanese video game company. Their Nintendo Life is a gaming website, which offers a gaming newsletter and it is a must-have for all Nintendo enthusiasts out there. Here you will find all the latest news, features, reviews, and original videos of various topics such as Nintendo Switch, 3DS, eShop, and more. They also provide help for major games like Pokémon, Animal Crossing, and more.
Read more: 15 Best Gaming Blogs & Websites Every Gamer Should Follow!
GameDiscoverCo newsletter by Simon Carless looks at how people discover and buy video games in the 2020s. In this free gaming newsletter, you will find feature overviews, analysis, and notable links around PC and console such as Nintendo, Microsoft, Sony, etc., new video games and platforms, and more.
For its paid version, you will get data-driven newsletters that cover topics like Steam, Switch, Epic Games Store, Apple, and an eBook with exclusive analysis, advice, and data on gaming.
Game Informer is a long-running video game magazine that also has a gaming website. They have a no-nonsense and simple gaming newsletter that offers the latest news in gaming, previews of upcoming games, reviews of video games, and lots more. The Game Informer also provides detailed reviews of video games based on features like graphics, playability, and replay.
Destructoid is an all-around gaming website that regularly publishes gaming-related articles. Its newsletter includes the latest news, reviews, features, updates, and previews of upcoming games, opinion pieces, and more. Destructoid is known to publish reviews and ratings of PC and console games, mobile titles, and downloadable content based on Destructoid's own scoring system.
Not in the mood to scrounge around through detailed reviews about video games? Then Metacritic is the perfect gaming newsletter for you. It offers an aggregate scoring system that provides a quick score based on the reviews from various game review websites. It also allows you to read through individual reviews and make comparisons.

GamesRadar+ is another gaming website that offers the latest news, features, reviews and hands-on look at new games and lots more. The best thing about this website is that its reviews detail clear pros and cons list along with a summary of the overall evaluation of the games, which makes it easy for you to skim through the content.
PC Gamer is a gaming website that has been covering PC gaming for more than 20 years and continues to do so even today via its printed edition and newsletters. It provides around-the-clock news, features, esports coverage, hardware testing, and game reviews, as well as major yearly events. Subscribing to PC Gamer also gives you great gaming deals picked by its editors.
Now that you are equipped with some of the best gaming newsletters out there, what if we told you that you could create your own in just a matter of minutes!
Don't believe us? Then scroll down!
Read more: 9 Music Newsletters You Must Subscribe to! (& How to Create Your Own)
elink: The Fastest and Easiest Way to Create Newsletters
You have a lot to compete within your subscribers' inboxes. That's why using a powerful newsletter creator like elink.io is critical to designing an email newsletter that people want to click through!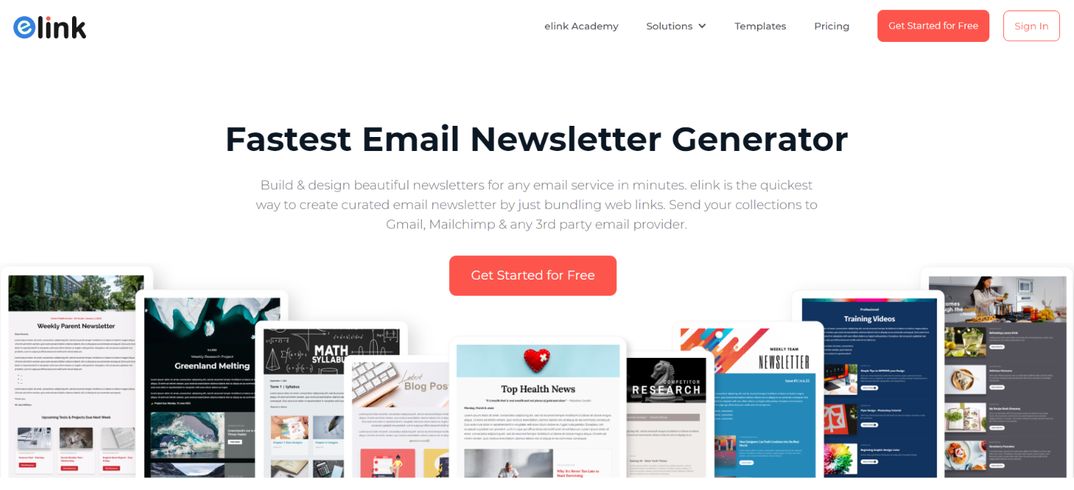 elink is a content curation platform that you need to have in your tool kit regardless of your industry. It is easy on the budget, simple to use, and comes with all the features you need to create and share beautiful newsletters, webpages, and more.
Simply put, elink is the fastest, coolest, and most efficient way to create and share newsletters on any topic in a visually appealing, smooth way. Just add links to the content you need to share, and elink will create a stunning newsletter for you in minutes.
The platform offers over 50 pre-built templates, so you don't need to think about the design aspect, and you can focus on growing your company. Moreover, you can add your own images, text, bullet lists, numbered lists, buttons, social icons, and dividers in your header and footer body. What could be better than that?
The best part? Unlike most other newsletter creators, elink.io lets you collaborate with your team in real-time. So you and your team can work together on bundling, creating, and sharing content. You can even add a search bar in the newsletter and make it easy for your readers to find what they are looking for.
There's more! elink has a robust RSS reader that lets you add RSS feeds of the publications you love. You can bundle links directly from the RSS Reader and create a stunning newsletter in seconds.
And, the most amazing feature of elink is – content automation! Using elink's nifty automation tool, you can automate content creation for your newsletters, websites, and more.All you have to do is pick sources and add filters in order to make your content more effective and relevant.
Okay, so now that we have convinced you to try elink (hooray!), let's understand how you can create a stunning monthly newsletter with elink.
Steps for Creating a Newsletter with elink
Step 1: Choose a Newsletter Template
The coolest thing about elink is that you don't have to worry about all the tricky design rules. With elink's stunning newsletter templates, you're already way ahead when it comes to designing.
Now, here's what you need to do: choose a template and customize it the way you want. We've quite a splendid collection to choose from, so take your time to find the one that fits your needs the best.
By the way, you can also create a newsletter from scratch. It's totally up to you.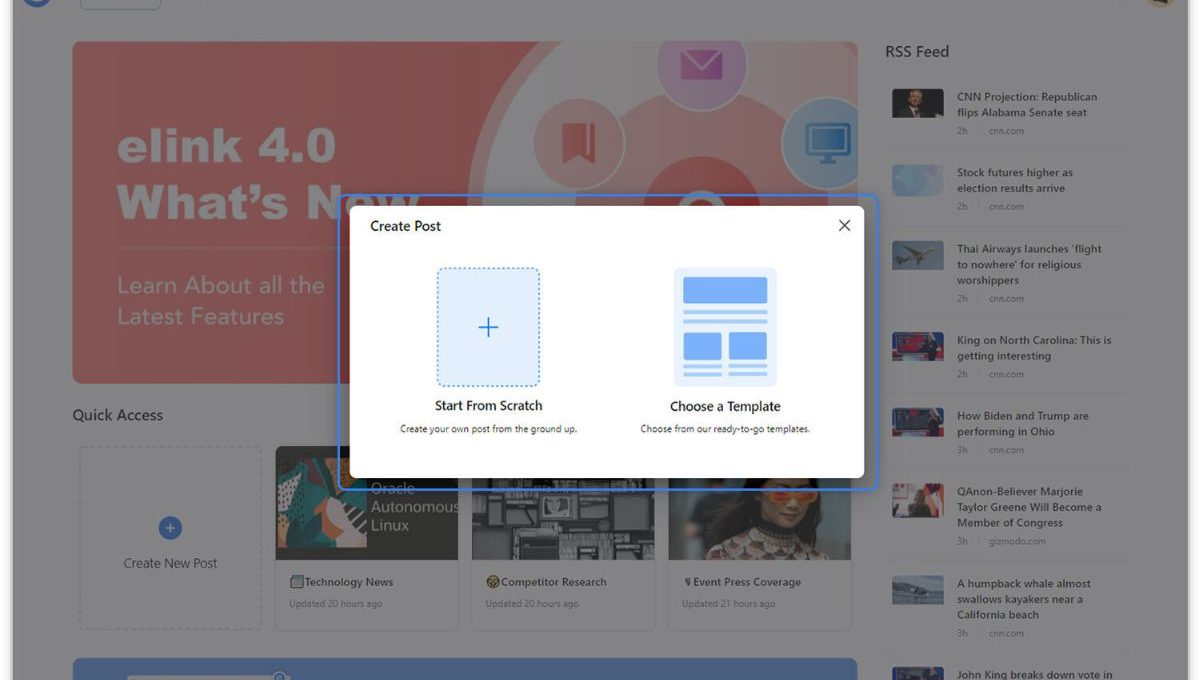 Step 2: Add Links to the Newsletter
Here comes the fun part. You can add links to the content (articles, videos, products, etc.) that you want to show up in your newsletter.
elink is so robust that it will automatically generate an image, a title, and a short description with each link. Of course, you can modify and customize any of this information if you want.
elink is also an RSS reader and a bookmark manager so you can quickly select your preselected links directly from the link library or the RSS feeds or enter them manually.
Step 3: Add Header
We know that a compelling email header design decides whether the reader would read your entire newsletter or bail on it. That's why we've given you the option of designing your header body the way you want.
You can add images, text, bullet lists, numbered lists, buttons, social icons, and dividers in your header body. elink even lets you choose from over 6 font sizes for your header body.
What's more? You can also use elink's Canva integration and design an eye-catching banner directly in elink.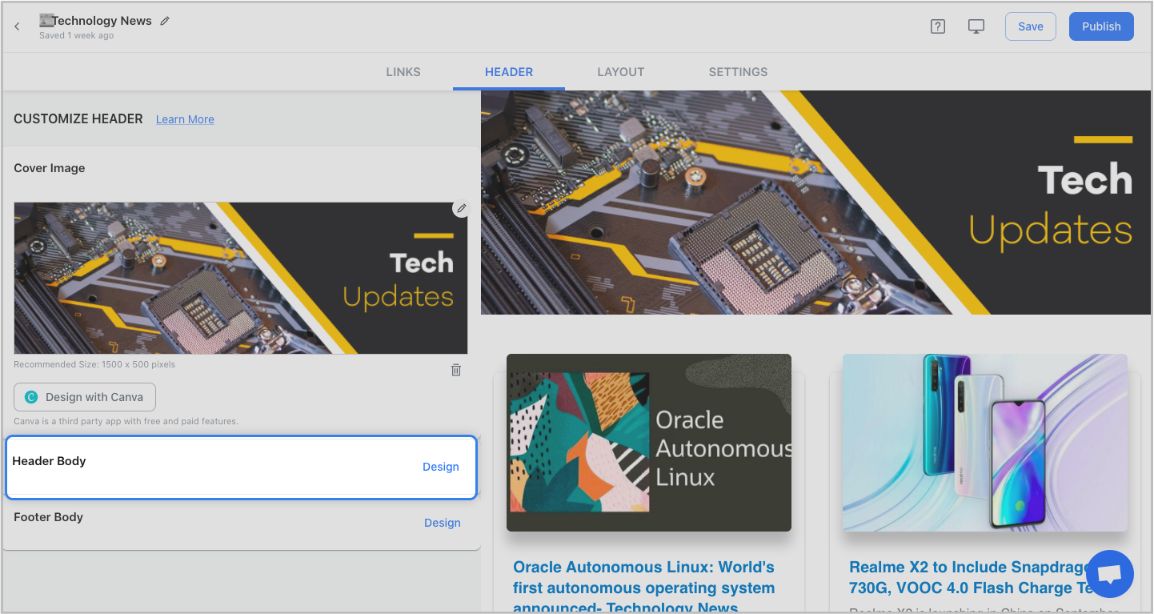 Step 4: Add Footer
An email footer is a place where the recipients would look for details about your brand. It is a place for transparency, clarity, and good design – exactly what elink provides.
You can add images, text, bullet lists, numbered lists, buttons, social icons, and dividers in your footer. Moreover, you can link the social icons with your own social media accounts in seconds.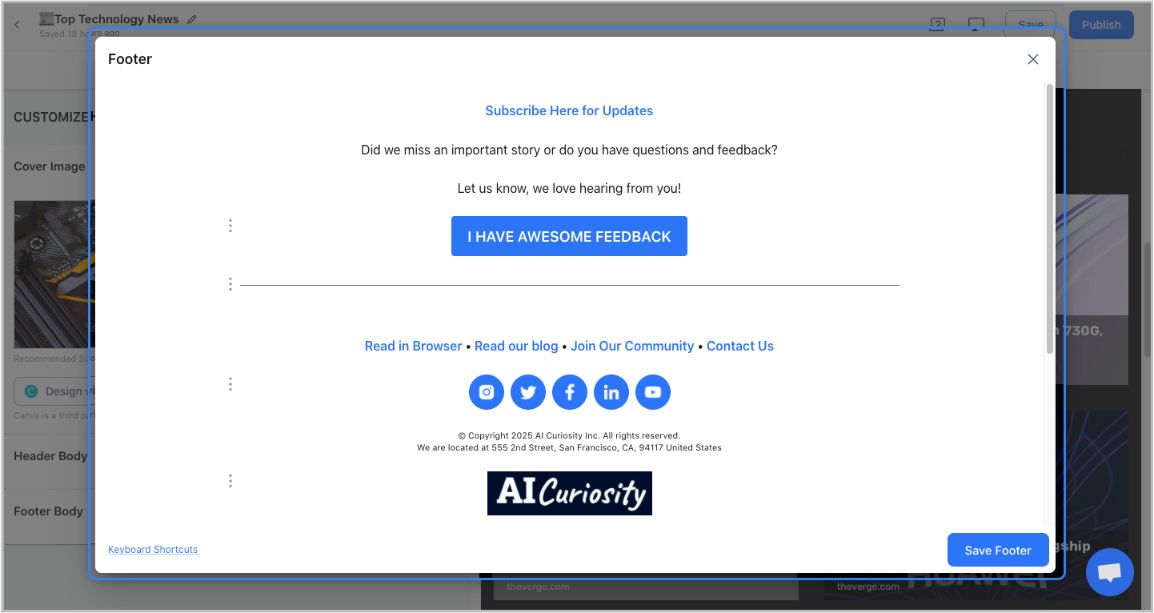 Step 5: Choose a Layout for your links:
Just jump right in and don't worry about wasting valuable time designing the layout of your newsletter. elink has already done all the heavy lifting for you. You can choose your favorite layout from all the different options with a simple click of a button and elink will change the formatting of those tiles to your chosen style.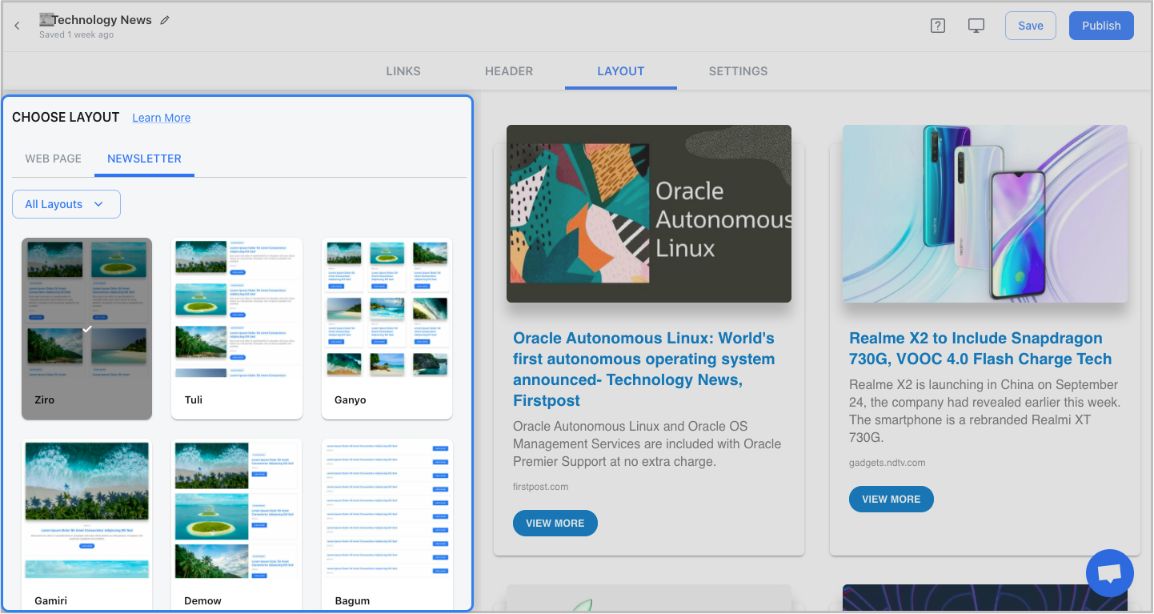 Step 6: Design and Customize
You'll get a perfect combination of colors in our templates. But, if you want to change the colors, you can do that too. Apart from that, you can also customize the font styles, button text, and more – in just a few clicks.
One of the most robust features of elink is that you can even add a search bar if you are adding a bunch of links such as resources etc.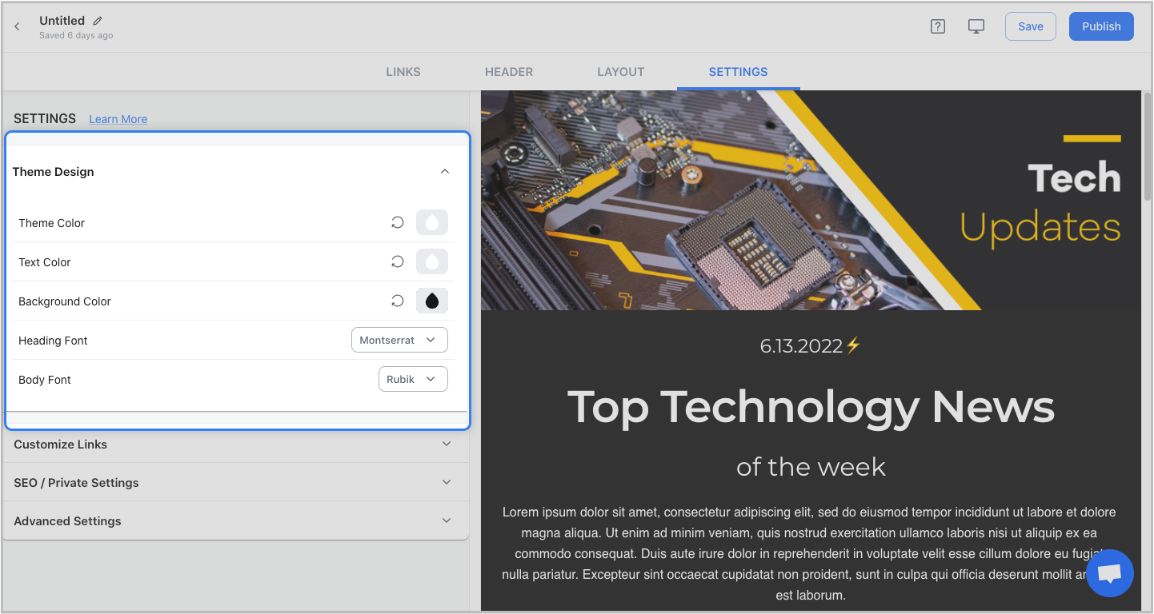 Step 7: Share Your Newsletter
Yay! You've now created a stunning newsletter that is ready to be shared with the world. Now, hit the 'Publish' button on the far right corner of the screen, and a pop-up will appear, allowing you to customize your content URL.
Once you have customized the URL, another popup will appear where you need to select the 'newsletter' option. From there, you can share your masterpiece via Gmail, Mailchimp, or any other third-party email marketing tools like Get Response, Mailchimp, etc.!
Checkout our Templates!
Conclusion
Whether you want to stay informed about the newest game releases or check the quality of a game before buying it, or simply browse the latest gaming headlines, then one of these amazing gaming newsletters will serve you well.
Now subscribe to your favorite one and stay up-to-date about the gaming world! Happy reading and happy gaming!
Further reads:
Cricket Blogs and Websites For Die-Hard Fans!
Best GIF Websites and Blogs You Must-Not Miss!
15 Best Gaming Podcasts That You Can't Miss Out On!