Whether it is working out to a peppy song in the gym, blasting your favorite song in your car while on your way to work, or simply humming a catchy tune in your head, music has become a huge part of our daily lives.
While some of us may just want to listen and groove to any music, many of us are a little more invested in it than that.
You may want to know what's happening in the behind-the-scenes of the music industry or get into the cultural and business side of it all or simply keep up with the latest music trends.
Subscribing to music newsletters can help you do all this! It is a great way of catching up with the latest music-related news and keeping tabs on what's trending in the industry.
Here we have curated for you a list of some of the best music newsletters out there to help you gain better insights into what's happening in the world of music!
Excited to find out what they are? Then dive right in!
List of Music Newsletters!
Lefsetz Letter is a popular music newsletter by music industry analyst and critic, Bob Lefsetz. It has been around for more than 25 years and is considered one of the first music industry newsletters ever.
In Lefsetz Letter, Bob Lefsetz discusses and criticizes music, music artists, and the business side of the music world. His expertise and straightforward approach to analyzing music and the industry is what makes this newsletter highly popular and a must-have in your inbox if you are a music enthusiast.
Written by music tech writer and researcher, Cherie Hu, Water & Music is a music newsletter that focuses on the intersection of music, technology, business, culture, and people.
This newsletter offers you the latest news in the music world and discusses industry metrics and other serious issues like gender, money-making, and industry-related topics. It also offers a podcast of the same name which provides a better understanding of the music industry. Water & Music is also known to take a humorous approach in writing.
3. Deep Cuts
Deep Cuts newsletter is a music newsletter by Amber Horsburgh, a music marketer at Downtown Records. It highlights innovative campaigns and promotions and unique strategies and marketing in the music industry.
Deep Cuts includes free useful resources and has expanded the newsletter into an online course called School of Deep Cuts, where it helps artists and music managers learn how to build scalable release plans, the importance of proper budgeting, and creating solid artist-fan relationships.

Platform & Stream by Jeff Hyatt is a daily newsletter about the music streaming business. It mainly focuses on the latest updates and news about music streaming platforms such as Spotify or Apple Music and discusses topics around digital music distribution, music tech, and monetization.
This newsletter also summarizes important articles to capture their essence so that you can browse through the news without taking up much time!
5. 22tracks
Want a curated list of amazing music recommendations right in your inbox? Then subscribe to 22track's music newsletter. They offer info on various styles of music, genre, and artists.
This monthly newsletter clusters the music recommendations into playlists on the 22tracks platform which you can then directly listen to on Spotify. Each playlist created is followed by a summary so that you have an idea about the music list.
Read more: 31 Best YouTube Music Channels for Music Lovers!
Music x Tech x Future by Bas Gras is a weekly music newsletter that focuses on how music, tech, and the future intersect each other in different ways. It offers information on all the latest news happening in the music industry and the digital music space.
You can read personal thought pieces from Bas Gras, receive rare music recommendations from all over the world, and get other fun, music-related content.
Jay Gilbert's highly-curated music newsletter, Your Morning Coffee offers a weekly snapshot of the new music business. In addition to this, you will also receive their weekly podcast co-hosted by Mike Etchart.
With Your Morning Coffee newsletter and podcast, you will get all the top stories, latest news, and trends in the music industry to help you keep up with where the music business is heading.
8. Five-Song-Fridays
Five Song Friday is a simple music newsletter for the music lover in you. It provides you with 5 song recommendations on Fridays by Song Exploder, a podcast that tells the story of how songs are made.
This is a great newsletter to kickstart your weekend with new song recommendations. In addition, you also receive a link to their latest podcast episodes to find out what's happening on Song Exploder.
Subscribe to Symphonic Weekly to receive all the latest updates and insights on important trends in the music industry. Here, you also receive life hacks, marketing hacks, and management tips to improve your revenue sources and music business.
Symphonic Weekly also offers live Q&A on music monetization and marketing tips, downloadable guides, community resources, and more!
Now that you are equipped with some of the best music newsletters out there, what if we told you that you could create your own in just a matter of minutes!
Don't believe us? Then scroll down!
elink: The Fastest and Easiest Way to Create Newsletters
You have a lot to compete within your subscribers' inboxes. That's why using a powerful newsletter creator like elink.io is critical to designing an email newsletter that people want to click through!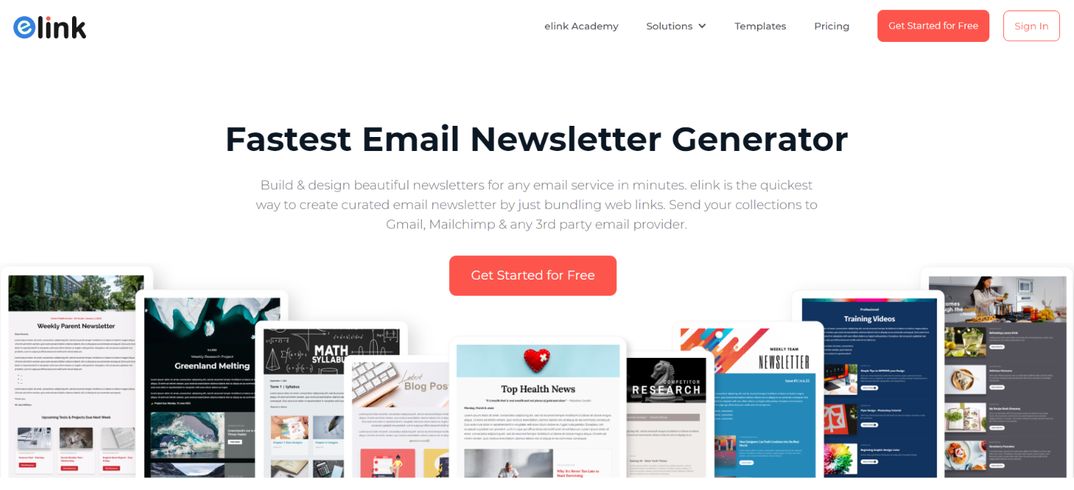 elink is a content curation platform that you need to have in your tool kit regardless of your industry. It is easy on the budget, simple to use, and comes with all the features you need to create and share beautiful newsletters, webpages, and more.
Simply put, elink is the fastest, coolest, and most efficient way to create and share newsletters on any topic in a visually appealing, smooth way. Just add links to the content you need to share, and elink will create a stunning newsletter for you in minutes.
The platform offers over 50 pre-built templates, so you don't need to think about the design aspect, and you can focus on growing your company. Moreover, you can add your own images, text, bullet lists, numbered lists, buttons, social icons, and dividers in your header and footer body. What could be better than that?
The best part? Unlike most other newsletter creators, elink.io lets you collaborate with your team in real-time. So you and your team can work together on bundling, creating, and sharing content. You can even add a search bar in the newsletter and make it easy for your readers to find what they are looking for.
There's more! elink has a robust RSS reader that lets you add RSS feeds of the publications you love. You can bundle links directly from the RSS Reader and create a stunning newsletter in seconds.
And, the most amazing feature of elink is – content automation! Using elink's nifty automation tool, you can automate content creation for your newsletters, websites, and more. All you have to do is pick sources and add filters in order to make your content more effective and relevant.
Okay, so now that we have convinced you to try elink (hooray!), let's understand how you can create a stunning newsletter with elink.
Steps for Creating a Newsletter with elink
Step 1: Choose a Newsletter Template
The coolest thing about elink is that you don't have to worry about all the tricky design rules. With elink's stunning newsletter templates, you're already way ahead when it comes to designing.
Now, here's what you need to do: choose a template and customize it the way you want. We've quite a splendid collection to choose from, so take your time to find the one that fits your needs the best.
By the way, you can also create a newsletter from scratch. It's totally up to you.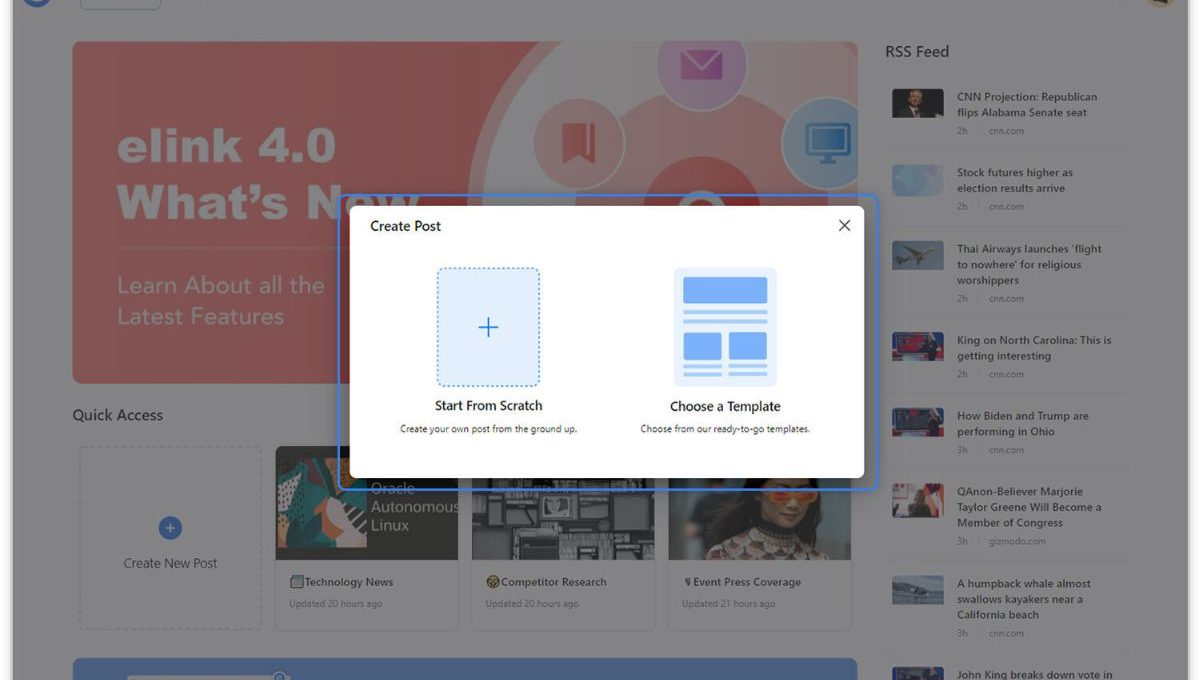 Step 2: Add Links to the Newsletter
Here comes the fun part. You can add links to the content (articles, videos, products, etc.) that you want to show up in your newsletter.
elink is so robust that it will automatically generate an image, a title, and a short description with each link. Of course, you can modify and customize any of this information if you want.
elink is also an RSS reader and a bookmark manager so you can quickly select your preselected links directly from the link library or the RSS feeds or enter them manually.
Step 3: Add Header
We know that a compelling email header design decides whether the reader would read your entire newsletter or bail on it. That's why we've given you the option of designing your header body the way you want.
You can add images, text, bullet lists, numbered lists, buttons, social icons, and dividers in your header body. elink even lets you choose from over 6 font sizes for your header body.
What's more? You can also use elink's Canva integration and design an eye-catching banner directly in elink.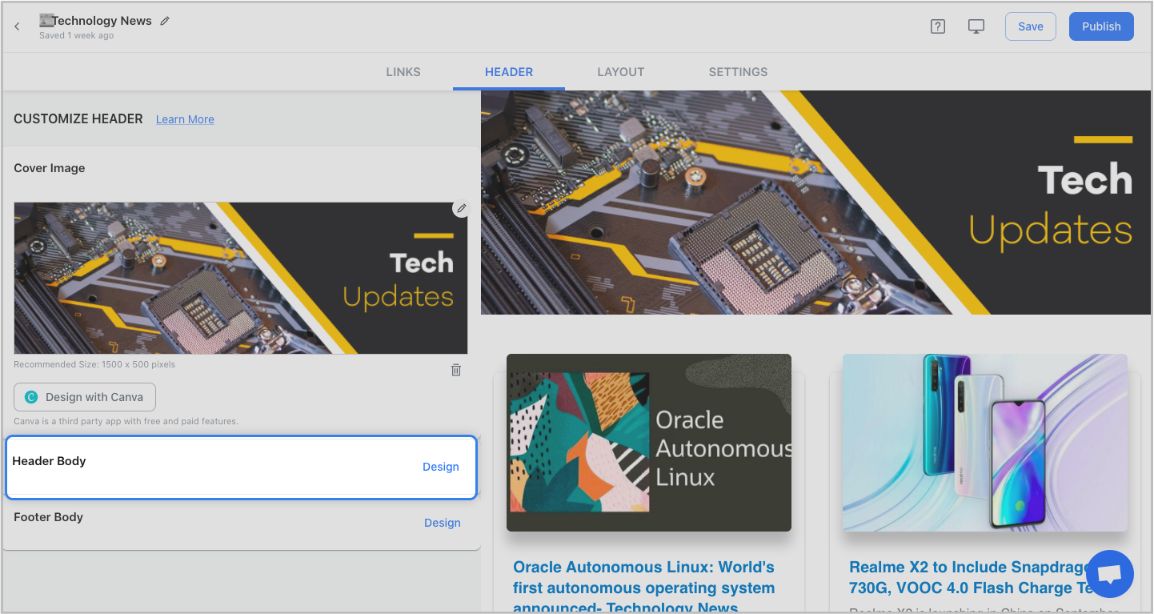 Step 4: Add Footer
An email footer is a place where the recipients would look for details about your brand. It is a place for transparency, clarity, and good design – exactly what elink provides.
You can add images, text, bullet lists, numbered lists, buttons, social icons, and dividers in your footer. Moreover, you can link the social icons with your own social media accounts in seconds.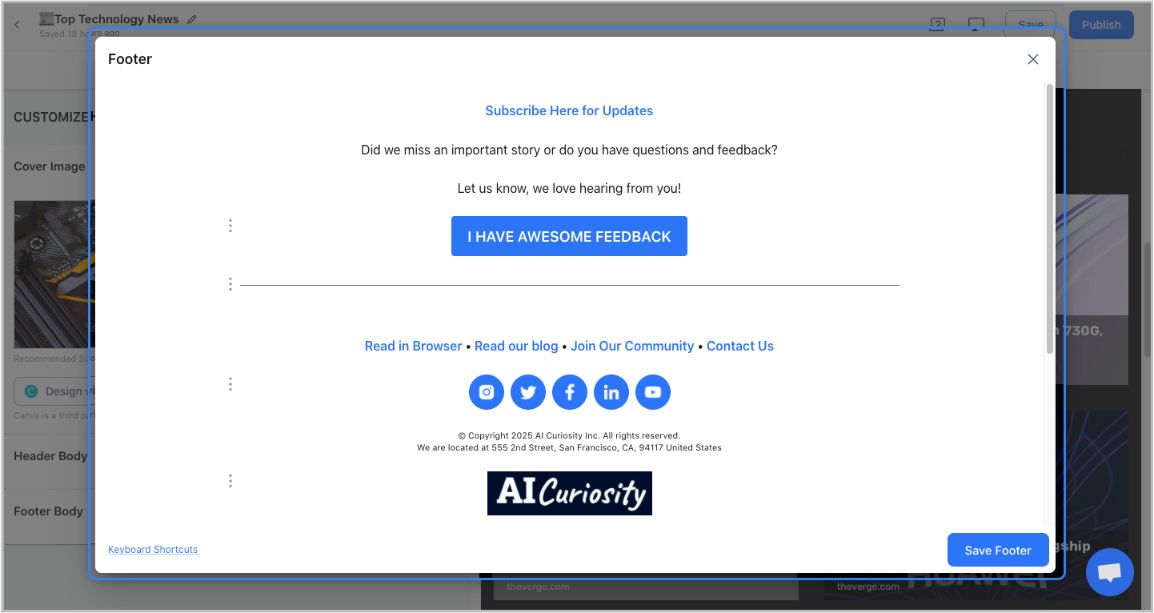 Step 5: Choose a Layout for your links:
Just jump right in and don't worry about wasting valuable time designing the layout of your newsletter. elink has already done all the heavy lifting for you. You can choose your favorite layout from all the different options with a simple click of a button and elink will change the formatting of those tiles to your chosen style.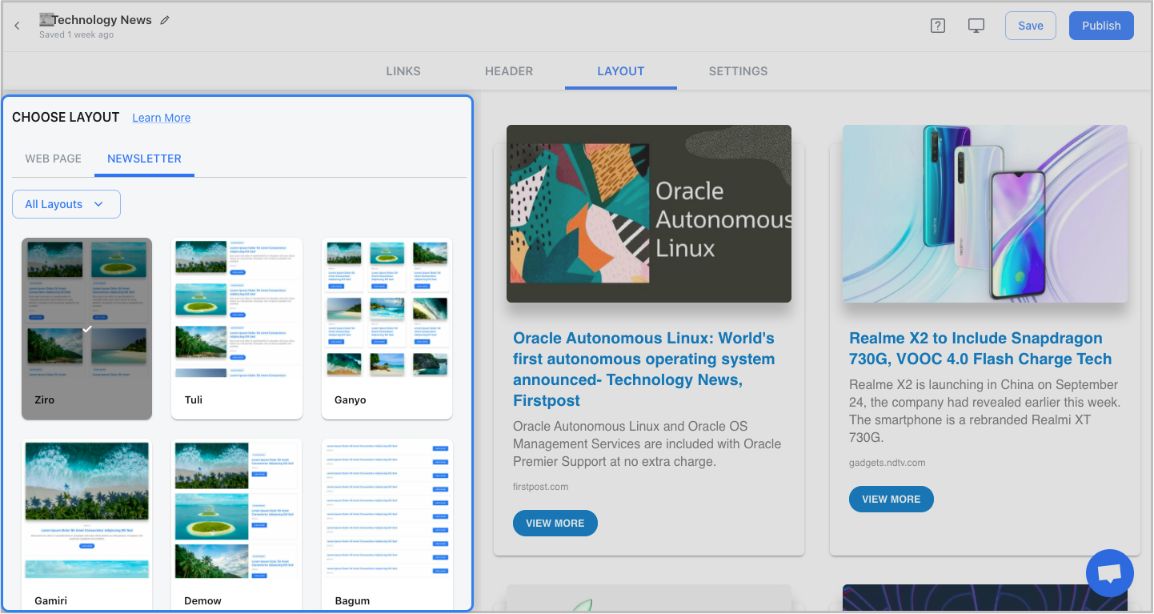 Step 6: Design and Customize
You'll get a perfect combination of colors in our templates. But, if you want to change the colors, you can do that too. Apart from that, you can also customize the font styles, button text, and more – in just a few clicks.
One of the most robust features of elink is that you can even add a search bar if you are adding a bunch of links such as resources etc.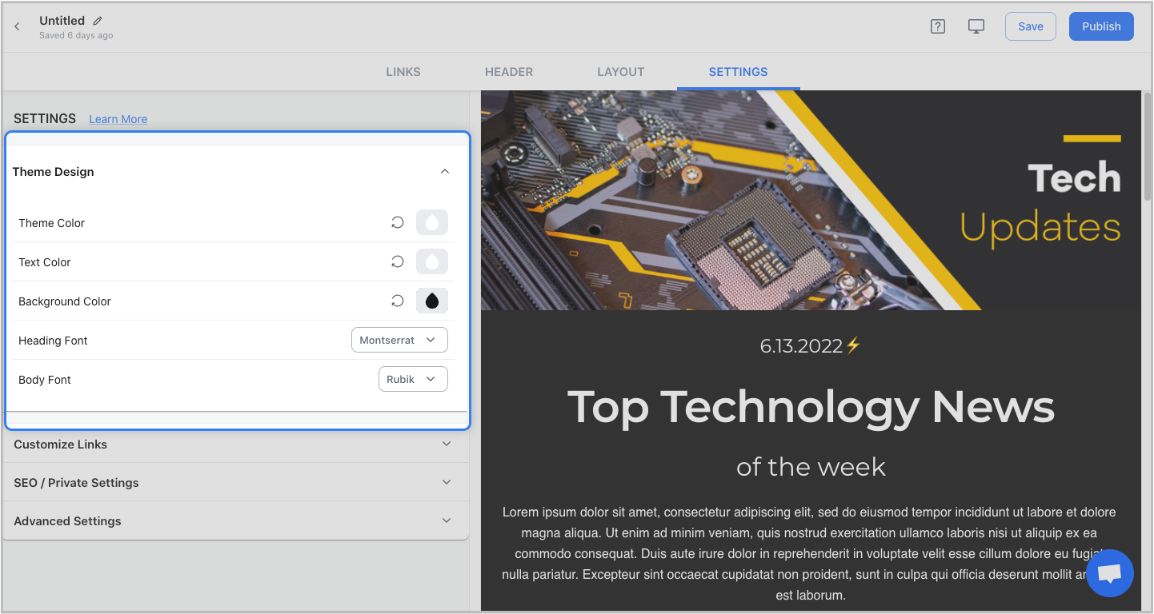 Step 7: Share Your Newsletter
Yay! You've now created a stunning newsletter that is ready to be shared with the world. Now, hit the 'Publish' button on the far right corner of the screen, and a pop-up will appear, allowing you to customize your content URL.
Once you have customized the URL, another popup will appear where you need to select the 'newsletter' option. From there, you can share your masterpiece via Gmail, Mailchimp, or any other third-party email marketing tools like Get Response, Mailchimp, etc.!
Checkout our Templates!
Conclusion
Whether you're a professional musician or simply a passionate music enthusiast, everything you need to know to stay informed about what's happening around the music industry is now easily available to you.

All you have to do is simply pick the music newsletter that you think will help you with that and you're all good!
And don't forget to use elink if you want to create your own music newsletters!
Happy listening and happy reading!
Further reads:
31 Best YouTube Music Channels for Music Lovers!
Podcast RSS Feeds: What are they and How to Get them?
Top 10 Best YouTube to MP3 Converters Out There!