Music is the universal language of mankind.
This saying of American Poet, Henry Wadsworth Longfellow is getting proved on scientific grounds.
It is true that blood connects the members of a family but when we talk about collectivity on a global level, away from borders and boundaries, we need something more indivisible, and that's MUSIC!
Music is something that is meant to be shared at a larger societal level as it generates a sense of belonging among people.
Music is eternal. Nowadays people connect, talk, breathe, feel, and dance to the tunes of music.
What more?
Well, this is not a trend that stays for a year or two and then vanishes. It is something more firm and will stay with humankind for years to come that nobody can count on.
To suit your music needs, there are many platforms available now. But you know which one is the most popular…
YouTube! Yes, it is indeed an incredible platform to find anything, everything, and for everyone.
This platform has changed the face of the music industry ever since its evolution.
With a buzz in opportunities, it gives hope to the new and emerging artists by providing them a space to connect with the audience and GROW.
So for rock songs, classic rock, Indie, Metal, Disco songs, Heavy Metal, Jazz, Rock'n'Roll, and many more, look no ahead of youtube. This is the place that serves as a converging area for all these categories and so much more.
All that's left now is deep exploration.

There are numerous youtube music channels, you just have to look through and see which one suits you. Well, that will need a lot of time and research, so we've simplified the process for you!
We have made a list of the best YouTube Music Channels and sorted them into six music genre categories namely:
Rock
Hip Hop
Pop
Country Music
Electronic Music
Soul/Blues
Each category has handpicked youtube music channels that have won the hearts of people through countless live performances, covers of your favorite artist/music, interviews with singers, and much more!
So without much ado, let's dive into the tune!
List of 31 Best YouTube Music Channels You Must Subscribe to!
1. Rock Music Youtube Channels
1.91 Million subscribers
Does loud don't feel enough loud to your ears?
This means you are a rock music lover, right?
Loudwire is the number one source for heavy metal and rock music! Subscribe to this channel and get amazed by the huge variety of musicians they have here!
Rock it with Loudwire!
774K subscribers
Rock music is becoming increasingly popular. At such time, people seek underground music to rediscover their love for rock music.
Montage Rock can become your go-to channel for underground rock music. It keeps you updated with the latest happening in the rock world!
If you want to get featured on Montage Rock, then fill out this track submission form at https://forms.gle/1QQExcvVnWY9qAgy9 and get a chance to see your track on this channel.
3.2M subscribers
What we talk about when we talk about rock music?
PINK FLOYD!
Yes, if you are a rock music fan and don't know or like Pink Floyd's music, then you are not a real fan.
Rock music began with Pink Floyd! It was formed in the 1960s when Roger Waters, Nick Mason, and Richard Wright were studying at college in London, together they changed the face of the rock industry! Serving as a tribute to this band and their popularity is this youtube music channel is here for Floyd lovers!
287K subscribers
Bang your head not on the wall but on the tunes of heavy metal music!
Metal Injection can be your daily dose for rock music. This channel features hardcore live performances and backstage fun! Watch interviews of your favorite artists and get closer to becoming a real fan of rock music!
All colours, no genres!
Read more: 9 Music Newsletters You Must Subscribe to! (& How to Create Your Own)
2. Hip Hop Music Youtube Channels
25.9M Subscribers
This youtube music channel is the stop-station for all the hip-hop music lovers!
It features exclusive music video premieres, rap freestyles, celeb rumors, exclusive artist content, behind the scenes, original series, and more. Joined in 2008, now this music channel is enough to satiate R&B and hip hop hunger! They work with the best music artists, collaborators, and projects.
So for high-quality hip hop, go to World Star Hip Hop!
3.27M subscribers
Want a mixed vibe in hot hip hop?
Chill to the music of Chill Hop!
This youtube channel is the best place for lofi hip hop music! The world is changing and now you can chill to hip-hop music as well! Isn't that amazing?
With a mix of jazz, renew your love for hip hop music through this enigmatic channel.
2.97M subscribers
Can't get enough of rap music?
Discover amazing Rap music on this channel. Dive into this youtube channel for classy rap style music!
This channel posts daily rap music videos. Being the third Nation (the first two being Trap Nation and Chill Nation), it dedicates itself to rap music only!
3.62M subscribers
Groove like never before to the beats of HOT97!
This youtube channel brings to you the best Hip Hop music from all over the world! Of late it trailed off from HOT97tv, and now it serves to amaze people's hip hop music choice! Not only this, it has brilliant interview coverage of your favorite rap artists!
Get the best Hip Hop video content on the web right on this youtube music channel!
3.74M subscribers
Hip-Hop on a Higher Level!
Yes! Experience hip hop music like never before!
Discover amazing artists on this channel and get to immerse
3. Pop Music Youtube Channels
7.94 Million Subscribers
BBC Radio 1 is the channel that offers everything from Live Lounge to interviews of the biggest stars in the music industry.
Subscribe to BBC Radio 1 and listen to your favorite artist performing tracks of others and sharing the music community as real people do!
It is the world's best radio station that brings to the music freaks the freshest music from all around the world.
4.12M subscribers
Want to stay in touch with the hottest music trends pf pop culture?
Pixl Network is the right choice for you!
Being among youtube's leading music distributors, Pixl Network is the face behind the promotion of pop music on youtube. They have rising stars and popular music artists from all over the world! For more than half a decade, they have contributed majorly to popularising music and they are yet to stay as favorites of pop music lovers.
16.4M subscribers
7Clouds promotes the finest pop music and places it up here on this channel for music lovers. They team up their lyrical videos with beautiful wallpapers for the ultimate music experience.
To feel the cloud-like heavenly music, subscribe in NOW!
1.22 Million Subscribers
Made in the year 2008, Pitchfork documents independent artists and music that might just go unnoticed. Yes, this channel is serving as a repository of the early performances of singers, their interviews, and documentaries.
A real music lover won't care about music only. They will try to explore other areas and this side is explored heavily on this channel. The channel programs range from exclusively produced music videos, short films, documentaries, animation, live streaming concerts/festivals, and episodic series making this channel all time favorite of all the music lovers.
74 Million Subscribers
BTS, only in our second thoughts means Behind the Scenes. In the first thought, we know we are talking about the famous K-Pop group, BTS. Bangtan TV is the official youtube channel for BTS. This is the music channel that is run and supported by team BTS and its loving fans.
This group of seven young men has one of the largest fan base, also known as 'army'. Because of their fans' continuous love and support, the YouTube channel has the highest number of subscribers in our list and worldwide.
4. Country Music Music Youtube Channels
776K subscribers
Let's agree, we all have a separate place in our heart for country music, right?
This channel has made country music more popular among people with its reach. It brings to light the new stars and underground country artists from different places in the world.
It is the official youtube music channel for the website https://www.opry.com/.
632K subscribers
Country Music Served Fresh Daily
The Taste of Country is the best platform if you want to taste the convincing magic of country music and become a fan! From Blake Shelton to George Strait, watch all your favorite country artists steal the stage here!
499K subscribers
Country Library is one place for the best country music from all over the world!
The category of the 'Top Country Songs' is enough to keep you hooked on this youtube channel like this one. Dive into any top curated list and become a fan straightaway!
49.6K subscribers
Why Listen To Noise When You Can Hear Good Music
Here is this youtube music to sustain the position of country music in the world to stay!
Keeping the traditional country music alive, Stone Cold Country is here to provide a cool breeze of music you can zone out to!
So what's the wait, subscribe in NOW!
32.6K subscribers
Find all tracks of famous country singers like Johnny Cash and Hank Williams, right here on this cool youtube channel! They have used hues of brown to design the wallpaper of their uploaded videos.
Subscribe to this youtube channel that is waiting for people to discover this amazing platform! Head ahead NOW!
5. Electronic Music Youtube Channels
28.5M subscribers
Want to lose control over the beats of electronic dance music?
This youtube music channel has covered the entire electronic music genre. Groove to the beats of your favorite artists like Kygo, Steve Aoki, Deorro, Benny Benassi, Flosstradamus, & more, all right on this channel.
So people go electric with UltraMusic!
3.78M subscribers
Rock your body to House Nation!
Do you like freeing your spirit to the madness of house music?
Call House Nation the nation youtube music channel for House Music! Dive into the crazy groovy mixes of this channel and levitate to this amazing quality house music!
It uploads a video daily and maintains a clean visual look to experience real music!
2.99 Million Subscribers
Focussing on electronic music such as garage, house, techno, dub, has now expanded to include grime, hip hop, classical, and jazz too!
Boiler Room is the best music channel to supplement your dynamic music energy. It is not just a YouTube channel, it is a community with culture, vibe, and trend. It is a platform where people through music connect and explore music in depths.
So folks, subscribe to this channel for building your unique archive featuring over 7,5000 performances, by more than 7,000 artists, and representing freedom through music and stories behind it.
1.58 Million Subscribers
Who doesn't like grooving to the sound of club music? Nobody!
It is easy to lose oneself to the beats of groovy music. Joined in 2008, Mixmag offers people a variety of music to suit their music taste. With recorded sets from the lab, mixes, and tracks premieres, there's a lot in stock for a music freak at Mixmag!
30.4M subscribers
Andre is the man behind this popular youtube music channel!
Get trapped into the vibe of this music category. Browse into this youtube channel and listen to ear triggering electronic music. This American music promoter serves a variety of music taste so that anyone getting into this youtube music channel gets trapped!
So folks, feel the current in your body with Trap Music!
6. Soul/Blues Music Youtube Channels
7.01 Million Subscribers
It is the official youtube music channel for NRP Music which is a project of National Public Radio. Founded in 2007, it is an independent, non-profit organization meaning to create an informed public.
This particular youtube channel shows Tiny Desk Concerts, live shows, documentaries, and much more. Sometimes to make a story global, all it needs is media. This platform has the ability to make stories global and make them heard by people living in all corners of the world.
NRP offers both archival as well as current podcasts. From live concerts, webcasts, studio sessions, and interviews find everything in NRP Music.
4.56M subscribers
Audio Library- Music For Content Creators!
As the name suggests, Audio Library is a library collection for music!
Audio Library is a dedicated music channel to search No Copyright Music, Vlog Music and Royalty Free Music for content creators. It serves soulful music to take your spirit only UP UP AND UP!
Subscribe to the magic of this channel!
4.32 Million Subscribers
Majestic Casual serves music discoveries for curious minds. Music enthusiasts, those who do not care about big hits and music trends, this is the channel of your choice! This channel has the ability to turn casual music into a majestic piece. It values authenticity and diversity to the core.
This is the YouTube channel that is built out of a community of music lovers that have eyes and ears open for good music. It connects people with music through music.
Also, the best thing about this music channel is that you can be a part of this amazing platform by submitting your music at http://submit.majesticcasual.com/. So get going!
1.32 Million Subscribers
For music lovers, there are tracks that they wish to hide from people. Sofar Sounds is the place where your secret can come out in public. Joined in 2010, it serves as a platform that serves lowkey music from all corners of the world.
The best part about this channel is that it tries to connect with people through their videos of in-house performances. Most of their recordings are from common places like living rooms and rooftops. These are everyday places that people see and visit often and thus creates a maximum level of connectivity.
The performances mostly have a touch of intimacy that envelops globally all the music lovers and creates a space for them where only music matters.
886k Subscribers
A London based youtube channel founded in 2009, Mahogany is building a music community online to give people the best music experience in the world. From cinematic live sessions to unique live concerts, this channel continuously streams good music only.
Originally it started as a WordPress based music blog. After gaining popularity, it came up with its own online youtube music channel with the name, 'The Mahogany Sessions'.
It is a platform that gives exposure to new, rising, and emerging talents and sits in the hearts of music lovers.
1.23M Subscribers
Curious about the name? This youtube channel has taken its name from a 2006 South Korean romantic comedy film of the same name directed by Park Chan-wook.
The owner of this music channel is an outright music and movie fan. For him, the two seem inseparable. He clubs his favorite movie parts with indie music. He always gives the disclaimer that he owns nothing but editing in the content of his channel. An honest guy!
Most of the edits are hopelessly romantic with a hue of cuteness in all of them. So, if you are searching for a soft music corner, subscribe to this youtube channel, right now!
All Colors, No Genres!
Not every music channel can fit into the genre list.
Some channels have a huge base for the genres. Instead of promoting one kind of music, they have vast space for 'variety'.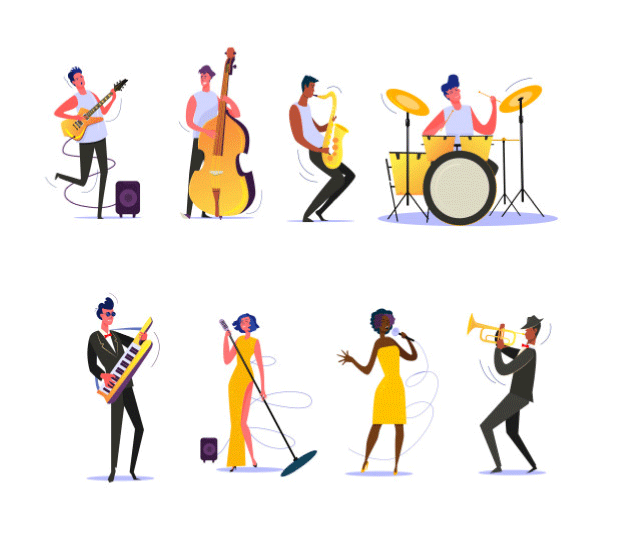 Here we have in our list a youtube channel that has the potential to cater to any and every kind of music taste and it is…
6.13 Million Subscribers
Colors, appropriate named, is among the best youtube music channels. It has its avenue open for artists all around the globe. It represents people of all colors, music tastes, and in other words, DIVERSITY.
More importantly, Colors focuses on new artists and gives them the opportunity to stand under the spotlight and take over the stage. It is a humble platform that refers to and represents the toiling musicians.
Conclusion
So, folks, life gets better with good music, and finding good music has become easier with this blog!
We hope you found your companion from our list of youtube music channels.
Did we forget to mention a great youtube channel on our list? Write to us at @elink_io and let us know. We'd be happy to hear from you!
GOOD LUCK!
Further reads:
13 Best Make-Up YouTube Channels to Follow!
15 Best Prank YouTube Channels You Must Subscribe to!
Top 13 Funny YouTube Channels You Must Subscribe!
The Best Art YouTube Channels to Follow Right Now
Top 15 Female YouTubers You Must Follow in 2022!
YouTube Community Tab: What is it & How To Use it For Subscribers?