When you think of watching a video online, what's the first thing that comes to your mind? We bet you just thought YouTube! One of the biggest social platforms out there, YouTube boasts of over 2.8 billion monthly active users worldwide.
While many think of YouTube as a platform to watch amazing videos, there's a huge percentage of people who use it as their go-to music app. According to YouTube, music videos get the most love from watchers as they make up a majority of the top 30 most viewed YouTube videos.
While apps like Spotify and Apple music dominate the music industry, YouTube has its own fan base. In fact, one of the most popular searches online in 2019 was "YouTube to MP3" with a whopping 13.7 million hits.
With so many people using YouTube as their primary music app and looking for YouTube to MP3 converters to take their music offline, we decided to come up with a list of the best youtube to mp3 converters that are out there.
List of Best YouTube to MP3 Converters for Audio lovers!
Today we decided to scour the internet and look for the best YouTube to MP3 converters for you, so you don't have to. Some of these tools are completely free to use while others have a one-time/subscription fee. So without further ado, let's begin…
Kicking off our list is Offliberty, a bare-bones Youtube to mp3 converter. With the main premise of taking your online world offline, Offliberty converts content on the internet into files you can store on your computer for times when you don't have an internet connection.
Some Standout Features of Offliberty:
Neat and clean interface
No intrusive ads
Download complete video or extract audio-only.
Price: Free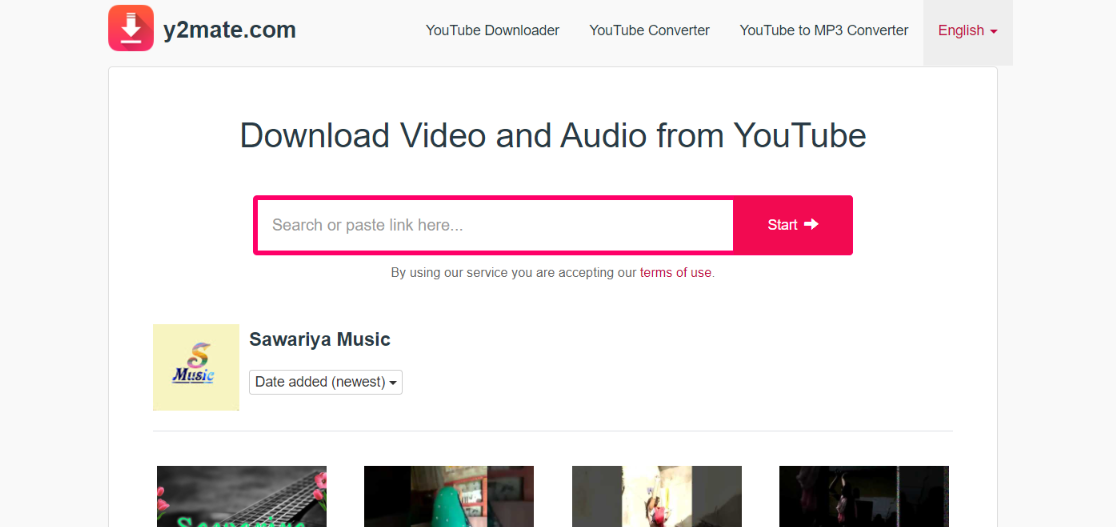 One of the most popular services on this list is Y2mate. The platform is easy to use and requires no signup. Y2mate offers 3 main services: YouTube Converter, YouTube to MP3 Converter, and YouTube Downloader. Simply add any URL from a YouTube video and download it as MP3.
You can also download videos in MP4 format with the best quality. You can choose between 64kbps, 128kbps, 192kbps, 320kbps, 96kbps, 256 kbps audio quality. Apart from mp3 and mp4, users can convert their videos into AVI, FLV, and other formats.

Some Standout Features of Y2mate:
Unlimited, high-speed downloading
Convert videos into mp3, mp4, Flv, Avi, and more
Converted files can be uploaded to your DropBox and Google Drive.
Price: Free
Read more: YouTube Community Tab: What is it & How To Use it For Subscribers
Looking for an offline converter? Try SnapDownloader. A video downloader for Windows and macOS, Snapdownloader allows users to download your favorite videos from YouTube, Vimeo, Twitter, Reddit, Facebook, and over 900 similar websites!
Users can download videos in 8K, 4K, QHD, 1080p HD quality. Apart from downloading, it also converts YouTube to MP3 in high-quality audio so you can listen to your favorite tracks offline. With batch downloads, queue multiple videos for download at once.
Some Standout Features of SnapDownloader:
Download videos from over 900 websites
Download Youtube playlists, batch downloads, 3D, and VR videos
Download videos in 8K high-quality resolutions
Schedule videos to download at a later time
Set up a proxy within the app to bypass geo-restrictions
Price:
A free 24-hour trial that gives you access to all the features.
Lifetime license of $19.99
Read more: 31 Best YouTube Music Channels for Music Lovers!
4K Video Downloader, as the name suggests, allows you to download videos from YouTube in 4k. Apart from YouTube, users can download files from Vimeo, Twitch, Soundcloud, Flickr, Dailymotion, TikTok, and many more services.
You can also download private videos, liked videos, watch later content, playlists, and more from YouTube. The YouTube to MP3 converter works as intended as you can grab high-quality audio from videos or sites like Soundcloud. Users can also download subtitles along with the video in over 50 languages.
Some Standout Features of 4K Video Downloader
Download high-quality 4k and 8k videos
Convert and download audio from Vimeo, Soundcloud, youtube playlists, and more
In-app proxy to bypass geo-restrictions
Price:
Free with limited features
Paid plans start from: Personal ($15), Pro ($45), 4k Bundle ($25)
Read more: Top 13 Funny YouTube Channels You Must Subscribe!
The key thing that sets YouTubetoMp3 apart is its cross-platform support as it can be used by Windows, Mac, Android, and iOS users. No registration or software download required. Simply enter your URL and convert your video to mp3. YouTubetoMP3 supports 1000+ websites like Vimeo, Dailymotion, Facebook, and more.
Some Standout Features of YouTubetoMP3
Upload downloaded files to Google Drive and Dropbox
Unlimited conversions and downloads
Supports 1000 + websites
Price: Free
MP3FY is another Youtube to mp3 downloader that works online without any setup or registration. Download videos from YouTube and other sources like Facebook, Instagram, Vimeo, Dailymotion, and 1000s of other websites. With a built-in search feature, you can quickly look for video directly from the platform and convert it to mp3.
MP3Fy almost always converts videos to 320kbps (whenever available) and even download videos that are blocked or are not available in your country.
Some Standout Features of MP3FY:
Built-in video search functionality that lets you search the video by the title.
Download long files (even audiobooks) without any limits on video length or audio size.
Auto downloads the highest bitrate (up to 320 kbps).
Price: Free
Read more: The Best Tips to Create a Slideshow Product Video
#7. BigConverter
Another online converter, BigConverter has a ton of ads on the platform hampering the user experience. However, the tool is very capable and allows you to download and convert videos into various different formats including MP3, M4A, or AAC
Apart from YouTube, it supports other websites such as Vimeo, Instagram, Dailymotion, Facebook, Twitter, etc. It also supports a file cutter that can be used to edit your audio files and make ringtones if you want. The platform is free and supported on all major browsers like Chrome, Safari, Firefox, etc.
Some Standout Features of BigConverter:
Download in Mp3, M4a, or AAC audio format
Supports online MP3 cutter to cut songs and make ringtones.
Supports all browsers such as Google Chrome, Opera, Internet Explorer, Safari, etc.
Price: Free.
VideoProc is a one-stop-shop tool for video downloading, conversion, and editing. A GPU accelerated video editing software, VideoProc provides you with everything you need to convert video to audio. A video editor first, Videoproc is often used by professionals. Although, it's an easy to use tool with little to no learning curve.
With 420+ output formats, Videoproc converts videos to MP3, MKV, FLV, M4A, MP4, etc. Users can download videos from YouTube, Soundcloud, Facebook, Instagram, Vimeo, and 1000s of other websites. Users can also batch download videos, including their Watch Later Playlist.
Some Standout Features of Videoproc:
Convert any videos to 420+ formats
Download video from 1000+ sites, including YouTube and Facebook
Batch downloading
Record YouTube live videos and streams
Plenty of editing tools
Price:
Free with limited features
Paid plans start from: One year license ($29.95), Lifetime license($42.95), Family license ($57.9525)
WinX HD Video Converter converts any video between 420+ formats for free. Convert Youtube videos, MP4, MTS, HEVC, MKV, AVI, AVCHD, and more easily with this amazing tool. The tool doesn't work online so you have to download the software on your PC.
Users can also directly transcode videos to Android, iPods, iPhones, Xbox, PS4, HDTV, and more. Tere's a built-in video compressor in case the file you are downloading is too large. With editing features like trim, crop, merge, etc, it's easier to edit videos without using another tool. You can further tweak fps, video codec, aspect ratio, resolution, etc.
Some Standout Features of WinX Video Converter
Supports FLV, H.264/MPEG-4, AVI, WMV, MP4, MOV, MKV, and more formats
Edit, crop, compress, change aspect ratio, resolution, and more.
Download video from YouTube and 1000+ websites
Price:
Free plan with limited features
Pro plan starts from: One-time fee of $29.95.
#10. YTDownload.net
A no-frills YouTube to Mp3 converter, YTDownload easily converts Youtube videos to mp3 in one click. Simply paste the video URL and click the download button to download the video as mp4 or mp3. The platform is easy to use and has no intrusive advertisements. This tool is perfect for anyone looking to quickly convert or download their video in the quickest way possible.
Some Standout Features of YTDownload
High-quality audio download supporting 320kbps bitrate
Download mp4 with 1080p quality
Easy to use with a neat and clean user interface.
High-speed conversion and downloading.
Price: Free
Final Words
That's it, folks! These are our top picks for the best Youtube to MP3 converters out there. No matter if you want to download a video in HD quality or extract high-quality audio from it, there's a tool for your needs in this list. We suggest you try out the free ones and test them out on your own!
Did we miss out on your favorite YouTube to MP3 converter? Do let us know by tweeting us @elink_io. Happy downloading!
Further reads:
How to Embed Videos in Your Email Newsletter in Under 5 Minutes
3 Reasons Why Visual Content Marketing Is Better Than Boring Text
The Best Art YouTube Channels to Follow Right Now
Effective Ways to Start Sending Videos for Email Marketing
Top 12 Edtech YouTubers & Channels