If you work in marketing or send out email newsletters for your personal brand, there's a good chance you have heard of Mailchimp. An email marketing automation tool, Mailchimp, started its operation way back in 2001. Now almost 2 decades later, it still stands tall amongst competitors and continues to be a crowd favorite.
Mailchimp is one of the biggest email service providers out there, with a market share of over 45%. It currently boasts 15 million users worldwide, who collectively send over a billion emails every day!
Offering plans for small business owners to marketers, Mailchimp's features can be as basic and as advanced as you want.
However, getting started with the tool can be intimidating, especially for small businesses and local mom & pop shops, which simply requires something easy to use. Starting your email operations with Mailchimp can take time to figure the platform out.
Top 10 Mailchimp Alternatives For Marketing
Mailchimp is a great tool, but it's certainly not the only one out there. If Mailchimp, doesn't meet your requirements, is a bit heavy on your pocket, or you simply would like to look at what else is out there, we have got you covered!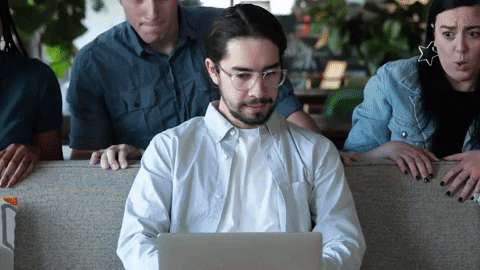 We have curated a list of some of the best Mailchimp alternatives out there so you don't have to spend hours on Google search results to find one. So without further ado, let's dive straight in…
elink.io
MailerLite
SendInBlue
GetResponse
Mixmax
Constant Contact
ActiveCampaign
Aweber
Campaign Monitor
Mailjet
First up on our list of some of the best Mailchimp alternatives is elink – the fastest way to send out email newsletters! elink.io is an awesome content curation & marketing tool that helps marketers and content creators publish email newsletters by just adding web links!
elink.io works by letting users choose a newsletter template and simply add the URLs (links) to the content (articles, videos, documents, etc.) they want to share as a newsletter! elink automatically converts those web links into visual blocks with a picture, title, and a short description. It's that easy!
elink offers 30+ beautiful pre-built responsive layouts, so you never have to worry about design and can just focus on your content. This time-saving tool will automate a ton of your marketing activities and is a great Mailchimp alternative if your main focus is sending out beautiful looking and responsive email newsletters.
The best part is you can send your emails through any third party email service you'd like with a couple of clicks! It'll cut down email newsletter creation from hours to minutes!
Key Features
A ton of templates to automate marketing
Works seamlessly with all the major email services
Easy and fun to use
Pricing:

Free with limited functionality
Affordable Paid plans: Pro Monthly ($15/month), Pro 1 Year ($12/month), Pro 2 year ($10/month).
Next up is another affordable Mailchimp alternative, MailerLite. Mailerlite is extremely simple to use with an easy to understand user interface. The use cases are divided into three broad categories- email automation, landing pages, and email newsletters.
For creating email newsletters, MailerLite provides a drag and drop editor along with content blocks for adding content, links, videos, images, etc. Once you are with your email, you can choose your subscribers list and hit send. Features like 'subscribers management' provides additional help in adding, deleting, and organizing subscriber base.
MailerLite's email automation features help you send welcome emails to new subscribers, carry out email surveys, and provide tools for effective user onboarding.
And with email tracking capabilities, MailerLite shows data regarding who, when and where has opened your email. MailerLite also has a mobile app to stay in touch with your campaigns in real-time.
Key Features
Email tracking
Landing pages, pop-ups, and embedded forms
Subscriber management
Pricing:
Free with limited functionality
Paid plans start at: $10/month if you have more than 1000 subscribers and go up to $50 if you have more than 5000.
Read more : How To Save Time On Your Next Mailerlite Newsletter
Email marketing? SMS? Website chatbots? Sendinblue has it all! A well-versed Mailchimp alternative, Sendinblue gives you options to create an email newsletter from scratch or use one of their responsive templates to kick-start your email marketing.
With automated workflows, users can do more in less time and segment subscribers for better targeting. From sending emails and SMS messages to organizing contacts and updating information, Sendinblue automates a ton of repetitive tasks, allowing you to focus on your content.
Speaking of contacts, Sendinblue also provides CRM capabilities to keep track of all contact details in a neat dashboard. With the 'Send Time Optimization' function, SendinBlue automatically determines the optimal time for reaching out to a contact to increase open rates.
Key Features
Automating workflow
SMS marketing and chatbots
Launch Facebook ads from your account
Pricing:
Free with limited functionality
Paid plans start at: Lite ($25/month), Essential ($39/month), Premium ($66/month)
GetResponse is an email marketing tool that provides users everything they need to carry out a successful email campaign and close more deals.
Users can create email newsletters, set up automated workflows, and triggered messaging, create landing pages, and more with this all-in-one marketing software.
Just like many tools on this list, GetResponse also provides a drag-and-drop builder to create newsletters and design the entire user experience. Users have the flexibility to build a number of scenarios and get real-time updates of a customer journey.
Other notable features include the ability to track and address cart abandoners and website visitors.
Key Features:
Autofunnels and autoresponders
Landing page optimization with A/B testing
Perfect timing to send emails at the appropriate time
Pricing:
Free with limited functionality
Paid plans start at: Basic ($15/month), Plus ($49/month), Professional ($99/month), Enterprise ($1199/month)
Read more : How To Send A GetResponse Newsletter In Half The Time (Templates Included)
Looking for something light-weight? Try out Mixmax, a Chrome Extension built to extend the functionality of Gmail. Mixmax is not a direct replacement to Mailchimp, but is a great add-on. Mixmax works inside your Gmail account and helps cut down your email marketing efforts by large.
Some notable features of Mixmax include email tracking (gives you data about when your email was opened and which links were clicked), email scheduling (schedules messages to be sent at a later date and time), and email templates(to cut help you cut down unnecessary tasks). All these features combined make Mixmax a handy email automation software.
Mixmax integrates with Salesforce, Google Calendar, Pipedrive, Typeform, Dropbox and more and is a great addition to your email marketing toolkit.
Key Features:
Email tracking within Gmail
Robust email templates
One-click meeting scheduling
Pricing:
Free plan with limited features.
Paid plans start at- Starter ($9 per user/month), Small Business ($24 per user/month), Growth ($49 per user/month), and Enterprise (custom pricing).
Read more : Quick And Easy Way To Send Responsive Newsletters Using Mixmax!
A well-known player in the email marketing space and a worthy opponent to Mailchimp in terms of features is Constant Contact.

With the majority of its features directed at small business owners, Constant Contact is a great tool to kickstart your email marketing campaigns.
Constant Contact provides a drag and drop builder to create email newsletters. Been in the industry for over 20 years, Constant Contact has constantly tweaked its features to provide the best possible customer experience.
If you run an e-commerce store, you can set up Constant Contact to help get those cart customers. With the help of its autoresponder, users can automatically nurture leads and send timely messages. Lastly, managing email lists is a breeze as you can source contacts from Excel, Gmail, and even social media.
Key Features
Trigger email series based on where contacts click
Email marketing for e-commerce businesses
Email tracking in real-time
Pricing:
Free with limited functionality
Paid plans start at: Constant Contact Email subscription for $20 per month and the Email Plus plan costs $45 per month.
Read more
Easiest Way To Create Constant Contact Newsletter
11 Constant Contact Alternatives for Better Email Marketing Automation
Next up on our list of awesome Mailchimp alternatives is ActiveCampaign. From email creation and scheduling to CRM and website tracking, ActiveCampaign is loaded with awesome features to take your email game to the next level.
ActiveCampaign provides smart insights into your most engaged customers and pulls together information from other platforms like Salesforce to fully customize and automate your email marketing efforts. With its drag and drop builder, you can create awesome workflows and newsletters without touching a single line of code.
Lastly, its CRM capabilities allow you to get all customer information under a single dashboard, providing win probability and lead scoring to sell effectively.
Key Features:
Integrations with over 250 apps
Advanced reporting and analytics
Website and tracking
Pricing:
Free with limited functionality
Paid plans start at: Lite ($9/month), Plus ($49/month), Professional ($129/month), Enterprise ($229/month)
Read more : How To Send An Active Campaign Newsletter In Less Than 15 Minutes
Next is another veteran in the industry, Aweber. Been in business for over 20 years, Aweber also has a robust drag-and-drop email builder tool.
A standout feature is AWeber's Smart Designer which automatically builds a ready–to–use, branded email template for your business. Simply enter your company's website URL (or your blog's) and Aweber will create an email newsletter template customized just for your business!
With Aweber's team hub, multiple users can collaborate around a single account and launch campaigns quickly. Users can also get a holistic view of their campaign performance through email tracking and can try out different campaign versions with split testing.
Aweber also integrates with a ton of apps like PayPal and WordPress to help automate your email list growth. With subscriber management, you can easily manage, track, and segment your contact list and send targeted emails.
Key Features
Check email performance and new subscriber information
Functional mobile apps
Award-winning customer support
Pricing:
Free with limited functionality
Paid plans start at: 0-500 subscribers ($19/month), 500-2500 subscribers ($29/month), 2500-5000 subscribers ($49/month), 5000-10000 subscribers ($69/month), 10000-250000 subscribers ($149/month).
Campaign Monitor has divided itself into two different product offerings- Campaign Monitor is the email marketing platform for brands, and CM Commerce, is the new email marketing platform for eCommerce businesses.
It has over 2 million marketers at 250,000 businesses around the world using and enjoying their platform. With easy to use email builders and a robust template gallery, anyone can create a professional-looking newsletter quickly.
has over 2 million marketers at 250,000 businesses around the world using and enjoying their platform. With easy to use email builders and a robust template gallery, anyone can create a professional-looking newsletter quickly.
For e-commerce shops, CM Commerce has some nifty features to help you get more sales. Features like feature automated abandoned cart messages, cross-sell new products, awesome reminder newsletters, and the ability to make use of product reviews to spread word of mouth.
With it's 'visual journey designer', businesses can create more timely emails that will lead to more engagement and subsequently, more revenue. You can create sign-up forms to capture new leads and use segmentation to manage those subscribers.
Key Features
Ecommerce features
Smart segmentation and tageting
TIme-zone sending and spam detection
Pricing:
Free with limited functionality
Paid plans start at: Basic ($9/month), Unlimited ($29/month), Premier ($149/month).
Read more : Create Campaign Monitor Newsletters the Easiest Way
All the above mentioned Mailchimp alternatives provide you a drag and drop builder to create newsletters. However, if you wish to build a custom email template that needs a collaborative effort form your development team, Mailjet is the email software for you.
Mailjet is essentially a collaboration tool for email creation where marketers and developers can work together, gather feedback, and create awesome newsletters without the back and forth calls and emails.
Mailjet has a built-in comments and approval system, designed to save you time and work together with your team in real-time. It's one of the few tools on the market that allows designers, marketers, and developers to work in real-time and create awesome email campaigns.
Key Features
Collaboration features
Monitor stats in real-time like the number of emails delivered, clicks and open rates
Setup SMTP servers in minutes
Pricing:
Free with limited functionality
Paid plans start at: Basic ($8.69/month), Premium ($18.86/month), Enterprise (customized offer)
What's your pick?
Mailchimp is a great platform to create email campaigns, monitor and manage subscribers, and keep track of your email marketing ROI. However, the Mailchimp alternatives mentioned above are all equally feature-rich.
You cannot really go wrong with any of the above-mentioned tools, you just have to find the one that suits your business needs. Did we miss out on your favorite Mailchimp alternative? Do let us know which email marketing platform you use by tweeting us @elink_io.
Further reads :
Don't want to forget this information?
Pin it for future reference!