If you send out your company newsletter or are planning to start one, this newsletter creation tip will help you build a visually appealing and responsive newsletter in minutes!
It's 2020 and the Internet have fundamentally changed the way businesses and customers interact. Status updates, likes, stories, tweets are a few of the many ways a marketer communicates with their customers or prospective customers.
This, however, does not make our affinity towards email any less! Email is still a marketer's best friend.
Not just marketers, consumers don't mind receiving emails too. A report indicates that 81% of people who shop from online stores are more likely to continue if they receive regular promotional emails.
Saying people love emails would be an understatement!
HITTING THE SWEET SPOT!
Since email is the one channel that is constantly on the rise and the one customers embrace, marketers need to develop content strategies to make sure they make the most of it, without driving customers away.
According to Hubspot, 78% of consumers have unsubscribed from emails because a brand was sending too many. Finding out just the right amount and sending segmented and personalized emails and newsletters are the key to unlock the true power of email.
MARKETING AUTOMATION TO THE RESCUE!
To make the most of email marketing, marketers turn to various email automation and analytics tools. The introduction of email automation has lead to a lot of cost-saving and time-saving in a way that was unimaginable a decade ago.
Within six months of adopting marketing automation tools, 8 percent of companies see increased revenues. After one year of incorporating automation platforms, 32 percent report increased revenue.
One such email marketing and automation tool is Mixmax. Mixmax is a tool that takes your Gmail marketing game to a whole new level. With powerful analytics, automation, and enhancements for your outbound communications, Mixmax truly attempts to make you a sales pro.

Marketers can have a better ROI on their email marketing efforts by making use of helpful features Mixmax provides. Some of these includes:
Email scheduling (schedules messages to be sent at some later date and time)
Email tracking (shows if and when an email was opened)
Email templates
You can also add interactive polls, surveys, web link previews, slideshows and can even schedule meetings within the Gmail message to compose window.
Everything Mixmax says it does perfectly. However, one of the most important aspects of an email marketing campaign is the use of email newsletters. According to the Content Marketing Institute, 83% of B2B marketers use email newsletters for content marketing.
SO WHAT ABOUT NEWSLETTERS EH?
Since newsletters are an integral part of every marketer's email strategy, we decided to do something about it and came up with an awesome tool that lets you create beautiful and responsive newsletters in minutes!
elink allows any marketer to create a visually appealing newsletter in a matter of minutes. It is the easiest and fastest way to create an email newsletter.
elink.io works by letting users choose a newsletter template and simply add the links to the content (blog posts, videos, documents, etc.) they want to share as a newsletter!
elink automatically converts those web links into visual blocks with a picture, title, and a short description. You can add a header, some intro text, your company logo and/or tagline and hit submit. It's that easy!
You can even share the content of your newsletter with your email list as a responsive web page or as embedded content.
The best part is the one-click integration of Mixmax and Elink.io.
Let us walk you through the steps of integrating Elink.io with your Mixmax account.
Step 1: Select a template.
elink.io provides you with 30+ responsive and visually appealing newsletter templates to choose from. If you realize, later you want to see how your newsletter looks in another template, you can come back and update it at any time.
Step 2: Add your links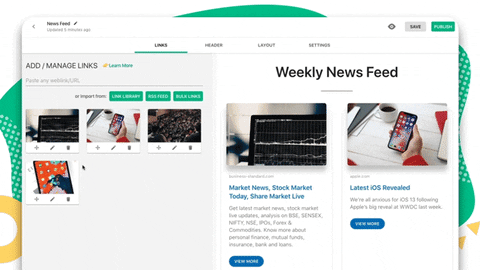 Next up, copy and paste links to the articles, videos, podcasts or other sources you want to share with your audience and elink will automatically generate an image, a title and a short descriptive text regarding each link. The best part is that you can change those titles and descriptions to make them SEO friendly and concise enough to get the viewer's attention. You can even change the link image by uploading a new one or zoom in or zoom out of the current image to display the best possible view.
You can even make use of elink.io's Chrome Extension to quickly add links to your newsletter quickly. It's a smart way to save relevant content across the web and start creating your newsletter as you go through your normal online life!
Step 3: Give your newsletter a title!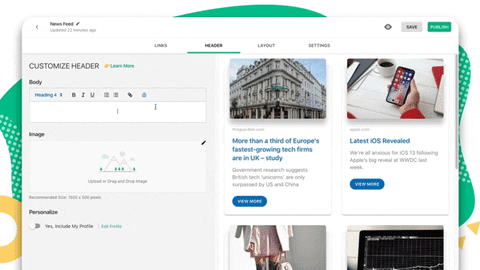 Give your newsletter a catchy title. Add a header image and short introductory text. This is your opportunity to engage your audience.
Step 4: Choose over 30+layouts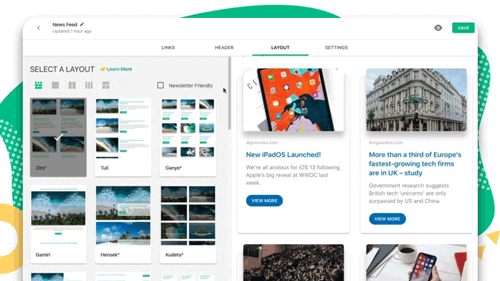 Choose from over 30+ finest layouts to suit your design and add your touch into it.
Step 5: Design and customize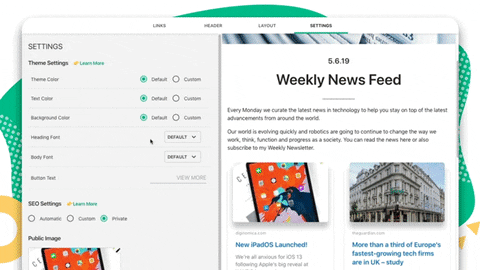 Customize your shopping page by changing the color of your header, text, and background. You can also change the font style of your text and the SEO settings as well!
Step 6: Publish & Export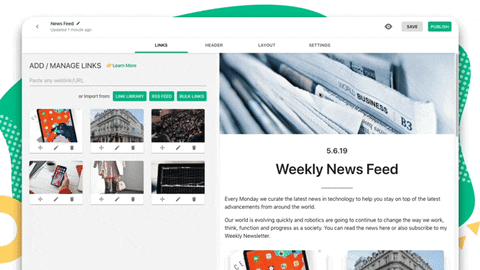 After publishing, go to your dashboard and select the newsletter button. Copy the HTML code and get ready to export your newsletter to your Mixmax account.
GET READY FOR YOUR MIXMAX NEWSLETTER!
Go to your Mixmax account and click on compose.
[
In the pop-up window, click on enhance and scroll down to "custom HTML" option. Paste your newsletter HTML code from elink.io in the window and voila! Your newsletter is ready to go!
Mixmax and elink.io are a match made in heaven!
So what are you waiting for? Amp up your marketing game with Mixmax, with a little help from Elink.io! Those newsletters aren't going to send themselves 😉
Further reads:
Don't want to forget this information?