Saying marketers are a busy bunch would be an understatement. With digital marketing growing at a rapid pace, it's hard to keep up with all these platforms, let alone personalizing marketing messages to every customer's need. However, "lack of time" cannot be an excuse for you to send out an email newsletter that is engaging and at the same time, visually appealing.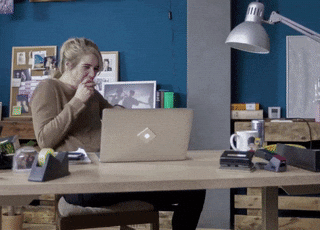 Newsletter Creation Takes Time
If you have ever used an email marketing service like Mailer Lite, you know crafting a perfect newsletter takes a lot of time and effort. Since approximately 81% uses mobile phones for checking their emails, making your newsletter mobile responsive becomes a necessity rather than a "this can slide".
With services like Mailer Lite, you have to deal with the formatting, decide which fonts to use, work with different image sizes and resolutions and sometimes, messy HTML code to make sure your newsletter looks perfect on all devices. Ugh!
Focus on important elements of your Newsletter
The only thing that will help you grow your newsletter is producing great content. And producing great content demands time. If you are spending the majority of your time making sure that your newsletter "looks" good, you are probably compromising on its quality.
The greatest asset a marketer has is TIME. So it's only logical to spend it wisely and on work that will provide the greatest returns.
Related : How to Turn Boring Plain Text Emails into Responsive Gmail Newsletters
TAKING MATTER IN OUR OWN HANDS
We decided to do something about this and came up with elink.io, a content marketing and curation tool that helps you focus on the most important part of your newsletter that is Content.
elink.io works by letting users choose a newsletter template and simply add the links to the content (blog posts, videos, documents, etc.) they want to share as a newsletter!
elink automatically converts those web links into visual blocks with a picture, title, and a short description. You can add a header, some intro text, your company logo and/or tagline and hit submit. It's that easy!
The best part? You can completely change the look of your newsletter by switching between elink's 30+ different templates at any time of your newsletter creation process and see which one suits you the best! All the templates are responsive and look perfect on all devices.
"Create visually appealing newsletters in minutes!"
Related : Top Content Curation Tools: The Ultimate List For Marketing, Social Media, Education & Businesses
Creating Newsletter on Elink.io is really easy!
Let us give you a detailed walk through on how to create a newsletter with elink.io and export it to Mailer Lite.
Step 1 : Select a template
You can either choose to build your elink press page from scratch or can use one of our awesome pre-built press page templates. Either way, it's extremely easy to create a press page in minutes! Each template is responsive, so you don't have to worry about the appearance of your links on different devices with varying screen sizes. The best part is, you are not stuck with your layout. Come back at any time even and give it a new look. Even after it has already been published!
Step 2 : Add your links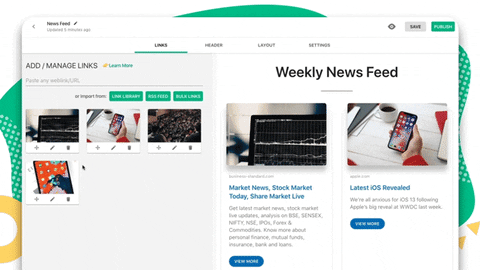 Next up, copy and paste links to the articles, videos, podcasts or other sources you want to share with your audience and elink will automatically generate an image, a title and a short descriptive text regarding each link. The best part is that you can change those titles and descriptions to make them SEO friendly and concise enough to get the viewer's attention. You can even change the link image by uploading a new one or zoom in or zoom out of the current image to display the best possible view.
You can even make use of elink.io's Chrome Extension to quickly add links to your newsletter quickly. It's a smart way to save relevant content across the web and start creating your newsletter as you go through your normal online life!
Step 3: Add a header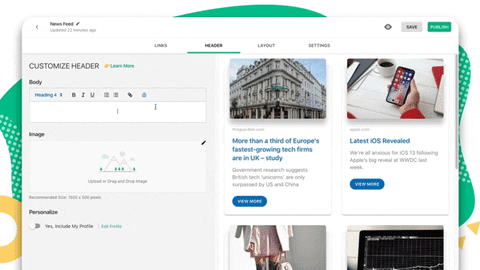 Give your newsletter a header image, a catchy title and a short description. You can even add your brand's logo and tagline to make it more personalized.
Step 4: Choose over 30+ layouts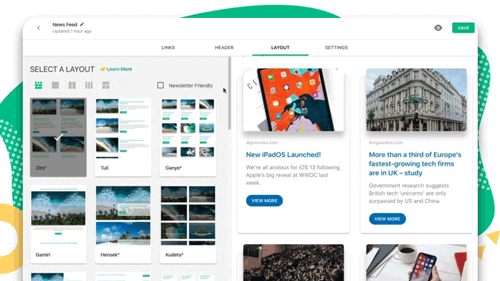 Choose from over 30+ finest layouts to suit your design and add your touch into it.
Step 5: Design and Customize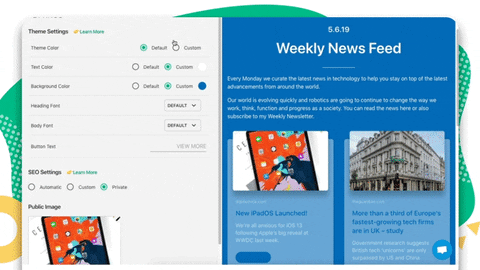 Step 6: Publish & Export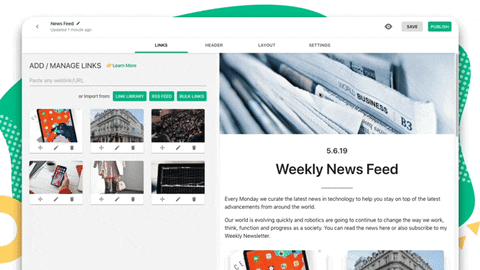 After publishing, go to your dashboard and select the newsletter button. Copy the HTML code and get ready to export your newsletter to Mailer Lite!
Export your newsletter to your Mailer Lite account!
In your Mailer Lite dashboard, click on new campaign and select "your own HTML" option.
Next, click on "paste in code" button to paste the HTML code from your elink.io newsletter.
Paste your HTML in the editor. Your newsletter will appear on the left side of your Mailer Lite screen.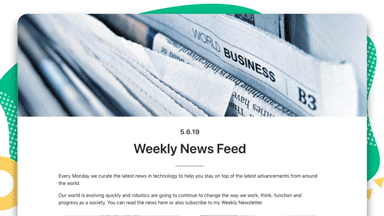 Select your subscribers' group and schedule your newsletter for takeoff! And we're done! It was easy, wasn't it! You can create a perfect looking and mobile responsive newsletter and send it via Mailer Lite in a matter of minutes! Impress your customers with your beautiful newsletter (shhh..they don't have to know how much time it took you to make this 😉 )
PRO TIP: If you don't use Mailer Lite, you can still send out visually appealing newsletters using Gmail, Constant Contact, ActiveCampaign, GetResponse, or any other marketing service in minutes with elink.io!
Further reads :
🎥 Watch this video to learn more👇
Don't want to forget this information?
Pin it for future reference!