Have you ever wished you could send an awesome-looking MailChimp newsletter, but in a significantly less amount of time? If yes, you have come to the right place! In this blog post, we will teach you how to create an awesome-looking newsletter in less than 5 minutes via your MailChimp account. Read on for the good stuff…
An email has stood the test of time and has grown to be an important part of any marketing strategy…
More than 86% of businesses surveyed indicate that they use email marketing for business-related campaigns. Email marketing is a critical and strategic component of any company's marketing mix.
The number of ways a business communicates with its customers continues to increase day by day. This creates immense competition between these various communication channels as we all try to find better ways of engaging our audiences.
Facebook posts, messenger, Instagram photos, Tweets, and Pinterest boards are a few of the many ways a business communicates with its customers and prospects.
And email marketing is no different!
The rapid growth of email has forced marketers to adapt and look for innovative ways to reach their audiences, which has resulted in technologies like automation, scheduling, tracking, and analysis.
New advancements in email, especially with regards to automation, have garnered huge amounts of support from marketers. Marketing technology already represents 33% of the average marketing budget. Most companies now spend more on email marketing than on advertising.
Are you a fan of Mailchimp?
One email automation and autoresponder tool leading this innovation from the front is MailChimp. Started in 2001, when people used to be pumped about receiving an email, MailChimp has come a long way. MailChimp is one of the largest email service providers out there, with a market share of over 45%. MailChimp currently boasts 15 million users worldwide, who collectively send a billion emails every day!
What makes Mailchimp one of the best? 
It's constantly improving services and timely innovative features, have allowed it to be on the radar of marketers and small business owners for over 15 years. Some of these features include:
Always Free

: With MailChimp, you can send out emails to your first 2000 subscribers or 12,000 emails in a month for free! For more than 2,000 subscribers, the plan starts at $10/month and increases according to your subscriber count.

Connect your store

:

You can connect an e-commerce store with your MailChimp account and can create targeted email or ad campaigns, automate helpful product follow-ups, and send back-in-stock messaging.

Automation

: MailChimp allows you to create and schedule emails anytime, from any platform and follow up on purchases, nurture leads, and provide recommendations to customers.

A/B Testing

: Test and refine what works best by playing around with different subject lines, images, etc and see what works or what does not with MailChimp's A/B testing capabilities.

Advanced Analytics

: Monitor sales activities with revenue reports and see how you measure up with your competitors.

MailChimp lets its users know the exact right time to execute their campaigns to get the most out of their marketing efforts

Segmentation:

MailChimp even allows you can to

organize your email marketing contact data and build segments based on custom criteria with list management tools and integrations.
And the list goes on!
Clearly, MailChimp is a feature-rich marketing tool. Offering features for everyone- from small business owners to marketers of all sizes, MailChimp's features can get be as basic and as advanced as you need.
IS THIS TOO MUCH?

Getting started with MailChimp can be intimidating, especially for small businesses and local mom & pop shops, which might not have used for so many features in their email campaigns.
Starting your email campaigns with MailChimp can take up quite some time to figure out the various bits and pieces of the platform. Oh and let's not forget the one all-important resource -time. as we both know, is a crucial asset for any marketer and must be managed effectively.
If your focus is sending out beautifully designed and easy-to-create newsletters, we would suggest you use elink.io along with MailChimp to send out a fast, beautiful-looking MailChimp newsletter in minutes.
I just want to send out an awesome Mailchimp Newsletter!
A newsletter is arguably the best way to keep on customer top of mind and maintain an ongoing relationship with your customers and subscribers. An astonishing  88% of B2B marketers use email newsletters for content marketing. 
However, if you use marketing services like MailChimp, sending out a newsletter takes a lot of time and effort, assets which we as marketers definitely lack.
Sending out an awesome looking newsletter involves:
Design:


Did you know that

two-thirds of people would rather read something beautifully designed than something plain? The design is one of the most critical aspects of your newsletter as it is what makes people get to the content part! Designing a beautiful newsletter can take a lot of time and attention to detail. If your newsletter looks bad, it won't take much longer for your subscribers to press that back button.

Responsive:
A responsive email newsletter is the one that looks good on all devices without breaking into pieces and looking ugly or simply out of place.

According to

Radicati Group,

around 269 billion

emails are sent every day.

More than 77 % of which are opened on mobile devices

. That means you will be missing out on over half of your potential audience if your newsletter is not mobile responsive.

Dealing with Alt tags and messy HTML code:


For those who don't know,

Alt text simply means alternative text displayed with an image. Think of it as the backup text that provides some context about what your image is, for those that have images blocked or turned off by default.

Adding alt text to each image sometimes requires dealing with messy HTML which, if you have no idea how it works, could seem pretty daunting.

Text formatting:
Formatting each paragraph, heading, subheading, intro, outro, and CTA text requires a lot of manual work but is necessary to make sure everything looks good. You then have to make sure the formatting doesn't break when viewed on different devices with varying screen sizes as your audience might be viewing your newsletter on a phone, a desktop, a laptop or a tablet with different screen sizes.
Image Resizing:


Resizing or cropping your images for different devices and screen sizes results in boring, repetitive work that everybody dislikes. Your images play a crucial role in adding to the visual appeal of your newsletter and must be taken care of carefully.

And of course, good content!:
After you have done with all the above parts of a newsletter, you have to deal with the most important one- the content. Producing good quality content consistently is the only way how you are going to grow your subscriber base and generate a positive ROI on all that effort you just put on your newsletter. However, dealing with design, formatting, and HTML leaves little to no time to focus on what's really important. This is why so many newsletters suffer and marketers fail to justify their time spent on creating them.
With such tight schedules, sending out a visually appealing newsletter that looks good on all devices is an uphill battle.
As fellow marketers, we share and understand your pain and decided to do something about it on our own. This is how elink.io came into existence.
Send an awesome-looking Mailchimp Newsletter In minutes!
Elink.io is a great solution to send out a visually appealing and responsive newsletter easily. Elink significantly reduces the amount of time it takes to create a newsletter. How significantly you ask? It will take you less than 5 minutes to make an awesome looking newsletter and don't worry about it breaking on different devices ever again!
ELINK SOUNDS INTERESTING.
It is!
Elink.io allows users to send out a newsletter by simply selecting one of over 30 responsive newsletter templates and adding links to content they want to share as a newsletter to the template!
Just copy and paste the links to the content (videos, documents, blog posts, webinars etc) and add it onto any of elink's 30+ visually appealing and mobile-friendly templates.
Checkout elink's responsive newsletter templates
elink will automatically convert those web links into visual blocks with a picture, title, and a short description. You can add a header, some intro text, your company logo and/or tagline and hit submit. It's that easy!
MAILCHIMP + ELINK = BEST TAG TEAM EVER!
The best part is the one-click integration of MailChimp and elink.io. You can create a newsletter in minutes using elink and export it to your MailChimp account at the click of a button!! You can now send this MailChimp newsletter to your mailing list without worrying about the design, copy editing, text formatting, HTML or responsiveness ever again!
Let's see how you can create a newsletter with elink and send it via MailChimp!
Step 1: Select a Newsletter Template
You can either choose to build your elink press page from scratch or can use one of our awesome pre-built press page templates. Either way, it's extremely easy to create a press page in minutes! Each template is responsive, so you don't have to worry about the appearance of your links on different devices with varying screen sizes. The best part is, you are not stuck with your layout. Come back at any time even and give it a new look. Even after it has already been published!
Step 2 : Add Weblinks
Next up, copy and paste links to the articles, videos, podcasts or other sources you want to share with your audience and elink will automatically generate an image, a title, and a short descriptive text regarding each link. The best part is that you can change those titles and descriptions to make them SEO friendly and concise enough to get the viewer's attention. You can even change the link image by uploading a new one or zoom in or zoom out of the current image to display the best possible view.
You can even make use of elink.io's Chrome Extension to quickly add links to your newsletter quickly. It's a smart way to save relevant content across the web and start creating your newsletter as you go through your normal online life!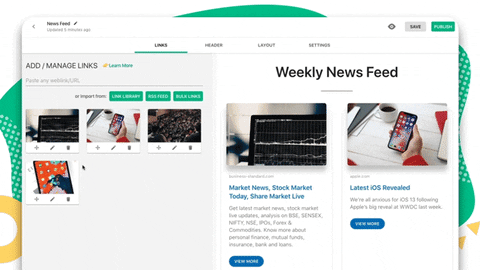 Step 3 : Give Your Newsletter a Title
The first thing your subscribers are going to read is your title. Make sure you make it catchy and appealing enough. Add introduction and an attractive image to your header . This is your opportunity to engage your audience and encourage them to read on.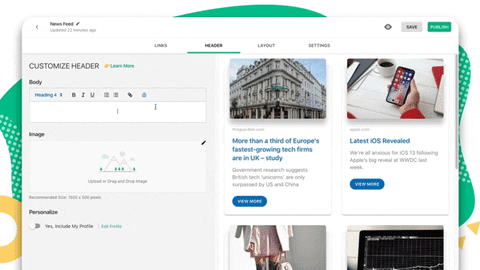 Step 4 : Choose from Over 30+ Layouts
Choose from over 30+ finest layouts to suit your design and add your touch into it.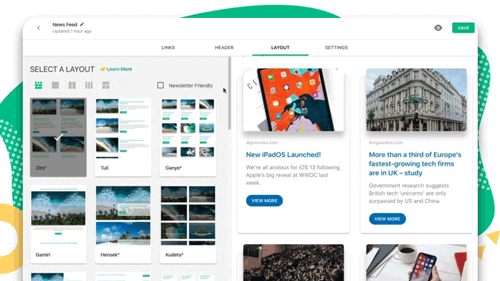 Step 5: Design and Customize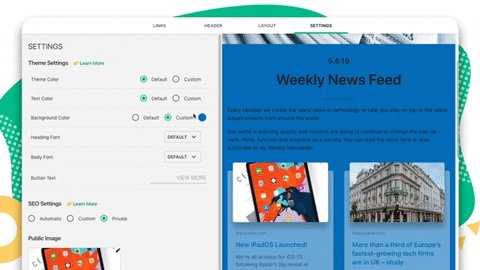 Step 6: Publish & Export!
Hit publish once made sure that everything looks awesome and beautiful! After publishing, go to your dashboard and select the newsletter button. In the next screen, click on the MailChimp icon to connect your MailChimp account with your elink account.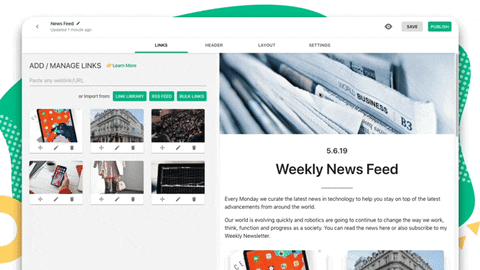 Connect your Mailchimp account
Once you click on the MailChimp button, you are prompted to add your MailChimp username and password. Once added, your MailChimp account is connected with your elink.io account.
Add your newsletter campaign details and click submit. Your newsletter is now exported to your MailChimp account as a draft campaign.
Click on the view campaign to make sure your MailChimp newsletter looks good and as awesome as intended. Hit send if everything looks perfect!
Learn how to create fast newsletter for any email provider
Let the 'Chimp' hit launch and you are done! You can now send visually appealing and mobile responsive MailChimp newsletter. Integrating MailChimp with elink.io is a match made in heaven. You can have all the bell and whistles of a top of its class marketing automation tool and at the same time, have the ease and speed of elink to create beautiful newsletters in minutes.
With combined powers of MailChimp's innovative and cutting-edge email marketing software and elink's responsive and modern newsletter templates, companies can send relevant and effective emails, track just how well they are doing, and see a real return on their investments.
Further read: 
9 Awesome Business Newsletter Templates You Must Check Out!
Don't want to forget this information?
elink it for future reference!