For many businesses, creating monthly newsletters is just a box-ticking exercise. However, if you do it well, monthly newsletters can actually become your strongest marketing tactic.
In 2019, there were 3.9 billion email users globally. This figure would grow to 4.3 billion users in 2023. Not to forget, a newsletter has one of the highest returns of any digital marketing tactic.
This stat clearly shows that you should not miss out on sending monthly newsletters. Yet, many businesses don't create newsletters, which is a HUGE mistake.
Yes, we agree that there are so many other marketing and advertising options out there. However, monthly newsletters will always remain powerful, successful, and indispensable.
A monthly newsletter is a very subtle way to stay top-of-mind while keeping your company brand relevant. It is perfect if you want to stay in front of those leads who are not ready to convert.
Apart from distributing relevant information to everyone in the company, a monthly newsletter can be used to make your staff feel connected, even if they're separated by cubicles or departments.
When you send stunning, insightful, and relevant monthly newsletters, you use a proven and solid method for reaching your customers and your goals.
In this blog, we will walk you through everything you need to know about creating the perfect monthly newsletters. Let's start with understanding what a monthly newsletter exactly is. Ready? Let's go!
What is a Monthly Newsletter?
A monthly newsletter is a type of newsletter that individuals or companies send to their network of customers, prospects, and subscribers – every month.
The objective of monthly newsletters is to keep the audience in the loop about your company's latest products, services, or any other valuable information.
In a perfect world, your monthly newsletter would arrive in your audience's inbox, and they would be super excited to open it.
However, in the real world, your audience receives tons of emails every day, and then they cherry-pick the few that really catch their attention.
So, if you want to increase your open and click-through rates, you need to create EPIC monthly newsletters. You need to create newsletters that your audience will look forward to reading.

But, how do you create monthly newsletters which actually get opened and read? How do you create newsletters that make others tell their friends, "You have to check this out." We have the answer!
elink.io: Just What You Need to Create Beautiful Monthly Newsletters
You have a lot to compete within your subscribers' inboxes. That's why using a powerful newsletter creator like elink.io is critical to designing an email newsletter that people want to click through!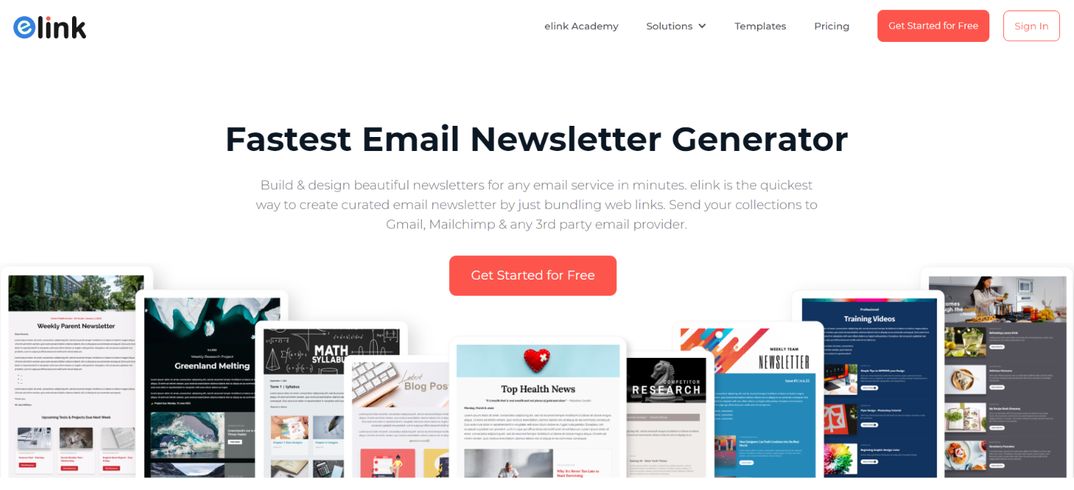 elink is a content curation platform that you need to have in your tool kit regardless of your industry. It is easy on the budget, simple to use, and comes with all the features you need to create and share beautiful newsletters, webpages, and more.
Simply put, elink is the fastest, coolest, and most efficient way to create and share newsletters on any topic in a visually appealing, smooth way. Just add links to the content you need to share, and elink will create a stunning newsletter for you in minutes.
The platform offers over 50 pre-built templates, so you don't need to think about the design aspect, and you can focus on growing your company. Moreover, you can add your own images, text, bullet lists, numbered lists, buttons, social icons, and dividers in your header and footer body. What could be better than that?
The best part? Unlike most other newsletter creators, elink.io lets you collaborate with your team in real-time. So you and your team can work together on bundling, creating, and sharing content. You can even add a search bar in the newsletter and make it easy for your readers to find what they are looking for.
There's more! elink has a robust RSS reader that lets you add RSS feeds of the publications you love. You can bundle links directly from the RSS Reader and create a stunning newsletter in seconds.
And, the most amazing feature of elink is – content automation! Using elink's nifty automation tool, you can automate content creation for your newsletters, websites, and more.All you have to do is pick sources and add filters in order to make your content more effective and relevant.
Okay, so now that we have convinced you to try elink (hooray!), let's understand how you can create a stunning monthly newsletter with elink.
Note: You can either choose to create a newsletter manually or using the automation feature. We are going to walk you through both these features. Let's roll!
Read more: Business Newsletter: Definition, Types, Steps to Create & Examples!
How to Create a Monthly Newsletter on elink? (Manually)
Step 1: Choose a Newsletter Template
The coolest thing about elink is that you don't have to worry about all the tricky design rules. With elink's stunning newsletter templates, you're already way ahead when it comes to designing.
Now, here's what you need to do: choose a template and customize it the way you want. We've quite a splendid collection to choose from, so take your time to find the one that fits your needs the best.
By the way, you can also create a newsletter from scratch. It's totally up to you.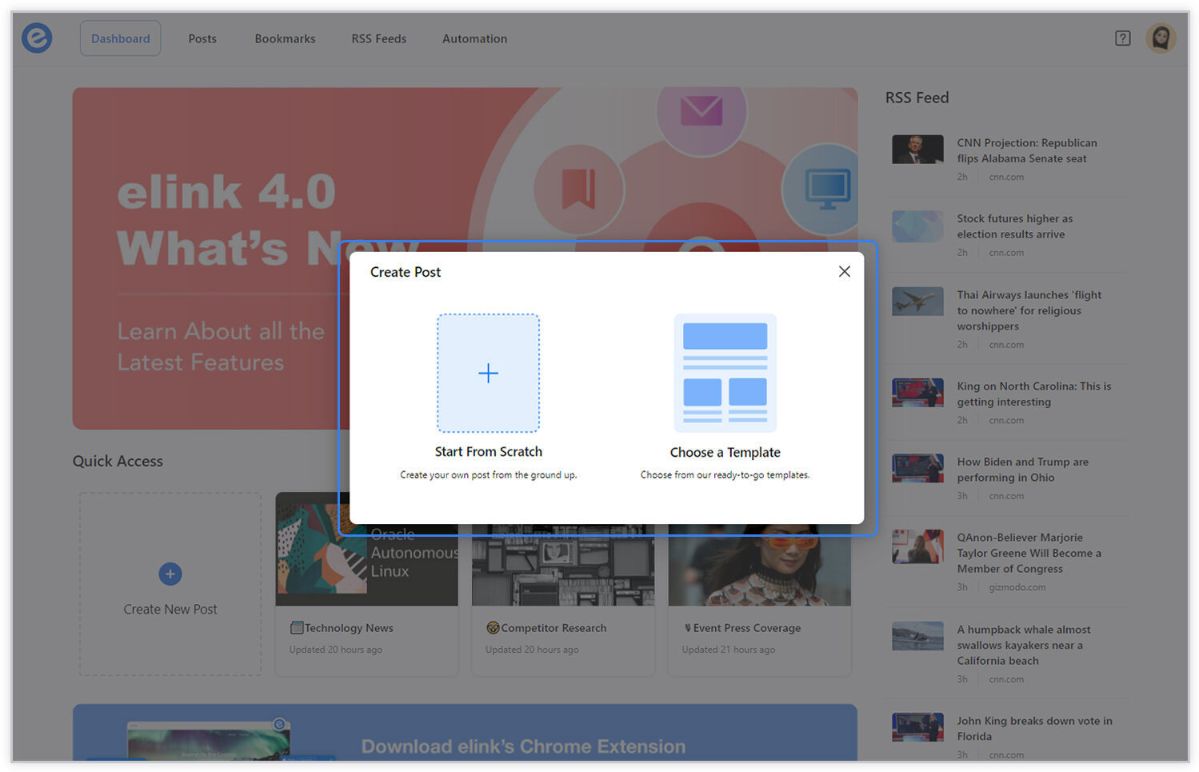 Step 2: Add Links to the Newsletter
Here comes the fun part. You can add links to the content (articles, videos, products, etc.) that you want to show up in your school newsletter.
elink is so robust that it will automatically generate an image, a title, and a short description with each link. Of course, you can modify and customize any of this information if you want.
elink is also an RSS reader and a bookmark manager so you can quickly select your preselected links directly from the link library or the RSS feeds or enter them manually.
Step 3: Add Header
We know that a compelling email header design decides whether the reader would read your entire newsletter or bail on it. That's why we've given you the option of designing your header body the way you want.
You can add images, text, bullet lists, numbered lists, buttons, social icons, and dividers in your header body. elink even lets you choose from over 6 font sizes for your header body.
What's more? You can also use elink's Canva integration and design an eye-catching banner directly in elink.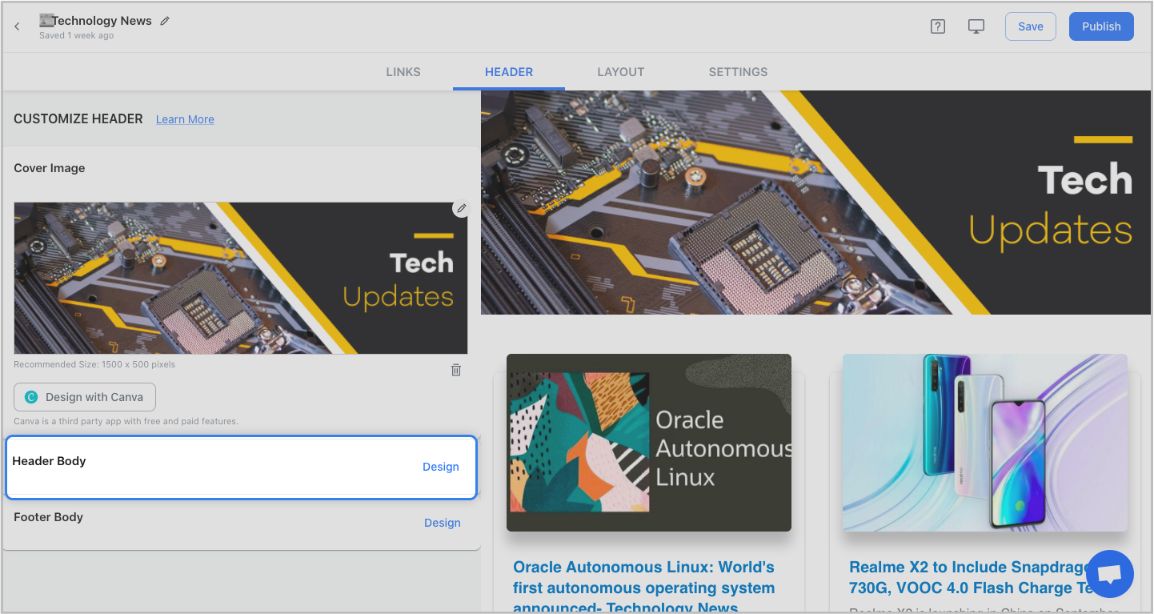 Step 4: Add Footer
An email footer is a place where the recipients would look for details about your brand. It is a place for transparency, clarity, and good design – exactly what elink provides.
You can add images, text, bullet lists, numbered lists, buttons, social icons, and dividers in your footer. Moreover, you can link the social icons with your own social media accounts in seconds.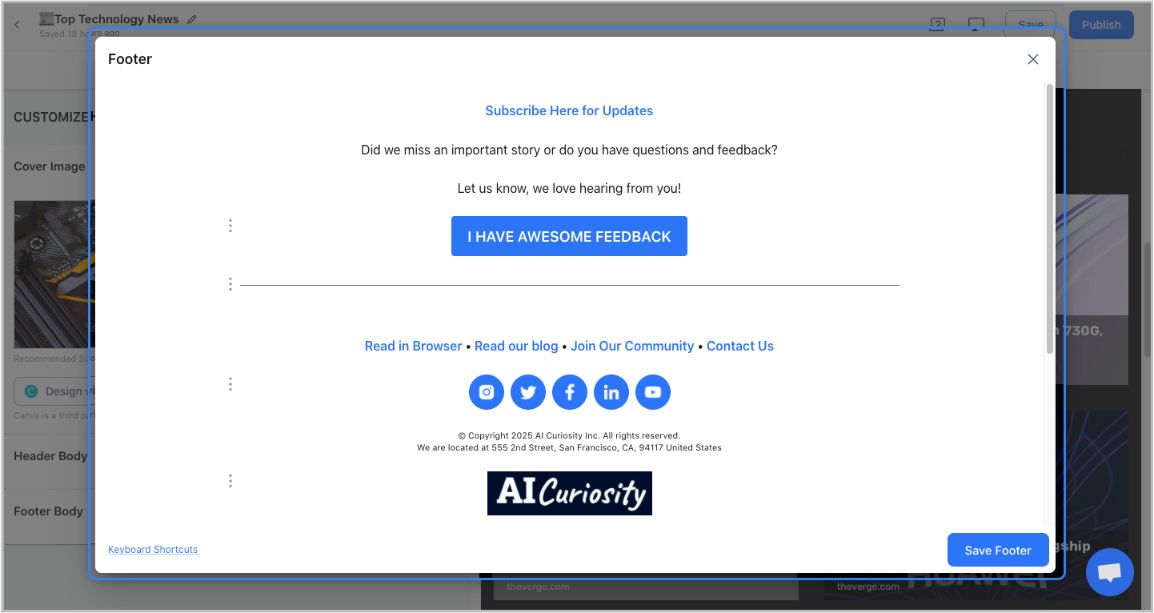 Step 5: Choose a Layout for your links:
Just jump right in and don't worry about wasting valuable time designing the layout of your school newsletter. elink has already done all the heavy lifting for you.
You can choose your favorite layout from all the different options with a simple click of a button and elink will change the formatting of those tiles to your chosen style.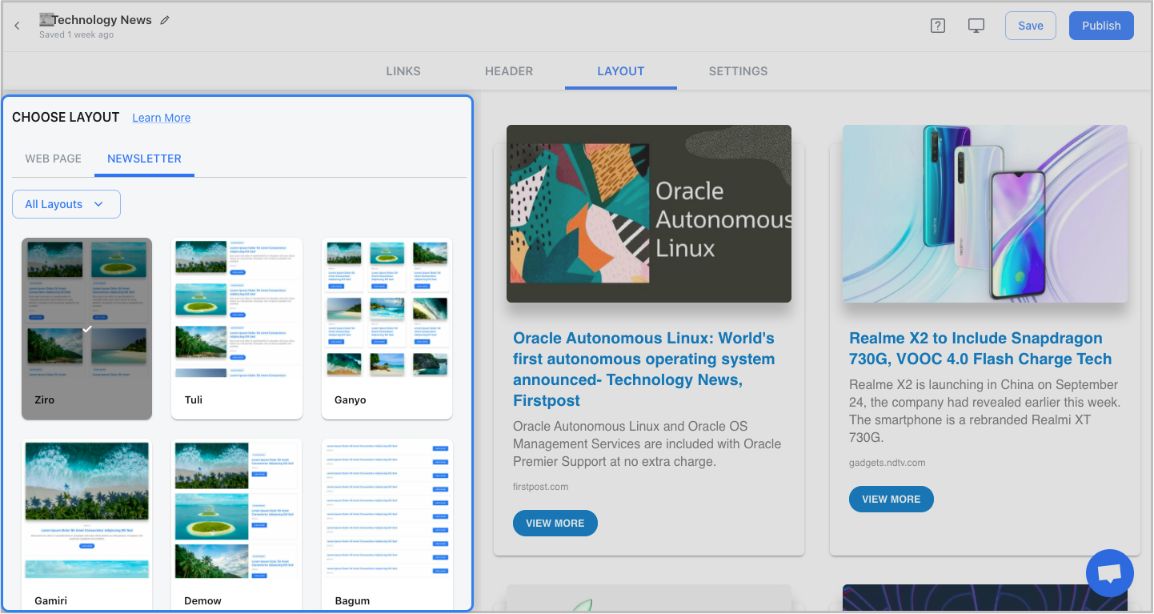 Step 6: Design and Customize
You'll get a perfect combination of colors in our templates. But, if you want to change the colors, you can do that too. Apart from that, you can also customize the font styles, button text, and more – in just a few clicks.
One of the most robust features of elink is that you can even add a search bar if you are adding a bunch of links such as resources etc.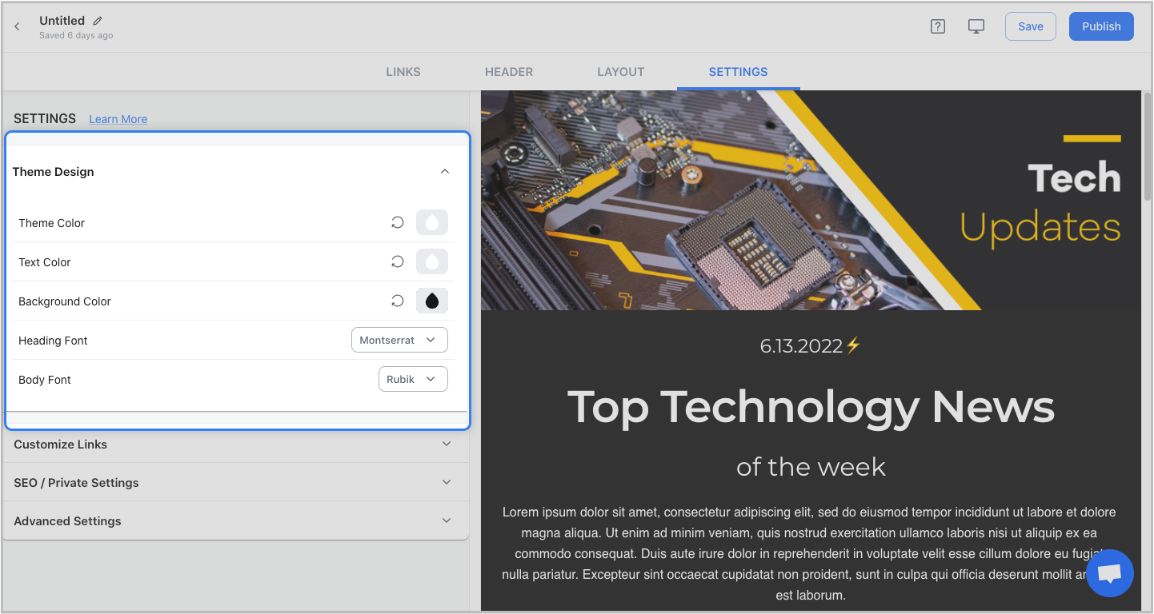 Step 7: Share Your Newsletter
Yay! You've now created a stunning school newsletter that is ready to be shared with the world. Now, hit the 'Publish' button on the far right corner of the screen, and a pop-up will appear, allowing you to customize your content URL.
Once you have customized the URL, another popup will appear where you need to select the 'newsletter' option. From there, you can share your masterpiece via Gmail, Mailchimp, or any other third-party email marketing tools like Get Response, Mailchimp, etc.!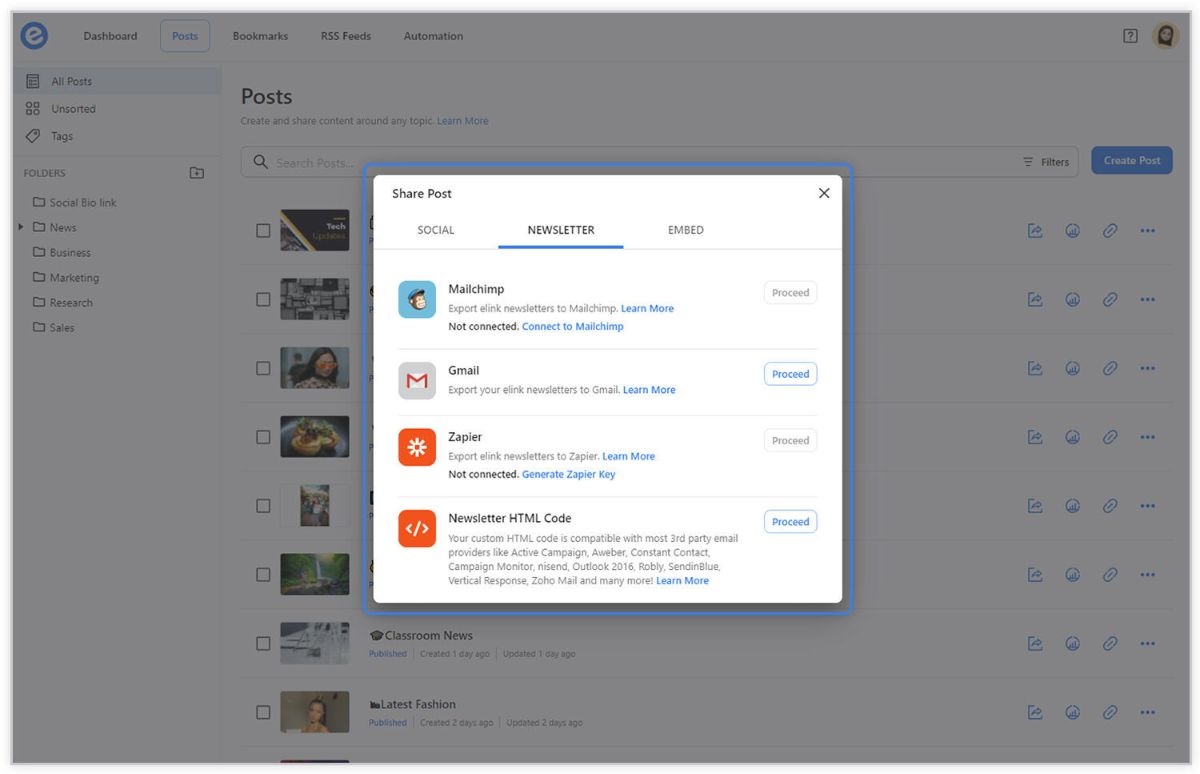 As soon as you pick one of these options, BOOM! It is done! Now relax, have a cup of coffee while watching your content being automatically created.
Now here is the thing: there's isn't any specific sauce that you can add to the recipe of awesome newsletters. Nothing is ever truly guaranteed. But, there are a few tips and tricks that you can learn and implement. In fact, just pick them up and run with them right away. 🙂
Checkout our Templates!
5 Tips For Creating Awesome Monthly Newsletters
1. Relevant, Targeted Content
We all know that opening something and reading it are two very different things. Your recipients are much more likely to read a newsletter when they know that the information will be relevant to them.
2. Engrossing Subject Line
The subject line of your email hauls a LOT of weight. It decides whether or not someone would open an email in the first place. So, make sure that your subject line gives the audience a compelling reason to open the email.
3. Reader-Friendliness
If reading your newsletter seems like a chore, your audience would put it off, and your content will go unread. In short, the more concise your newsletter is, the better. Don't treat your newsletter as a blog!
4. Stunning Visuals
If you want to keep your recipients engaged, you've to use enticing visuals and graphics. Your goal is to get your readers to click/buy/subscribe, right? To do that, your newsletter needs to be attention-grabbing!
5. Measure Your Results
The only way to find out whether your newsletter is working is by measuring the open rates, bounce rates, click-through rates, unsubscribe, forwards, and more. Identify what's working and continue using those strategies.
Wrapping Up
Newsletter marketing works really, really well – but only if you do it the right way.
To make sure that the recipients don't end up moving your newsletter to trash, you need to give them what they want, when they want it, how they want it.
And what they want is a stunning, insightful newsletter. 🙂
Newsletters are one of the best ways to keep your business on the radar of your clients and your target market. So, it's definitely worth all the effort!
Let us know if you enjoyed creating a monthly newsletter through elink by tweeting us @elink_io! We would love to hear all about it. Good luck!
Further reads:
Classroom Newsletter: What, Why, and How to Create it?
How to Create Awesome Newsletter Headers?
7 Ways to Increase Newsletter Engagement Rate
Ecommerce & Product Newsletter: Ideas, Templates & How to Create!
Nonprofit Newsletter: What is it & How to Create one in Minutes!
7 Awesome School Newsletter Templates!
Travel Newsletter Templates You Need to Check Out!