Every newsletter sender wants a high open rate, but it doesn't happen all the time. However, a gradual increase in email newsletter open rate is achievable. To pull this off, one needs to increase newsletter engagement.
Simply put, you need to apply tactics that compel subscribers to open your emails and consume the content, but it doesn't happen on a whim. Once the subscribers start to get value out of your newsletters, they start to believe that your email newsletters are worth their time.
There are a handful of tried-and-tested email newsletter techniques that can increase the newsletter engagement rate. But before we dig deeper into a bunch of ways to increase newsletter engagement, it's essential to understand why it is so important. It would also help you figure out what you have been missing out in your strategy.
Without any further ado, let's get right into it!
Why is Newsletter Engagement Rate So Important?
To comprehend why the newsletter engagement rate is an integral part of the process, we must first shed some light on email newsletter engagement. It'll give you perspective on why we're raving about newsletter engagement rate.
The newsletter engagement means how subscribers are responding to your email newsletter. If a good percentage of email list subscribers are opening, clicking, and replying to your email newsletters, then it's all good. On the other hand, if the majority of the subscribers aren't opening or clicking your call-to-action buttons in the newsletters, then things might be going south.
Here are three reasons why the newsletter engagement rate is important:
1. It determines the quality of the subscriber base
This means, the higher the engagement, the better the quality of the email list. The total number of email addresses doesn't necessarily represent the quality of the subscriber base.
Spammers collect hundreds of thousands of email addresses and blast emails to them. Does this mean they do the right thing? No, because they send out emails without the consent of the receivers.
2. It showcases how well you understand your audience
Once you start sending out relevant and useful content to your subscribers, they're likely to respond to your email newsletters. However, attractive and catchy headlines go a long way. The newsletter engagement surely tells how well you know your audience.
3. It reveals how focused you are on creating valuable content
When you're determined to help out your subscribers, it'd reflect in your email newsletter strategy. You might have heard that nothing worth having comes easy. Therefore, try to send out as much value as possible to your subscribers.

When newsletter subscribers start to find value in your newsletter content, not only would they engage more, but they'd also recommend your content to others.
Read more: Company Newsletters: Ideas, Tips & Tricks
How Can You Improve the Email Newsletter Engagement Rate?
Email newsletter engagement isn't as simple as subscribers receiving emails. There are marketing factors such as open rate, click-through rate, and bounce rate that play a vital role in determining the engagement rate. Here are some email marketing techniques that can help you improve your newsletter engagement rate:
1. Send emails with irresistible subject lines
It adds curiosity to the newsletter. The receiver gets curious and wants to know more! Remember that there is a fine line between clickbait and irresistible subject lines. The clickbaity subject lines may be misleading, whereas your irresistible subject lines should lead to authentic content.
2. Provide compelling information in the newsletter
Otherwise, the subscribers won't get excited the next time you send out an email newsletter. Make sure that your newsletter content is fulfilling the promise you made in the newsletter subject line.
3. Experiment with newsletter templates for reducing the bounce rate
If you have been using a plain text newsletter format, then try out newsletter templates in your email marketing software. Elink is a great resource for generating curated content for email newsletters. You can connect your email marketing service with the Elink account and send an RSS-based curated content page to your email subscribers.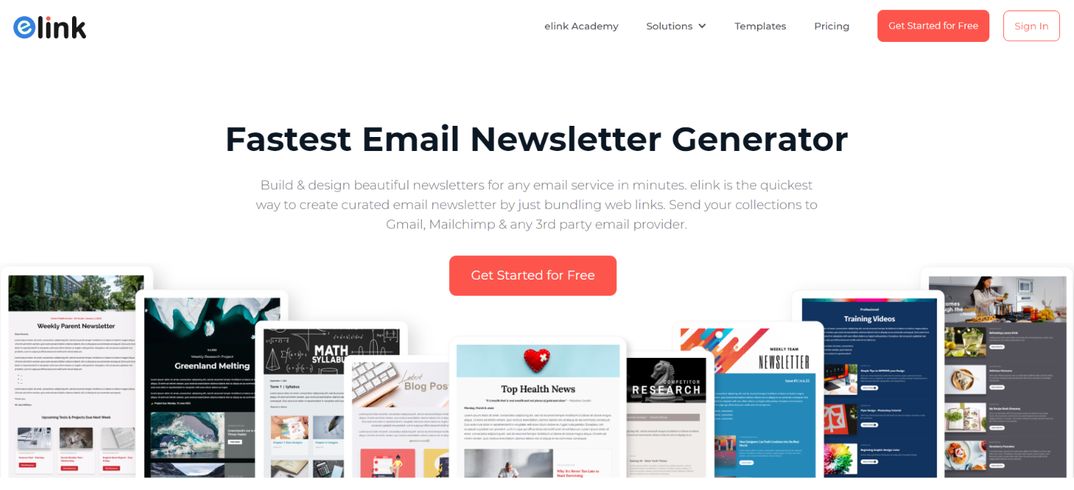 If you do it right, I don't see a reason why you can't improve your email newsletter engagement rate.
Check out elink.io newsletter templates here:
What are the standard engagement rates for different industries?
Mailchimp published a resource that contains email marketing statistics in 2019.
According to the data, the average open rate and average click rate of the business and finance industry were 21.56% and 2.72% respectively. Creative Services/agencies were getting 21.39% and 2.66%, whereas the e-commerce industry was relatively behind both these industries as it was at 15.68% and 2.01%.
Feel free to check out this resource if you belong to a different industry and want to know the email marketing benchmarks for your industry. It would give you perspective on what's happening in your industry as far as email newsletter engagement is concerned.
If you're thinking about how you can increase the email newsletter engagement rate, then I'm about to uncover several ways to make that happen.
Read more: 9 Best Email Cleaners in 2021 (Paid & Free)
7 Ways to Increase Newsletter Engagement Rate
Let's jump straight into the list!
1. Ask questions
Asking a question does wonders on the internet whether it's social media or email marketing. It's been observed that most people like to respond to a question they stumble upon even if they aren't sure about the answer.
Let's break this down: asking questions via email newsletter means you're replacing the traditional RSS-based newsletter that sends out the latest blog post to your subscribers with a customized email containing a question.
To pull this off, remember the key points of asking a question in your email newsletter:
Keep the email body short and precise so that it doesn't sound boring
Highlight the question with bold text or by increasing the font size
Write an enticing subject line to push subscribers to open the email
A/B test your email subject lines from time to time
Ask subscribers to submit their answers by replying to that email
When you ask a question in your email newsletter, it creates a clear distinction between you and others. The question-based subject line immediately differentiates your email from the rest of the emails.
2. Plan a Giveaway
Who doesn't like to win free gifts, right? The majority of you might have seen or heard about the giveaways, but most of you haven't tried it yourself.
I've done several giveaways in collaboration with brands. I've learned this by doing YouTube for over 4 years and blogging over a decade that the audience loves giveaways. It doesn't matter whether you're giving away 3 Apple watches or a few copies of a $15 self-help book — people would surely be interested in winning free stuff.
Most of them would do just about anything you ask them to do.
For instance, you can ask to do a certain thing to participate in the giveaway:
Share a blog post on social media
Fill out the survey form
Sign up for a free trial
Download a digital file
Leave a comment
So the point is that if you have been blasting out emails containing blog post links, you're missing out on a lot of opportunities. You can leverage giveaways and rejuvenate your email list by providing something new to your email newsletter subscribers. Brands and e-commerce sites run giveaway contests throughout the year.
3. Offer Discounts
Next up, discounts on products or services are one of those things that catch people's attention. A lot of buyers wait for holiday seasons to buy products and services just because they could get a discount. Smart marketers and entrepreneurs use this behavior to bring engagement and sales; they use every opportunity to create a discount offer and make the most of it.
Let's be honest, you can't send out a discount offer every week, but it doesn't mean you should leave the money on the table. Here's what you can do:
Send out two or three more emails to the subscribers who didn't open your discount email
Use the urgency-factor in your subject line every time you send out the discount offer
Go live on Facebook, Instagram, and YouTube to talk about the discount you're offering
Pin your Discount Offer tweets on Twitter profile
Use your social media channels to keep the followers updated
What I'm trying to say is that sending out a discount offer whenever it's available could be a great way to bring a change and test out something new. Internet marketers, bloggers, and affiliates wait for the discount offers from the companies they work with and go all-in to earn commissions when those companies offer any discount.
4. Create a freebie
Creating a freebie means coming up with a free product to engage the subscribers. It's a common content marketing strategy that marketers use for attracting, engaging, and converting prospects. Not only does it work for the existing audience, but it also brings the new audience.
A freebie could be a downloadable ebook, checklist, or file that gets subscribers immediately interested in checking it out. The more useful a freebie, the better the response from the audience.
Some pro-bloggers and digital marketers call it an opt-in bribe as you offer the website visitors to get the downloadable item by submitting their names and email addresses. If you have been noticing that your newsletter open rate is either stagnant or not improving, creating a freebie could be the solution to this problem.
Here are a few tips on creating a freebie:
Repurpose your videos into ebooks
Compile a series of blog posts and convert them into an ebook
Create a checklist of the industry-related tips for the beginners
Answer the most tempting question that you have been receiving
Make a separate landing page for each of your freebies
Connect your email marketing service to get subscribers email addresses
You don't have to create a freebie every week. However, one freebie every month might not be a bad idea. What I'm trying to say is that if you send out a new downloadable freebie every week, it might become overwhelming for the subscribers, and we surely don't want that.
On the contrary, we want to make them feel good and excited about our emails. So try creating a freebie once a month or every two months.
5. Send Interesting Articles
One of the ways to increase newsletter engagement is by sending top-notch articles to your email list. It could be done in several ways. Let's dive deep into this.
Elink is a content curation tool that allows you to gather articles through RSS feed and compile them on a shareable landing page. You can send out the curated articles page to your email subscribers as well as share them with social media followers.
Here are four key elements of using elink for newsletter engagement:
I. RSS Feeds
RSS feed is a content distribution system that allows RSS readers to fetch the latest content from publications. The RSS feature makes elink so special as you can send out the best content to your subscribers by adding several RSS feeds from the multiple blogs and coming up with an exciting email newsletter to send out.
II. Weekly Articles Round-Up
You can publish weekly articles round-up from the top sources in your niche and share them with your email subscribers and social media followers.
Newsletter subscribers stop responding to the emails if you keep sending them update newsletters or sales emails. Therefore, an article round-up might spice things up.
III. Educational Content
The educational content refers to the type of content that walks readers through the steps or break it down to the process to get something done. Often times, content marketers hesitate to publish certain pieces of content that are either quite basic or slightly off-topic.
The elink comes in handy in this situation. You can use the elink for curating a page on a specific subject and share it with your audience.
IV. Content Curation
Content curation is an essential content marketing technique for audience engagement and customer acquisition. When a blogger or marketer gathers already published content and present it to the audience, it's called content curation. Elink could be a fantastic way to curate articles and send out to the email newsletter subscribers.
So don't neglect to send out interesting articles if you're trying to increase your email newsletter engagement.
6. Share a Helpful Video
When you're figuring out how you can increase your email newsletter engagement, it wouldn't hurt to try video content out. After all, online video has never been easier to use. So putting out videos once in a while could turn things around for you.
Make sure to add a hint in your email newsletter subject line that there is a link to a video in the newsletter content. If I were to send a video in my newsletter, I'd add "" at the end of the subject line.
Video is one of the most digestible types of content, but if it's done right. What I mean is that if the video quality isn't good or the sound has distortion or you're just babbling on the camera, then it won't work out.
If you have been sending out articles in your newsletter for a while, then you got to try videos now. Sometimes, a slight change in the strategy makes a huge difference. Consider it as an A/B testing in your newsletter strategy. If you see a drastic increase in the newsletter engagement, then add it to your email marketing strategy, and if it doesn't work out, just skip it.
7. Provide a Resource
You can't run out of great ideas to send an email newsletter. One of those email newsletter ideas could be sharing a resource with your email subscribers. A resource is more of a compilation of a certain type of content that you create or curate for the email subscribers.
The difference between a resource and a freebie is that a resource is a compilation of content or a list of items, whereas a freebie is likely to be a single downloadable file. However, there could be an exception in some cases, but that's not the point.
I'm about to give you some ideas on creating a resource that you could share with your email subscribers:
Blog Posts
A lot of bloggers compile their blog posts and present them as a resource. It could be in a blog post or a page. Swim University is a niche website about swimming pools; they have turned their website into a resource.
You can use the elink tool to create a landing page that has a compilation of blog posts gathered through RSS feeds. Furthermore, you can connect that elink page to your email list and send out an email newsletter. Find out how elink works by checking out its website.
Videos
Videos can be an excellent resource to share with the audience. You can compile a collection of videos on a single blog page or in a YouTube playlist or a Vimeo account. The best part is that you can make it private or inaccessible to the public on all three forums, and give access to the specific audience.
If you have been sending out the latest blog post to your email subscribers, then a video resource could be amazing for a change.
Online Tools
It's almost impossible to work online without online tools, for instance, I use Canva, Mailchimp, ContentStudio, elink, Nimbus, Grammarly, and a bunch of more online tools. Not only do they make the job easier for me, but I also share with my audience to help them out. The point is that you can compile a list of online tools you use and share with your email subscribers.
Spreadsheet
You can create a spreadsheet that could work as a resource. It doesn't have to be a pre-built list of things, but instead, it could be something you could work on along the way.
For instance, Doug Cunnington is a blogger and SEO expert. He has built the KGR formula that helps you find potential keywords that you can rank for in Google. KGR is a spreadsheet that requires you to put in the total number of searches for a specific keyword and the number of search results already using the exact keyword.
The email subscribers would go gaga if you come up with something that can solve their problems. What I'm trying to say is that you should come up with something you're good at or your prospective audience would love to grab that resource.
Are You Ready to Increase Your Email Newsletter Engagement Rate?
I've shared a handful of ideas to test out in your email marketing strategy. I'm sure you'd see a spike in your email newsletter engagement rate once you try out some of these techniques. Now it's your turn to do something to actually increase email newsletter engagement.
If you found this blog post helpful or got any ideas to share, feel free to tweet us at @elink_io
Further reads:
How to Create Responsive Gmail Newsletters?
How to Create Awesome Newsletter Headers?
Business Newsletter: Definition, Types, Steps to Create & Examples!
Gmail Newsletters: How to Create Them!
How To Create An Email Newsletter?
The 10 Best Email Newsletter Services you Must Try!
How to Create an Internal Company Newsletter?