Did you know that more than half of the world population now uses email? A report by Radicati shows the total number of active email users has jumped to 3.9 billion. As a comparison, there are 3.5 billion social media users worldwide! 
On a personal level, the average office worker receives 121 emails per day. That's a lot of emails! It's only logical to assume that people often ignore these emails (as it's nearly impossible to deal with this inbox overload). You might even be thinking email has certainly reached its saturation point. However, data suggests otherwise!
Over 50% of US consumers say they like receiving promotional emails from their favorite brands once a week. In fact, over 86% say they wouldn't mind receiving such emails once a month either!
But why? Why do customers like receiving emails from brands even when they are probably getting too many to begin with? The reason is simple…
Emails are engaging!
Why Customers Love Email Newsletters?
Emails, especially newsletters, provide much more intimate space for brands to communicate with their loyal customers, away from the hodgepodge of social media. Email newsletters get rid of all the buzz, hashtags, likes, notifications, and the usual noise of social media and provide only the content that the customer signed up for.
Consumers are very hesitant in sharing their emails with brands and only do so with the brands they trust. Unlike social media where you are bombarded with content your friends or social circle have shared, liked, commented on, oh and not to mention the ads; emails are carefully curated to provide the content that is best for you.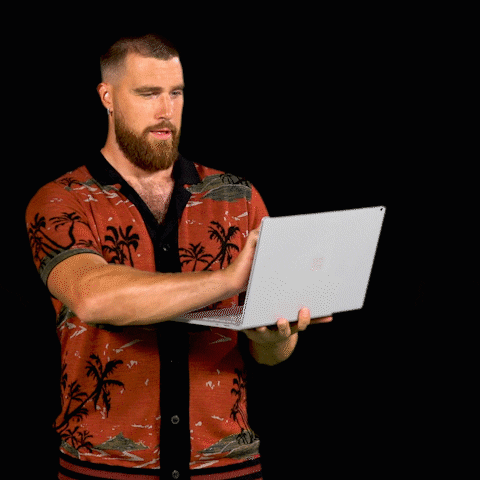 This is why subscribers of an email newsletter often feel like they are a part of an elite club where they receive a ton of value from their preferred brands. Subscribers are showered with exclusive deals, coupon codes, new product launches, important information, etc. Something non-subscribers don't easily get their hands on.
In addition brands of course love their audiences too. Email newsletters help companies build an ongoing relationship with their customers and provide them with value.
Read more: 30 Awesome Curated Newsletter Ideas
Why Brands Love Email Newsletters?
Thanks to social media platforms, brands have numerous ways of reaching out to customers and generate brand awareness. But as everyone gets online, it creates an enormous amount of competition between these various communication channels as everyone tries to figure out better ways of engaging with their audiences.
Inexperienced marketers and brands often get distracted by the "shiny new platform" syndrome, creating Facebook ads, Instagram Stories, engaging in LinkedIn groups and making TikToks. While having a presence on social media is vital, not knowing where to put your effort and resources could lead to disastrous results.

Smart marketers know the value email brings to the table and keep on creating content for it even when the world moves to newer forms of marketing. This is because apart from being a great channel for customer engagement and acquisition, email provides a ton of return on investment. According to stats, companies receive around $44 for every $1 they spend on email marketing! That's a 44x ROI!
Email is widely regarded as one of the most cost-efficient digital marketing channels and rightfully so. Moreover, the average open rate for marketing email across all industries is around 24% and the average click-through rate is around 4%.
We know this doesn't sound like a lot, but wait till you compare it with other marketing channels. For instance, Google's search network has an average click-through rate of 1.91% and 0.35% on its display network. Similarly, the average CTR for a Facebook ad is a mere 0.9%.
Now, add in the cost of advertising on Google and social media, and you'll realize why more than 86% of businesses say that they plan to increase their upcoming email marketing budgets. Moreover, 82% of marketers are investing heavily in email while 88% of B2B marketers use email newsletters for content marketing.
It's great, isn't it? An email has come a long way since it was introduced in the early 1970s and still continues to be relevant in today's internet landscape.
Read more: How to Create an Internal Company Newsletter
Not All Email Newsletters are Created Equal!
By now you must be flowing with ideas on how to create your very own email newsletter and leverage all the benefits of email marketing. However, before you start creating your email newsletter, you should know that not all newsletters are embraced by consumers.
In fact, bad newsletters are a dime a dozen. Whether it's the quality of the content underneath or the look and aesthetics of the newsletter itself, your customers aren't going to read, let alone take the necessary action, if you don't put in some thought before publishing it. If your audience isn't reading your newsletter, you are unlikely to see any return on investment.
Tips For Creating Awesome Email Newsletters
There are many factors like the copy, marketing message, design, responsiveness, deliverability, and more that needs to be taken into consideration before sending out your first newsletter. Here are 5 tips you should keep in mind while creating email newsletters:
1. Decide the Topic of Your Email Newsletter
One of the common mistakes people make when starting out with their newsletter is that they make it too broad. This makes the newsletter seem too cluttered and unfocused, causing confusion in the minds of readers.
Your reader should know exactly what to expect from your newsletter so that they don't have to skim the whole thing to find something relevant to them. This ensures that people only receive the content they signed up for, thereby increasing the click-through rates. Decide a topic for your newsletter (which should be related to your business offering) and stick to it.
Read more: How to Create Responsive Gmail Newsletters
2. Determine the Goal of Sending the Newsletter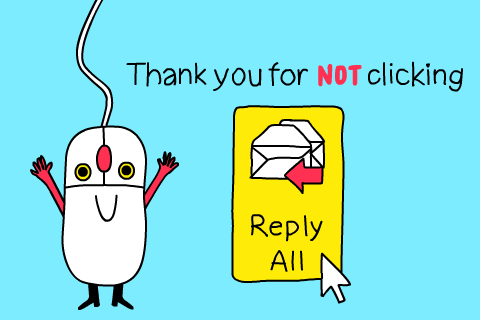 Before you start your newsletter creation process, it's important to clearly define the goals of starting the newsletter in the first place. You should know what exactly are you trying to achieve via the newsletter:
Is it directing more traffic to your site?
Increase brand awareness?
Create buzz for a new product/service?
Whatever the goal may be, it's important to determine it as the rest of strategizing depends on this one crucial step. Determining the goal beforehand also helps later when you are calculating the ROI of the newsletter as it gives you a parameter to measure your newsletter on.
3. Keep it Short and Concise
A newsletter should be focused, short, and concise for it to have the maximum impact. Since the majority of your audience will be viewing your email newsletter on their mobile device, it can feel a bit cluttered just because of its nature.
The trick is to write short copy with smaller paragraphs and providing enough white space all around. Since you want your subscribers to take an action after reading the newsletter, it should be easy to just give them a taste of the content and then direct them to your website (or anywhere else) if they want to learn more about it.
4. Use an Email Newsletter Template
Creating an email newsletter can take significant time if you do it from scratch every time you send it to your subscribers. This is why it's crucial to use and stick to a newsletter template.
Templates provide an easy and fast way to send out newsletters, without spending too much time in your inbox. They also help maintain consistency and gives a unique yet familiar feel to the receiver. Make sure the email template you are using is mobile responsive and works well with all email clients.
5. Test and Refine
The last and one of the most important yet forgetful step is to measure the success of your email newsletter. Keep an eye out for email metrics like open rates, bounce rate, how many people unsubscribed, etc.
Measuring and analyzing data will give you reassurance if you are doing things right while also pointing out areas of improvement. If you are not getting the desired results, you can A/B test your email newsletter by experimenting with different subject lines, length of the copy, design of the newsletter, and more. At the end of the day, your analysis should be based on the goals you set for your newsletter and to what degree you are able to accomplish those goals.
Now that you know the importance of an email newsletter in today's business landscape and the best tips to write one, let's jump straight into the "how" to create and send an email newsletter quickly…
Read more: RSS to Email: How to Create Automated Email Newsletters Using RSS!
Creating Email Newsletters Was Never This Easy!
Before you go and start creating an email newsletter from scratch, we would like to introduce you to an awesome tool that will cut your newsletter creation time in half (at least!)
The fastest and easiest way to send newsletters is through elink.io.
Elink.io is a newsletter creator and a content curation tool that helps anyone send out visually appealing and responsive newsletters in a matter of minutes!
elink.io works by letting users choose a newsletter template and simply adding the URLs (links) to the content (articles, videos, documents, etc.) they want to share as a newsletter!
elink then automatically converts those web links into visual blocks with a picture, title, and a short description. You can add a header, some intro text, your company logo and/or tagline and hit submit. It's that easy!
At any point in your newsletter creating process, you can switch between elink's 30+ different and beautiful layouts anytime you want and preview and test each one to see which one fits your design needs. All the layouts are responsive and look perfect on all devices.
Cool, right? Let's dive straight into these 6 simple steps of curating and creating a newsletter with elink!
6 Steps to Create an Email Newsletter with Elink
With elink, you can create an awesome looking newsletter in just 6 simple steps:
Step 1: Choose a Newsletter Template
You can either choose to build your elink newsletter from scratch or can use one of our awesome pre-built templates. No matter which industry you belong to, we have a template for it! Each template is responsive, so you don't have to worry about the appearance of your links on different devices with different screen sizes. The best part is, you are not stuck with your layout- you can come back at any time even and give it a new look. Even after it has already been published!
Step 2: Add Links to Your Newsletter
Next up, copy and paste links to the articles, podcasts, music, videos, or other sources you want to share with your audience and elink will automatically generate an image, a title and a short descriptive text regarding each link. The best part is that you can change those titles and descriptions to make them SEO friendly and concise enough to get the viewer's attention. You can even change the link image by uploading a new one.
PRO TIP: Use elink.io's Chrome Extension to quickly add links to your newsletter. It's a smart way to save relevant content across the web and start creating your newsletter as you go through your normal online life!
Step 3: Add a Header
Give your email newsletter a header image, a catchy title, and a short description. Add your logo and tagline to make it more personalized.
Step 4: Choose Over 30+ Layouts
Choose from over 30+ finest layouts (1 column, 2 columns, or multi-columns) to suit your design needs and add your personal touch to it.
Step 5: Design and Customize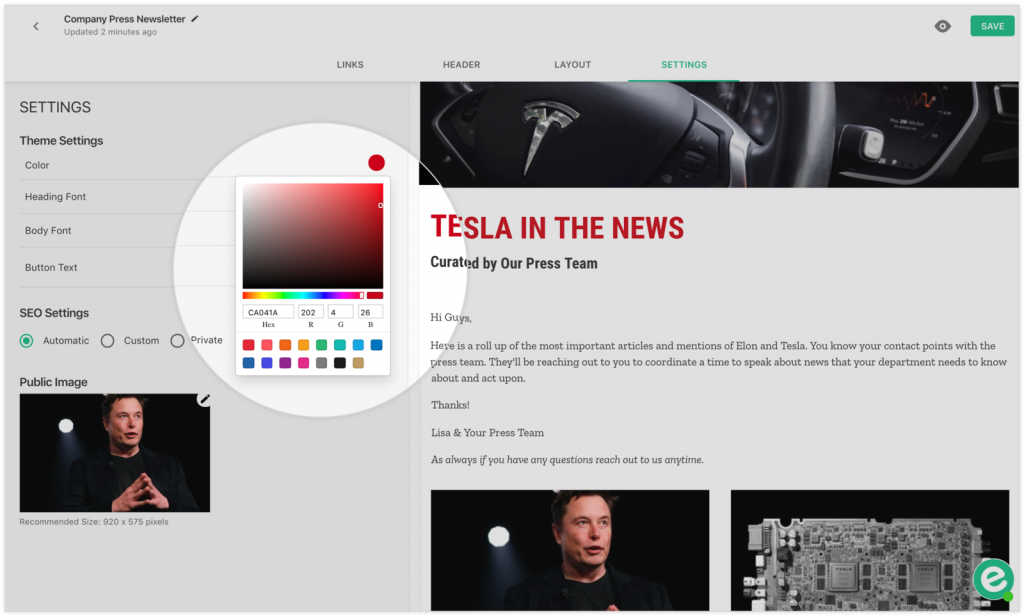 It's important to add your own design elements to the content you create. In addition to header images, header text formatting, and visual weblink formatting, elink allows you to:
Change the color
Choose a font that is highly visible
Update your heading font style
Choose your body font style
Update your call-to-action button text on the template
Step 6: Publish & Export!
After publishing, go to your dashboard and select the newsletter button. From there you can integrate elink with your Gmail account and shoot over your email newsletter as a draft to your Gmail.
If you use any email marketing tool other than Gmail like Mailchimp, Mixmax, Mailer Lite, Get Response, Active Campaign or basically anything else, you can choose the "copy the HTML code" option and paste the HTML in your marketing tool's compose area.
Over To You…
Newsletters are great at increasing brand awareness, retaining existing customers, and directing traffic to your website or product. But there's a huge difference between simply sending resource links to customers and creating a well-designed email newsletter.
The latter would actually get read by your audience and will prompt them to take the desired action. With so many brands competing for user attention, you have to make sure your newsletter stands out like nothing else.
At elink, we have spent an enormous amount of time brainstorming newsletter designs and what you see on the platform is the best of the best. Whether you want to create a newsletter from scratch or use one of our pre-made templates, you can rest easy knowing that your newsletter will look striking on all devices and email clients.
So what's the hold-up? Start sending out email newsletters today and let us know about your experience by tweeting us @elink_io
Further reads:
Top 10 Email marketing service for SMBs
Top 11 Gmail Extensions for Email Marketing!
Gmail Newsletters: How to Create Them!
9 Best Email Cleaners in 2021 (Paid & Free)
How to Embed Videos in Your Email Newsletter in Under 5 Minutes
How to Send a Newsletter with Campaign Monitor in 5 minutes