You have plain text email creation in Gmail down, but what about sending out visually engaging HTML email newsletters in Gmail?
Yes, it's now possible to send Gmail newsletters, but why do you need to? Read on to understand why and how we should jazz up our important professional email messages and send them as email newsletters.
In 2004, Gmail burst onto the scene with mass adoption. Users of Hotmail fled to use Gmail's clean and smart email interface. Fast forward 13 years and Gmail is still one of the most widely used email platforms in the world.
Impressively, it's a platform that helps 3.9 billion users every single day send and receive emails. More than 293.6 billion emails are sent through Gmail every day.
Gmail is a great platform for sending and receiving basic text messages.
Over the years, clever marketers and large businesses have leaned on third-party email platforms like MailChimp, Active Campaign, Campaign Monitor, etc. to send out visually impressive email newsletters.
These third-party email platforms have been created with the idea to send bulk email newsletters.
Most companies utilizing these platforms require a person or team dedicated to sending out bulk emails to get the full functionality out of the platform.
In the end, these email tools work great when you have a combination of money, time, and resources to devote.
Unfortunately, if you're in any other profession than an email marketer, you won't be able to rely on these third-party email services to help you with the one-off, custom emails that each of us sends on a daily basis.
That leaves the rest of us in our professional life to rely on the same simple email text formats we've been sending since the early 1990s…
Yep, not much has changed for us in the last 25 years.
Regardless of whether you're sending emails to your team, clients, or prospects our plain text emails contain three visual elements text, hyperlinks, and attachments to grab the attention of our audiences.

If your email message is important then it should be:
Opened
Read
A call to action should be taken!
It's time to bring the power of HTML email newsletters to the masses. You should be empowered to create and design email newsletters in a fast, visually appealing, and professional way.
Gmail Newsletters in every sphere of life!
Regardless of your position or industry, you send important emails to your teammates, prospective clients, customers, vendors, partners, etc. These emails contain information that needs to be read, clicked on, and more often than not require a response back.
We're all getting inundated with emails. It's never been more important for your emails to stand out from the rest so that you get the interactions and responses you need to do your job.
Before we jump into how to send off visual newsletters, we've put together some insightful case studies that show how converting plain text emails to visually appealing HTML email newsletters will:
Make your emails & message stand out.
Showcase your professionalism.
Help your audience retain information.
Encourage audience engagement.
Be viewed as important.
Don't worry if you don't see your exact profession below; you quickly will be able to relate. As you go through these examples, we challenge you to think of ways you should start incorporating visual Gmail newsletters in your everyday email correspondence! Let's get started…
Related: How To Create An Email Newsletter?
Gmail Newsletters for the Sales Professionals
If you're involved in sales at any level, a big part of your job is to share your product or service offerings to customers and prospects.
Most sales professionals focus on their subject lines and email copy to end up with the perfect template. More often than not they settle on an email template that includes plain text and hyperlinks similar to something like this:
Your prospects and clients receive a lot of emails that look fairly similar and basic. All sales professionals look for ways to stand out from the crowd and look for shortcuts to save time crafting emails.
Don't do what everyone else is doing.
Imagine, if you took nearly the same amount of time that you took to create a plain text email template and turned it into a visually appealing email newsletter that looked something like this?
You're sharing the exact same information. Instead of sharing a bunch of boring text and web links, you've turned them into a professional customized email to engage your customers and clients.
Now you might be thinking that looks and sounds amazing, but it might be a bit complicated.
The best part is the technique we're going to show will take nearly the same amount of time as creating a plain text email template! We promise you will not have to deal with any HTML code to create a Gmail newsletter template.
Related: 15 Responsive Email Templates for Gmail Newsletters
Gmail Newsletters for the Influencers
If you're an influencer who has an awesome following on social media as well as on your blog/website, emails are a great way to stay in remain relevant to your audience.
Many influencers use email newsletters to share:
Recommended products
Daily industry news
Latest blog posts
Latest videos and social media content
Sending helpful daily or weekly email newsletters will allow you to be seen as a thought leader, grow your audience and increase your engagement with your followers.
It's important to be creative and find ways to engage and capture your audience's attention. Remember, you're number one goal as an influencer is to be perceived as relevant.
Every internet user in the world has a phone number and an email address. These are the only two truly direct forms of communication. Take advantage of the email addresses of your followers and start shooting off engaging emails to grow your follower base!
Gmail Newsletters for the R&D department
Regardless of the size of your company and whether you have a formal R&D department or not, every company conducts research on their industry, competition, future ideas, market needs, etc.
Most research is conducted online and contains articles, press, reviews, research, white papers, graphs, and a wide variety of digital content.
Every one of us shares this information in a mesh up of links that we either email or create spreadsheets out of and distribute our findings across internal and external teams. Your research emails probably look something like this:
The amount of time and effort you spend reading and curating the most important information around the web should be reflected in the email you send off.
Don't let this important research get buried amongst other emails. Make your emails pop and stand out to your teammates and managers with an email newsletter that looks like this:
Creating a visually appealing email newsletter reflects professionalism, showcases the work you have done, and most importantly creates engaging content that your team appreciates and reads.
The best part is, that the time it takes to create a plain text email or a Gmail newsletter is nearly the same!
Gmail Newsletters for the CEOs
Whether you're a CEO, on the executive team, or a manager of a team it's important to share your vision with your employees.
Leaders need to share strategic insights, industry trends, company/team updates, and reinforce organizational culture.
In addition to meetings, it's important to send daily, weekly and monthly update emails. Most of us send and receive the good 'ole reliable 1990's style email: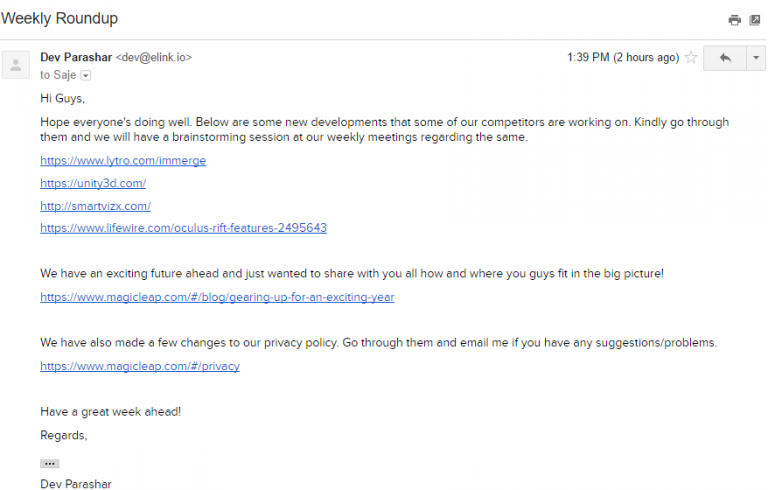 Although words have power, unfortunately when it comes to online content nothing beats visuals when it comes to interacting with content.
By taking the same message and turning it into an email newsletter it suddenly makes it look like a lot of thought and effort was put into creating it (shhh…no one has to know that it took nearly the same amount of time as a normal email).
Sending out engaging email newsletters will inspire your employees, provide them with food for thought, encourage greatness and reflect the professionalism you want your employees to show to each other, partners, and customers!
Gmail Newsletters for the Brand Manager
If you're managing an artist, you have to coordinate between event venues, management, collaborations with other artists, merchandise sales and more. Email is one of the most important ways to coordinate and keep everyone in the loop, to get things done.
It's hard to make your artist and group stand out by sending out plain text emails like this:
A much better way to showcase your artist's brand and identity is with visually appealing newsletters that you can quickly make and customize depending on who your audience is. Turn a 'blah' email into a memorable and engaging one like this:
Imagine all of the engaging ways you can promote your artist/band. Email newsletters are a great way to stand out from the crowd of emails and draw attention to your artist.
The crazy part is the time it takes to create an email newsletter versus the standard boring email is nearly the same! Read on, and we'll show you how to do it!
Gmail Newsletters for the Educators
Teachers are constantly finding creative, engaging ways to grab their student's attention.
Often there are assignments that have to be given to inspire outside learning, class discussions, homework, and more. Online educational resources and articles can be shared by sending out an email that looks like this:
Unfortunately, the information behind these links may be interesting, it doesn't engage the student and get them excited to click the links. Now if that plain text email was turned into an email newsletter that looked something like this, you can draw the attention of students to interact with your content.
By creating engaging visual email newsletters, educators can grab the attention of their students. Play around with 'click-bait' style titles that scream for attention, and help your students study outside the classroom.
Okay, so you get the point, sending Gmail newsletters is pretty darn important and can engage your audience!
The use cases are endless. Mic drop.
So how can you send Gmail newsletters in minutes!
By now that your mind is probably overflowing with all kinds of ways email newsletters will change the way you communicate.
Let's jump into the 'how' to create and send email newsletters. The technique we're about to show you will make it easy for you, so you don't have to send HTML emails (deal with messy coding) or stress about the design of your Gmail newsletter.
The fastest and easiest way to send Gmail newsletters is through elink.io.
Elink.io allows anyone to send out the perfect, well-crafted, and visually appealing newsletter in a matter of minutes! The tool works by turning web links automatically into visual content blocks (including a picture, title, and description).
Moreover, elink has a robust editor that allows you to add elements like images, texts, bullet lists, numbered lists, dividers, buttons, and even social media icons to your header and footer body.
You can even add a search bar in the newsletter and make it easy for your readers to find what they are looking for.
That's not it! Using elink's nifty automation tool, you can automate content creation for your newsletters, websites, and more. All you have to do is pick sources and add filters in order to make your content more effective and relevant. What could be better than that?
It's the fastest way to create a professional-looking email newsletter that looks like a lot of time and effort was placed into creating it. Little does your audience know that you created and sent it to them in a matter of minutes.
Here's a quick look at the steps you need to follow to create an email newsletter from elink.io & shoot it off from Gmail.
How to Create Gmail Newsletter on elink?
Step 1: Choose a Newsletter Template
The coolest thing about elink is that you don't have to worry about all the tricky design rules. With elink's stunning newsletter templates, you're already way ahead when it comes to designing.
Now, here's what you need to do: choose a template and customize it the way you want. We've quite a splendid collection to choose from, so take your time to find the one that fits your needs the best.
By the way, you can also create a newsletter from scratch. It's totally up to you.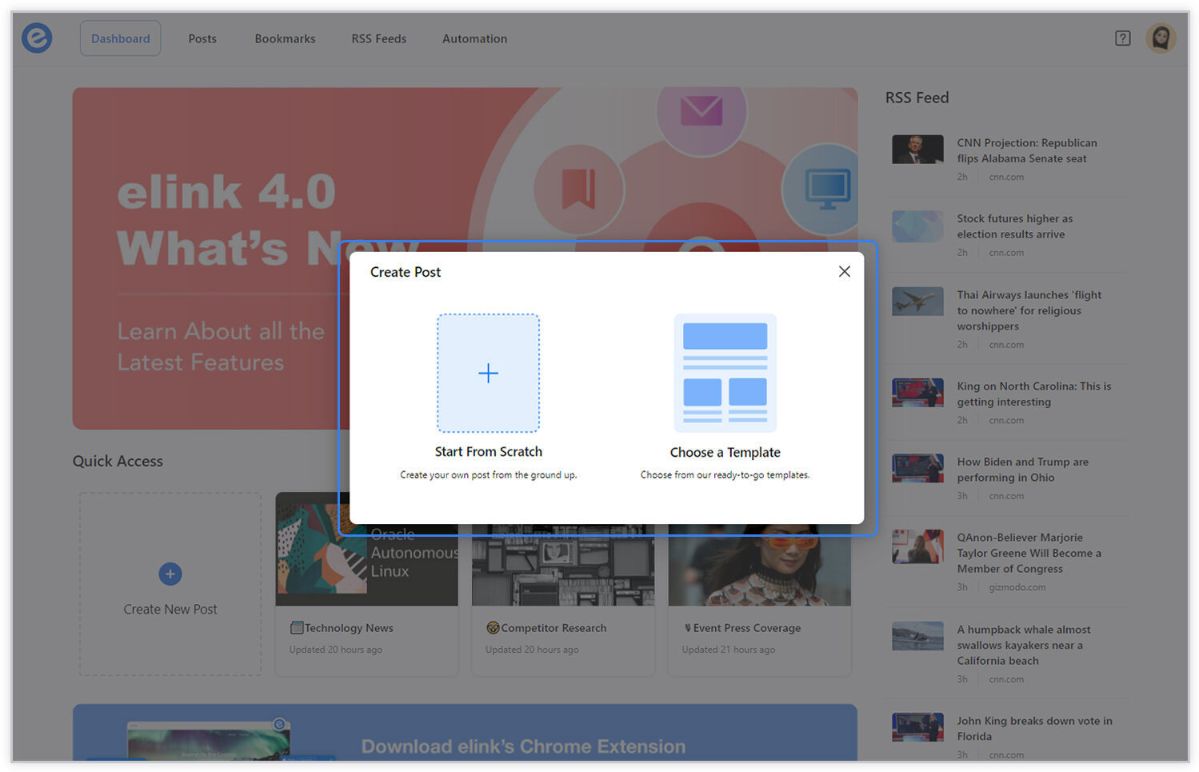 Step 2: Add Links to the Newsletter
Here comes the fun part. You can add links to the content (articles, videos, products, etc.) that you want to show up in your Mailchimp newsletter.
elink is so robust that it will automatically generate an image, a title, and a short description with each link. Of course, you can modify and customize any of this information if you want.
elink is also an RSS reader and a bookmark manager so you can quickly select your preselected links directly from the link library or the RSS feeds or enter them manually.
Step 3: Add Header
We know that a compelling email header design decides whether the reader would read your entire newsletter or bail on it. That's why we've given you the option of designing your header body the way you want.
You can add images, text, bullet lists, numbered lists, buttons, social icons, and dividers in your header body. elink even lets you choose from over 6 font sizes for your header body.
What's more? You can also use elink's Canva integration and design an eye-catching banner directly in elink.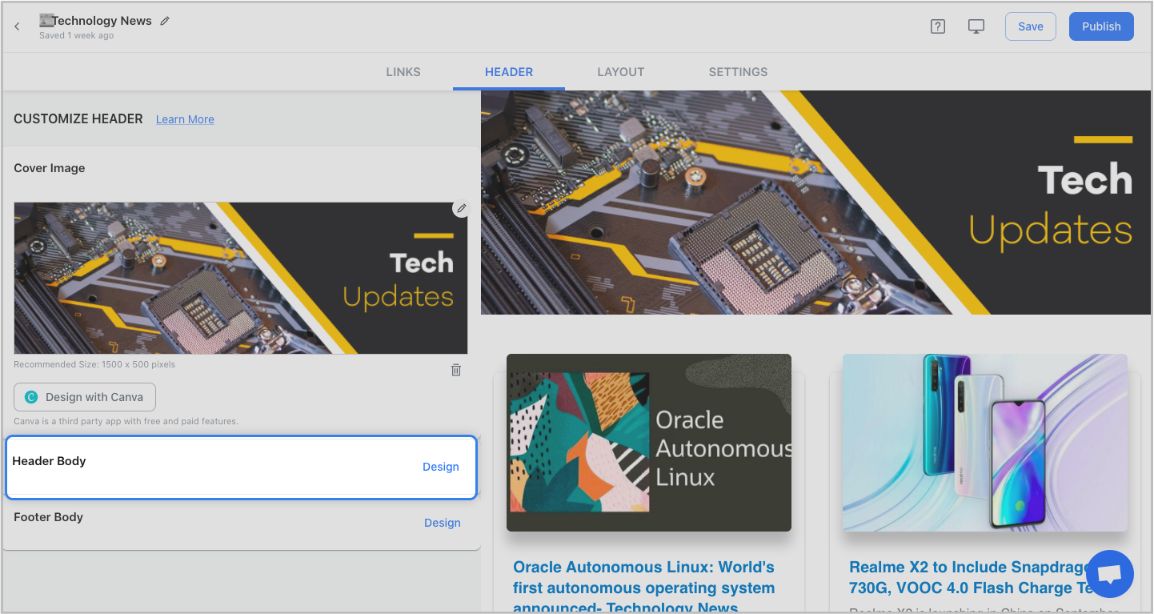 Step 4: Add Footer
An email footer is a place where the recipients would look for details about your brand. It is a place for transparency, clarity, and good design – exactly what elink provides.
You can add images, text, bullet lists, numbered lists, buttons, social icons, and dividers in your footer. Moreover, you can link the social icons with your own social media accounts in seconds.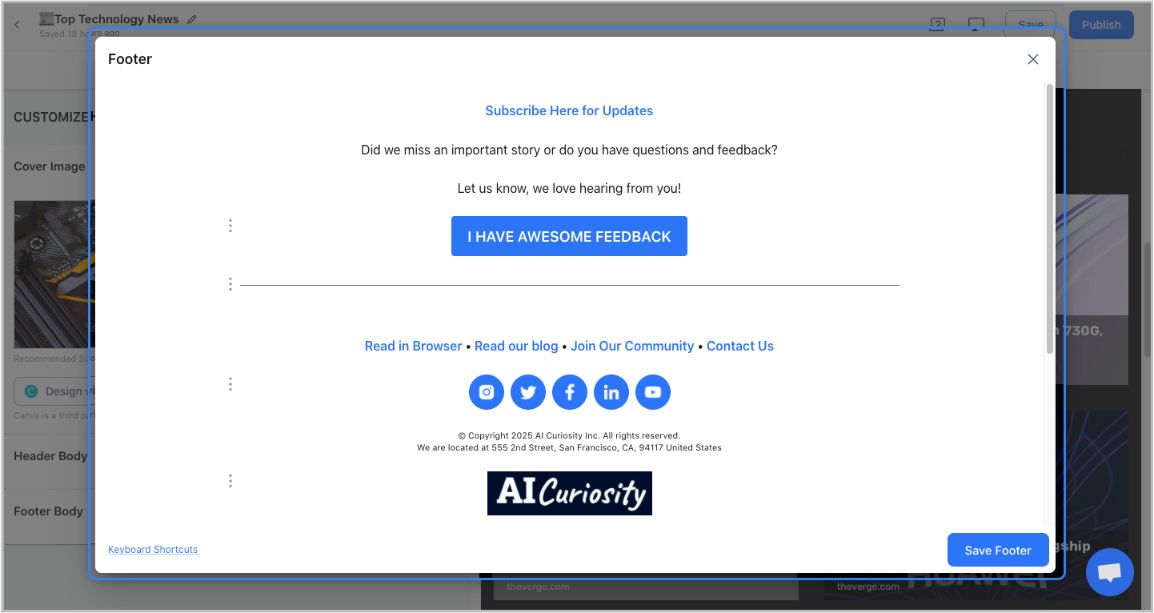 Step 5: Choose a Layout for your links:
Just jump right in and don't worry about wasting valuable time designing the layout of your Mailchimp newsletter. elink has already done all the heavy lifting for you. You can choose your favorite layout from all the different options with a simple click of a button and elink will change the formatting of those tiles to your chosen style.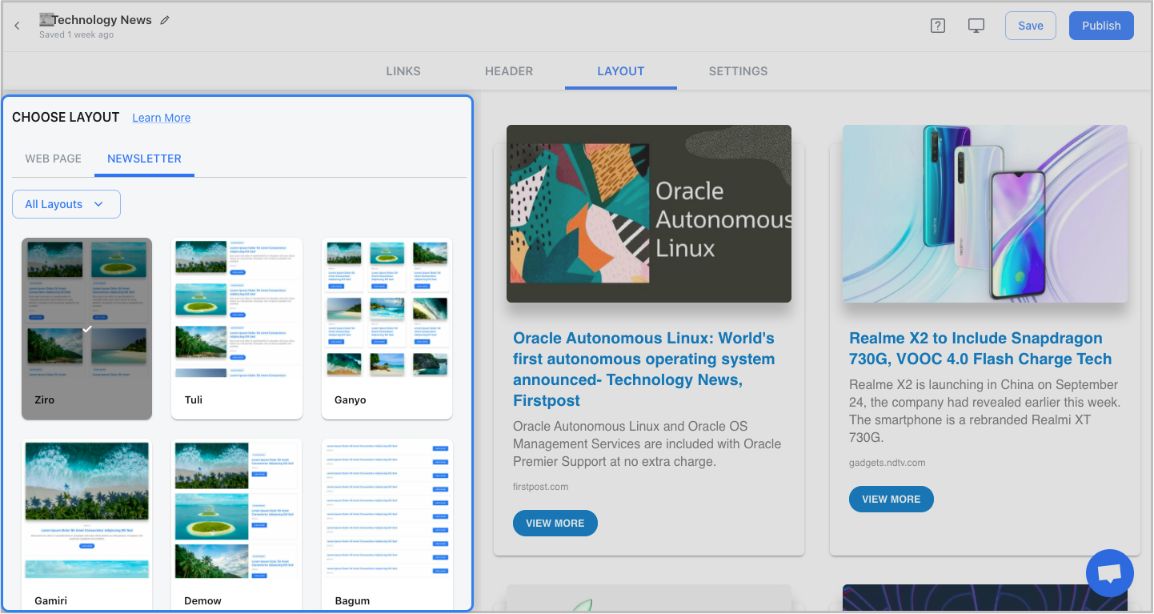 Step 6: Design and Customize
You'll get a perfect combination of colors in our templates. But, if you want to change the colors, you can do that too. Apart from that, you can also customize the font styles, button text, and more – in just a few clicks.
One of the most robust features of elink is that you can even add a search bar if you are adding a bunch of links such as resources etc.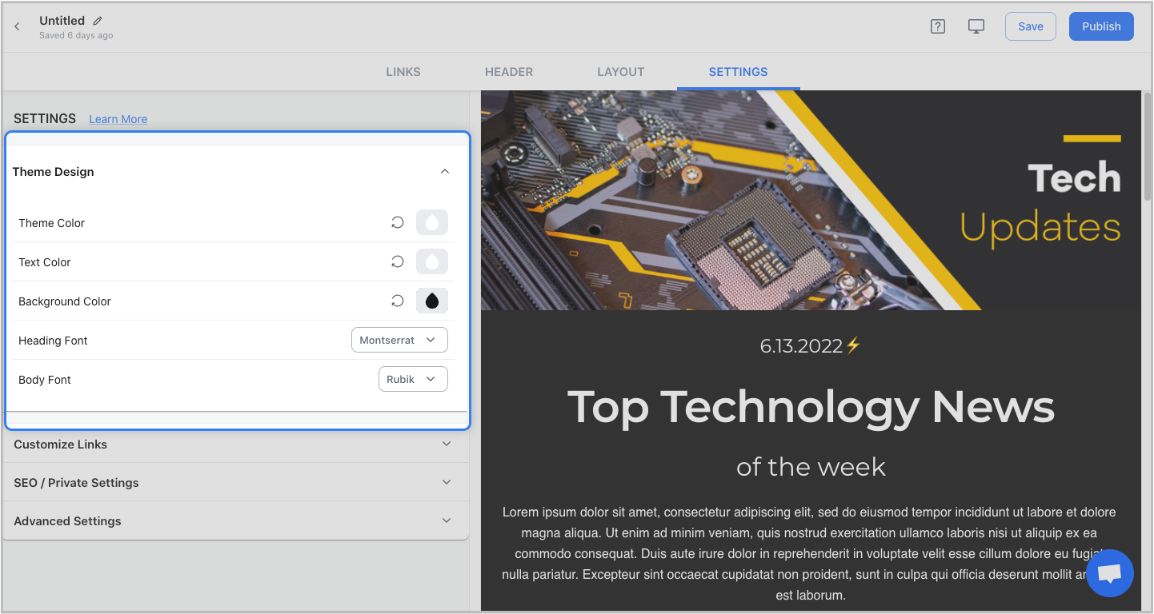 Step 7: Share Your Newsletter
Yay! You've now created a stunning Mailchimp newsletter that is ready to be shared with the world. Now, hit the 'Publish' button on the far right corner of the screen, and a pop-up will appear, allowing you to customize your content URL.
Once you have customized the URL, another popup will appear where you need to select the 'newsletter' option. From there, you can share your masterpiece via Gmail, Mailchimp, or any other third-party email marketing tools like Get Response, Mailchimp, etc.!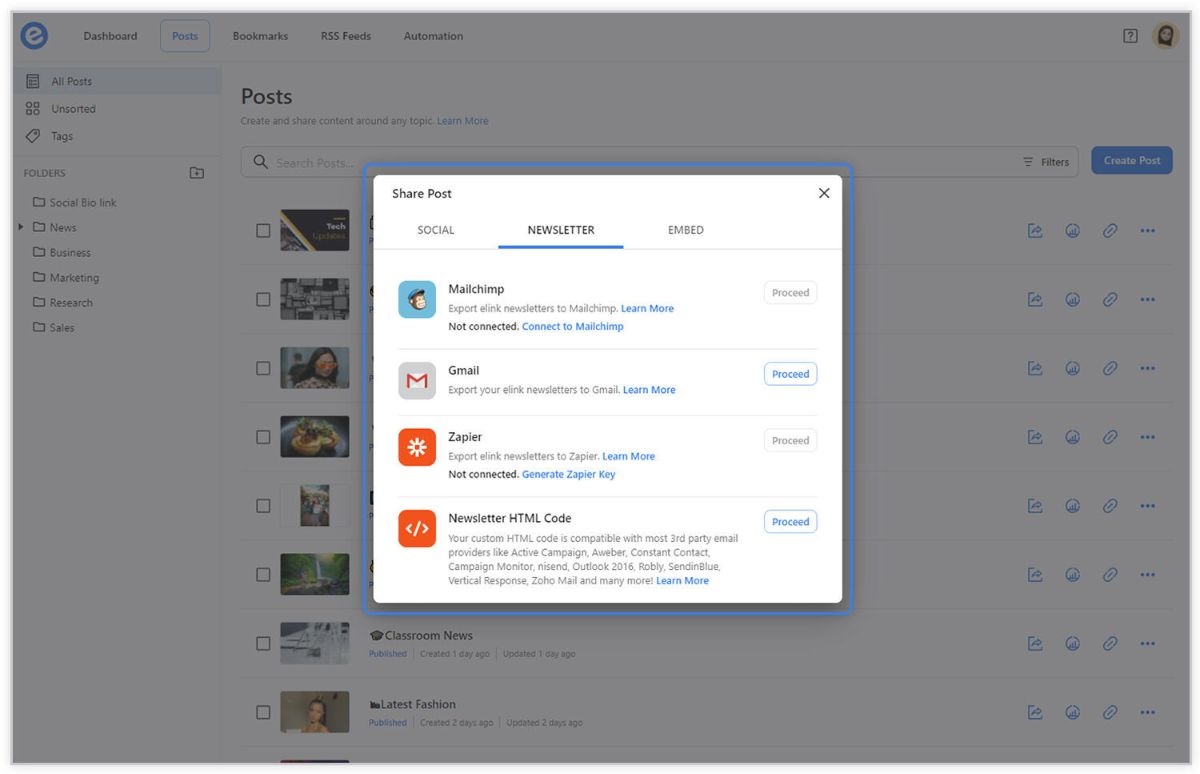 To learn more: How to Export Email Newsletters via Gmail?
 Watch this video to learn more
You'll come to your dashboard that shows your published content. Click on the newsletter button, and from there you can integrate with your Gmail account. Shoot over your email newsletter as a draft to your Gmail account.
Here's to email greatness!
What are your thoughts about plain text emails versus Gmail newsletters? We would love to hear how you plan to create and send Gmail newsletters in your everyday email correspondence life!
PS: You can also use Active Campaign or Constant Contact instead of Gmail to send out awesome Newsletters in minutes!
Before you go, Checkout our Killer Templates!
Read More :
Don't want to forget this information?