If you're an Active Campaign customer, you're going to love this email newsletter tip that will help save hours of time each time you send an email out. If you use another email provider service, you can still follow along and apply your learnings there as well!
As a marketer, your day is jammed packed with emails, social media, report requests, partnership management, influencer campaigns, event management and much more! With the constant juggling act, it's always exciting when we can figure out ways to save hours in our week by streamlining processes and using tools to eliminate redundancies in our work!
Brace yourself you're going to be able to reallocate your hours saved toward more meaningful marketing efforts!
Let's Save Time Creating Active Campaign Newsletters
Did you know that marketers spend on average 3.48 hours a week sending emails?
That is the equivalent to:
(3.48 hours) x (52 weeks) = Nearly 181 hours every single year!!!
That is an enormous amount of time spent creating and sending emails!
Well…what if you could achieve the same results by reducing your time by at least 75%?!!
If you use Active Campaign or any marketing automation service for sending out newsletters, we're going to blow you away with a technique that we know will make you jump for joy:)
Active Campaign Email Newsletter Time Saver Tip!
One of the best ways to create your Active Campaign email newsletter is through elink.io.
elink.io is the smartest way to create visually appealing newsletters by just adding web links! You can just use elink's Chrome Extension and save any article, product page, website, video, Google Doc…essentially anything with a web link and create a collection. Once you're done saving content you want to share, make some quick edits, add a header, and the tool will generate mobile responsive HTML email code for you that you can drop into any email marketing service!
Bam! It's really easy, and the best part is elink's templates are modern and look great on all devices!
Let's Get Started On Creating Active Campaign Newsletter through Elink
Step 1: Select a Template
elink.io provides you an option of choosing any newsletter templates that have been created to be responsive, modern and interchangeable. If you realize, later you want to see how your newsletter looks in another template, come back and update any time.
Step 2: Add Any Web Links (product pages, videos, articles, websites, etc.)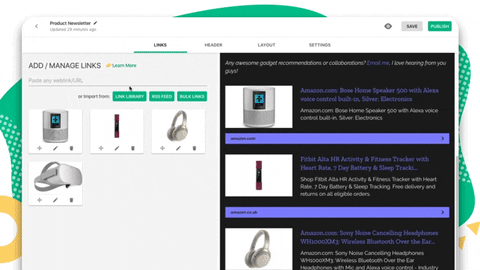 Copy and paste the URL (web link) of any content on the web. elink.io will automatically display the image, a title, and a short description regarding the link in seconds.
Imagine no more alt tags, formatting/cropping of images, aligning text and messy HTML code.
Step 3: Add a Newsletter Header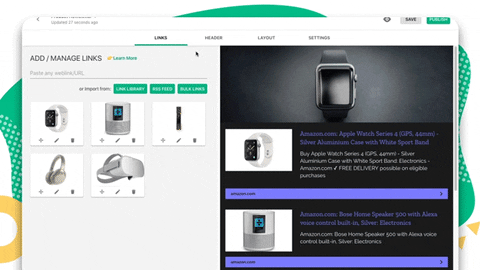 Add a newsletter header image and introductory text. This is your opportunity to engage your audience.
Step 4: Personalize your newsletter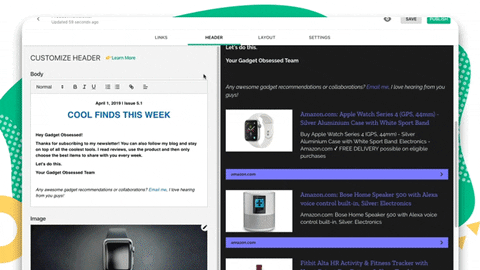 Change your layouts by choosing from elink's 30+ beautiful and responsive layouts. You can change your layouts anytime if they don't match your taste.
Customize your shopping page by changing the color your header, text and background. You can also change the font style of your text and the SEO settings as well!
Step 5: Publish & Click on Export as Newsletter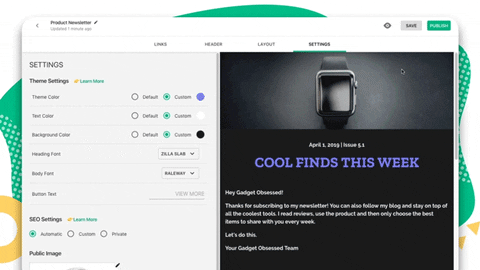 After publishing, go to your dashboard and select the newsletter button. Copy the HTML code and get ready to export your newsletter.
This is what your newsletter should look like…..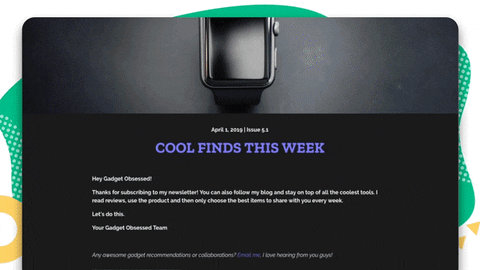 Check out : Elink's Curation Templates
Now Export your HTML Code to Active Campaign!
In your Active Campaign dashboard, start by creating a brand new campaign and when you get to the template section choose 'Build from Scratch.' 👇
Just copy and paste the HTML code in the left half, and your beautiful newsletter will appear in the right half of the page! 👇
The only thing you need to focus on is creating great email newsletter copy and sharing web links that will keep your audience engaged. Give the stress of email newsletter creation to elink.io.
To Learn More Watch This Video Tutorial 👀👇
Tell us below how long it takes you to create Active Campaign email newsletters via elink.io. We would love to hear how much time you're able to save!
Start creating your 5-minute email newsletters today with elink.io!
PS: If you don't use Active Campaign, you can still send out visually appealing Newsletters using Gmail or Constant Contact in minutes with elink.io!
Further reads :
Don't want to forget this information?
Pin it for future reference!