Constant Contact is One of the Most Popular Email Newsletter Services
Did you know that one of the most popular ways to send email newsletters is through Constant Contact? It is the second biggest email marketing platform after MailChimp with an astounding 60.51% of market share.
But like all great email marketing services, we have a lot of work and responsibility on our shoulders to get out an amazing looking email newsletter. Yep, that includes design and copy.
Well, know that you aren't alone with the amount of time you spend sending email newsletters… In fact, email marketers average 2.6 hours a week on sending and creating email messages!
It's not surprising that one of the biggest complaints we hear from marketers is the sheer amount of time it takes to create one perfect email newsletter!
We have to deal with alt tags, getting the images and formatting just right, fiddling with the HTML code and along the way make sure we don't 'break' anything so that it looks great on all devices.
The time spent on dealing with design and formatting, take away from our valuable limited resources as marketers. It means that other pressing marketing to-do's get further and further down our list.
SECRET SAUCE: So how the Heck do you SAVE Time Creating a Constant Contact Newsletter?
Well, we have a feeling you're going to love us! If you use Constant Contact or any email marketing service, we're about to make it incredibly easy for you to just focus on your email newsletter copy and generate a modern, responsive email newsletter in 5 minutes!
elink.io is a smart tool that helps you create flawless email newsletter HTML code in no time. All you have to do is enter web links of content you want users to engage with, and elink.io does all the heavy lifting.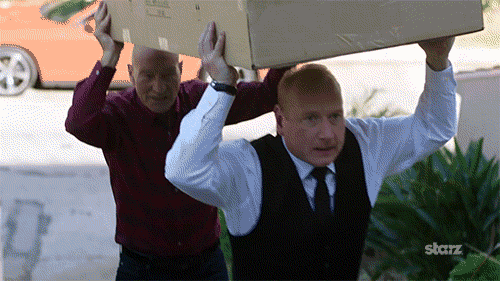 elink.io instantly generates images, titles, and descriptions for each web link you enter. You just add a header image and intro text and then publish your newsletter. It'll pump out your HTML code that you can copy and paste into Constant Contact, and you're done!
YES, it's that easy to create a modern and responsive newsletter.

Imagine:
WEB LINK + WEB LINK + WEB LINK = EMAIL NEWSLETTER
Here's a Quick Tutorial to Show You How to Make a 5 Minute Constant Contact Email Newsletter:
1. Select a template
You can select a newsletter template or start from scratch. elink provides you with an array of responsive templates to choose from, and if you don't like the look of your template you can always go back and change it!
2. Add your links (product links, articles, videos, etc)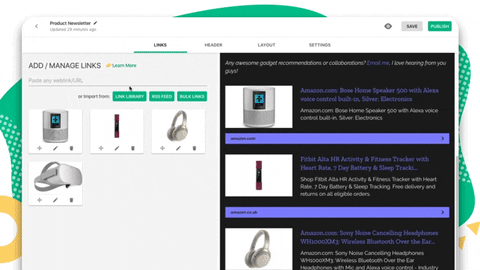 Copy and paste the URL of any content on the web and elink.io will automatically display an image, a title, and a short description of the link. 

Just copy and paste the link and we will make it awesome!
3. Add a Header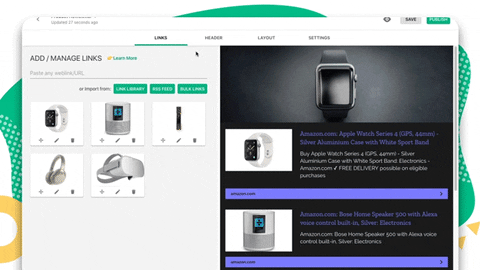 Give your newsletter a header image, a catchy title and a short description. You can even add your brand's logo and tagline to make it more personalized. 
4. Personalize your newsletter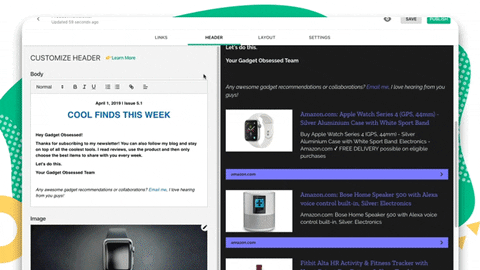 Change your layouts by choosing from elink's 30+ beautiful and responsive layouts. You can change your layouts anytime if they don't match your taste!
Customize your shopping page by changing the color your header, text and background. You can also change the font style of your text and the SEO settings as well!
5. Publish & Export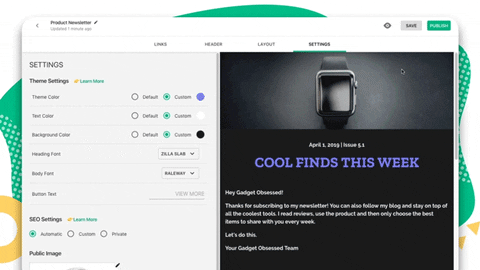 After publishing, go to your dashboard and select the newsletter button. Copy the HTML code and get ready to export your newsletter to Constant Contact!
This is what your newsletter should look like…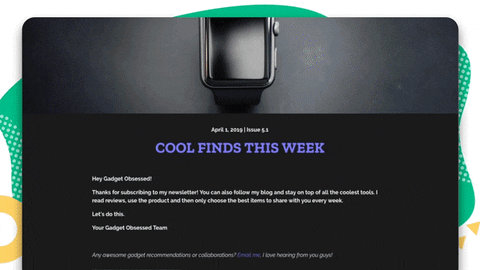 Export this Newsletter to Constant Contact
In your Constant Contact dashboard, create a brand new newsletter campaign and select the custom code option.
After setting up your newsletter click on the Advanced Editor option on the left side of the page. Delete all of the existing code and copy and paste elink's fresh HTML code. Get ready to witness awesomeness!
Congrats! Your Newsletter is ready to go out. Make sure to Preview and Test out the Newsletter to make sure everything looks as great and hit send!
And that's it! You no longer have to compromise on the quality of your email at the expense of time and effort.  Send better emails and newsletters with Constant Contact in minutes, with a little help from elink.io!
Here is a quick video tutorial:
PS: If you don't use Constant Contact, you can also use Gmail, MailChimp, Active Campaign or any third party email marketing service to send out a visually appealing newsletter with the help of elink.io!
Let's chat below! How much time do you spend creating email newsletters? Comment below!
Further reads: 
Don't want to forget this information?