Newsletters are awesome! Why? Well because email newsletters provide much more personal interaction between companies and the consumer, away from the noise of social media. People don't just give away their emails. They don't just invite anyone to get in their (already chaotic) inbox. They only share them with those they have chosen to trust.
Subscribers of an email newsletter feel like they are a part of this exclusive club that receives a ton of value in terms of discounts, information or just some random cool stuff, from their favourite brand or influencer.
And people love sending them too as it helps them build an ongoing relationship with their customers and provide them value right in their inbox.
This is why 93% of B2B marketers use email newsletters for content marketing.
Apart from being a great channel for customer acquisition and engagement, Email provides a ton of return on investment- precisely around $38 for every $1 you spend! It's no surprise that people all around the world consider email as one of the most cost-efficient digital marketing channel.
As awesome as this all sounds, we're sure you are wondering whether sending out email newsletters is right for 'you'. So without further ado, let's find out!
Related : Curated Newsletter: The What, Who, How and Why of a Curated Newsletter
Who can benefit from sending out a newsletter?
Who can benefit from sending out a newsletter? The short answer- everyone!
Brands and marketers are not the only ones who can use email newsletters to sell to customers and forge a healthy relationship with them.
In fact, anyone can get started with an email newsletter to build an audience and share their content with the world. Regardless of your position or industry, you send important emails to your friends, family, co-workers, customers, vendors, clients, partners, etc. every day.
Newsletter for Brands
Customers love receiving newsletters from brands. A whopping
70% of email readers open emails from a brand or company in search of a deal, discount, or coupon. Over 50% of US consumers say they like receiving promotional emails from their favourite brands once a week!
Sharing discount codes with customers via email is always a good idea. Apart from that, you can always carry out giveaways and contests, share your latest blog posts, upcoming products, reading lists, updates and much more.
Newsletter for your Internal Team
Having a clear line of communication with your team creates a sense of community, builds trust, helps team members to be on the same page, share ideas, and eliminates confusion. Sharing a weekly or monthly internal newsletter is a great way to do just that.
You can use an internal newsletter to share learning videos, motivational blog posts, updates about a product, news about milestones and achievement, share new policies, ethics, trends and much more.
Read more: How to Create Internal Newsletters for your Teams
Newsletter for Financial Advisors
Financial advisors can leverage the power of newsletters by being a trustworthy voice in the industry and sharing timely insights with their customers.
This is important to influence and build trust. You can share financial market news, educational resources, stock market updates, Fin-Tech trends, money tips, strategies, and much more.
Related: How to create a Newsletter for Financial Advisory
Newsletter for Sales Professionals
If you're involved in sales and marketing at your company, a big part of your job is to carry out email campaigns to share your product or service offerings to customers and prospects.
You can use newsletters to consistently nurture leads, send them reminders to signup, showcase new product offerings, upsell them on newer products, share discounts and coupon codes, and much more.
Newsletters for the Educators
If you are a teacher or work in the education industry, you know how difficult it can be to grab student's attention.
Sending out email newsletters to your class or faculty can be a creative way to grab attention and increase engagement. You can share reading assignments, class notes, online educational videos, relevant articles, case studies, and much more.
Newsletters for the Influencers
Influencers usually have a huge following on social media. Sending out email newsletters are a great way to reach out to your tribe in more ways and explore new avenues to build authority and awareness.
Sending a weekly or even daily email newsletters will allow you to be seen as a thought-leader and increase your engagement with your followers. Influencers often use email newsletters to share recommended products, industry news, and trends, their latest blog posts, or new social media content.
We can go on and on about this but you get the point. From fashion to music to education, every industry makes use of email newsletters to reach out to their audience, stay on customer top of mind, and increase their brand awareness.
All you need is a newsletter creator that can create awesome looking, mobile-responsive, east to make newsletter that your audience would love getting in their inbox.
Elink.io: The Best Newsletter Creator in 2020
We know that by now your mind is flooding with all kinds of email newsletter ideas and how you can engage with your audience ina more meaningful way. So without further ado, let's jump into the 'how' to create and send an awesome-looking newsletter.
The fastest and easiest way to send newsletters is through elink.io.
Elink.io is a newsletter creator and a content curation tool that helps anyone send out visually appealing and responsive newsletters in a matter of minutes!
elink.io works by letting users choose a newsletter template and simply adding the URLs (links) to the content (articles, videos, documents, etc.) they want to share as a newsletter!
elink.io automatically converts those web links into visual blocks with a picture, title, and a short description. You can add a header, some intro text, your company logo and/or tagline and hit submit. It's that easy!
And that's not even the best part! The best part is the enormous catalog of pre-made newsletter templates that you can use to create a visually stunning newsletter in minutes!
At any point in your newsletter creating process, you can switch between elink' 30+ different and beautiful templates anytime you want and preview and test each one to see which one fits your design needs.
All the templates are responsive and look perfect on all devices.
Steps to create newsletter in Elink.io
Let's dive into these 6 simple steps of curating and creating a newsletter with elink:
Step 1: Choose a newsletter template.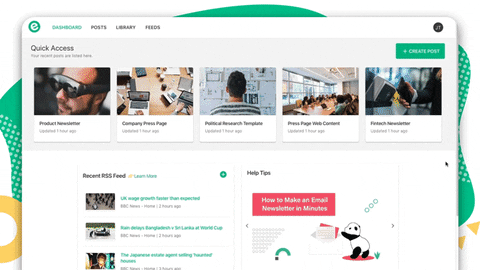 You can either choose to build your elink newsletter from scratch or can use one of our awesome pre-built templates. No matter which industry you belong to, we have a template for it! Each template is responsive, so you don't have to worry about the appearance of your links on different devices with different screen sizes. The best part is, you are not stuck with your layout. You can come back at any time even and give it a new look. Even after it has already been published!
Step 2: Add links to your newsletter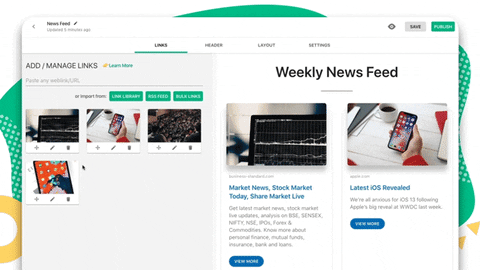 Next up, copy and paste links to the articles, podcasts, music, videos, or other sources you want to share with your audience and elink will automatically generate an image, a title and a short descriptive text regarding each link. The best part is that you can change those titles and descriptions to make them SEO friendly and concise enough to get the viewer's attention. You can even change the link image by uploading a new one.
PRO TIP: Use elink.io's Chrome Extension to quickly add links to your newsletter. It's a smart way to save relevant content across the web and start creating your newsletter as you go through your normal online life!
Step 3: Add a header
Give your curated newsletter a header image, a catchy title, and a short description. Add your logo and tagline to make it more personalized.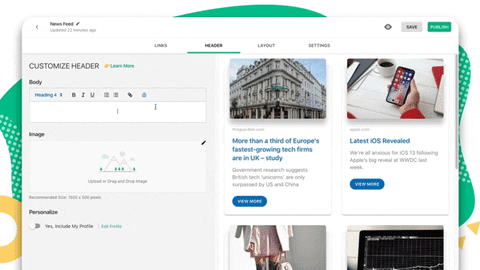 Step 4: Choose over 30+layouts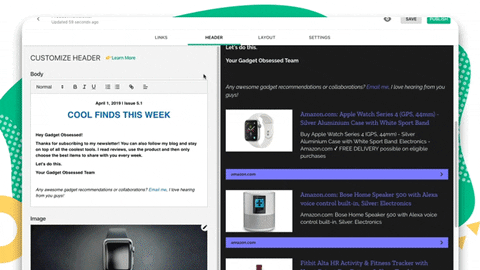 Choose from over 30+ finest layouts to suit your design and add your touch to it.
Step 5: Design and Customize
It's important to add your own design elements to the content you create. In addition to header images, header text formatting and visual weblink formatting, elink allows you to:
Change the color.
Update your heading font style
Choose your body font style
Update your Call-to-action button text on templates
Choose a font that is highly visible.
Step 6: Publish & Export!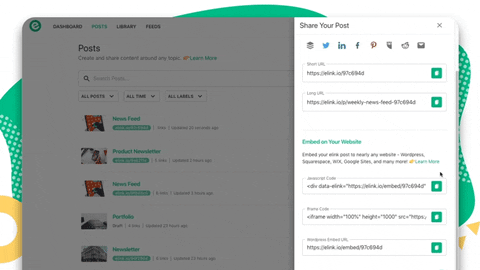 After publishing, go to your dashboard and select the newsletter button. From there you can integrate elink with your Gmail account and shoot over your email newsletter as a draft to your Gmail.
If you use any email marketing tool other than Gmail like Mailchimp, Mixmax, Mailer Lite, Get Response, Active Campaign or basically anything else, you can choose the "copy the HTML code" option and paste the HTML in your marketing tool's compose area.
Wrap Up
An average person receives 121 emails per day! With so many people vying for attention and trying to get their message out there, you have to make sure that your newsletter stands out from the crowd and seizes your audience's attention.
No matter how well-written, or well researched your content is, if your newsletter's design is not able to convey its usefulness, it won't take much time for your audience to press that back button or worse, unsubscribe!
At elink, we have not only made sure that you can create email newsletters quickly but have spend an enormous amount of time figuring out the best templates in the market that audiences absolutely love receiving in their inbox.
Whether you are using one of our pre-made templates or creating an email newsletter from scratch, you can rest-assure knowing that it will look stunning on all devices, irrespective of the screen size your audience is viewing the email on.
So what are you waiting for? Start creating newsletters today and let us know about your experience by tweeting us @elink_io
Further reads:
Don't want to forget this information?
Pin it for future reference!