Social media is taking over the world by storm. Platforms like Facebook & Instagram have become such a huge part of our lives.
Checking these platforms is the first thing most of us do after turning off our morning alarms. In fact, it's also the last thing we do before falling asleep.
As a marketer, you should prick your ears. All these aspects of social media make it a great place to market your brand and that's why social media marketing is the 'in' thing now.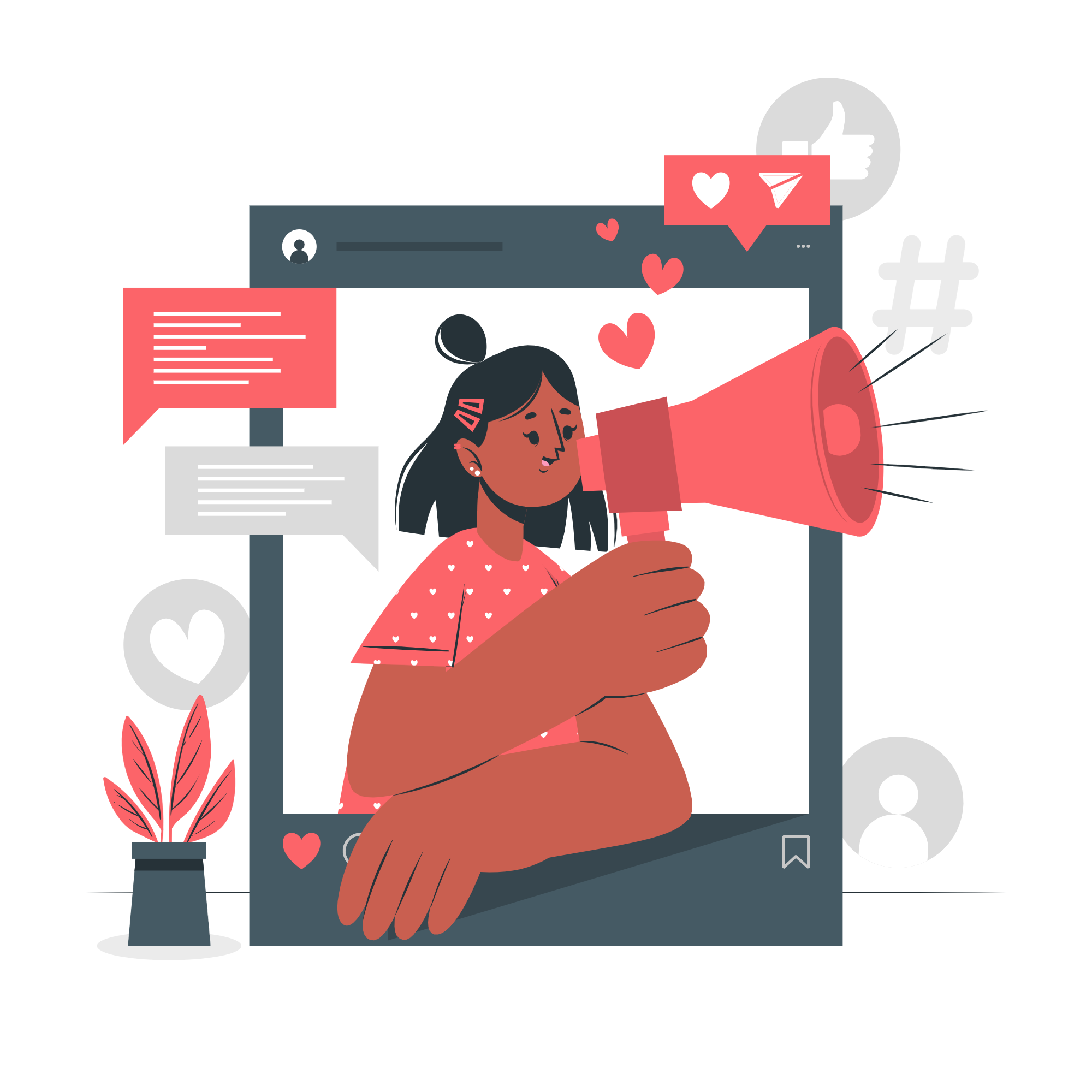 Don't believe us? Check out these stats:
83% of people use Instagram to discover new products and services and 87% said they took a specific action, like making a purchase, after seeing product information.
79% of people say that user-generated content on social media significantly impacts their purchasing decisions.
74% of consumers share video content from brands on social media.
Social media marketing sure is influencing the consumers' purchasing behavior! Want to know more about the impact that it has on businesses? Let's dive in!
First Off, What is Social Media Marketing?
Social media marketing is the process of promoting a brand or business using social media platforms. It helps you engage and connect with potential customers in a way that drives sales.
Simply put, social media marketing is the use of social media to promote a brand and increase sales. This includes promoting content in the form of advertisements, writings, videos, contests, etc.
But, if you are wondering why social media marketing is creating such a buzz, then scroll down and see for yourself!
Why Social Media Marketing is Hot Right Now?
Think about it.
There are over 4.20 billion users on social media with each platform having its own set of daily active users. That's nearly half the global population!
And the thing is, a typical social media user spends an average of 2 hours and 25 minutes on social media each day. Over 4 billion people spending more than 2 hours each day on social media platforms. Phew!
If that isn't enough reason to promote your business on social media, here's another stat that'll blow your minds: A study by the Global Web Index shows that 54% of social browsers use social media to research their product.

So yes! There's no denying that social media is the largest platform for promoting your business and has a huge impact on your business.
Now, let's take a look at the benefits of using social media marketing for your business. This one is going to be a joy ride, so buckle up!
Read more: Marketing Psychology: 9 Strategies to attract Customers!
Benefits of Social Media Marketing for Businesses
1. Boosts Brand Awareness
The moment you enter the world of social media, your brand is out in the open for billions of people to see.
With social marketing efforts, 91% of marketers claimed that their businesses received an increase in exposure in a very short span of time.
Using social media platforms, you can tell your story and engage with your target audience on a personal level.
This sort of visibility ensures brand recognition, boosts brand awareness, and builds a reputation for your business.
Read more: Social Curation: What is it & How to Do it in Minutes!
2. Low Cost
That's right, fellow marketers!
The awesome thing about creating a social media page is that it is absolutely free of cost.
Whether it is Facebook, Instagram, Twitter, LinkedIn, or any other social media platform, making a profile is simple and free. You can just go online and create a profile without spending a single penny anywhere.
Even if you had to spend any money, it would be at a much much lower cost than other forms of marketing.
Do your social media networking right and your return on investment is going to become much higher than you expect.
This is because the sheer number of people using social media and the wide outreach it has increases the possibility of users seeing your profile and its content.
Low cost and high returns. It's nothing but super profitable!
3. Generates Leads
Everything about social media marketing screams lead generation.
A study by Forbes has shown that 78% of consumers' purchases are impacted by companies' social media posts.
That's why promoting your products on social media platforms is important because it allows you to engage with qualified leads and convert them to customers.
Not only that, each major platform records a lot of data from their users in addition to the fact that most people also readily share their information online via social media.
This data can help you study people's interests and allow you to target your ads at them.
Social media marketing leads the way!
Read more: Social Sharing: Definition, Tools, and Tips!
4. Boosts Sales
There is no denying that social media marketing has the potential to boost sales more than any other form of marketing.
Over 50% of marketers who have been implementing social media marketing tactics for at least 2 years have reported improved sales.
Every promotion you do on social media, whether it is through contests, giveaways, video ads, influencers, etc. helps your products reach a wide audience who might later turn into customers.
For example, a report shows that 77% of Millennials said they made a purchase either online or in-store after seeing the product on Facebook.
And that's just Facebook. Imagine all the other social media platforms combined!
5. Better Search Engine Traffic
Let's face it, everyone who uses Google to search for brands is unlikely to navigate past page one. That's why you must have higher page rankings to generate traffic to your business website.
And, there's no better way to increase traffic to your website than through social media.
According to Social Media Examiner, more than 58% of marketers who have been using social media for more than a year or longer see improved search engine rankings.
Through social media marketing, a great piece of content can score hundreds of likes and shares. This drives a serious level of traffic to your site.
6. Access to Paid Advertising Services
Social media marketing gives you an option to access paid advertising services using which you can get your profile to appear in the feeds of people who are looking for your products and services.
And, no, it's not much expensive. They are so much more affordable than your regular advertising services and they bring in more potential customers!
Paid advertising services will make your product appear frequently on social media feeds which is bound to generate website traffic.
Read more: Social Media Aggregation Guide for Marketers!
7. Fosters an Online Community
The thing about social media marketing is that it's not just about selling and promoting, it's also about communicating and connecting.
When you interact with your audience online, it helps you build stronger relationships with them.
For example, if you respond to comments and queries online, it creates a sort of positive impact. But, if you go a step ahead and ask for suggestions and feedback, then that will be a game-changer for your brand's image.
Not only do people feel acknowledged when brands engage with them on social media platforms, but they also feel a personal connection that humanizes the brand.
This sort of interaction between the brand and its customers establishes a long-lasting relationship, which in turn fosters a solid online community.
8. Builds Trust
In today's world, a social media presence goes a long way in showing that your brand is legit.
Think of it this way: when you want to know something about a company or a product, the first thing you do is look it up online.
When your brand name pops up on Google with links to social media pages, it suddenly creates a sense of trust within the potential customer.
But, it's not enough that you are on social media platforms, you also have to be active and consistently posting things to really cement that trust.
Read more: How to Create a Custom Social Media Wall for Your Website?
9. Helps Learn from Competitors
Perhaps one of the biggest social media marketing benefits is the ability to keep an eye on your competitors.
The social media presence of your competitors allows you to keep tabs on their marketing strategies and help you understand what's working and not working for their business.
You can analyze the general trends being followed by your fellow competitors and experiment with those trends while taking your own routes to make yourself stand out in the market.
Sometimes, you can even publicly engage with your competitor's brand and see how that impacts your business.
10. Evaluates your Performance
We know how social media lets you monitor other companies' growth, but guess what? It is also a mirror reflecting your own growth and development.
This means that social media marketing enables you to track your performance and results.
You can evaluate your marketing campaigns by analyzing how many people have followed, liked, commented, and shared your page before and after the campaign.
Social media platforms allow you to view the metrics of the campaign in the forms of impressions, clicks, and conversions.
When you can evaluate your social media strategy's performance, you get an understanding of what is good and bad for your brand. This will help you improve your brand and drive for better results.
Wrapping Up
Social media is such a happening place.
People are posting, sharing, tweeting, commenting, liking every second. It's almost like people are living and breathing online.
If you are mad over marketing, you know it's the place to go gaga with your business, and in this blog, we have shown you all the benefits that social media marketing can do for your business.
With the ever-increasing population online, you don't want to miss this opportunity. Go online and get down to business!
Further reads:
How to Integrate Social Media On Your Website?
What is Outbound Marketing & How Does it Work?
Instagram Bio for Business: Tips and Tricks
Top 11 Gmail Extensions for Email Marketing!
Effective Ways to Use Social Media to Promote Your Content
11 Social Media Automation Tools Every Marketer Needs in 2021
10 Ways to Turn Your Instagram Followers into Customers
Increase Conversion Rate Using These 15 Killer Hacks!