Instagram has become a crucial marketing medium in the last few years.
From small businesses to conglomerates, everyone is on Instagram, hooked on to increasing the followers, likes, and comments metrics!
According to stats revealed by Facebook, 500 million users log on to Instagram and spend an average of 30 minutes every day!
Shocking, right?
If you are a business owner with an Instagram page, but somehow struggle to find leads, conversions, and grow on the platform, then it might be time to change your strategies.
Instagram's algorithm is not so easy to win.
But don't worry, below listed are 10 foolproof ways to organically grow on Instagram, without having to pay large chunks to advertisements and influencers.
We've something for everyone in this post.
If you're new to the whole Instagram business concept, this article will help you take the first steps. If you're a regular user then the advanced strategies listed will help you gain more traffic, increase brand awareness, and gain loyal customers through Instagram.
Ready? Let's go!
1. Utilize the Only Clickable Link on Instagram
Instagram allows a clickable link only in the bio. So make sure to get the best of it. It is the only portal for your Instagram audience to reach your webpage.
How do you do that? By giving them a CTA (Call to Action).

When they go from your Instagram page to your website, the first conversion happens i.e the audience converts into traffic.
Remember: Do it subtly, don't over-sell yourself. For instance, you don't say "visit my website", instead tell them a reason why. For instance, "work with me", "find your style here", "grow your wealth with me", etc.
But, there is a problem.
You can add only one link in your bio and that's certainly not enough when you want to promote different things at the same time.
Don't worry, we have come up with a solution to merge several links into one.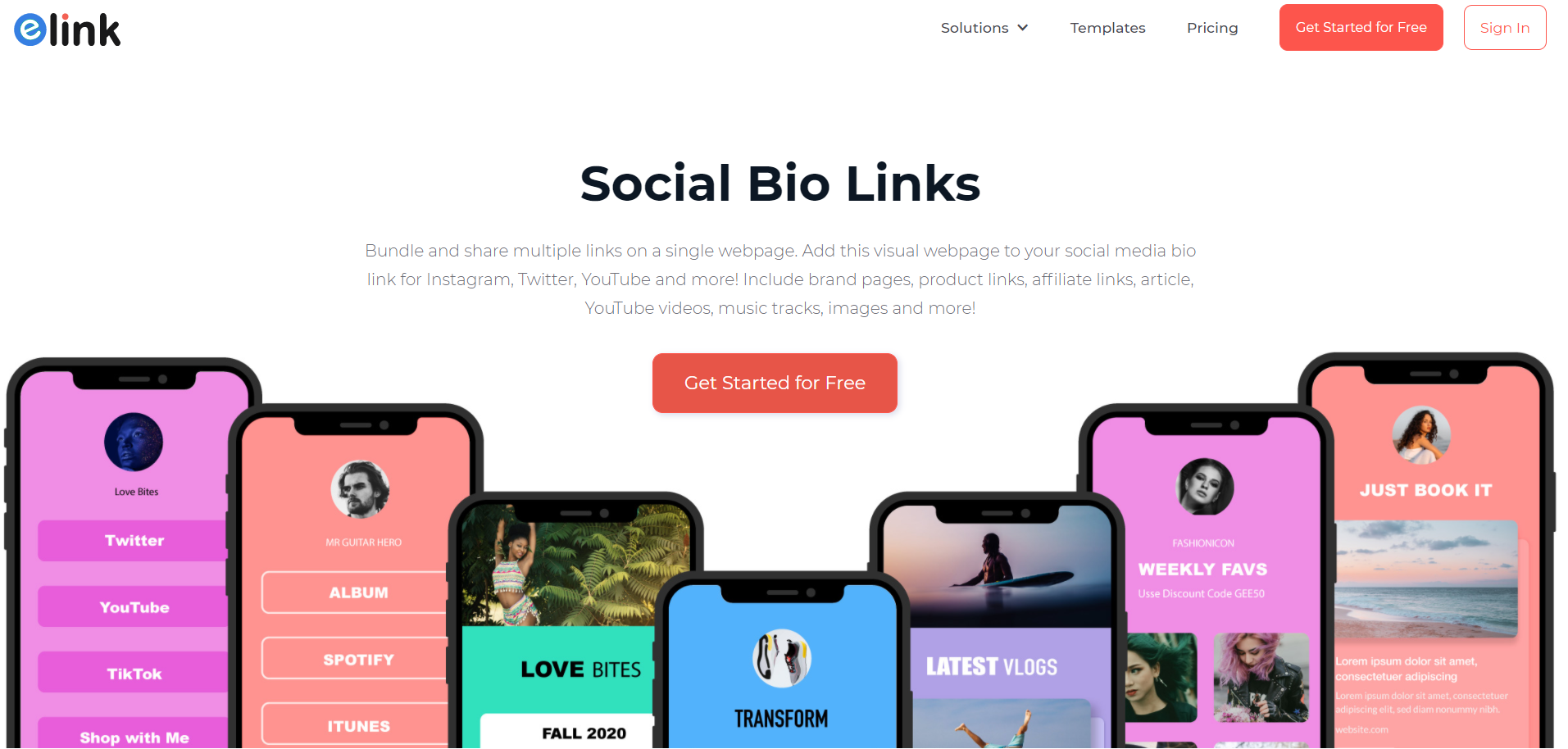 You can use elink's social bio link tool to bundle and share multiple links on a single webpage. You can add this visual webpage to not just your Instagram bio but also to Twitter, YouTube, and more!
Using elink's social bio link feature, you can:
Include your brand pages, product links, affiliate links, articles, youtube videos, images, music tracks, and much more in a single webpage.
Choose from 50+templates to make your content pop.
Choose from various fonts, colors, and design themes.
Edit anytime a change occurs and use the chrome extension to update it on the go.
Get fully responsive layouts that look great on all devices.
Amazing, isn't it?
Read more: Instagram Bio Hack: How To Add Multiple Links On Instagram
2. Create a brand identity but don't oversell
The first step in creating a brand identity is making an optimized business page. Don't mix it with your private page and certainly don't post personal stuff on there.
The second is, setting the account up. Start by choosing a suitable username (the name of your brand). It should connect to what your brand is about. Make sure it is simple and easy to remember!
Next is your display picture. Insert your brand logo there. It's the little circle that shows up every time you post something. This makes your brand recognizable and increases brand awareness.
Finally comes your bio. Insert a brand slogan in the bio. Tell the audience your mission/purpose/value in two lines. Your bio should hook up the audience.
But remember, do not oversell. Don't include your slogan in every post or story. Don't paste your logo as a watermark on every post.
Why? Because it says that "I am a brand trying to sell you something" and your audience won't engage with that. Make them follow you for the content you create.
3. Use Hashtags and Geotags
You must've heard of using hashtags. But it is not just any hashtags. You need to use relevant hashtags to get views. It lets your content be seen under a specific niche.
What are the relevant hashtags and how to find them? Here's how to build your hashtag strategy:
Don't stuff the caption with hashtags. Use 5-6 niche-specific tags.
Don't use very broad hashtags. Chances are your post will get buried under the million other posts on it. Mix and match your hashtags with broad plus niche-specific ones. For instance, #travel is very broad. It probably has millions of posts under it. Narrow it down to #cheaptravel or #cheaptravelinthestates.
Hashtag what you're selling plus to whom you're aiming it to sell. Include your target audience. For instance #yogaforwomen or #girlswhodoyoga will get more views than #fitness #health #yoga.
Look up what hashtags other people in your niche are using and try to include them in your posts i.e do competitor research.
Do not use the same hashtags on every post. People do the mistake of copy posting the same hashtags. Instagram's algorithm catches it and does not let your post come on top.
Now comes Geotags. Geotags are the location check-ins in your post. They are available for both stories and posts. Whenever someone clicks on a geotag, all the posts from that tag appears.
Geotags helps you gain access to the local audience or anyone looking for services in that specific location.
Cool isn't it? Next time you see a geotag, spot it, click on it and see several stories and people of that area!
4. Give value through your content
There are probably hundreds of business pages in your niche. To stand out, put the effort into your content. People are smart – they see who is creating valuable, original content, and who is just posting for the sake of followers and engagement.
Key tips for creating valuable content:
If you're posting visual images, make sure they are clear and clicked with a camera if possible.
Edit your photos using Instagram edit or other editing applications to make them more professional. You can use photoshop or lightroom templates.
Before posting the content, ask yourself how it is going to benefit your consumers. What will they gain out of it?
Write catchy yet informative captions. Instagram's algorithm likes it when people save your posts. So with visual images, write captions in a way that will make the reader save it for later!
Give complete content and don't desperately ask for clicks. Sometimes people write half the post and ask the audience to click the link in bio for full information. This annoys your audience. Limit information in a very subtle manner. Finish what you're talking about and let the reader decide if they want more in-depth information. In which case, they can visit the website.
5. Post consistently and be active
According to research by HootSuite, Instagram business accounts post once a day and an average of 5 posts per week. You want to be consistent with the content so that your audience remembers your brand. Over-posting is seen as spam.
Not just posts, be active on all the features. Post stories, use Instagram live, and be present for your audience. 58% of people said that they become more interested in a product after seeing it in stories.
However, we understand that as a business owner you're busy and can't make time to post every day, This is why you should schedule posts a week before.
Sit on the weekend after taking care of operations and schedule all the posts you want on your brand's Instagram for the next week. You can use scheduling apps for it.
6. Engage with your audience
Just posting content is not enough. You need to engage with your audience in real-time by comments, re-sharing, or shout outs. You can also answer their queries in the DM.
While running a business page, people often sometimes forget to include the human element. Your audience shouldn't feel like they're talking to bots. For instance, big brands like Dominoes, Nike, etc make humorous comments or a witty remark or even get a little corny sometimes.
It is an effort to make your audience smile. However, don't go overboard with it. Say everything keeping a professional boundary.
Another way of engaging with your audience is Instagram story features like polling, ask me a question tab, this or that, choosing the right option, music tab, etc. When people reply to such stories, your statistics improve.
For instance, if you're a fashion brand, putting wear/tear in the this/that option of Instagram with aesthetic pictures of clothes will make the viewer want that particular clothing item.
You can also compare two same colors in different forms like a hoodie and a sweatshirt and ask what they like more. It does not say 'BUY BUY BUY' but still makes them want to.
Read more: Selling on Instagram: How To Make Your Instagram Shoppable
7. Be genuine to your audience
This is very important to create brand loyalty. Don't fake it.
You must impart the right information and aim to solve a problem with your product. When you think of your audience's best interests, they'll return the favor by being loyal to your brand.
Create company-customer transparency. Give out insights about your product. It can be a 'how we make this' video that shows how a product is created. This makes your audience trust you!
8. Give special offers and run contests
As a brand, you want your Instagram audience to get some privilege of following your social handle. So come up with offers like discount codes for people who only saw the stories or a specific post.
This motivates more and more customers to follow your social handle. You can also organize a giveaway. A giveaway is an amazing way to get more followers and gain the trust of your existing ones.
All you have to do is, post a picture of anything you're giving away and set up some guidelines. These guidelines are usually to follow the page, like/share the post, and tag someone in the comments. Free things always excite the audience and so many people take part in them.
Once the giveaway process is complete select a winner based on the guidelines and send them the gift. Post a story confirming that the person actually got the stuff. This gets you way more engagement than the price you'll put in the gift.
9. Use third-party Instagram tools
There are some third-party tools integrated with Instagram designed to drive more traffic to your website.
One such is the shoppable posts feature wherein you can tag the products in the picture and upon clicking on it, the user will be directed to a webpage where they can buy that product.
Apart from this, you can use editing applications integrated with Instagram to create more visually appealing posts. Examples of such applications are VSCO, SnapSpeed, Adobe Lightroom, etc.
10. Set SMART goals and Track your growth
And finally, track and measure your statistics to understand what works for your brand.
Use Instagram metrics for this purpose. It has various analytical charts that tell you the kind of content that got the most engagement, what are the demographics of your followers, at what time your content performed the best, etc.
Here is what all you should be tracking for your brand page:
Repetitive engagement to find loyal followers who always pay attention to your content.
Your posting time and how it affected the engagement. For instance, the ideal average time to post on Instagram is 6 pm. However, according to your niche, this might be the time your audience is busy. Decide according to your target audience and their demographics.
Pay attention to the most and least liked post. This will help you narrow down your horizon and understand what really works.
Tracking helps you keep track of the page performance accomplish all your goals. You can set goals like the number of followers you want to reach after some months or the number of conversions etc. Note that you need to set SMART goals. (S-Specific, M-Measurable, A-Achievable, R-Relevant, T- Time-bound)
Don't over-expect from the social handle. Remember that you're competing in a crowd and results take time.
One Sure-Fire Way to Turn Instagram Followers into Customers
One sure-shot way of converting your followers into customers is to direct your followers from Instagram to your website through the link in bio option.
However, one link does not suffice. Every time you want to share something new, you have to change the link address and people can no longer have access to the earlier one.
This is where the elink's social bio link tool comes in to help you. It lets you merge multiple links, (seriously! as many as you like) into one. This is a hack for Instagram's 'only clickable link feature'.
elink.io revolutionizes the way we work with links. It makes link merging a child's play!
With it's stunning, fully responsive layouts, 50+ templates to choose from, and customization at every step, elink.io is indeed a sure shot way to turn your Instagram audience into loyal customers.
You can add brand pages, music tracks, social media pages, personal websites, payment applications, images, and much more in the elink's social bio page.
If it's got a link, it can be placed in elink and be a part of your Instagram's link in bio!
Amazing, right?
Further, elink also lets you update your social page on the go with its smart chrome extension. Save anything off the web and use it in one of your designs later.
Many social bio tools are rigid, and only let you put in your links. This is not the case with elink.io. You can change colors, font, layout, header, footer, and even button text. Everything on your landing page is according to your personalized touch. You can write witty or catchy text on it to make it more clickable!
Apart from creating a social bio page, you can also use elink for quick newsletter creation, webpages, and emailers. Unlike most of its industry competition, elink is integrated with Gmail. So whatever you create can easily be sent to your email list!
Conclusion
The tips we've given above are generic and aimed to benefit businesses of all kinds.
So, don't forget to use trial and error to determine your customized growth solutions on the platform!
Applying these tips to your brand's Instagram strategy will surely help you turn your Instagram customers into followers and grow your business!
What strategies do you employ for better engagement on Instagram?
Do let us know by tagging @elink_io on Twitter!
Further reads:
How to Embed an Instagram Feed to Your Website?
12 Instagram Trends You Must Not Miss!
How to Create an Instagram Wall for your Website?
How to Use the Instagram Bio Link Irrespective of Your Business Niche?
Instagram Bio Link Tools to Increase Followers!
Instagram Bio for Business: Tips and Tricks
How to Create Instagram Caption Spacing