Have you ever spent extra time writing a beautiful caption to wow your followers on Instagram, only to find out that, after publishing your perfect post, it has become a clutter of unreadable text, hashtags, and emojis?
We have all been there, done that! It is frustrating. Did you know that 95 million posts are shared on Instagram daily?
Without adding proper Instagram caption spacing, the visual appearance of these posts or feeds will lose the potential to attract and inspire your audience.
Well, adding Instagram caption spacing isn't rocket science. Still, many people have trouble getting it right. In fact, it's actually super easy and will take you no extra time.
So, kiss your caption concerns good-bye! Because we're here to help you on how to create Instagram caption spacing a breeze.
Let's dig in!
Note: There is a limit on the number of characters for each text on Instagram, for captions, it is 2,200 and every line-space will be counted as a character.
Write Your Instagram Caption Out on a Note-taking App First
You probably know by now, that it's impossible to add a paragraph and line spacing within Instagram. This app publishes your post automatically with zero-spaced formatting.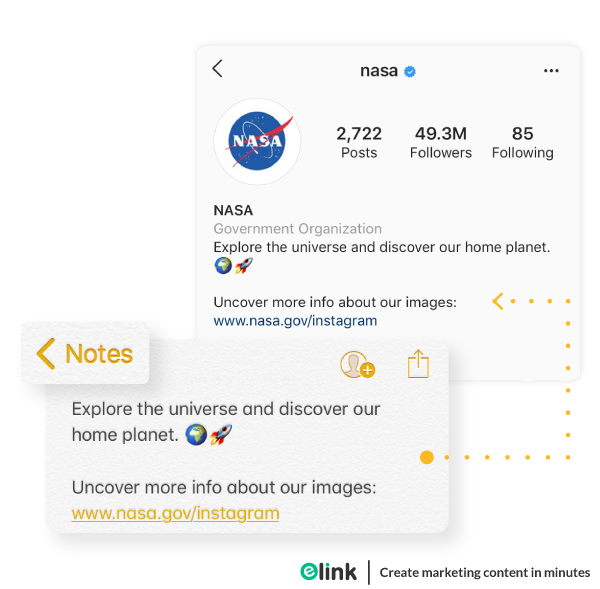 Even if you press 'Enter' while typing the caption, any kind of edits you made will disappear once you hit "Post!"
So, how can you add spaces in your Instagram captions for a post?
*Here is a trick* Instead of directly writing your caption on Instagram, try writing it on one of your phone's Note-taking app (or a similar app – email drafts can be a good option as well!) first.

You can then copy and paste your caption draft into the app while publishing a new post.
Read more: Instagram Bio hack: How To Add Multiple Links On Instagram
Make Line Breaks using Symbols
The simplest way to add spaces in your Instagram captions is by using symbols.
You can use special characters like a dash (-), star (*) as well as various emojis wherever you require a line break and these special characters will work as a space between caption sentences.
The only issue with this option for adding Instagram caption spacing is that these symbols or characters will be visible to everyone, which might make the caption a little messy for some people.
Try Hiding Your Hashtags With Period (.)
Even though hashtags are used for placing your Instagram posts on relevant search streams where different users including your followers can view it, they tend to make captions look really messy.
One common hack is to push your hashtags under the visible area of the caption by including full-stops. i.e "spaces" between the end of your caption and hashtags.
It will hide your hashtags under the "See More" section so that users will have to click on it in order to see the full caption including hashtags. This is a good way to increase user engagement on your post as well!
Read more: Top 100 Micro Instagram Influencers To Follow
Using Spacing Generator Apps
There are multiple text spacer app and tools for Instagram that are common workarounds for adding space in captions. You just have to install or download them on your device and Instagram caption spacing will be a piece of cake!
Here are a few apps that can be used for the perfect caption spacing:
Hashtagie: With Hashtagie you can simply type, copy or paste your caption and make it look exactly how you want it to look on Instagram.
GramSpacer: GramSpacer allows you to create beautiful line spaces for Instagram captions, comments, and bios.
Insta-Spacer: Insta-Spacer is a great tool that allows you to add multi-Line spaces to Instagram captions without using awkward characters like '.' '-' etc.
Tailwind: Tailwind lets you customize style, length, and insert space-lines automatically while you write your Instagram caption.
Will these practices work for Instagram bios and comments as well?
Yep, these hacks will also work for all Instagram bios and comments.
But, you still need to keep in mind about the character limits that Instagram has on every single one of these text entries you feed in.
Pro tip- To make your Instagram bio more engaging, you can now add a single link consisting of multiple links like products, affiliate, brand collaboration pages, websites, other social media profiles, videos, and more using elink.
Read more: Selling On Instagram 2020: How To Make Your Instagram Shoppable
Conclusion
Instagram caption spacing not only improves readability and understanding of a particular post but also make it visually appealing for your follower to stop scrolling and take a look.
You can choose from any of the hacks mentioned above, depending on what's most convenient for you.
Have you ever faced a similar issue related to adding spaces in your Instagram captions? If yes! Let us know in the comments below.
Further reads :
Don't want to forget this information?
Pin it for future reference!