Hello, folks! Hope you are doing good.
But, what about your business or work? Is it doing good?
Or, are you looking for ways to attract more traffic to your business website or other platforms?
Like, trying to bring in more listeners for your podcast, or get more views on your YouTube videos, more traffic to your product's website, or your blog, or anything for that matter.
You may have probably tried your luck in investing in different solutions for promoting your digital content.
But if all of them have disappointed you, worry not! We are here with a magical wand to revive you from all those curses.
Abracadabra…CONVERSION LEVIOSA!
Confused about our spell? Well, we will reveal the secret behind the spell.
Tighten your seat belts because you're about to embark on this amazing journey into the magical world of 'conversion' and 'conversion rates'.
What is 'Conversion Rate'?
Conversion is a common term used in digital marketing and related fields. We will explain this with the help of a simple example:
Imagine you own a website providing academic sources, articles, and journals to scholars, academicians, researchers, etc. To get access to these resources, all they need to do is subscribe to your website.
So, your aim would be to make the users sign up for your site, by paying the specified amount.

Here, making the customers click the 'sign up' button is simply what is known as conversion.
Different businesses or companies have different conversion goals. It may range from a new user installing a software to someone buying a product online.
Conversion rate is the total percentage of customers or users, completing the desired goal. Therefore, measuring the conversion rate of your website helps in revealing the success percentage of your company.
You can calculate the conversion rate by dividing the number of conversions by the total number of visitors.
Considering the above example, if the total number of sales in a month is 250, and the number of people who installed the software is 50, then the conversion rate is 50 divided by 250, which is 20%.
But, how to increase conversion rates? How can you bring in more traffic to your business website? Again, we have got another magic spell for you:
Abracadabra…LUMOS CONVERSION RATE!
How to Increase Conversion Rates?
The process by which conversion rates are improved or optimized is called Conversation Rates Optimization (CRO). It is often done using a variety of methods.
CRO is not carried out all of a sudden. It happens in different stages, usually as follows:
The first stage involves analyzing your website and creating a hypothesis on why there isn't enough traffic onto your website.
The second stage involves coming up with better ideas that would drive traffic to your site.
And finally, the ideas are tested through the process of testing. There are mainly two methods of testing:
A/B testing: Here, two versions, made out of two different ideas are tested against one another. The best performing version is then selected.
Multivariate testing: Here, instead of testing two different versions of a page, you are testing different elements of a single page. It helps you in identifying those elements, which will boost your website's performance.
Now let us move on to the different ways through which you can launch a successful CRO campaign:
1. Using a 'Link in Bio' Tool
Your Social Bio Links have great potential to attract customers to your business and increase your conversion rate.
Have you ever tried it out? If not, this is the perfect start!
Bio links are the first thing people notice about your social media page. But this can be a boon and a bane simultaneously.
Most social media platforms allow you to include only a single bio link. If you are not able to include all the essential brand content within that single link, then the effort goes wasted.
This is where elink becomes your savior!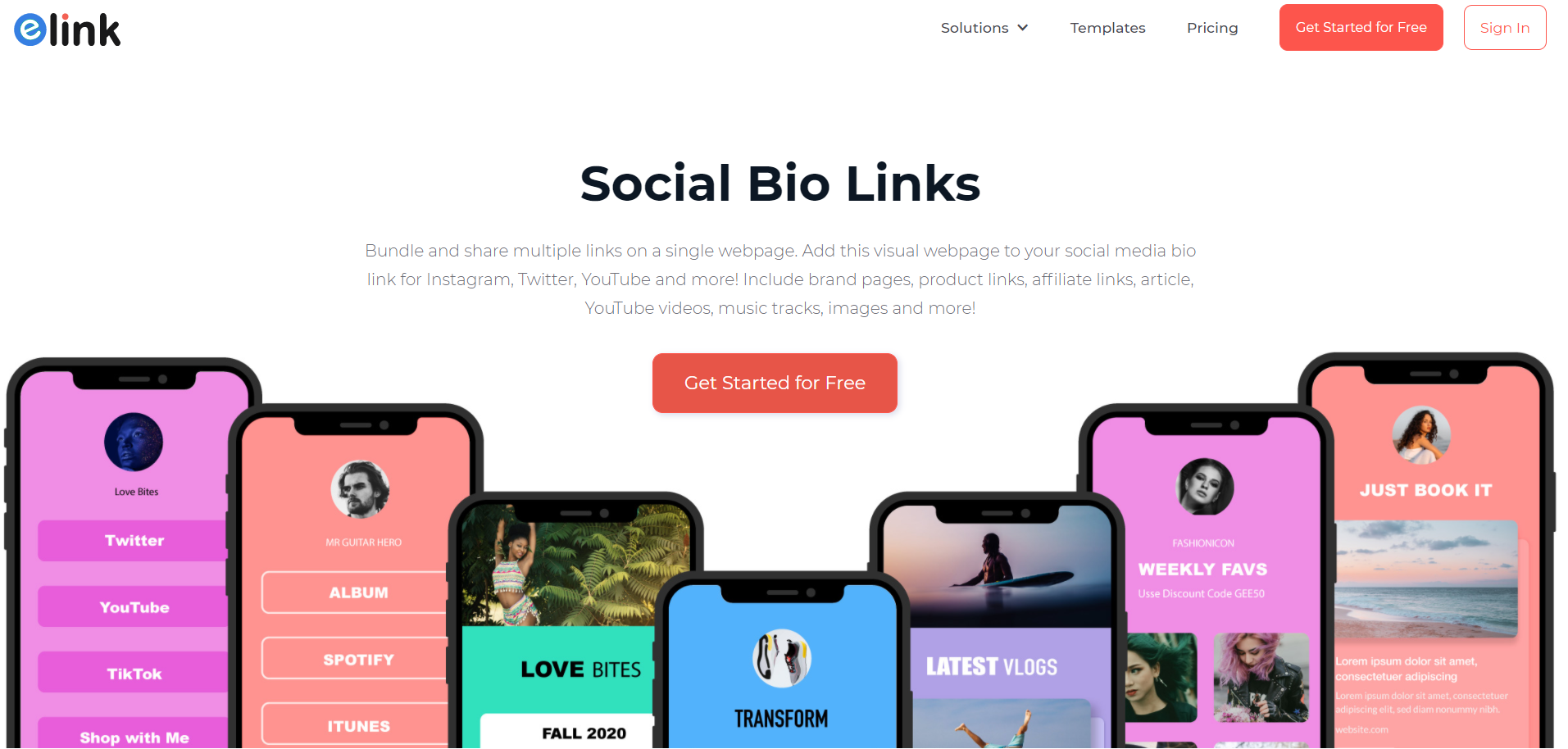 With elink's social bio link tool, you can share all of your valuable links with your followers, using one single link.
That means, instead of linking to each of these pages separately in your social media bio (which isn't possible), you just gotta include the short link created by elink.
On the landing page, you could add multiple CTAs, or URLs to different sites of your business, brand pages, product links, affiliate links, articles, music tracks, images, blogs, youtube videos, podcasts, and more!
To make the landing pages attractive and unique, elink offers an exciting variety of layouts, fonts, designs, and themes, to choose from.
If you want to update your bio link on the go, elink is the best choice as it comes with a robust Chrome and Firefox extension for making updates.
2. User-Friendly Interface
Imagine landing upon a site that is blockaded with too many ads, push notifications, and messy formatting style.
You would not consider staying on the page, forget about purchasing their products.
As they say, "the first impression is the best impression." It is indispensable to make your page interface alluring to your users.
Investing in a user-friendly interface is a prime factor in enhancing your conversion rates, and thereby boosting your business.
3. Catchy Headlines
Most people tend to judge a site by looking at the headline! Hence if you create a lengthy, boring headline, no one is going to read the rest of the article.
Thus it is necessary to create short, catchy, funny, headlines. This will drag in more visitors to your site.
Using exquisite and ingenious fonts, and formatting can make our headlines more attractive.
This would provide a majestic look to your site, and in turn, contribute to enhanced conversion rates.
4. Creating Concise Content
Always remember to make your content crisp, and on to the point.
Do not waste time on adding unnecessary data, or beating around the bush. Be sure to create content that brings in more audience to your site.
Use simple yet fun to read sentences. This will attract users to your content, and ultimately to your product or business.
Try to include more keywords that are better-ranked. This can make your content stand top amongst the crowd.
Make the content easy-to-read, by adding catchy headlines, bullet points, listicles, and elegant fonts and formatting.
If your content fails to catch people's attention, it is very unlikely that your site gets decent traffic.
5. Consider Your Offer
It is necessary to include offers that the users find unique and appealing.
Nobody is going to choose your business if they find it way too costly. Or if they find nothing special about the features you offer, in spite of paying high rates.
Therefore, considering irresistible and appealing offers is a key factor in increasing your conversion rate.
6. Conducting User-Surveys
No matter what kind of business you are involved in, your first and foremost concern should be the users' needs.
Conducting user-surveys is a prime method for finding out the requirements of your customers, and act accordingly.
Analyzing the results of such surveys helps you to take sensible decisions, that are profitable to your business.
You must customize your services in ways that the users are passionate about.
This will also save a lot of your time wasted on unnecessary methods for promoting your business. Thus user surveys prove to be the quickest, simplest, time-saving, and cost-efficient methods for promoting your business.
7. Remarketing
Remarketing is a very common method used by most of the marketers. It means connecting with your site visitors or customers, while they indulge in other activities.
Usually, the majority of people visiting a page or site leave without contributing to the conversions. Thus, it is your duty to remind your customers of the product or service, occasionally.
For example, if you are selling books, reminding a customer of the books they have left in their cart, through emails, or text messages.
This could be a beneficial way of improving your business.
8. Including Tempting Visuals
People are often enticed by visual media than long texts, articles, or essays.
Instead of spending time to read a whole blog post, many of them skim through the post, while focusing more on the given images, videos, or screenshots.
Therefore, including captivating and high-quality images and videos can track more potential leads to your site.
This is a fast and cheap method that can be employed in your digital marketing.
Read more: 14 Best Websites for Downloading Free Illustrations
9. Using Trust Icons
Quality and trustworthiness is something users always search for in every product.
Most e-commerce sites depend on third party trust icons or logos in order to reflect the security and loyalty offered.
They assure users or potential customers of the safety and trustworthiness of the business and retailer.
Third-party trust icons are something you should try in your marketing techniques, if not yet used.
10. Providing Online Chat Support
Continuous, consistent service and assistance is a must while you are running an e-commerce site.
If potential customers find your team unsupportive or ignorant, they will never approach your business again.
Hence, assuring the customers of your support and assistance is fundamental in any business.
This can be done by providing real-time assistance to potential customers through online chat support, or even call-support if needed.
11. Listening on Social Media Networks
This is another way to earn the trust of your customers.
By making yourself available to doubts, queries, and assistance on social media platforms like Twitter, Facebook, or Instagram, you are proving your accountability.
This will, in turn, bring in more customers to your site and it will increase the chances of better conversion rates.
Read more: Social Sharing: Definition, Tools, and Tips!
12. Visually-Appealing Call To Action (CTA) Buttons
If your CTA button is designed in a manner that it goes unnoticed by the visitors, then it's pure wastage of time, money, and effort.
You must be able to create CTA buttons that are eye-catching and enticing in nature.
The color and contrast used should be of main focus. Choosing contrasting colors can make your button stand out against the backdrop of the site.
Size of the button text also matters. You should make the text pretty large and legible.
Read more: 10 Amazing Lead Magnet Ideas & Examples To Grow Your Email List
13. Creating a Sense of Urgency
Customers should be made to feel that it would be a huge loss if they do not sign up, register, or subscribe to your services right at the moment.
You must be able to inculcate a sense of urgency into their mind.
For eg: including a text like 'Download at 55% off, only for today!', or 'Deal ends in 12:45:32!!' (countdown of the time left), can bring in more conversions to your site.
14. User-Friendly Lead Capture Form
People hate filling in forms that require a whole lot of unnecessary information. Keeping this in mind, you should try not to make your lead capture form overwhelming for users.
You should restrain from including so many unwanted fields of information, yet including all the necessary fields required.
You must be aware of what to include, and what to evict.
Thus, the forms should be carefully curated, so that it can be filled quickly and easily.
15. Optimizing Better-off Blog Posts
Find out the posts that are doing better than the rest. And then, optimize them as per the SEO strategies.
By doing good research on the current SEO trends, you can edit or update your well-performing content. This will ensure more traffic to the specific post.
This will result in ensuring more conversions to the site, and ultimately in enhancing the conversion rate.
This practice takes time for the analysis and assessment of the current trends, and in taking a final decision.
Wrapping Up
Improvement in conversion rates can do wonders for your business, and that's a fact.
For this, you don't just need to invest money, but also a lot of time, effort, and decision-making skills.
Only then can you boost up your conversion rates, and make your business flourish.
Remember, there are plenty of CRO tools in the market, and choosing one among them can be extremely tiring and tedious. Simply choosing a tool that has many features will not do!
First identify your business needs, customers' expectations, and then choose a tool that caters to these requirements.
Hope you enjoyed traveling through our magical land of conversion rates.
Got some suggestions? Tweet us @elink.io. We would be more than happy to hear your spells!
Further reads:
10 Ways to Turn Your Instagram Followers into Customers
Best Website Widgets That Can Drastically Improve Your Website
How to Create a Custom Social Media Wall for Your Website?
15 Must-Have Tools for E-Commerce Business