You've created a website and it fulfills a set of objectives perfectly.
However, if you want to be successful online, offering limiting functionality won't do it.
You need to go the extra mile to provide your customers with the best experience.
You need to offer services that your competitors aren't.
You need something "extra" to help you stand out from the rest.
Now, you might be thinking that you need a professional web developer to add all these bells and whistles to your website.
But, what if we tell you that you can create a much more functional website in minutes, without any coding?
What if we tell you that it's usually as simple as copying and pasting some text into your website?
Yes, you read that right!
There's a handy, easy, and simple way to add some spice to your website – using website widgets.
In this blog, we've compiled a list of powerful and preeminent website widgets that you should definitely consider adding to your website.
But, before that, let's learn a little about what website widgets exactly are.
Website Widgets – What Are They? (Definition)
Website widgets are third-party applications that add features and functionalities to your site. They are super easy to set up, with copy-and-pasteable codes you can embed into your website.

Website widgets come in all shapes and sizes – clocks, social feeds, daily weather, RSS feeds, translators, stand-alone web pages, contact forms, the counter of visits on the website, etc. All of them are programmed for specific functionality, depending on what you need.
For example, if you have got a travel agency website, you can add a weather widget to it.
You can also add a calendar widget to make it easier for your users to book a reservation, without having to use the calendar app on their phone.
On a financial website, an exchange rate widget would definitely come in handy.
Got an online store? Add a shopping cart widget.
The possibilities are endless!
Now that you've understood what website widgets are, let's get to what you came for. Here are our top recommendations for widgets you should add to your website to make it stand out!
List of Best Widgets For Your Website
If you want to drastically enhance the look and feel of your website, elink.io is what you need.
elink is the most efficient way to embed curated content on your website in a visually appealing way.
Whether you want to embed social media content, RSS feeds, user-generated content, or captivating visual content galleries on your website – elink has got your back.
All you've to do is simply collect links of things you want to show up on your website, customize the content inside, copy the embed code, and paste it on your website!
You can collect content using elink's Chrome Extension, RSS Feed Reader, and Link Library.
When you embed something on your website, it's important that it looks great to impress and engage your audience.
This is why elink's content curation tool allows you to select between 70+ responsive layouts! You can update it even after it's been embedded into your website/blog.
The most loved feature of elink is its RSS feed widget. With elink, you can create stunning RSS widgets for your website where you can embed and showcase the latest updates from your favorite sources.
That's not it!
Elink also offers an awesome automation tool that saves you tons of valuable time by automating content creation for your website. You can choose sources and add filters to make your content more relevant and engaging!
Compatibility: You can embed your curated content on any website or blog like WordPress, SquareSpace, Wix, etc.
Read more: Image Carousels & Sliders: Definition, Benefits, Examples and Steps!
You all will agree to this.
Be it blogs, personal sites, e-commerce companies, or SaaS – collecting email addresses and growing email lists is a priority for all websites.
…and to do that efficiently, you should have signup forms strategically placed on your website.
If you are one of the 16 million+ peoplewho use MailChimp to send emails to your customers, we've something that you'd love.
MailChimp provides a handy widget you can add to your website and give your visitors the opportunity to be a part of your mail list.
The MailChimp Signup Widget displays a newsletter sign up form on your website. Once someone fills the form up, their email address gets added directly to your MailChimp account and you can send out your newsletters, etc to all your customers.
You can choose to place this form in the footer of the website or you can set it as a popup that appears when the customers visit your site.
Once you choose the layout (classic, condensed, horizontal, unstyled) of the form, you can customize the heading, form fields, and add features like re-CAPTCHA to eliminate spam.
Compatibility: This widget is compatible with platforms like WordPress, Weebly, Yola, Jimdo, Webs, Blogger, and Blogspot.
Here are some stats that'll definitely convince you to get a live-chat widget for your website:
More than half of all the consumers prefer chatting with a customer care executive online rather than making a call.
41% of people expect websites to offer live chat!
Live Chat widgets have become the new "must-have" when it comes to customer service and experience.
…and one of the best live chat widgets out there is LiveAgent – an all-in-one customer support service. With over 150m end-users worldwide, the LiveAgent chat widget claims to be the fastest in the market.
This widget works the same as any other live chat widget would:
There's a bar or a circle on the website that, when clicked, opens a chat window using which your customers can ask questions and get immediate answers.
The best feature of LiveAgent is that all the conversations turn into tickets that can be assigned, merged, split, and tagged.
The result? A better customer experience!
Compatibility: This widget can be added to virtually any CMS, including WordPress.
Doesn't matter what kind of a website you have – linking your social media accounts to it is a must.
This amazing social icon widget allows you to connect all your social network profiles with your website in no time.
…and why do you need to do that?
So that your visitors can get in touch with you on all social media platforms. It is one of the golden rules of surviving the competition online and growing your brand.
This widget supports over 80 social networks. (We're sure you didn't even know there were so many of them!)
You can choose from over 400 custom icons and pick colors that fit with your website's aesthetics.
As for the placement of these icons, you can place them in your website's sidebar, footer, or any other area that you want.
The choice is yours!
Compatibility: Works only in WordPress.
Read more: 9 Squarespace Integrations You Must Know About!
Technical work, designing and maintaining the website, creating content on a regular basis – blogging involves a lot of hard work and efforts.
The one way through you which find out that your efforts are paying off is when people are interacting with your site and commenting on your articles.
But, that doesn't happen easily because getting comments is a tough task.
We mean, no one really wants to comment on a dead blog, but they do feel encouraged to comment when others have done the same.
It's more like a snowball effect.
Fortunately, there's a widget out there that you can install on your site that will encourage your visitors to post comments.
Adding Disqus to your site adds functionality to your blog comments. With an efficient comment and replies feature, Disqus makes commenting easier and more interactive!
Compatibility: Works on almost all types of websites or blogs and can be installed either with a code snippet or by using one of the plugins available.
Mobile web traffic is increasing around the world, and it's more convenient for users to just tap to call and get the information they need.
Instead of having to send emails back and forth, they'd prefer to speak to someone almost instantly.
…and that's why you need to install the WPCallButton widget on your WordPress website.
You can either use it as a sticky button that stays on the screen, or as a widget in a sidebar.
You can add your landline or mobile phone number to it, but it would be best if you use a professional business phone service so that you never miss a call (and lose out on customers!).
The widget offers plenty of customization options too. You can personalize the call button to match the color scheme of your website and brand.
The button is fully responsive, which means it'll look great irrespective of the device it is being seen on. You can also opt to show the button on mobile devices only.
The best part? The widget has a built-in event tracking that works seamlessly with Google Analytics which lets you know which pages are getting you the maximum calls.
Compatibility: Works only in WordPress.
Before we move ahead and tell you all about this widget, let's learn a little about what push notifications are.
Push notifications are short, clickable notification messages that appear as a popup on users' desktop or mobile devices. This helps you bring back users to your website, increase traffic, and make more money.
According to a survey, push notifications have a 50% more open rate than emails.
PushEngage is an amazing website widget that helps you increase your sales through push notifications.
This widget even lets you segment your subscribers based on their interest and re-engage them with relevant push notifications.
Once a visitor has subscribed to your push notification, you can auto-update them about your new posts, even if they are not present on your website.
Whether you're using an HTTP website or HTTPS, you can enable push notifications in a few minutes using PushEngage!
Compatibility: Works only in WordPress.
The name is short for "e-commerce widgets" and the service lives up to its name. This widget has been designed to let people sell products on an existingsite by adding a code to it.
Ecwid helps you embed a shopping cart into any website easily.
But, that's not it.
This widget is actually a package deal, offering you six different e-commerce widgets in one:
The Product Browser: Lets users browse through and buy products in the general start to finish manner.
Horizontal Widget: A simple left-to-right display of product categories, including appropriate tabs.
Vertical Widget: The longitudinal counterpart of Horizontal widget.
Minicart /Bag: Shows the number of items within a shopping cart to the buyers.
Search Box: Provides the basic feature of searchability to your product catalog.
Add To Cart: Obviously, the most important button that allows your customers to add products to their shopping carts.
All these widgets are uncomplicated, lightweight, and give you extra functionality, without any additional fluff!
Yes, they can be used individually, but you'll get the best results if you use them together, so consider getting the entire set.
Compatibility: This extensive widget can be implemented into virtually any CMS, including WordPress.
The Golden Rule of Using Widgets on Your Website
Always remember, the first rule of adding widgets to your website is – don't go overboard with it.
Easy set-up, non-invasive design, improved customer experience – all these qualities might tempt you to fill your website with too many widgets.
But, you don't have to add all the widgets in the market! Use them sensibly so that they become a great asset for you and your visitors, instead of a jumbled nightmare.
Yes, widgets are lightweight but installing too many of them on your site may slow it down, which will certainly discourage your visitor.
Don't just add widgets for the sake of it. Carefully plan out what features your customers might look for in your website, and then add only those widgets!
Wrapping Up
Widgets are an outright game-changer.
They've become a staple in the world of websites.
Almost every website theme available on the internet gives you a space to add widgets — and with good reason.
Widgets let you display valuable, eye-catching, and functional features on your website.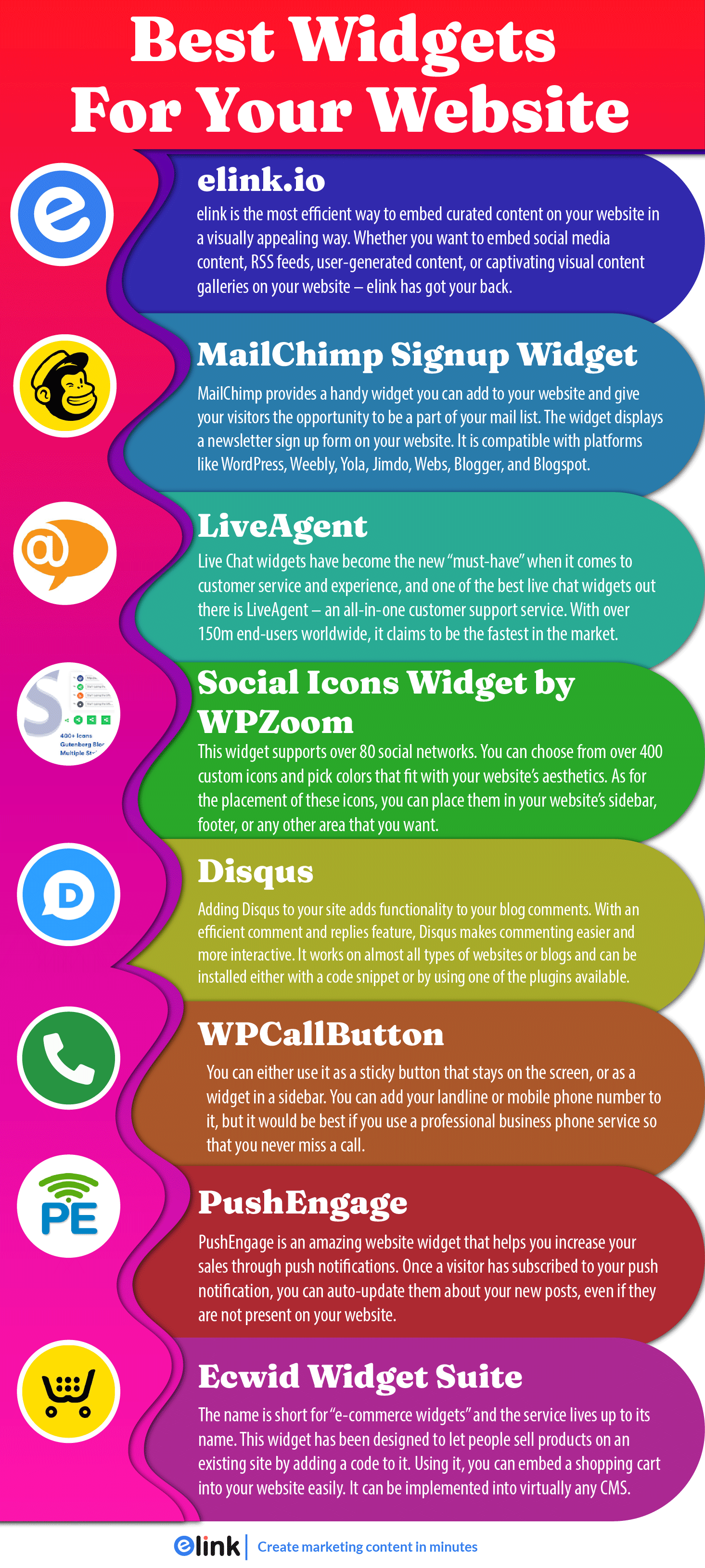 They have the power to help you skyrocket the growth of your website.
They are excellent for growing your business, enhancing your site, and for creating an exceptional user experience.
So many benefits in one tiny package! How cool is that?
With so many widgets available on the internet, all you have to do is choose your favorite and install it on your site.
By the way, if you're using any of the widgets we've mentioned in this post, we'd love to hear all about your experience. Let us know by tweeting us @elink_io.
Further reads:
How to Automate Content (And Why You Should)
Content Curation For Marketers – A Complete Guide With Examples
Website Templates & Why You Should Use Them!
News Curation: What, Why & How to do it?
Best WordPress RSS Feed Plugins for Your Website
Best WordPress Slider and Carousel Plugins For Websites