Did you know that global e-commerce revenue is expected to grow $6.54 trillion in sales by 2022?
Unbelievable, right?
With new trends, new tactics, and new ideas, the industry is changing and expanding rapidly. If you've established an online business, you already know that selling can be a little complicated.
You need to be prompt.
You need to update prices and offer discounts faster than you would in a physical store.
You need to frequently update your website.
You need a little support from outside to expand your business. (Even if you're a great seller!)
By outside support, we don't mean that you have to spend your money on hiring marketing professionals. Because we have another solution for you.
There's another kind of professional out there – the e-commerce tools.
The competition in the digital world is more fierce as compared to a brick and mortar store. If you have got the right tools in place, things will become a lot easier for you and it will put your company in a better line for success.
But, what exactly are E-Commerce tools? Let's understand it briefly.
E-Commerce Tools: What Are They?
An e-commerce tool is a specialized software that helps you sell online. You can use these tools to set up payment options, chat with your customers or to keep in touch with your team.

In a nutshell, these tools can help you simplify so many tasks pertaining to your business.
There's just one little problem though: there are hundreds of tools out there, and all of them claim to make building an online store a piece of cake.
So, how do you make the right choice for your online store?
Which one works?
Which one helps?
Which one would be the best fit for your online store?
To help you out, we're sharing a bucketful of amazing tools that you can use to grow your e-commerce store in 2020 and beyond.
List of 15 Best E-Commerce Tools
When your tech skills are minimal and you don't have the resources to hire a developer, elink.io has got your back. It is the fastest and the most efficient way to create beautiful content to help you run your e-commerce website.
With the help of elink.io, you can publish email newsletters, web pages, and embed content on your e-commerce website in just a few clicks. All you have to do is simply collect links around any product and elink will help you convert those link collections into visual content that you can publish any way you want!
Here are just some ideas of what all types of marketing content you can build to drive those sales: unlimited product promotional newsletters, sales & deals social media splash pages, celebrity looks wearing similar on-trend products, social media wall of love, and much more!
The tool offers over 50 pre-built templates, which means that you don't have to think about the design aspect and you can focus on growing your e-commerce business.
The best part? Unlike most of the e-commerce tools, elink.io lets you collaborate with your team in real-time. You and your team can collaborate together on bundling, creating and sharing content.
An amazing all-in-one content curation & marketing tool, elink.io makes the entire process of creating beautiful engaging content a breeze.
Key features:
Offers 50+ beautiful prebuilt, fully responsive layouts.
Turns any link (products, articles, videos, social media posts, etc.) into visual content in seconds.
Customize each visual link's title, description, and image.
Build content automation workflows.
Track how your content performs via engagement levels.
Pricing:
Free with limited functionality.
Pro Monthly – $15/month
Pro 1 Year – $12/month
Pro 2 year – $10/month
If you sell on Amazon, you probably already know the competitive nature of the site. With over 10 million individual sellers on Amazon, you need the right tool to help you stand out.
From product research to product launch, JungleScout is a one-stop e-commerce tool to build and grow your Amazon business. You can use it to recognize the top products for your niche and track how they're performing on Amazon.
Key features:
Lets you search key-word driven product niche.
Allows you to follow the evolution of a product over time.
Offers an analytics tool to track daily sales, revenue, and other key business metrics
Provides a sophisticated Chrome extension for users' convenience.
Pricing:
Jungle Scout: $49/month
Jungle Scout & Extension: $69/month
Extension: $39/month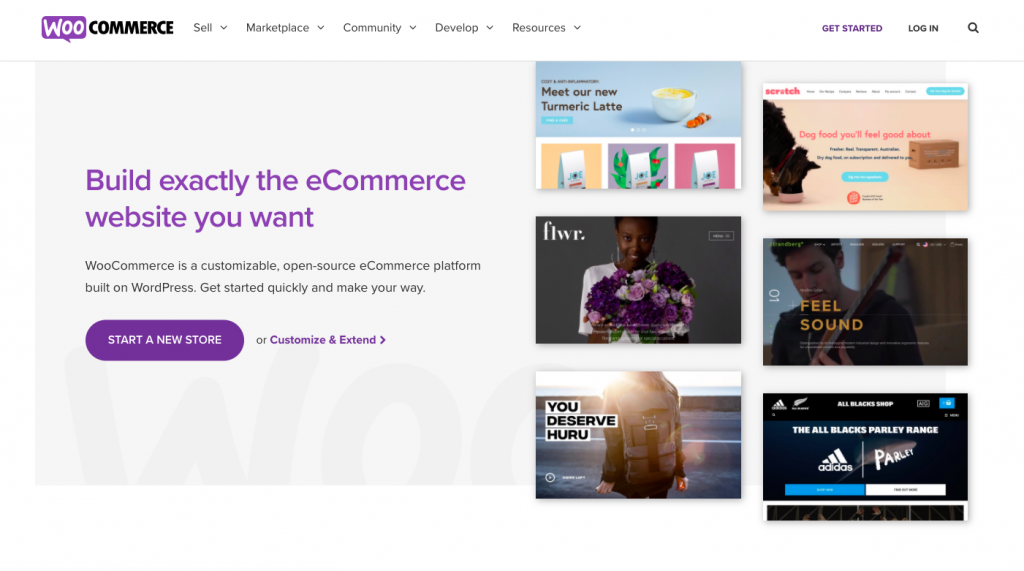 So, we're guessing you might have heard of WordPress?
After all, it's one of the most popular platforms on the internet.
You can build almost any sort of website on WordPress, right? But, you can't really build an e-commerce store.
However, when you have got the right plugin, this changes completely.
If you want to add e-commerce features and functions to your WordPress website, WooCommerce is made just for you. It is one of the most polished and extensive e-commerce solutions around.
If you're a regular WordPress user, using WooCommerce will be a cakewalk for you. Even if you're not, building and designing a site using Woocommerce is incredibly easy.
Key features:
Integrates with payment platforms like PayPal, Amazon Pay, Square, etc.
Has the same interface as WordPress, so you don't need to learn a new platform.
As it's WordPress-based, you can easily optimize your site for SEO.
It's customizable, secure, and easy to integrate with popular tools.
Pricing: It's absolutely free and open-source. Yes, you read that right! You can enable some inexpensive extensions, but the main product is free to use.
Read more: Top Must-Have tools for Non-Profits: Free and Paid
One of the fastest-growing platforms right now, Shopify is one of the best tools out there if you want to start an e-commerce website.
Shopify stands out among its competitors because of its versatility. Be it a start-up or a large scale business, Shopify suits everyone. You can sell just about anything using Shopify: goods, services, or experiences.
Key features:
Pricing:
Basic Shopify: $29/month
Shopify: $79/month
Advanced Shopify: $299/month
Shopify Lite: $9/month
Shopify Plus: Pricing available on request
You can try Shopify for free with a 14-day trial.
SEMRush is a comprehensive marketing analytics tool that examines and analyzes your content. You can also audit your competitor's website and get a report showing its strengths and weaknesses.
SEMRush lets you compare sites in your niche, evaluate ad campaign performance, and improve SEO.
In a nutshell, it is a great tool when it comes to competitor and advertising research. The tool is a little pricey, but its features cover the cost in no time.
Key features:
Tracks more than 106 million keywords and over 87 million domains.
Has features such as site audit, backlinks analytics, keyword research, etc.
Helps in SEM analysis, content analysis, social media & PR.
Lets you track your competitor's paid ads performance, organic keywords, etc.
Pricing: Prices range from a monthly subscription of $69.95 to a yearly fee of $5,499.50. (Depending on the number, purpose, and depth of reports you need)
The first step in making your mark in the e-commerce industry is to let people know about your business. You already know the best way to do it – through social media.
However, managing tons of social media channels at once can be super difficult.
That's where Buffer comes into play.
Through Buffer, you can schedule your posts for different social media platforms. The tool also has an inbuilt 'analytics' feature to help you find out which platform is performing the best.
Key features:
Allows you to monitor all of your social media accounts from one place.
Lets you schedule your posts, comments, tweets and other updates.
Provides statistics on how your social media campaigns are performing.
Helps you interact with commenters from one single inbox.
Pricing:
Free plan: Free forever
Pro plan: $15 per month
Small business plan: $99 per month
Medium business plan: $199 per month
Large business plan: $399 per month
Enterprise: Contact them (hello@buffer.com)
Do you know if your CTAs are in the right place?
At what point visitors are leaving your website?
Which links are getting the most clicks?
Well, the heat mapping tool, Hotjar, answers all these questions.
Hotjar allows you to calculate user behavior. It gives you details about what users want, what they like – all based on taps and scrolls on your website.
Moreover, Hotjar helps by putting out surveys and polls which can help you gather feedback from customers in real-time.
An excellent eCommerce tool, Hotjar offers you an opportunity to analyze the behavior of visitors in-depth, and thus make smarter decisions.
Key Features:
Identifies at what point customers are leaving the site.
Tracks shoppers' actions and provides data.
Offers data for conversion funnels and traffic reports.
Collects users' feedback via smart widgets.
Pricing:
20,000 pageviews & 500 recordings per day – $99 per month
50,000 pageviews & 1,500 recordings / day – $189 / mo
120,000 pageviews & 2,500 recordings / day – $289 / mo
200,000 pageviews & 4000 recordings / day – $389 / mo
400,000 pageviews & 8000 recordings / day – $589 / mo
800,000 pageviews & 15,000 recordings / day – $989 / mo
2,000,000+ pageviews / day – Contact sales.
An e-commerce tool offered by Adobe, Magento is used by companies like Samsung, Christian Louboutin, and Nike.
But, don't worry! Magento isn't just for the big shot companies, it is a great platform for small businesses too.
Using its next-gen technology, Magento helps you create a good e-commerce experience for your customers. It also gives you access to detailed analytics which you can use to optimize your store. What makes Magento stand out from other platforms is its efficiency and effectiveness.
Magento is often called "a fairly advanced piece of software engineering". If you are familiar with coding or you are able to hire someone who is, you can build the store of your dreams using Magento.
Key Features:
Has a robust system with more than 500 add-ons. (Paid & Free)
Gives you the flexibility of designing your website using drag and drop.
Offers features like inventory management, order management, and shipping solutions.
Has specific features for customer segmentation.
Pricing: Magento is free to use. However, it has several paid options with extensive features. Its Enterprise edition costs about $15,550 per year.
Crazy egg is an easy-to-use platform that you can adapt to, even if you aren't much tech-savvy. Just like Hotjar, Crazy egg allows you to analyze customer journey data through heatmaps.
Crazy egg knows it all. It tells you on which part of the website did people spend the most time and where no one's going. You can also see which elements are performing the best on your website and which ones aren't.
Once you get to know what visitors like about your website and what they don't, you can fill gaps and holes, enhance your pages for a better customer experience and make sure your most important content is being seen.
Key features:
Offers robust virtual website analytics and heatmaps.
Collects insights into high ROI changes & speeds up user testing.
Provides visualization tools such as the Heatmap and Scrollmap.
Reports the data of the number of clicks on each element of your page.
Pricing:
Basic – $29/month
Standard – $49/month
Plus – $79/month
Pro – $189/month billed annually
3D Cart is one of the oldest e-commerce tools on our list. Founded in 1997, 3D cart has a similar interface to Shopify. It lets you choose from hundreds of beautiful themes to design your e-commerce store.
Compared to some of the other e-commerce solutions on our list, 3DCart isn't as popular. That's because 3DCart is not for everyone. The platform doesn't have a drag-and-drop feature like Wix. To use it, you need to have some knowledge related to coding or hire a developer.
Key Features:
Has 50 free themes and supports 100+ payment processors.
Offers over 200 built-in e-commerce features.
Provides in-depth SEO tools that allow you to edit meta tags.
Gives full access to the HTML and CSS of your store for customization.
Pricing:
Startup Store: $19/month
Basic Store: $29/month
Plus Store: $79/month
Power Store: $129/month
Pro Store: $229/month
Want to showcase your work and sell it online?
Squarespace is the place to do it.
Living up to its mission of "making beautiful products to help people with creative ideas succeed", Squarespace is one the most aesthetically impressive platforms around.
Initially, the platform was more popular among bloggers, artists, photographers, and musicians because of its beautiful templates. However, with time, they have released several new features that allow companies to build great e-commerce stores.
From stores to restaurants to e-commerce and independent portals, the platform allows you to build gorgeous websites with an intuitive interface.
Key features:
Offers automatic inventory management, a rich product display, and shipping calculator tools.
Has tons of mobile-optimized and customizable templates, which one can further tweak by using CSS and Javascript.
Lets you create customizable promotional pop-ups and banners and calculates shipping rates automatically.
Pricing:
Personal ($16/mo)
Business ($26/mo)
Basic Commerce ($30/mo)
Advanced Commerce ($46/mo)
BigCommerce provides you with everything you need to start selling online. With one of the most comprehensive UI's around, BigCommerce is a powerful platform that you can use to build and grow your online store.
Compared to other e-commerce tools on the market today, BigCommerce comes pre-loaded with the most native features like ratings, reviews, cart abandonment, etc.
Key features:
Tools for SEO, conversions, and inventory management.
Comes with blogging tools, SSL payment, and amazing internal security.
Built-in CRM, analytics dashboards, and free themes.
Pricing:
Standard plan – $29.95 per month.
BigCommerce Plus – $79.95 per month
Pro – $299.95 per month.
There's always something in life that could be done in a quicker, easier way.
That's why Zapier was built.
Too often, the different tools used in everyday business can't be connected to each other. For instance, if you sign-up a customer to your newsletter using MailChimp, you can't get that into your CRM.
Well, using Zapier, you can.
This tool gives you the power to connect different apps together. It helps you streamline different processes, as your business grows. You can connect any of the 1000+ available apps to automate repetitive tasks, allowing you to move data between your tools automatically.
Key features:
Link integration to your frequently used web apps.
Automatic flow of information from one app to another.
Pricing:
Starter: $20/month paid annually or $25/month paid monthly for 20 zaps
Professional: $50/month paid annually or $62.50/month paid monthly for 50 zaps
Professional Plus: $125/month paid annually or $156.25/month paid monthly for 125 zaps
Teams: $250/month paid annually or $312.50/month paid monthly for unlimited zaps
If you want your business to thrive long term, you can't underestimate the importance of organizing.
Yes, we understand that organizing sounds like a chore and that's why Trello was made. This tool makes the task of organizing and teamwork a joy, by making it transparent.
According to the creators of Trello, it is "a collaboration tool that organizes your projects into boards. In one glance, Trello tells you what's being worked on, who's working on what, and where something is in a process."
Trello is designed for users to put projects into categories. It indicates the progress of all the projects that have been assigned to different team members.
For instance, you can create a column for important actions, another for not-so-important actions, and so on.
There are a lot of other features on Trello, including comments, due dates, and required attachments.
Key features:
Over 100+ integrations with key tools like Google Drive, Slack, Jira and more.
Easy Organization with Labeling, Tags, and Comments
Highest security standards, uses a bank-level encryption mechanism.
Pricing:
Business Class – $9.99 per user per month
Enterprise – Starts at $20.83 per user a month, but can drop to as low as $4.17 per user for more than 1,000 users.
Despite yearly predictions that its reign will end, content is still the king and social media is the proof of that.
However, managing social media is a time-consuming task that requires tons of manual effort. And when it comes to e-commerce, time is literally equal to money.
If you want to save effort within the social media realm, Sprout Social is the way to go. Just like Buffer, this platform lets you schedule your social media posts. It also has a dashboard that helps you see how your posts are performing.
Sounds awesome, right?
Key features:
Content planning, scheduling & publishing
Streamlines engagement across platforms.
Measurement & optimization features.
Campaign and conversation management
Pricing:
Standard – $99 per user per month
Professional – $149 per user per month
Advanced – $249 per user per month
Final Words
Let's face it.
When you first set up an e-commerce business, you feel unconquerable.
Excitement is super high, but your budget often isn't.
The number of eСommerce tools available today is astonishing. You are going to come across many tools for e-commerce businesses that vary in features, price, support, and stability.
That's why, you need to know which tools can save you time, money, and effort. You need to invest in the ones that are right for your business and industry.
Remember – whether you're starting from scratch, or scaling your existing business – the right e-commerce tools can make a huge difference!
Did we miss out on your favorite e-commerce tool or forgot to mention something you love or hate about one of them? Let us know by tweeting us @elink.io.
Further reads:
Best Content Creation Tools for Small Businesses
Tools for Freelancers to Manage Work!
Top Competitor Analysis and Research Tools
Best Spying Tools to Keep Eye on Competitors!