We think it's fair to say that content runs the internet. From Googling your favorite restaurants to watching product reviews on YouTube, people discover new products and services via the content they consume online.
Content plays a key role in putting your business on the map and allows people to discover it either on their own or via advertisement. 
As buyer behavior is now more research-based than ever, it's important to create amazing content that will help customers make an informed decision.
This is why we decided to cover some of the best content creation tools that are going to help you produce amazing content in no time.
But before we dive into our list of tools, let us first understand briefly why is it important for businesses to create content in the first place. 
Why Do Small Businesses Need to Create Content Regularly?
Businesses are now realizing the power content holds in the online world.
By using the power of content marketing, businesses try to provide value to the customer via high-quality and informative content and build authority and trust. The end goal, however, is to convert them into paying customers. 
While Google search results play a huge role in putting a business on the map, there are more ways now than ever to reach out to audiences by creating fun and engaging content on social media, email newsletters, and more.
Take a look at the following stats:
As you can see from the above-mentioned stats, content is really king. If a small business wants to make a big impact in the online world, it better be pushing out quality content on the daily basis.
Having said that, it's not easy creating content on a daily basis and providing value.
Creating content on a consistent basis requires a heck lot of time, effort, and money. If you are a small business, you are lucky if you got any of the three.
This is why we have put together an amazing list of content creation tools that are going to do the heavy lifting and help you create awesome content quickly. So without further ado, let's get started…

List of Best Content Creation Tools For Small Businesses
Kicking off our list of awesome content creation tools is Bit. Creating content means you need a place to brainstorm ideas, write, share and manage media assets, and get feedback from co-workers.
If you use separate software for all the above-mentioned tasks, you are in for trouble! This is why we recommend Bit, the go-to document editor for writers and content creators. 
An all-in-one content management and collaboration tool, Bit allows you to share content ideas and resources (images, videos, PDFs, etc) in one place so you can get work done 10x faster.
Content writers use Bit to use its amazing editor and collaborate with peers to discuss writing assignments, social media assets, storing marketing assets, and more. 
Some Key Features of Bit include:
Private workspaces to keep everything organized and safe
Content management to store media files like product videos, logos, infographics, stock images, or important PDFs.
Real-time collaboration and easy to use editor.
Interactive docs that integrate with all your favorite apps and rich media.
Built-in design for brand consistency
Read more: 7 Content Generator Tools Every Marketer Needs!
Data suggests that a whopping 83% of marketers and salespeople use email newsletters for their content marketing.
Email newsletters are great content material as they are highly personal and engaging. They also don't require a sacrifice to the algorithm gods for them to appear in your customer's timeline ;). 
However, creating quality email newsletters requires too much time and effort. Not anymore though!
elink.io is an amazing all-in-one content curation & marketing tool that content creators and marketers use for creating email newsletters, web pages and embed web content by just adding web links!
You can convert your link collections to beautiful newsletters and export to Gmail, Mailchimp & all third-party email providers that allow HTML code (including MadMimi, Active Campaign, Campaign Monitor,etc.). elink is a feature-packed tool that every content marketer should be using.
Some Key Features of elink include:
Track how your content performs via engagement levels
30+ amazing prebuilt layouts, giving you much-needed design flexibility.
RSS feed reader
Robust bookmark manager
Content Automation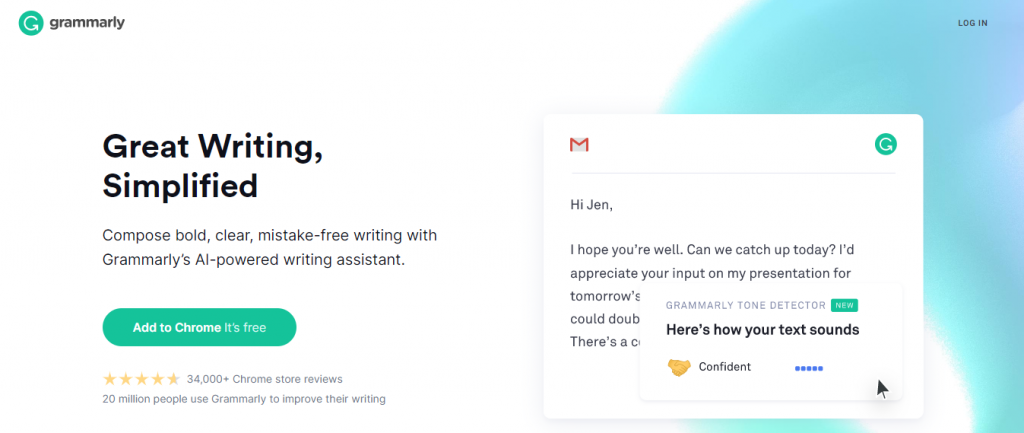 Grammarly is a "writing enhancement tool," much more advanced than your basic spell checker. If you write a ton of blog posts and articles, Grammarly is a must-have tool.
Grammarly includes a built-in spell checker, tone checker, plagiarism checker, punctuation checker, and more. 
Simply use Grammarly to write your content or upload it to its editor. Grammarly will then scan your document for more than 250 types of grammar errors and 6 different writing genres.
The tool also provides word replacements and recommendations, weekly progress reports on your writing prowess, and a detailed explanation of errors. 
Some Key Features of Grammarly include:
Analyses sentence structure, voice, and tone.
Also works as a browser extension for Chrome, Windows, Safari, and more.
The free version has a ton of amazing features.
Read more: Content Aggregator: Definition, Importance & Tools!
While written content is important, it's equally important to present it in a visually pleasing way so as to grab attention.
Canva is, by, far, one of the easiest design tools out there that allows anyone to create awesome visuals. With a library of thousands of free templates, icons, stock images, and more, creating graphics was never this easy. 
Users can create Facebook covers, Instagram ads, YouTube channel art, Google banner ads, social media graphics, wallpapers, ebook covers, online ads, certificates, infographics, resume, posters, and much more. Name your use case and Canva probably has a design template for you.
Some Key Features of Canva include:
A never-ending list of templates and design options
Millions of clip arts, stock photos, icons
The ability to collaborate with friends or co-workers.
This one is for all the Mac users out there. Apple iMovie is a great tool for creating, editing, and publishing, amazing videos for your content marketing strategies.
A simple yet powerful video editor, Apple iMovie is a great place to start learning how to edit videos.
iMovie allows you to create 4K high-quality videos, add effects, music, titles, and create Hollywood-style videos easily!
The tool has 10 creative filters to add a cinematic touch to your videos and make them visually pleasing. With a green screen, you can place characters in your videos in exotic locations effortlessly. 
Some Key Features of iMovie include:
Directly publish your video on YouTube, share it on social media, or send it via iMessage.
Add effects, green screen, filters, and music to videos.
Works well with iPhone as well as iPad
Up next is Visme, a great graphic design tool to create presentations and infographics.
While Visme is mostly used to create stunning infographics, the platform also allows you to create charts, ad banners, reports, web pages, and much more.
Visme has over 500 templates in different categories and is very easy to use. The platform is used by millions of content creators worldwide, making it a great tool to create visual content. 
Some Key Features of Visme include:
Animate any design and make it stand out
Hundreds of templates and free icons to choose from
Share content with your team or password protect it.
Once you are done creating content, you have to master the art of distributing it. To help you in that endeavor, we recommend Hootsuite.
A social media distribution tool, Hootsuite integrates with over 35 social media platforms including Twitter, Facebook, Pinterest, and more, and allows you to automate content distribution.
You can manage different social media accounts from a single dashboard and schedule hundreds of posts at once for different accounts.
In case you are running out of fresh content to share, Hootsuite recommends new content for you and can even connect to your favorite RSS feeds.
Brands can also find social conversations by hashtag, keyword, or location and see what customers are saying about your business online. 
Some Key Features of Hootsuite include:
Customer inbox to engage with customers from one dashboard
Monitor brand activity, keyword, and hashtags
Collaboration features to help your team work together.
Final Words
By producing exceptional content, you can always provide value to your customer and create ever-lasting brand awareness.
We hope that you liked our list of content creation tools and are enthusiastic to create outstanding content for your audience.
If we missed out on your favorite content creation tool, do let us know by tweeting us @bit_ai. Good luck!
Further reads:
24 Shocking Digital Marketing Stats
Social Media Automation Tools Every Marketer Needs
9 Best Spying Tools to Keep Eye on Competitors!
Effective Ways to Use Social Media to Promote Your Content
Tools for Freelancers to Manage Work!