Creating and sharing content on social media is can be like a never-ending rollercoaster ride. Since the barrier to entry to post content on social media and promote your business is literally zero, it often leads to a ton of noise on these platforms, making your ability to stand out.
Therefore, creating the right content, distributing it to the right audience, and measuring what works becomes crucial to success on the internet. With so many responsibilities on the shoulders of a marketer, its only fair to equip them with amazing automation tools that can share that load with them. In this blog post, we will take a look at some of the best social media automation tools out there to help you handle your social media worries easily. Read on…
List of Social Media Automation Tools for Marketers:
Whether you are looking for automating your posting schedule, looking for hashtag recommendations, want detailed analytics, or want to manage influencer marketing, we have a tool for you.
One of the most important tasks marketers have is to create engaging content to capture audiences' attention and drive traffic. From email content, website content to social media content marketers lean on creative techniques to expand their outreach and gain exposure to their products, services, and websites.
elink is a must-have tool in every marketers 'tech pack.' It's an amazing platform that helps automate content creation and publishing on just about every platform! You can choose sources and add filters to make your content relevant.
Elink allows you to curate information from anywhere or the web manually or via RSS. Elink converts weblinks into beautiful visual content that can be shared as HTML email newsletters via Gmail, Mailchimp, and any 3rd party email provider that allows HTML emails.
You can also embed elink content on your website content and automatically update it from your chosen RSS Feeds or bookmarks you collect from elink's Chrome Extension. Publish and share elink content to your social media platforms at any frequency.
We highly recommend creating an account, downloading elink's Chrome Extension, and using elink's RSS feed to save bookmarks and create content quickly!
Pricing: Starts at $10 per month
Kicking off our list is an awesome tool called Edgar. Edgar users say they have saved 8 hours per week using Edgar. Edgar allows you to schedule your social media posts in advanced so you don't have to. However, most of the content we share on social media gets lost in the crowd of the ever-updating feeds.
Edgar solves this problem by re-uploading your old content automatically and re-sharing content to people who might have missed the first time around. You can create a categorized library of content and create a schedule that tells Edgar when to post from each category. When your queue is empty, Edgar automatically starts re-sharing older content! Cool, right?
Key Features of Meet Edgar

Write posts headlines automatically
Browser extension to automatically add an article to your social media queue
Category based scheduling
Pricing:
Free 7-day trial
Paid plans start at: Edgar Lite ($19/month), Edgar ($49/month).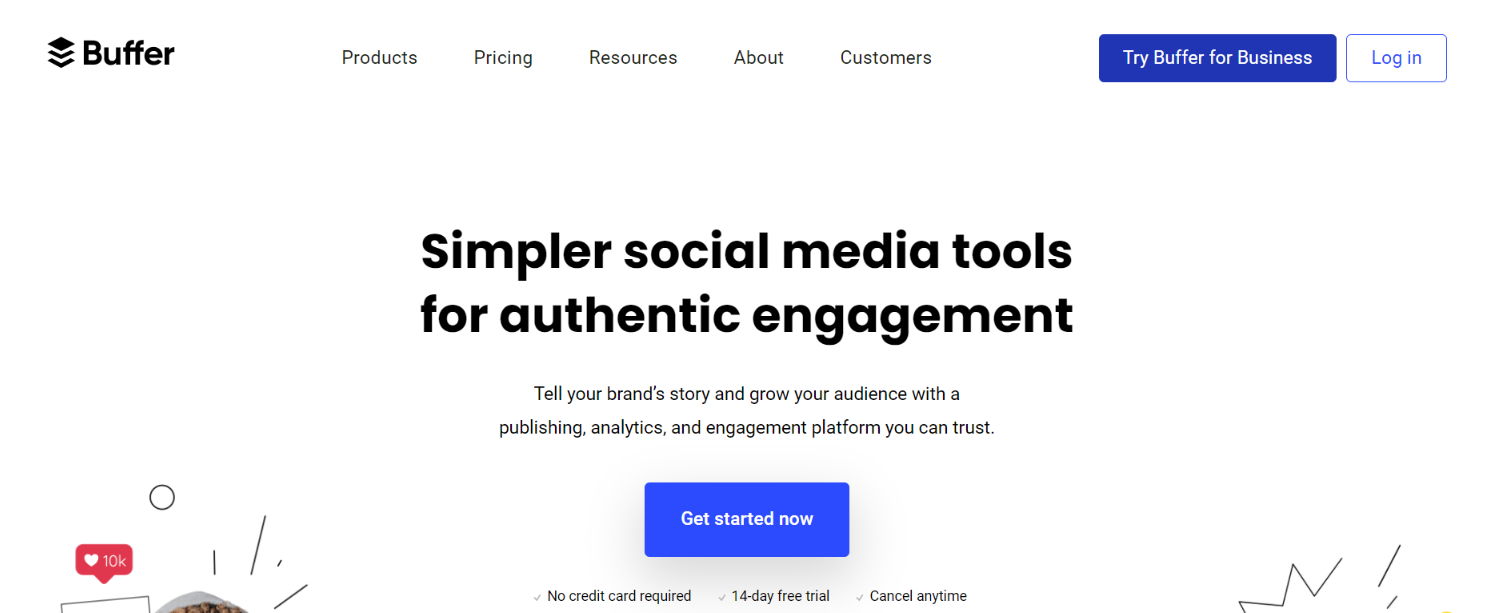 Next up is Buffer, a famous social media automation tool with over 4 million users worldwide. Buffer recently divided its platforms into two broad categories- Buffer Publish and Buffer Analyze. Buffer Publish allows users to add content to their social media queue and let Buffer post content for them automatically.
Buffer analysis provides in-depth analytics and reporting to track content performance and see what's working and what isn't. Once you have set up your reports, Buffer will automatically update them, showing your progress. Buffer also shows you the best time to post on various social media channels, what type of content to post, and how often you should be posting.
Key Features of Buffer
Easy to use
Detailed analytics and gorgeous reports
Instagram bio shop grid
Pricing:
Free with limited functionality
Paid plans start at: Pro ($15/month), Premium ($65/month), Business ($99/month).
Read more: 7 Killer Content Marketing Automation Tools!
Often touted as a direct competitor to Buffer, Hootsuite is another great social media automation platform. Just like you would in Buffer, Hootsuite provides a visual dashboard for creating, scheduling, and posting content to various social media platforms.
Hootsuite also provides analytics that gives you a distinct knowledge of your network and enables tracking results by timeframes. You can further share these reports with teammates or clients with one-click exports in PowerPoint, PDF, Excel, and CSV formats. If you have a team managing your social media, Hootsuite provides team management capabilities, allowing you to assign tasks to teammates and boosting response times.
Key Features of Hootsuite
Boost social post with paid advertising directly from Hootsuite's dashboard
Team collaboration features
Monitor brand activity with Streams.
Pricing:
Free plan with limited features.
Paid plans start at- Professional ($19/month), Team ($599/month), and Enterprise
An all-in-one social media automation tool, Sprout Social provides features like listening, publishing, engagement, and analytics- all in one place. Apart from providing a dashboard for scheduling social media posts, Sprout Social provides cross-platform analytics from Facebook impressions, Instagram insights, Twitter engagement, Pinterest shares, etc.
Thus, you can track everything from a single dashboard and further convert your data into beautiful reports. Monitor social activity and unify all your brand mentions and incoming messages in one unified inbox for improved responsiveness and productivity.
Key Features of Sprout Social
Presentation ready templates
Team collaboration functionalities
Smart inbox
Pricing:
Free 30-day trial
Paid plans start at- Standard($99/month), Professional ($149/month), and Advanced ($249/month)
An AI-Powered social media automation tool, SocialBakers wants to help you take your marketing to the next level. By automatically determining who your target marketing personas are, what content they like, and what strategies deserve most of your budget, SocialBakers reduces your workload by a ton!
With advanced reporting and intelligent data sets, SocialBakers bring all your reports- from ad campaigns to influencer collaborations- all under one easy to use dashboard. The AI recommendations engine provides content ideas and helps you find bottlenecks and improve your social media campaigns quickly.
Key Features of Social Bakers
Influencer marketing management
Track competitors, keywords, trends, brand mentions
Social customer care
Pricing:
Free trial plan
Paid plans start at- $200 per month.
Hashtags play a crucial role in social media marketing as it helps your content reach a wider audience and grow brand awareness. Keyhole is an amazing hashtag tracking tool that measures your social media campaigns and hashtags metrics in real-time. It also shows you when your users are most active, so you can plan your posting strategies accordingly.
Easily track your campaign performance, calculate the ROI, and prove the impact of your work on your management with amazing reports and custom PDFs. Apart from hashtag tracking, Keyhole also provides brand monitoring, campaign monitoring, influencer outreach, market research, and event monitoring.
Key Features of Keyhole
Hashtag performance prediction
Influencer outreach tools
Market research and trend analysis
Pricing:
Free trial
Paid plans start at- Professional ($99/month), Corporations ($299/month), and Enterprise ($999/month).
Over 23,000 social media managers use Agorapulse to schedule their social media posts and engage with their audience. With a social inbox, Agorapulse allows you to easily find, filter, and manages incoming messages and brand mentions to streamline your workflow. Determine the ROI of your social media campaigns and easily export reports to CSV or PPT. The tool also has collaborative features so you can assign tasks to peers and get work done quickly.
Key Features of AgoraPulse
Social inbox
Real-time collaboration
Built-in CRM
Pricing:
Free plan with 28-day trial
Paid plans start at- Medium ($79/month), Large ($159/month), X-Large ($239/month), Enterprise ($399/month).
Read more: The 10 Best Email Marketing Automation Tools Out There!
Our next social media automation tool is especially catered towards brands that make heavy use of Twitter. This tool provides you with a detailed analysis of your Twitter game- who are your followers, what's their location, at what time they are most active on the platform, and more.
It can also help you find influencers in your niche and take full advantage of marketing your business on Twitter. The analytics are displayed in highly visual graphs for anyone to easily go through and understand.
Key Features of Followerswonk
Follow-unfollow people directly from the app
Search bios on Twitter
Compare your social graph to competitors, friends, or industry leaders.
Pricing:
Free plan with limited features
Paid plans start at- Target ($29/month), and Multitask ($79/month).
Brandwatch helps you understand your customers with its data library of 1.4 trillion conversations. Brandwatch carefully looks out for you, keeping you updated with all the conversations happening around your brand so you can react accordingly.
With data mining capabilities, Brandwatch allows you to create personalized content for your customers and reach out to them with content they are bound to be interested in. Crisis management allows Brands to stay on top of negative reviews and customer queries. You can also benchmark your company's performance against your competitors and improve on areas you are falling behind.
Key Features of Brandwatch
Track brand health in real-time
Benchmark performance with competitive analysis
Influencer marketing
Pricing: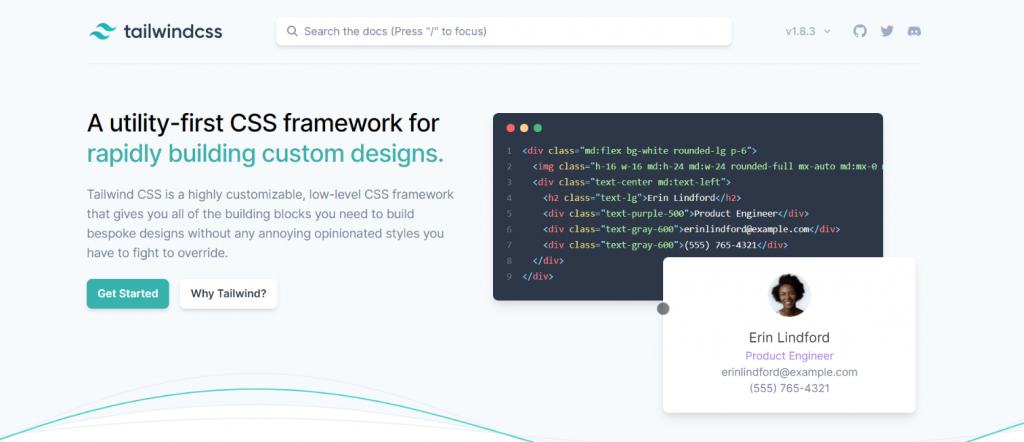 Our last tool is for brands looking to automate their Pinterest and Instagram. Tailwind is a special app that allows you to post, schedule, and analyze your Instagram and Pinterest marketing efforts from one dashboard.
According to Tailwind, their users, on average, receive 1.8x more likes on Instagram & 6.9x more repins on Pinterest! With its smart scheduler, you can always find out the best times to post and are also equipped with one-click hashtags. For Pinterest, Tailwind allows you to pin 10 pins in one click, saving you a lot of time and effort.
Key Features of Tailwind
Join over 4000+ tribes in your niche and connect with likeminded people
Smart loop to reshare content
Official partner of Instagram and Pinterest.
Pricing:
Free plan with limited features.
Paid plans start at- Plus ($9/month), Professional ($799/month), and Enterprise (contact for pricing)
Final Words
Standing out on social media is tough and a bit overwhelming. With so much going on, creating, sharing, and analyzing your content can be a big hassle. With our amazing social media automation tools, you are surely going to cut your work in half and breathe a sigh of relief! If you use any other social media automation app or tool not mentioned above, do let us know about it by tweeting us @elink_io.
Further reads:
Top 10 Email marketing service for SMBs
Social Sharing: Definition, Tools, and Tips!
How to Create a Custom Social Media Wall for Your Website?
Benefits of Social Media Marketing for Businesses
15 Must-Have Business Marketing Tools
The 10 Best Digital Marketing Automation Tools
Top 9 Online Marketing Automation Tools for Marketers!