Automate or die!
As striking as it sounds, these words speak volumes about the digital world we live in. Looking at the field of marketing, alone, more than 50% of companies are currently using marketing automation. Furthermore, 58% of B2B companies are planning to adopt the modern-day technology.
Along with this 58% of companies,  Social Media Today states that  80% of marketing automation users saw a hike in the number of leads. Another study points to the fact that 91% of marketers consider content automation a significant part of the promotional pipeline.
Creating your own mobile app is another opportunity to build a strong marketing strategy and draw customers' attention to your brand. Together with react native mobile app development you can achieve business goals faster. Marketing automation within a mobile app is one important way to grow your product.
Hence, it's no surprise that the automation bee has stung the content management industry as well. Whether it's constructing a content marketing funnel or basic pre-scheduling of social media posts, most companies use content marketing automation in some way or the other.
However, simple hacks and strategies simply won't cut it in today's vigorously competitive markets. If you wish to be a leader in this domain, you need to equip your business with the perfect content marketing automation tools that will help you get there.
With that being said, let's take a look at the best 7 tools to set up your perfect content marketing automation funnel regardless of your content niche, types, or target audience.
Before we delve into some of the best content marketing automation tools, it's worth pointing a few benefits of the process itself.
Benefits of Content Marketing Automation:
Automation is definitely something that many companies are taking advantage of in the modern world. In fact, by the year 2023, spending on marketing automation tools is forecasted to reach $25.1 billion. The following benefits are certainly worth this investment as the content marketing automation process can actually help your business grow!
1. Idea Generation
Looking for suitable content topics, identifying keywords, and studying trends in the domain you're writing is time-consuming yet essential for good idea generation!
Content marketing automation makes it much faster and easier to identify the latest trends in content. Using content automation for idea generation will not only make it easier for you to create blog post titles but It can also help you to organize, share, and create relevant content to engage more traffic.
2. Manages Bottlenecks
Content automation helps you identify the bottlenecks or weak points are in your whole content marketing process. When they are found, those who are responsible for these bottlenecks have to be accountable for hindering the workflow.
3. Reduces Costs
Content marketing automation could help your business do more without recruiting new people.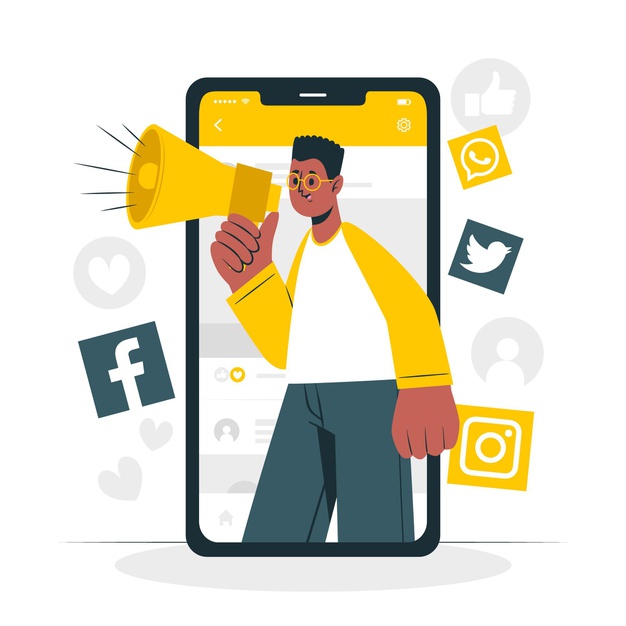 As labor expenses are likely to be some of the highest you endure, any alternative break could help you significantly. Additionally, the employees you hire to manage and market your content can earn those paychecks by performing activities that are central to your company's growth.
4. Improve Your Company's Bottom Line
Content marketing automation saves you time since it frees up valuable hours that were used for content creation, publishing, and optimization. This time can be then used toward other essentials tasks like revenue generation or lead nurturing! Eventually, leading to a great return on your investment.
List of 8 Tools to Set up a Content Marketing Automation Funnel:
Content marketing automation tools will not only generate new content to publish under your brand name but will provide your marketing team with various automation opportunities in terms of topics, research, data as well as messages
With this in mind, let's jump into learning about these 8 tools in detail to see exactly how you can use them for your content marketing automation funnel!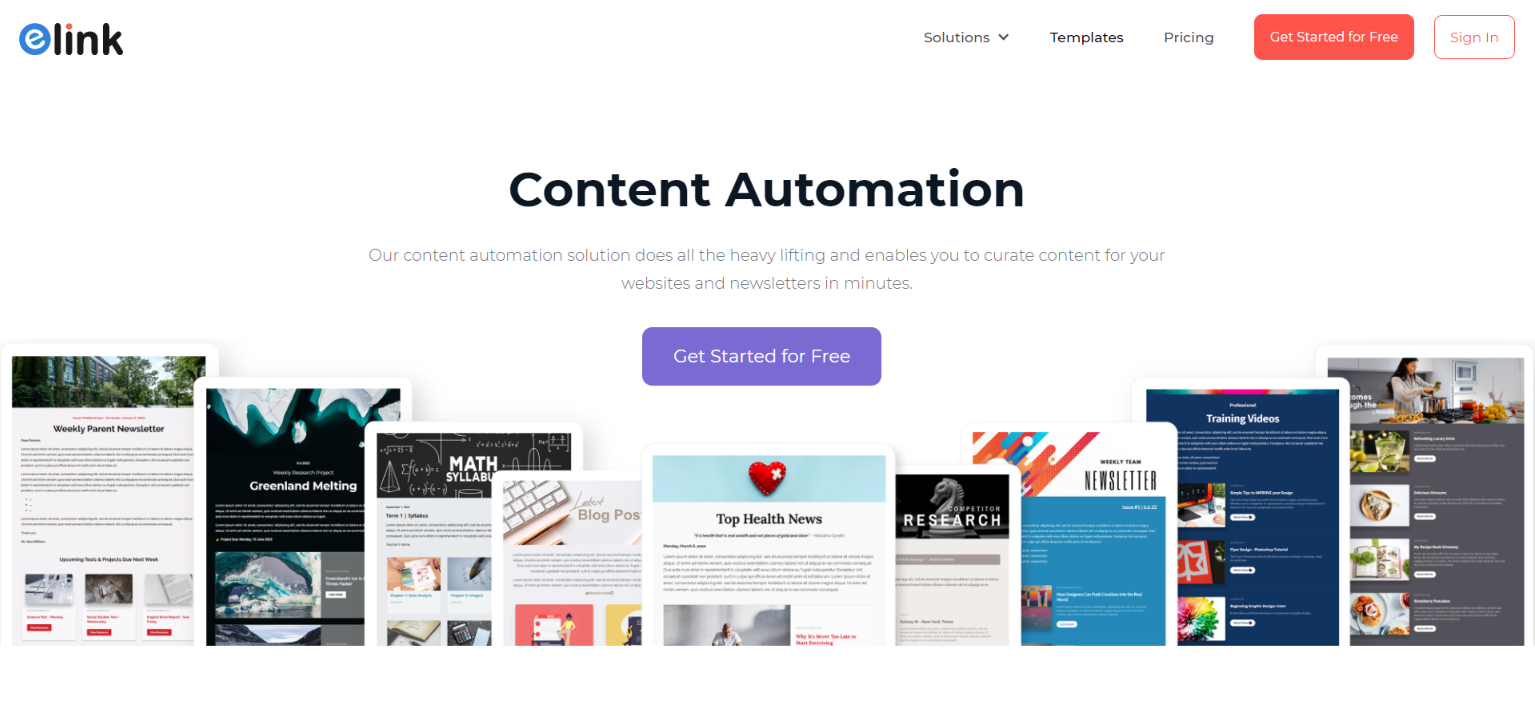 One of the most important tasks marketers have is to create engaging content to capture audiences' attention and drive traffic. From email content, website content to social media content marketers lean on creative techniques to expand their outreach and gain exposure to their products, services, and websites.
elink is a must-have tool in every marketers 'tech pack.' It's an amazing platform that helps automate content creation and publishing on just about every platform! You can choose sources and add filters to make your content relevant.
Elink allows you to curate information from anywhere or the web manually or via RSS. Elink converts weblinks into beautiful visual content that can be shared as HTML email newsletters via Gmail, Mailchimp, and any 3rd party email provider that allows HTML emails.
You can also embed elink content on your website content and automatically update it from your chosen RSS Feeds or bookmarks you collect from elink's Chrome Extension. Publish and share elink content to your social media platforms at any frequency.
We highly recommend creating an account, downloading elink's Chrome Extension, and using elink's RSS feed to save bookmarks and create content quickly!
Pricing: Starts at $10 per month
Read more: Marketing Collateral: What, Why, Types and Tools!
CoSchedule is a marketing platform that easily organizes all of your marketing efforts in minutes. It offers 5 different products that contribute to the content automation feature:
marketing calendar,
content organizer,
work organizer,
social organizer, and
asset organizer.
This content marketing automation tool integrates with your social media platforms, blog, email, and allows you to manage your entire content in one place!
CoSchedule even allows you to automate various workflows, and its products make it easy to automate publishing, social media campaigns, and other tasks, along with storing all your digital media. So, everyone on your team can access videos, images, and audio files when they need them.
Pricing: Starting at $40 per month.
Read more: What is a Content Creator: The Complete Guide
Zapier is a marketing automation workflow tool that serves as a multi-level cross-over between more than 1000 web applications for businesses. Essentially, Zapier ties together more 2 web apps to take advantage of their functionalities in an automatic way.
Zapier's content marketing automation workflows take over the manual tasks and activities so that teams can focus on the creative components. With a Zap—the word for the automated workflows you create and automatically track leads from content marketing platforms like Facebook and Twitter.
It is a robust solution, powered by automation that helps you turn your advertising, social media, email, and event management tools into a cohesive marketing suite.
Pricing: Starting at $125 per month
IFTTT is a cloud-based automation service that allows various platforms, gadgets, and apps to trigger responses in one another that for advanced functionalities. It automates tasks and activities that might otherwise be manually repetitive.
IFTTT uses simple logic to connect different platforms, devices, and services to help you get more done in less time. It helps the users through a process to make basic scripts, called "applet," where some type of activity in one device or service automatically triggers an action in another.
These applets can save you all the steps it would take to do content planning tasks manually. This content automation tool can easily save Twitter mentions, emails with specific keywords or phrases that are relevant to your customers' needs, and produce content that engages your target audience.
Pricing: Starting at $15 per user per month.
Read more: Content Aggregator: Definition, Importance & Tools!
ActiveCampaign is an all-in-one content marketing automation, customer relationship management (CRM), and email marketing platform that allows users to automate a variety of specific tasks to distribute your content.
Content marketing is an indispensable part of moving customers through your marketing funnel, and with ActiveCampaign, you can easily set up complete automation with the perfect content sent at exactly the right times-schedule on behaviors.
Ideally, relevant content will move customers to the next stage of your content marketing strategy and increase conversions along with revenue for your business.
Pricing: Starting at $15 per month.
HubSpot is a content marketing automation tool designed specifically for medium and small-sized businesses.
This inbound software comes with highly advanced marketing tools for a variety of content marketing tasks & processes, such as content management, social media marketing, creating a powerful content calendar, and more. You can launch your content marketing campaign effectively and quickly with this automation software.
HubSpot excels in organizing content efficiently, optimizing it, and ensure its publication. It is not only highly flexible but user-friendly as well. The interface is simple and the support is of the highest quality.
Pricing: Starts at $50 per month.
Tailwind is social media management as well as a content marketing automation tool specifically designed for visual social media platforms –Pinterest and Instagram.
It not only allows you to automate publishing and share content, but it also assists you by automating a variety of activities related to the creation, curation, distribution, and promotion of your content. The best part is, Tailwind provides a content discovery tool that easily finds relevant content based on the keywords you choose.
Tailwind automatically generates hashtag suggestions for Instagram posts, allows you to upload images in bulk, publishes them to multiple Pinterest boards at the same time, repins, and program content.
Pricing: Starts at $69 per month
8. Netsuite
Netsuite is an advanced content marketing automation platform proficient in automating different marketing specific tasks, processes, and flows. This automation tool can be used to create multiple campaigns and aligns the same with your content management team.
These content marketing campaigns are driven and executed via email, social media, or other channels streamlined effortlessly using Netsuite.
Generating qualified leads that are ready for content engagement is easy with this powerful automation tool. You can also measure prospect activity, identify hot leads through the performance of your content.
Pricing: Starting at $129/month
Wrapping Up!
Content marketing automation works more efficiently when you choose the right tools that save you time by removing manual processes from your workflows. It helps you get tasks done without human intervention, so you can invest that time into other revenue-generating activities and opportunities.
Begin with the list of tools we mentioned above as you'll find they are the best content marketing automation tools for your business. If we missed out on any of your favorite content marketing automation tools, do let us know in the comment section below, and we would love to add it to our list.
Further reads:
7 Content Generator Tools Every Marketer Needs!
Meme Marketing: Definition, Tips & Examples!
Marketing Strategies to Take Your Business to the Next Level
Social Media Automation Tools Every Marketer Needs
15 Must-Have Business Marketing Tools
The 10 Best Digital Marketing Automation Tools
12 Facts About Content Curation You Might Not Know!
4 Ways Automation Changes Everything In An Email Outreach Sequence
A Complete Guide to Influencer Marketing