Did you know that by the year 2022, it's estimated that marketers will spend 75% of their total marketing budget on digital marketing, instead of traditional marketing! Marketing on digital platforms has become the norm and is no longer a "nice to have". However, the digital landscape for marketers to cover is vast. 
Digital marketing has leveled the playing field against giant brands and allowed new and small businesses, an equal chance to fight for a customer's attention. However, it's no easy task. An equal opportunity to grab customer attention means that the competition to do so is immense.
Thus, automating what's possible can be a huge boon to marketers, allowing them to save tremendous amounts of time and energy, and most importantly, help keep their sanity intact!
This is why we decided to list down our favorite digital marketing automation tools to help you with all those boring monotonous tasks and make marketing less of a headache! Read on…
List of Best Digital Marketing Automation Tools:
Modern-day marketers are expected to do a lot of work from:
Creating email newsletters
Writing SEO perfect blog content
Creating marketing campaigns on Facebook
Designing aesthetically pleasing pictures for Instagram or Pinterest
Coming up with funny, clever tweets
Improving their Google Ad campaigns
Making sense of analytics, and so on
With so much going on, having software tools that can help out marketers in their day-to-day are like god-send. We are going to cover tools for automating different marketing channels and activities so you can pick and choose based on the work you are looking to automate. Sounds good? Lets, go then…
elink.io is a marvelous all-in-one content curation & marketing tool that helps marketers and content creators publish email newsletters, web pages, and embed web content on websites by just adding web links!
Turn any web links (articles, videos, cloud files, etc.) into visual content in seconds and share it with your audience. You can convert collections to email newsletters and export to MailChimp, Gmail & all third-party email providers that allow HTML code (including MadMimi, Active Campaign, Campaign Monitor, etc.).
You can also track content performance and engagement levels on the content you create. elink offers 30+ beautiful responsive templates, so you never have to worry about design and can just focus on your content. This time-saving tool will change the way you create and share content.
Key Features of elink:
Bookmark manager
Newsletter Builder
Rss Reader
Content Curation
Pricing:
Free with limited functionality
Paid plans start at: Pro Monthly ($15/month), Pro 1 Year ($12/month), Pro 2 year ($10/month).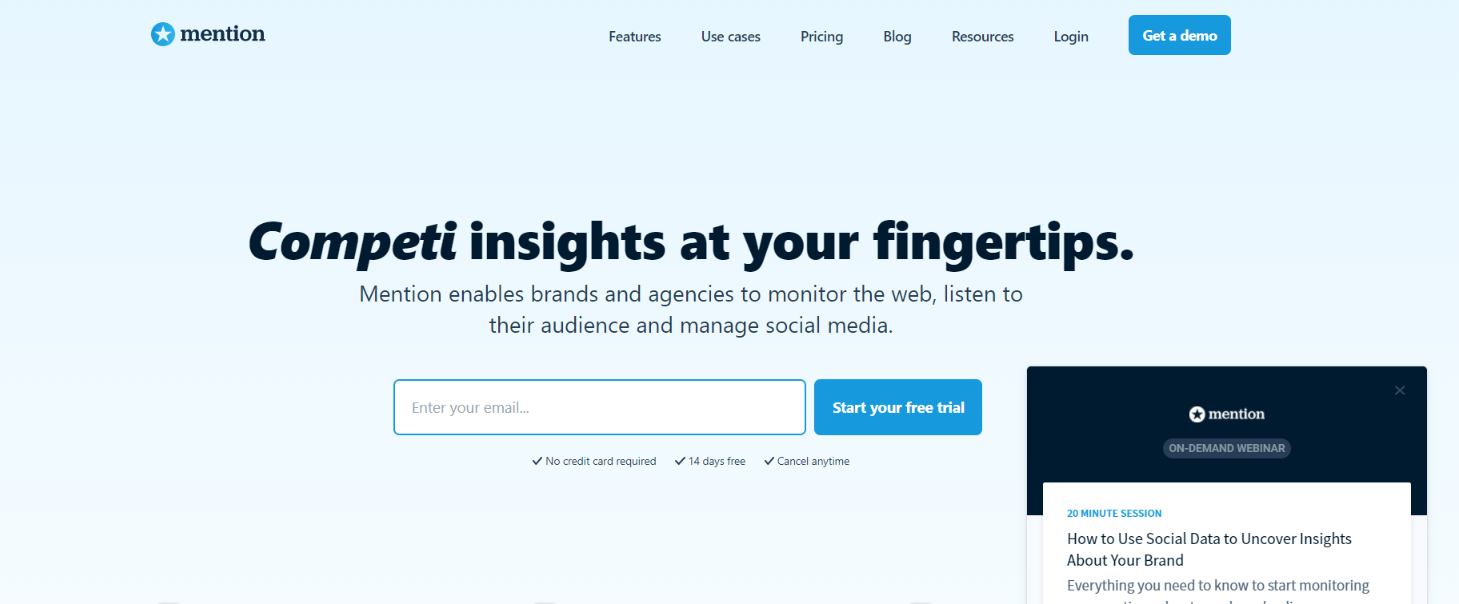 Mention is a social media analytics tool that lets you monitor your brand, competitors, campaigns, and customers from one easy to use dashboard. The tool crawls social media platforms like Twitter, Facebook, and Instagram and other online forums to see where your brand has been mentioned and alerts you in real-time. This way, you can quickly hop into any conversation happening around your brand online and engage with your friends to build relations.
It also supports boolean alerts that make it easy to target and monitor a keyword or competitor in your market and use marketing strategies accordingly.
Key Features of Mention:
Draft, schedule, and publish posts from multiple social channels.
Monitor keywords, competitors, and brand mentions
Multi-channel content calendar
Pricing:
Free plan with limited features.
Paid plans start at- Solo ($25/month), Pro ($83/month), and Enterprise ($450/month).
Read more: 24 Shocking Digital Marketing Stats
Using the power of Artificial intelligence and machine learning, OneSpot is an individualization platform that helps promote your brand with personalized content. Every customer that engages with your brand across the web, mobile, or email receives a dynamically individualized experience to build deeper connections and improve conversions.
Its machine learning technology automatically delivers your content to your readers based on their browsing history and interests. OneSpot follows a consumer around the web and serves relevant content across their email, social media, online ads, and other networks.
Key Features of OneSpot:
Trusted by brands like IBM, L'oreal, Nestle, and more
Remove manually programmed customer journeys and use automation
Detailed behavioral insights.
Pricing:
Adroll is the go-to marketing automation platform for eCommerce brands and specializes in AI-powered retargeting. Founded in 2007, more than 35,000 marketers are currently using Adroll to target customers online and increase sales.
Adroll organizes all your marketing and advertising content in place so you can unify all your data and analytics and make informed business decisions. With Adroll, users can place and monitor ads on both web, and mobile, including social media platforms like Facebook and Twitter. The platform is easy to use and makes ad placements and measurement a breeze.
Key Features of OneSpot:
Email automation
AI-powered ad-retargeting
Personalized cross-channel experience
Pricing:
Free plan with limited features.
Paid plans start at- Essentials ($9/month), Growth ($19/month), and Advanced Tracking ($450/month).
Looking to automate your email marketing? iContact is there to help. This digital marketing automation tool makes it easy for anyone to run and measure their email campaigns and reach out to their audience. iContact also supports email automation and has easy to create workflows to support the customer journey. Users can A/B test their email subject lines or designs and see which one works the best.
Key Features of iContact:
Email A/B testing
Real-time analytics
Subscriber management
Pricing:
Free trial
Paid plans start at- Base ($50/month), Pro ($100/month)
Next up on our list of amazing digital marketing automation tools is Salesforce Marketing Cloud. Marketing Cloud offers a cloud-based solution to marketing automation, bringing all your customer data together under one roof. It then uses artificial intelligence to segment customers and provides them with personalized content experiences in order to boost conversions. Create SMS or push notifications campaigns, manage social media, and make sense of all your ad campaigns from a single dashboard.
Key Features of Salesforce Marketing Cloud:
Exclusive partnership with Google Analytics 360
Visualize, follow, and maintain real-time customer experiences
Pardot integration
Pricing:
Free trial
Paid plans start at Contact sales
Read more: Marketing Strategies to Take Your Business to the Next Level
ActiveCampaign is one the best email marketing automation service with nearly every feature a business owner would need. From building emails to nurturing prospects with automation, ActiveCampaign does it all. With lead scoring and win probability, you would never have to waste time on unqualified leads. ActiveCampaign also supports CRM and sales management automation to maintain your leads database automatically.
Key Features of ActiveCampaign:
Integrations with over 200 apps
Website tracking and lead scoring
Pricing:
Free with limited functionality
Paid plans start at: Lite ($9/month), Plus ($49/month), Professional ($129/month), Enterprise ($229/month)
One of the leading digital marketing automation tools for inbound marketing, Hubspot provides everything you'd need to automate your sales and marketing efforts. The tool is feature-rich and does everything from lead management, website tracking, email building to campaigns, and customer relationship management. With an active blog with 7million monthly visits, Hubspot makes sure it educates its users about its services and help them grow their business effectively.
Key Features of Hubspot:
Full marketing automation suite
Plenty of integrations
CRM and chatbots
Pricing:
Free plan with limited features.
Paid plans start at- Starter ($50 per month), Professional ($400 per month), and Enterprise ($1200 per month).
Probably the oldest tool on our list is Oracle's Eloqua. Launched way back in 1999, Oracle's Eloqua is a complete digital marketing solution for brands and enterprises. A demand generation, email marketing, and lead management tool that automates a significant amount of your marketing efforts.
With best-in-class lead and campaign management tools, marketers can use Eloqua to reach the right audience at the right time in the customer's journey while providing real-time reporting and insights. It also provides optimized send times for email for increasing open rates and engagement.
Key Features of Eloqua:
Simplify data workflows with program triggers
Deploy multi-channel campaigns
Asset management
Pricing:
Free plan with limited features.
Paid plans start at- Basic ($2000/ month), Standard ($4000/month), and Enterprise (contact sales).
Read more: Marketing Collateral: What, Why, Types, and Tools!
Ontraport wants to become your one-stop-shop for all your digital marketing activities. Use Ontraport to write and design emails, send and receive text messages from customers, and store every customer click, purchase, and movement throughout your campaigns using its CRM. It also lets you create amazing landing pages, forms for lead capture, and even create a membership site (sites which provide exclusive content like a course) easily. Ontraport is truly a digital marketer's dream tool and should be given a try.
Key Features of Ontraport:
UTM data to see conversions
Predictive data that recommend future strategies
Amazing landing pages
Pricing:
Free plan with limited features.
Paid plans start at- Basic ($79/ month), Plus ($147/month), Pro ($297/month), and Enterprise ($497/month).
Over to you!
Marketing on the internet is a tough job, especially if you have a small team. Our list of awesome digital marketing automation tools can surely ramp up your marketing efforts, freeing up your time and simultaneously, growing your business. Note that every business has a unique marketing goal. Depending upon your goal, you can pick up a relevant digital marketing automation tool(s) and maximize your productivity. If we missed your favorite digital marketing automation tool, do let us know by tweeting us @elink_io. All the best!
Further reads:
Top 10 Email marketing service for SMBs
15 Must-Have Business Marketing Tools
7 Killer Content Marketing Automation Tools!
Top 9 Online Marketing Automation Tools for Marketers