Looking to automate your online marketing efforts? These online marketing automation tools might help!
We all know that marketing is the most significant business function that powers up the visibility of a brand and its product/s. It allows companies to generate an online presence and capture new customers.
Sure, a great product means a lot of press coverage and word of mouth, but for people to know about your business, you need to have smart marketing efforts.
Ignoring online marketing is like opening a business but not telling anyone. — KB Marketing Agency
However, thanks to the quick evolution of digital technology, decreasing smartphone prices, and the vigorous growth of social media channels there is a lot of promotional noise in the market. To break through it, your marketing efforts will need the right tools to handle all the groundwork, while you focus on the creative and fun part!
Online Marketing Automation Tools Do the Groundwork!
What is online marketing automation you ask?
Online marketing automation is the process where technology is used to automate different tasks that are tackled on a daily basis for a marketing campaign.
Any tool that enables an individual to design, execute, and automate a time-bound marketing workflow, initially done manually can be called an online marketing automation platform.
According to a survey, marketing automation tools are being marketed since 1992 and is now a $6.1 billion industry! In fact, studies showcase that, around 51% of businesses are currently using some degree of marketing automation and that number seems to grow every year with new tools coming into the market.
Therefore, to say that businesses are betting big on online marketing automation tools would be an understatement.
The reason behind such massive growth is very simple- online marketing automation tools save marketers a ton of time by carrying out repetitive and boring tasks, sparing more free time to do things that hold more importance to the business.
Our Recommended Best Online Marketing Automation Tools
We have thus curated a list of some of the best online marketing automation tools out there that will help you complete all those boring repetitive activities and make marketing less of a headache!
Let's talk about each one along with their pricing and decide which one is the best fit for your business;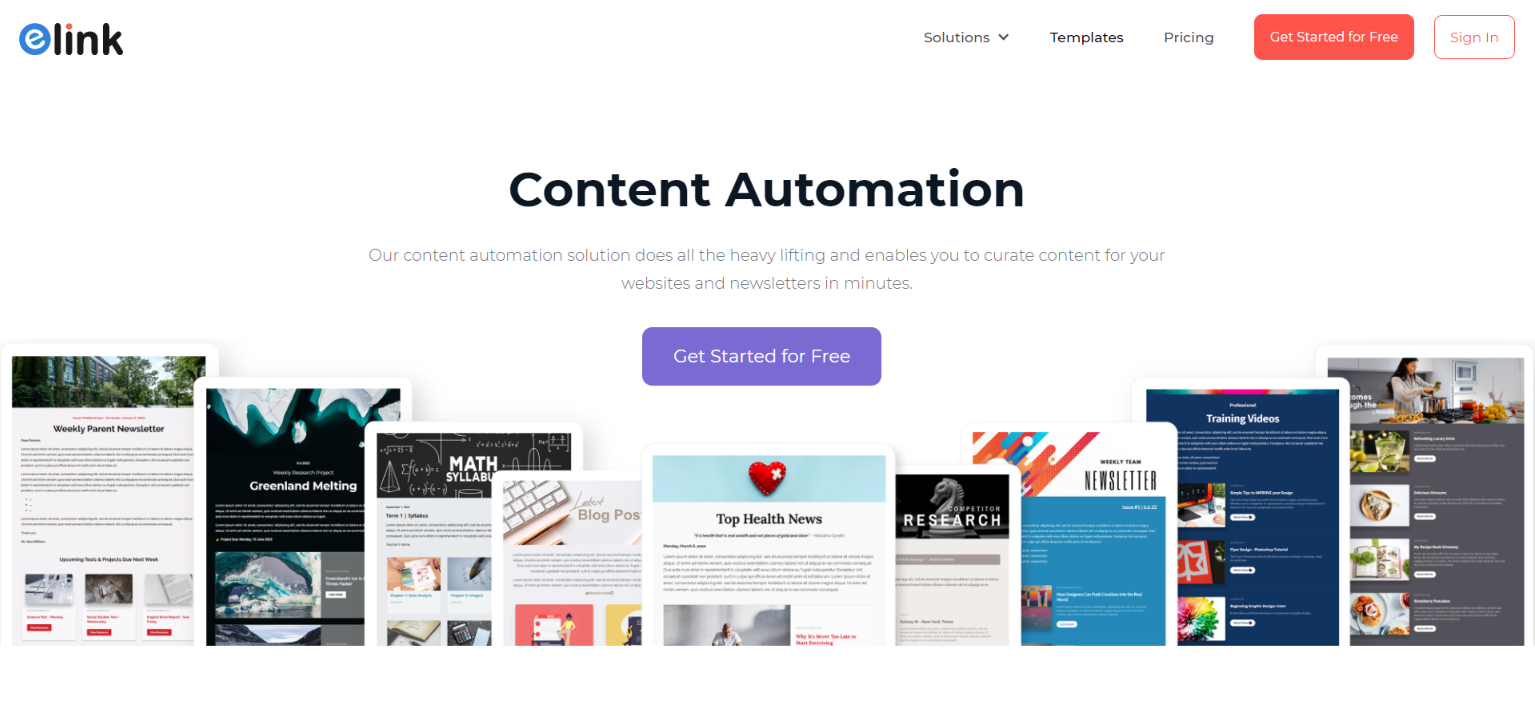 One of the most important tasks marketers have is to create engaging content to capture audiences' attention and drive traffic. From email content, website content to social media content marketers lean on creative techniques to expand their outreach and gain exposure to their products, services, and websites.
elink is a must-have tool in every marketers 'tech pack.' It's an amazing platform that helps automate content creation and publishing on just about every platform! You can choose sources and add filters to make your content relevant.
Elink allows you to curate information from anywhere or the web manually or via RSS. Elink converts weblinks into beautiful visual content that can be shared as HTML email newsletters via Gmail, Mailchimp, and any 3rd party email provider that allows HTML emails.
You can also embed elink content on your website content and automatically update it from your chosen RSS Feeds or bookmarks you collect from elink's Chrome Extension. Publish and share elink content to your social media platforms at any frequency.
We highly recommend creating an account, downloading elink's Chrome Extension, and using elink's RSS feed to save bookmarks and create content quickly!
Pricing: Starts at $10 per month
Holding a social media presence and coming up with interesting content every day is important for modern-day businesses to stay relevant. So, Buffer automated this repetitive and boring task of logging into multiple social media platforms and sharing content every day or even 10 times a day!
With 4.5 million+ registered users, Buffer is an easy to use online marketing automation tool that schedules posts, track the analytics of your content, and manages all your social media accounts in one place.
It even has a browser extension that integrates with Chrome, WordPress, and RSS feed readers that allows you to schedule content on the go or save it for later.
Pricing: Starts at $15 per month
Autopilot is said to be one of the most visually appealing online marketing automation tools on the market. It is a messaging, email marketing, and automation platform that offers a clean, easy-to-understand visual editor. Autopilot is said to be the easiest marketing automation platform used in the industry.
Of course, this solution is typically used for more sophisticated targeting and messaging, but you can also create a simple autoresponder based on a time-sequence or schedule.
Pricing: Starts at $49 per month
Read more: Marketing Strategies to Take Your Business to the Next Level
iContact is an online marketing automation tool that can be used by anyone and everyone. iContact makes it easier for users to create awesome email marketing campaigns and measure improvements through performance analytics.
Along with email, iContact also shows the importance of social media marketing and allows you to create registration forms, track engagement of your customers. It has a free trial which makes it even more attractive to try but with a limit of up to 400 messages.
Pricing: Starts at $14 per month
Marketo is a multi–purpose online marketing automation solution that allows businesses to drive revenue with mobile marketing and lead management.
Specially designed for enterprises, this tool offers real-time content optimization, customized messaging across marketing channels, audience engagement, and management functionality, including calendars and budgeting tools.
Marketo is simple and ease of use tool, yet it's highly sophisticated and flexible, allowing marketers and salespeople to achieve smooth marketing automation workflow. With analytical features like lead management, keyword analysis, customer engagement metrics, etc. Marketo guarantees to be a great addition to your marketing arsenal!
Pricing: Contact them for pricing
BuzzPortal is an inbound and outbound automated marketing tool with over 15 tools and apps to capture, nurture your leads across multiple marketing channels.
What sets this online marketing automation platform apart from others is that it's not limited to online channels. Its tools are available for all types of devices and also help you to engage, communicate, and attract your audience through offline channels like phone calls and SMS (yes, some businesses still use this).
Pricing: Start at $120 per month
If you use inbound marketing to generate leads for your business, then you will love HubSpot. HubSpot is an inbound online marketing tool with a supporting suite of CRM, sales, etc.
Hubspot is a popular and widely used marketing automation platform in over 100+ countries worldwide. It offers salespeople and marketers with all the whistles & bells they need to attract more customers, interact with them, provide quality customer support, target the right audience, create compelling content, automate, and measure the results of your campaigns.
Pricing: Start at $50 per month
According to research by Forrester, 48% of marketers struggle to gain personalized customer interactions. Well, Pardot helps you do that and much more! This online marketing automation tool helps B2B marketers to automate their promotional efforts and drive revenue.
Pardot helps marketers create meaningful connections, generate sales pipeline, and enhance marketing efforts to close more deals. With a simple interface, Pardot captures users with its dynamic and customized campaigns. You can understand and track each stage, securing true marketing ROI.
Pricing: Starts at $1,250 per month
Read more: Marketing Collateral: What, Why, Types, and Tools!
Constant Contact is one of the best online marketing automation services offering every feature a small business would need to nurture leads. It helps you create professional-looking emails from scratch or easily customize one of their ready-made email templates.
Additionally, Constant Contact offers features such as receiving feedback from your customers via polls and surveys or requests for donations. It even integrates smoothly with tools like Shopify, QuickBooks, WordPress, Salesforce, and other tools you might be using.
Pricing: Starts at $20 per month
Mautic is a relatively fresh player in the online marketing automation industry, founded in 2014. Yet, it has earned a part on this list and has been picking up steam with high-tech organizations with over 200,000+ companies using it.
Mautic has the ability to automate different marketing tasks, triggers actions, segments audience, and track users for targeting leads from your website traffic. It has a simple interface that works fairly well for a noob user. Mautic also integrates with all the big email providers.
Pricing: Free
Benefits of Online Marketing Automation Tools
There are several business-wide benefits to using an online marketing automation tool including:
Reduced employee costs: You won't need a lot of manpower for marketing activities if everything can be managed from one automation platform.
Better ROI: Online marketing automation tools are capable of automating upsells, cross-sells, and follow-ups which can boost revenue and generate leads.
Clearly defines processes and points out weak points: Having all of your marketing processes mapped out makes it easier for teams to be accountable for specific tasks.
Boosts effectiveness: Effective online marketing automation tools saves you a lot of time that would otherwise be spent doing mundane and repetitive tasks.
More room for creativity: As you no longer have to do the same marketing related tasks repeatedly every day, your time is freed up and you can engage in more creative work.
Over to You!
There are tons of online marketing automation tools available in the market. It all depends on choosing the right one based on your budget, business purposes, and needs. Remember, great marketing efforts can set your business apart from the rest and help you gain loyal customers for life.
Thankfully, online marketing automation tools exist to make these efforts more manageable for you and your business. If we missed out on your favorite online marketing automation tool, do let us know by tweeting us @elink_io
Further reads: 
How To Leverage Emails For Real Estate Marketing?
What is Outbound Marketing & How Does it Work?
24 Shocking Digital Marketing Stats for 2021
Top 11 Email Automation Software Your Marketing Team Needs
Social Media Automation Tools Every Marketer Needs in 2021
How to Start Affiliate Marketing: A Complete Guide For The Best Results
3 Reasons Why Visual Content Marketing Is Better Than Boring Text
Marketing Quotes from the Most Brilliant Marketing Minds