Being in business, you know that you have to keep up with the changing times.
So it's only natural when you try to give more importance to your social media presence than anything else. After all, we live in the age of social media – where all the fun and interesting things happen.
But just because social media is taking over the world doesn't mean that emails are being pushed to the back. In fact, research shows that email marketing is not only alive and kicking, but actually growing.
If you look at the statistics, you'll find that around 81% of B2B marketers still use email newsletters for content marketing.
What's the reason, you ask? Take a look:
If these aren't enough reasons, then we don't know what is!
Sure, emails may be a little old-school, but the fact that they are still thriving in this social media-obsessed world says a lot about its popularity and power to create an impact.
That is why it's important that you keep up with the latest trends in email marketing while sending out your newsletters.
In this blog, we have created a list of trends that you might have missed out on. So take a look at the trends and make the changes that your newsletters need in order to drive your sales and engagement!
List of newsletter trends you must know about!
1. Use of Artificial Intelligence
Artificial Intelligence or AI is a rising revolutionary technology trend that mimics human intelligence and behavior to perform multiple tasks quicker and more accurately than humans.
Using or integrating AI and machine learning into the creation and distribution of newsletters can help make optimization and predictions.
For example, it can help choose the best time to dispatch your emails or use an enormous amount of data to make predictions and determine which subject lines will be well-received.
This way, AI will help you personalize your newsletters and improve the effectiveness of your content to drive the open rates and in turn positively impact your business.

2. Automation
Email Automation is nothing new in the world of email marketing, but there's more to it than just scheduling your email newsletters to be sent out on a regular basis.
Good automation reacts and tracks users' behavior to understand their buying journey and help them make purchasing decisions. The benefit of this is that it focuses on personalization and speed.
It works through customer action triggers like purchase or registration to send out personal emails to the subscribers at the right time. This also helps you save time, effort, and energy in setting up an effective email campaign.
Read More: The 10 Best Email Marketing Automation Tools Out There
3. Personalization
According to Litmus, personalized emails get 122% more returns. This brings us to the next trend about email newsletters which is also closely related to automation – personalization or customization.
Merely customizing newsletters with the correct name of your customers is not enough, you need to find out who your customer really is and what they are doing so that you can create personalized messages and suggestions for them.
Instead of sending a broad message, create an individualized reader experience that speaks directly to them. You can also use the customer's name in the subject line to get their attention. Also try to employ images, illustrations, visuals, and other graphics that might resonate with the customers.
Based on the customer's previous purchase history and preferences, you can also send out offers and deals that might interest them and recommend new products and services. Make sure your content is relevant to your customers.
Send out follow-up emails each time a customer makes a purchase or responds to a product search, celebrate small anniversaries, wish them on their birthdays, offer gift vouchers, and lots more to ensure that you are constantly engaged with your customers.
4. Integrate Interactive Content
More and more companies are now taking visual content in email marketing to the next level by integrating interactive features to engage the readers better.
You can use gamification to insert game elements into your email to entice readers to interact with your newsletters. This element relies on getting users high from playing and provoking them to take action. You can also give out coupons or rewards as incentives for this.
Several tabs can be added within your email so that the reader can click through all the offers or you can host polls and create small surveys to be filled out. This not only retains attention but also helps gather data from customers.
Employing videos in your newsletters is another way to make it interactive as people are 10 times more likely to engage, embed, share, and comment on video content than other types of content. What's more? Videos increase open rates by 19% and click-through rates by 65%.
Other ways also include incorporating image galleries, sliders, add-to-cart buttons, carousels, and more!
Read More: 6 Ridiculously Simple Email Marketing Tips For Content Marketers!
5. Testimonials, Reviews, and User-Generated Content
Did you know that nearly 95% of shoppers read online reviews before making a purchase and around 90% of people trust a brand through word-of-mouth recommendations?
This is why incorporating customer reviews, ratings, and testimonials in your email newsletters can have a massive impact on your business. This can include anything from star ratings to written reviews on sites like Trustpilot or Yelp.
Another emerging trend that can be used in email newsletters is including user-generated content. Research suggests that 92% claim that user-generated reviews are extremely valuable. This means utilizing any form of content created by your customers, be it images, videos, or even social media posts, and featuring them in your newsletters will boost trust and promote conversion.
In addition to this, testimonials, reviews, and user-generated content acts as content in itself and helps boost your email marketing campaign.
6. Check Out Dark Mode
A trend that is recently dominating the graphic and web design scene and has been taking over multiple social media platforms is the use of dark mode or dark theme.
A recent study showed that 91.8% of people use dark mode wherever available, while 95% prefer the dark mode and 64.6% expected sites to automatically apply a dark theme.
This makes dark mode a very desirable element while creating an email newsletter. Not only is it easier on the eyes, it makes lighter-colored objects stand out in your newsletter and provide an aesthetic appearance as well. It's also great for reducing battery usage as well.
7. Focusing on Privacy
With more and more people becoming concerned about their data security, focusing on privacy is now one of the hottest trends.
In fact, a survey shows that around 80% of people are willing to spend more time and money to protect their data while 48% indicated they already switched companies because of their data policies.
But it turns out that only 8% of consumers trust brands to keep their personal information safe. This puts the onus on email marketers to ensure that their email subscribers have privacy.
Make sure that your email marketing is in compliance with the General Data Protection Regulation or GDPR guidelines and policies. Also allow your subscribers the option to unsubscribe from your mailing lists in case they no longer want to receive any messages.
Now that you know more educated and updated about some of the latest trends about newsletters, don't you think it's time to put that into practice?
What if we told you that there is a tool out there that makes creating newsletters as easy as a breeze?
Don't believe us? Then scroll down right now!
Elink.io: The Ultimate Tool For Creating Newsletters
elink is the fastest and easiest way to create and send visually appealing and responsive newsletters. The tool has a collection of beautiful newsletter templates from which you can choose your favorite and customize it however you want.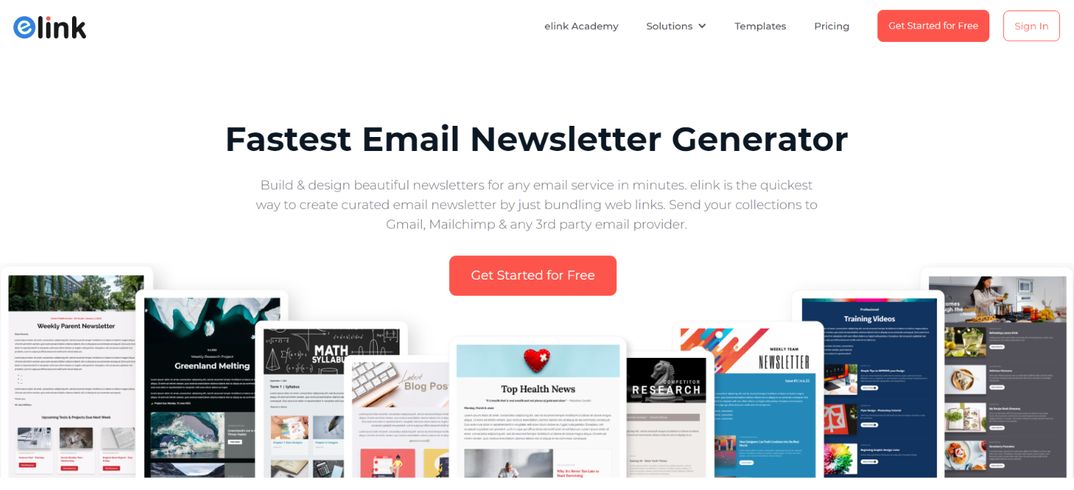 To create a newsletter on elink, all you have to do is add links to the content you want to share and elink will automatically convert them into visual blocks with a picture, title, and a short description.
elink has a robust editor that allows you to add elements like images, texts, bullet lists, numbered lists, dividers, buttons, and even social media icons in your header and footer body. You can even add a search bar in the newsletter and make it easy for your readers to find what they are looking for.
Moreover, elink has a robust-RSS reader that lets you add RSS feeds of the publications you love. You can bundle links from the RSS Reader directly and create a stunning newsletter in just a few seconds.
Not only that, but elink.io also lets you collaborate with your team in real-time. That means you and your team can work together on bundling, creating, and sharing content. The best part? elink integrates with all major email clients like Gmail, Constant Contact, Mailchimp, and more!
elink is everything that you need to boost your email marketing scene!
So what are you waiting for? Get elink and send out beautiful newsletters now!
Wrap up
There's no point in sending multiple emails if they are just going to remain unread in inboxes, which is why we insist on quality over quantity.
We believe that sending personal, targeted, and consistent emails are going to be valued more than anything else and by following the trends that we have mentioned in this blog, you can be sure to notice a positive difference in the way people are going to respond to your emails.
With elink by your side, things just got a lot easier for you as well!
So now go out there and experiment with your newsletters!
Further reads:
How to Create Awesome Newsletter Headers?
What are Editable Newsletter Templates & Where to Find Them?
13 Marketing Trends You Can't Afford To Miss In 2022
Improve Email Open Rates with these 11 Powerful Tips & Tricks!
Company Newsletters: Ideas, Tips & Tricks
9 Ways to Revamp Your Newsletter Using elink!