We all know how all-important an email newsletter is. They let you establish and nurture long-term relationships with your subscribers and customers.
Not to forget, a one-on-one conversation in their email inbox is much, much more effective than a public tweet, a Facebook update, or an Instagram post.
But the thing is, you have a lot to compete with in your subscribers' inboxes. So, if you want to create newsletters that people want to click through, you need to spruce them up a little.
And, in order to do that, you need to use a powerful newsletter creator like elink.io. In this blog, we are going to tell you all you need to know about elink and six ways to create a kick-ass newsletter using it. Let's go!
What's elink.io?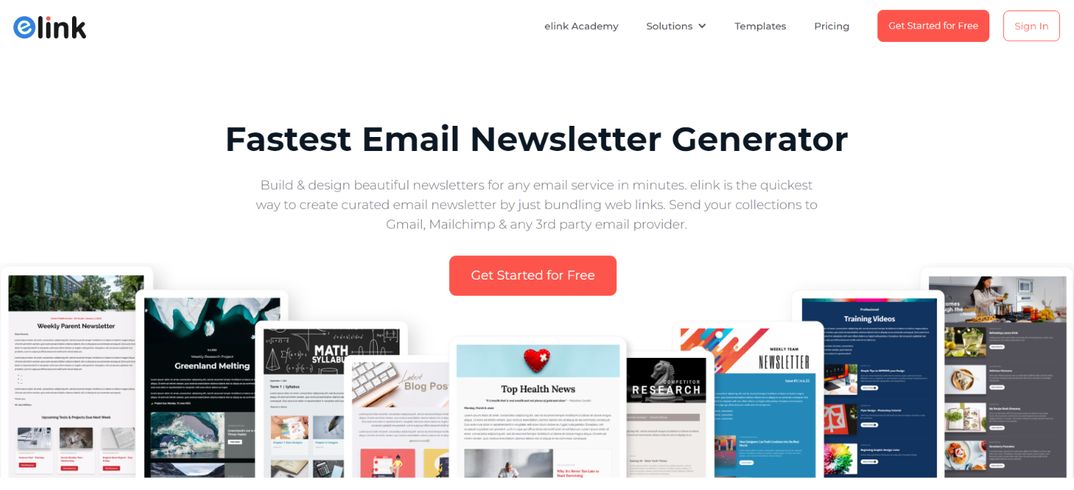 elink.io is a content curation platform that you need to have in your tool kit regardless of your industry. It is easy on the budget, simple to use, and comes with all the features you need to create and share beautiful newsletters, webpages, and more.
Simply put, elink is the fastest, coolest, and most efficient way to create and share newsletters on any topic in a visually appealing, smooth way. Just add links to the content you need to share, and elink will create a stunning newsletter for you in minutes.
The platform offers over 50 pre-built templates, so you don't need to think about the design aspect, and you can focus on growing your company. Moreover, you can add your own images, text, bullet lists, numbered lists, buttons, social icons, and dividers in your header and footer body. What could be better than that?
The best part? Unlike most other newsletter creators, elink.io lets you collaborate with your team in real-time. So you and your team can work together on bundling, creating, and sharing content. You can even add a search bar in the newsletter and make it easy for your readers to find what they are looking for.
There's more! elink has a robust RSS reader that lets you add RSS feeds of the publications you love. You can bundle links directly from the RSS Reader and create a stunning newsletter in seconds.
And, the most amazing feature of elink is – content automation! Using elink's nifty automation tool, you can automate content creation for your newsletters, websites, and more.All you have to do is pick sources and add filters in order to make your content more effective and relevant.
Okay, so now that we have convinced you to try elink (hooray!), let's understand how you can create a stunning monthly newsletter with elink.
Note: You can either choose to create a newsletter manually or using the automation feature. We are going to walk you through both these features. Let's roll!

9 Ways to Upgrade Your Newsletter Using elink
1. Utilize The Power of Automation
Yes, creating a newsletter is a fun and rewarding process. But, creating them constantly is a real challenge. To be honest, it is a slippery slope to creative burnout.
Plus, every minute you spend creating the newsletter uses up the time you could spend on performing other business activities, or sleeping. 🙂
The good news is, there are ways to work smarter instead of harder, like automation. In 2019, 66% of email marketers said that automation is an important attribute of email solutions.
Luckily, automating your newsletters is easier than you might think because elink has got you covered! Just define the sources and add filters and your newsletters will be ready without you ever having to lift a finger.
Read more: How to Create Awesome Newsletter Headers?
2. Link Your Social Media Platforms
Email marketing and social media are like the Batman and Robin of marketing. They are the dynamic duo that can supercharge your engagement and increase your reach.
How? It's pretty simple! All you need to do is include social media icons in our newsletters. This way, you'd be able to direct your followers to your social media platforms, which would help them learn more about you.
Moreover, it will give you an opportunity to increase your social media presence. You can invite people to follow your brand on social networks by displaying the 'follow us' icon in your newsletters!
Still not convinced? Well, 54% of North American online and email marketers were surveyed in a study. They said their results were somewhat better because of integrating social media marketing and email marketing.
The best part? Using elink, you can add social media icons in your newsletters and link them with your social media handles in seconds.
3. Create a Compelling Header Image
Email headers are your secret weapon for making a great first impression with your email newsletter – and we all know how powerful first impressions could be.
Look, your header image can either make a reader stay or leave. So, it's important that your email header captures and hold the reader's attention.
…and what better platform to create compelling header designs than Canva? After all, Canva comes with tons of modern and beautiful email header layouts to choose from.
Good news: you can use elink's Canva integration and design an eye-catching banner directly in elink. Always remember, your header can set the tone of your entire newsletter.
4. Add a Search Bar
While creating a newsletter, there are a number of elements that you need to consider. The user experience should be at the top of your list.
When your reader opens your newsletter, you need to make it easy for them to find the information they want. So, if you have got a content-heavy newsletter with different links, you should add a search bar.
A search bar makes it easier for your readers to find what they're looking for faster, thus improving the reader experience and boosting your engagement. This will in turn make them more likely to make a purchase.
No, you don't need to be a coding expert to add a search bar to your newsletters. elink's robust newsletter creator lets you add a search bar in seconds!
5. Make Your Newsletter Mobile Friendly
Did you know that 46% of all email opens are on mobile devices? This is why you need to make sure that your newsletter is optimized to read well on all kinds of devices.
After all, you don't want to lose out on subscribers simply because your newsletter doesn't look good on any device apart from a computer, right?
So, you have to create a consistent, yet tailored, experience for your readers across devices. Even though it sounds like a difficult task, it's not. You don't need to go the extra mile to make your newsletter responsive.
Because all the layouts and templates available on elink are fully responsive – which means your newsletter will look awesome, irrespective of the device your reader views it from.
Read more: Monthly Newsletter: How to Create it in Simple Steps? (Templates Included)
6. Use Dividers For Better Comprehension
The layout of your newsletter is every bit as important as its content. If your newsletter is well organized, you can communicate your message in a more effective manner.
One of the best ways to organize a newsletter and improve its readability is using dividers. It's a great way to create divide the content of your newsletter and help readers quickly grasp what's written.
Dividers section off the content of your newsletter with a horizontal line, adding visual interest in a subtle way. This brings up the question: how to add dividers in your newsletters?
It's actually quite simple if you're using elink. elink's powerful editor allows you to add dividers in your header and footer body in just a few clicks.
7. Add a Button & Make Your CTA Awesome
According to research, most people scan email campaigns rather than reading each and every word. That means, if you want to make your CTA stand out, you need to use buttons.
A call to action button will catch the skimmer's eyes and make your newsletter pop. It will draw more attention to your CTA, making it easier for a reader to take an action.
Remember, your CTA is one of the most important parts of your newsletter. And if it's hard to find or broken in any way, your subscribers are going to bail out!
Now that it's clear why CTA buttons are awesome, it's time to incorporate them into your newsletters. Luckily, with elink, it's super easy to add this button to your email newsletter!
8. Use Multiple Layouts
Apart from the content, what's the most important aspect of a newsletter? It's the layout! Newsletters are full of color, beautiful images, and amazing content. But it is the layout that really adds spice to the newsletter!
This is probably why choosing a layout is one of the very first things marketers and designers do when they start working on an email newsletter.
Fortunately, creating a newsletter with the perfect layout doesn't have to be super complex. It can be a walk in the park and not as much 'fluff' as you'd presume.
All you need is elink! The platform offers so many newsletter layouts which can be updated anytime – even after they have been published. You get to choose from single column, two columns, three columns, multi-column, full-width, carousel, masonry, grid, and much more!
9. Create Newsletters With a Fraction of Effort
Creating a newsletter takes time and money, and we know that these two things come at a premium when you're running a business. Well, elink has got your back.
Just add links to the content you need to share, and elink will create a stunning newsletter for you in minutes. The platform offers over 50 pre-built templates, so you don't need to think about the design aspect, and you can focus on growing your company.
Whether you want to use a newsletter as an acquisition channel, or you would just like to send out a simple, basic little newsletter – you would find a template for it on elink.
Simply put, you can create and distribute a stunning, fully customizable newsletter using elink – with a fraction of effort and money. How awesome is that?
Wrapping Up
Whether you want to recapture your audience or attract new leads, newsletters have got you covered. When done right, newsletters can yield incredible results.
Just use elink, focus on providing valuable content and you will keep your audience on their toes, opening your newsletters, and clicking that CTA button. What more could you possibly ask for?
So, are you ready to create great newsletters using elink? Let us know your experience by tweeting us @elink.io. We would love to hear all about it!
Further reads:
How to Create Awesome Newsletter Designs? (Tips & Tools)
10 Newsletter Marketing Strategies for Marketers!
What are Editable Newsletter Templates & Where to Find Them?
7 Newsletter Trends You May Have Missed!