Your subscribers join your email list to receive content that adds immediate value to their life.
However, the problem is, offering content that your customers or users find useful isn't enough anymore. You need to offer your content in a visually appealing and organized manner.
In short, your newsletter design needs to stand out, and in this blog, we're going to walk you through everything you need to know about creating amazing newsletter designs.
First things first, let's learn what an email newsletter actually is. Buckle up, folks. We're going for a ride!
What is an Email Newsletter?
An email newsletter is a cost-effective way for brands to communicate with their users, customers, and subscribers. Through a newsletter, you can inform your audience about the latest news, tips, or updates about your product or company.
A newsletter is an amazing way to engage people and get them to click, buy and subscribe – which is not as easy as it sounds. If you want the readers to take action after reading your newsletter, your newsletter design needs to be simple and easy to read, yet attention-grabbing.
Don't worry, because that's exactly what we're going to help you with. In the next section, we are going to discuss the things that you'll find in every amazing newsletter design. Ready? Let's go!
5 Elements of a Solid Newsletter Design
1. Keep it Clutter-Free
You're not writing an annual family Christmas letter. You're writing an email, so avoid adding too much information to it. No one likes to open an email only to be hit with a wall of text.
Simply put, use as few words as possible in the newsletter. Try to write short and simple sentences that grabs someone's attention and gets them to click through to your website.
2. Add Beautiful Images
Think about your own preferences for a second. When you're browsing social media or websites: would you rather see a beautiful photo or just a wall of text? We're pretty sure it's the former.
So, to create a better newsletter design and capture the attention of your email subscribers, use photos. Let the images do the talking and keep the text to a minimum.
3. Put The Most Important Information First
There are many good ways to structure a newsletter. One of them is starting the newsletter with the main message you want people to see, and your best quality content.
We are living in the age of short attention spans and skim reading. If you put the most important information first, the readers will get what they want straight away, and they won't be bored.

4. Grab Attention With The Header
Your header needs to grab the readers' attention, draw them in, and encourage them to keep reading – without actually telling them to keep reading.
The copy of your header can be witty and sharp, or it can directly address the pain point of your subscribers. No matter how your write the copy, make sure it is something of substance.
5. Make it Scannable
When you're sending out a newsletter, you might have a lot of things to say. However, if you want to end up with a good newsletter design, resist the urge to share everything in one email.
Instead, only add the highlight of your greatest hits, the most interesting pieces, and content that will be most relevant for your subscribers!
In the perfect world, you'd be able to create an amazing newsletter right after reading the tips. Unfortunately, we don't live in a perfect world.
Creating the right newsletter design isn't easy, to say the least. But, what if we tell you that there is a newsletter creator out there that can do all the heavy lifting for you? Curious? Read on!
Read more: RSS to Email: Create Automated Email Newsletters Using RSS!
elink.io – The Best Newsletter Creator in The World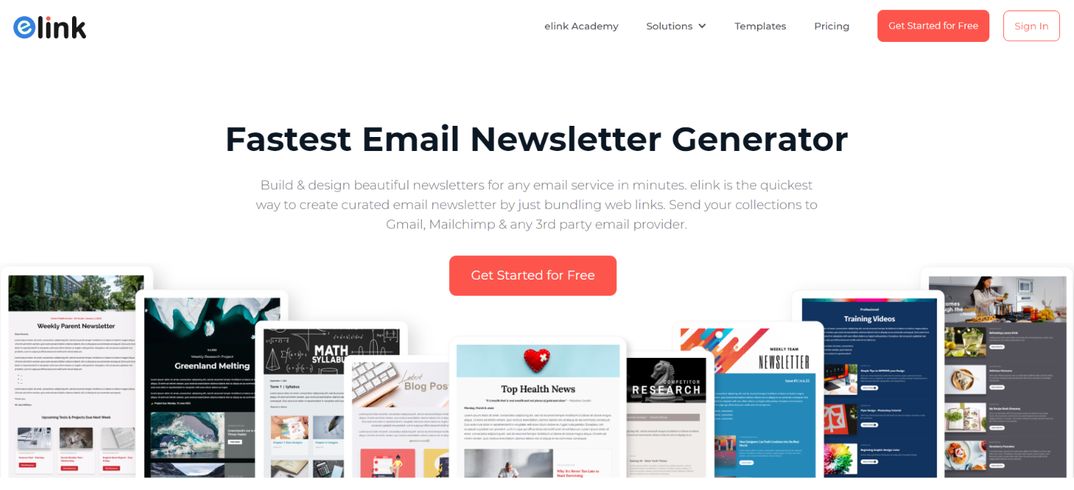 Want to start creating your best newsletter ever? elink.io is just what you need. elink.is a content curation suite that is easy on the budget, simple to use, and comes with all the features you need to create and share beautiful newsletters, webpages, and more.
There are over 50+ newsletter layouts available on elink, so you just need to find a layout that fits your needs the best, add the links you want to share, customize what you want, and you will end up with a fantastic-looking newsletter in minutes. It is by far the fastest newsletter you will create saving you tons of time.
You get to choose from single column, two columns, multi-column, full-width, grid, and much more! The best part? You can update your page layouts anytime – even after they have been published.
Moreover, you can add your own images, text, bullet lists, numbered lists, buttons, social icons, and dividers in your header and footer body. You can even add a search bar in the newsletter and make it easy for your readers to find what they are looking for. What could be better than that?
And, the most amazing feature of elink is – content automation! Using elink's nifty automation tool, you can automate content creation for your newsletters, websites, and more. All you have to do is pick sources from RSS feeds and add filters in order to make your content more effective and relevant.
Okay, so now that we have convinced you to try elink (hooray!), let's check out some of the coolest newsletter designs available on elink.
The 6 Best Newsletter Designs You Can Use on elink
1. Ziro
2. Tuli
3. PhiPhi
4. Akito
5. Alvor
6. NewYork
Wrapping Up
Always remember – the success of your newsletter depends on two factors – the content and the design. Just like website design, a beautiful newsletter design doesn't just look beautiful – it gets results!
So, are you feeling inspired and ready to create? We know you are! If you've got any queries or suggestions, let us know by tweeting us @elink_io. We're always here for you. Cheers!
Further reads:
HTML Emails: The Complete Guide (+ The Best HTML Email Generator)
How to Create Awesome Newsletter Headers?
What are Editable Newsletter Templates & Where to Find Them?
5 Killer Graphic Design Tips That Will Boost Your Customer Engagement
The 10 Best Email Newsletter Services
Improve Email Open Rates with these 11 Powerful Tips & Tricks!
Create Grid Layouts for Webpages in 5 Simple Steps!
Create Professional Looking Newsletters Using Elink! Templates & Examples
9 Ways to Revamp Your Newsletter Using elink!