If you're an email marketer, we know that metrics like open rates, click-through rates, and conversion rates mean EVERYTHING to you. We also know that you are always testing ways to grow these metrics.
Well, an interesting way to improve your email marketing metrics is by sending emails that contain interesting pictures, strategic calls to action, and vibrant colors. We're talking about HTML emails!
HTML emails have everything that plain text emails are missing – beautiful layouts, images, embedded links, stunning colors, solid CTAs, footers with information, formatting, and better tracking ability.
And, as per a study, around 67% of people favor reading those emails that mainly feature images. So, there's absolutely no reason why you shouldn't try your hand HTML emails.
Here, we have put together a guide so that you can learn everything you need to know about sending HTML emails and of course, the best HTML email generator out there. Ready? Let's go!
What's an HTML Email?
To clearly understand what an HTML email is, let's take a sneak peek at the differences between plain text emails and HTML emails.
See, a plain text email is exactly what it sounds like – an email that contains just plain, simple text. No formatting, no embedded links, and no images.
On the other hand, an HTML email includes graphics, colors, tables, columns, and links. HTML emails are extremely easy to recognize. Most of the styled, multimedia emails in your inbox are actually HTML emails.
So, now that you know what HTML emails are, let's explore a few reasons why you should create HTML emails.
4 Reasons Why You Should Create HTML Emails
1. Responsive Design
We're going to be very honest with you. If your marketing emails look like a boring piece of text-heavy write-up, the recipients are going to bail out on it. So, it's extremely essential to build a visual influence and send out HTML emails instead of plain text emails.
2. Mobile Friendly
Usually, HTML emails are fully responsive. That means no matter which device your audience sees the email on, it will look just the same. For example, if your audience is opening up your HTML email on their mobiles, they can smoothly get themselves redirected to your business's website by clicking the call to action buttons.
3. Easy Tracking
With HTML emails, you can get a better insight into your email analytics. You can find out the click rate, open rate, subscription rate, unsubscribe rate of your emails. All this data would help you come up with better and amazing email marketing campaigns! It will also help you make well-informed decisions for your business.
4. Higher Engagement
Plain text emails fail to grab the eyeballs of the audience. Whereas HTML emails contain catchy images, videos, call to action buttons – which entice the attention of the recipients. This leads to higher subscribe rates and more conversions.

Here is the good news: you don't need to learn coding languages to create an HTML email. There are so many email generators out there that offer pre-formatted, ready-to-go HTML email templates! In the next section, we're going to introduce you to the most amazing HTML email generator. Ready? Let's go.
Read more: How To Create HTML Newsletters Without Any Coding?
elink.io – The Best HTML Email Generator On Earth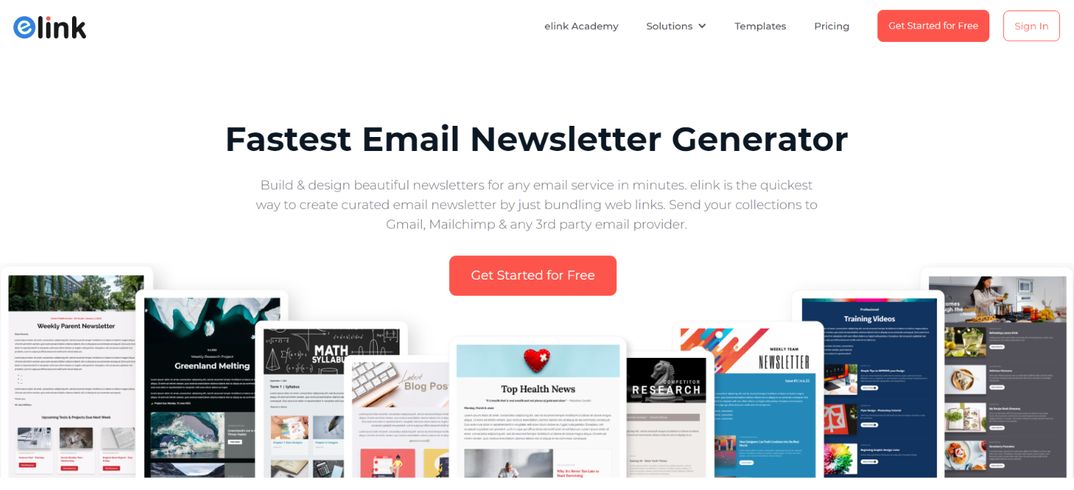 You have a lot to compete within your subscribers' inboxes. That's why using a powerful HTML email generator like elink.io is critical to designing an email newsletter that people want to click through!
elink.io is a content curation platform that you need to have in your tool kit regardless of your industry. It is easy on the budget, extremely easy to use, and comes with all the features you need to create and share beautiful HTML newsletters.
Simply put, elink is the fastest, coolest, and most efficient way to generate and share newsletters on any topic in a visually appealing, smooth way. Just add links to the content you need to share, and elink will create a stunning, fully responsive newsletter for you in minutes.
The platform offers over 50 pre-built templates, so you don't need to think about the design aspect, and you can focus on growing your company. Moreover, you can add your own images, text, bullet lists, numbered lists, buttons, social icons, and dividers in the header and footer of your newsletter. What could be better than that?
The best part? Unlike most other HTML email generators, elink.io lets you collaborate with your team in real-time. So you and your team can work together on bundling, creating, and sharing content. You can even add a search bar in the newsletter and make it easy for your readers to find what they are looking for.
There's more! elink has a robust RSS reader that lets you add RSS feeds of the publications you love. You can bundle links directly from the RSS Reader and create a stunning newsletter in seconds.
And, the most amazing feature of elink is – content automation! Using elink's nifty automation tool, you can automate content creation for your newsletters, websites, and more.All you have to do is pick sources and add filters in order to make your content more effective and relevant.
Okay, so now that we have convinced you to try elink (hooray!), let's understand how you can create a stunning monthly newsletter with elink.
Note: You can either choose to create a newsletter manually or using the automation feature. We are going to walk you through both these features. Let's roll!
How to Create an HTML Email on elink (Manually)?
Step 1: Choose a Newsletter Template
The coolest thing about elink is that you don't have to worry about all the tricky design rules. With elink's stunning newsletter templates, you're already way ahead when it comes to designing.
Now, here's what you need to do: choose a template and customize it the way you want. We've quite a splendid collection to choose from, so take your time to find the one that fits your needs the best.
By the way, you can also create a newsletter from scratch. It's totally up to you.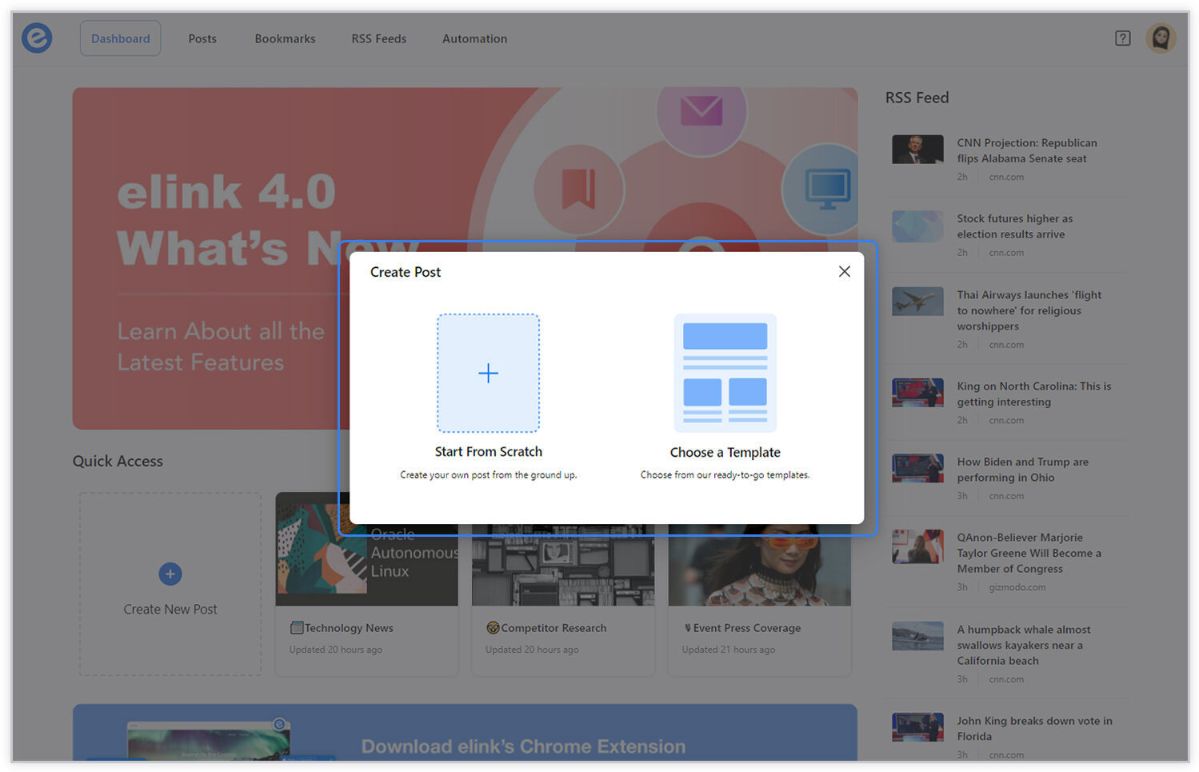 Step 2: Add Links to the Newsletter
Here comes the fun part. You can add links to the content (articles, videos, products, etc.) that you want to show up in your newsletter.
elink is so robust that it will automatically generate an image, a title, and a short description with each link. Of course, you can modify and customize any of this information if you want.
elink is also an RSS reader and a bookmark manager so you can quickly select your preselected links directly from the link library or the RSS feeds or enter them manually.
Step 3: Add Header
We know that a compelling email header design decides whether the reader would read your entire newsletter or bail on it. That's why we've given you the option of designing your header body the way you want.
You can add images, text, bullet lists, numbered lists, buttons, social icons, and dividers in your header body. elink even lets you choose from over 6 font sizes for your header body.
What's more? You can also use elink's Canva integration and design an eye-catching banner directly in elink.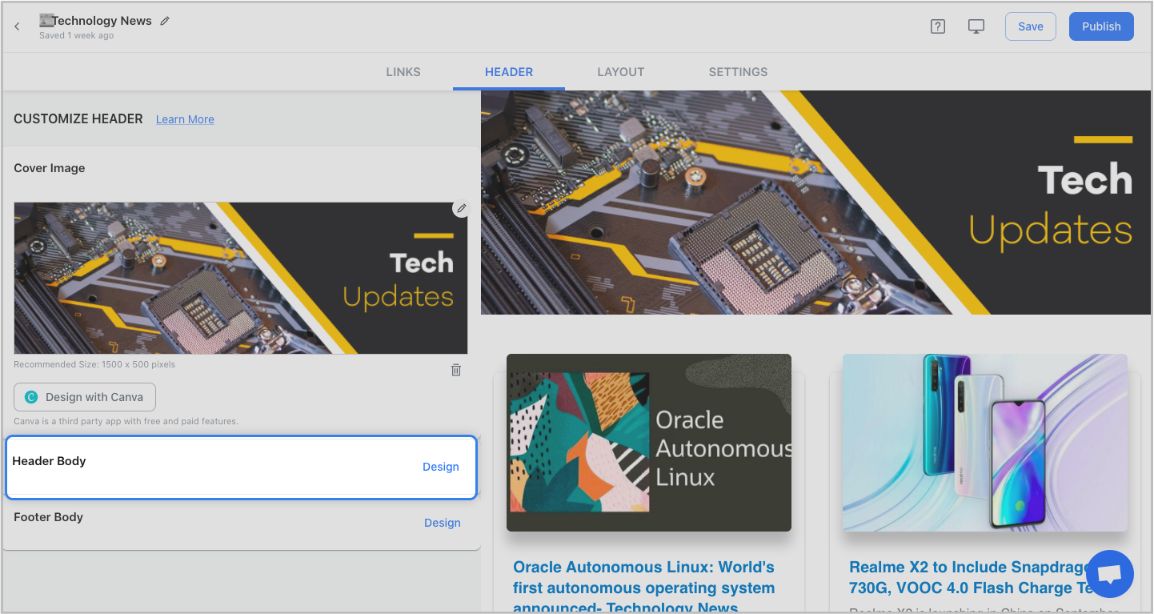 Step 4: Add Footer
An email footer is a place where the recipients would look for details about your brand. It is a place for transparency, clarity, and good design – exactly what elink provides.
You can add images, text, bullet lists, numbered lists, buttons, social icons, and dividers in your footer. Moreover, you can link the social icons with your own social media accounts in seconds.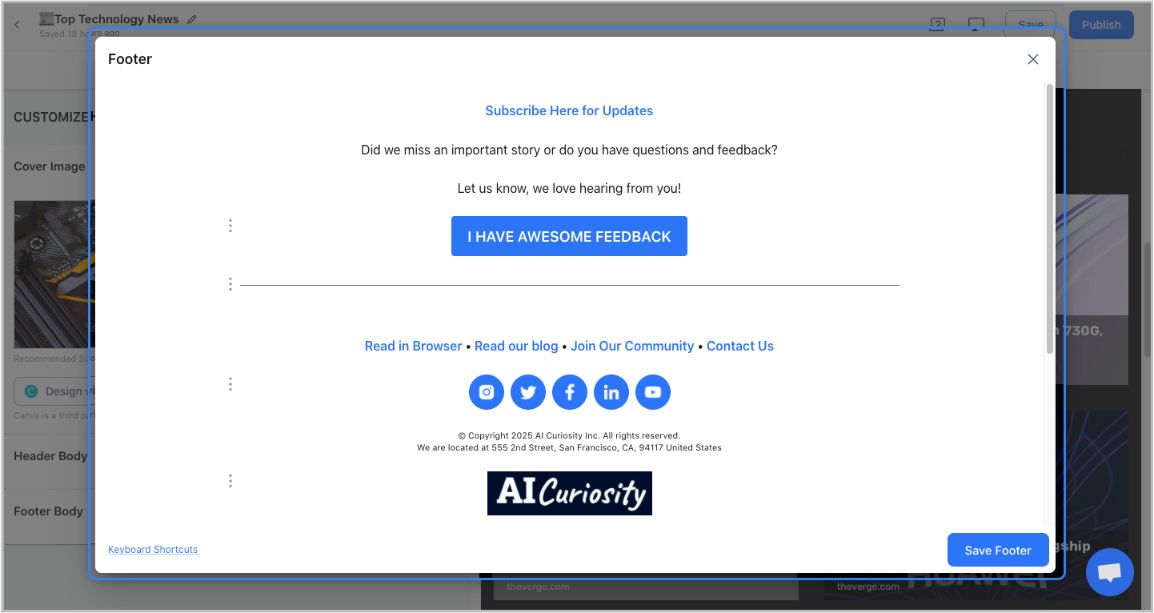 Step 5: Choose a Layout for your links:
Just jump right in and don't worry about wasting valuable time designing the layout of your newsletter. elink has already done all the heavy lifting for you. You can choose your favorite layout from all the different options with a simple click of a button and elink will change the formatting of those tiles to your chosen style.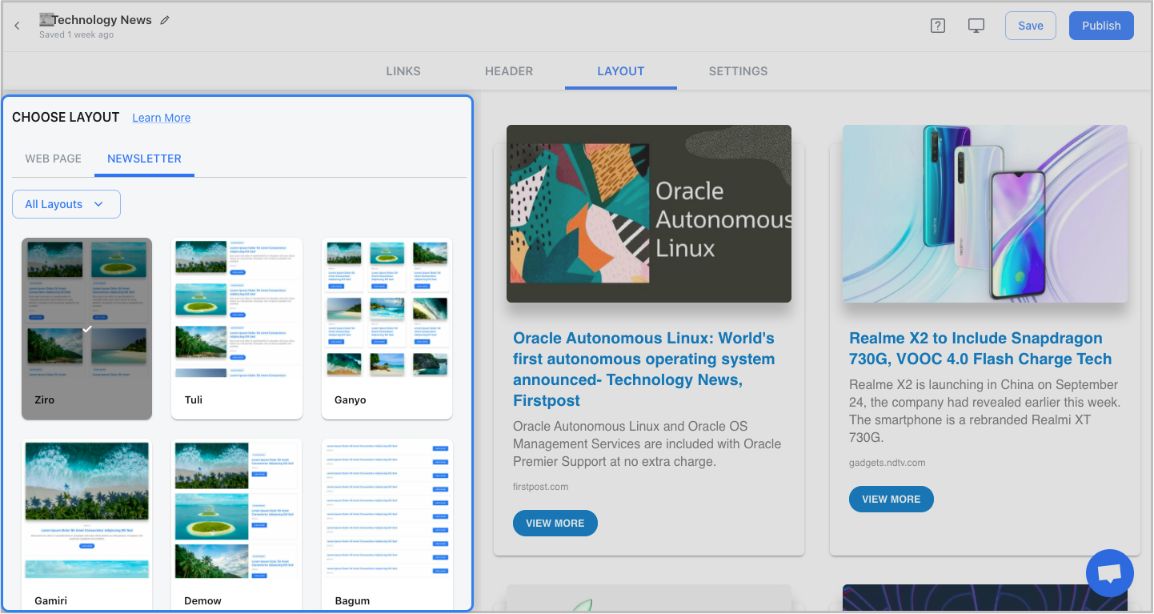 Step 6: Design and Customize
You'll get a perfect combination of colors in our templates. But, if you want to change the colors, you can do that too. Apart from that, you can also customize the font styles, button text, and more – in just a few clicks.
One of the most robust features of elink is that you can even add a search bar if you are adding a bunch of links such as resources etc.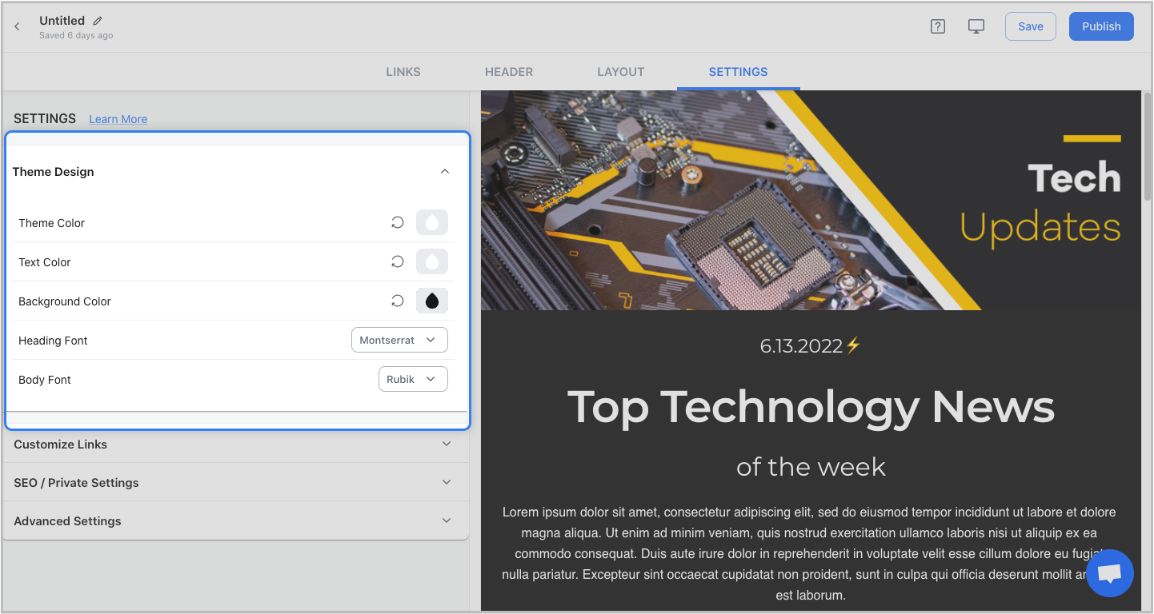 Step 7: Share Your Newsletter
Yay! You've now created a stunning newsletter that is ready to be shared with the world. Now, hit the 'Publish' button on the far right corner of the screen, and a pop-up will appear, allowing you to customize your content URL.
Once you have customized the URL, another popup will appear where you need to select the 'newsletter' option. From there, you can share your masterpiece via Gmail, Mailchimp, or any other third-party email marketing tools like Get Response, Mailchimp, etc.!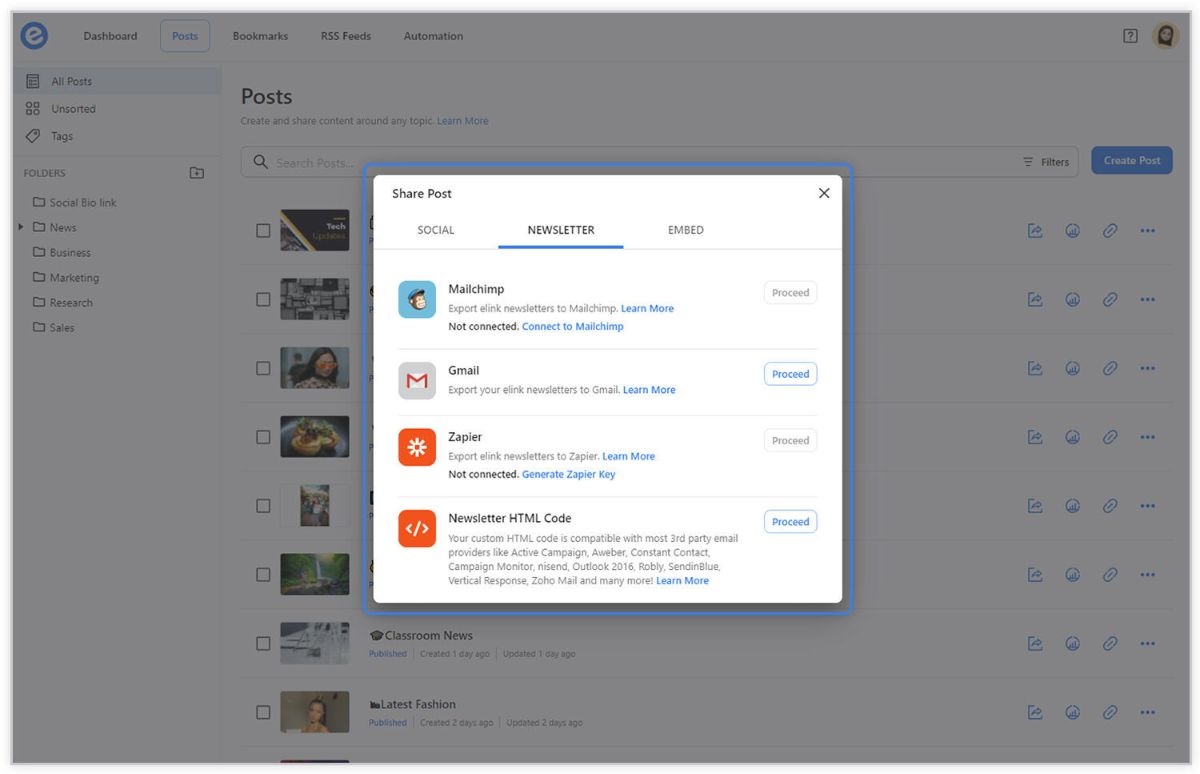 How to Use elink's Email Automation Feature
1. Head over to elink and click on the 'Automation' option.
2. Now, click on the 'Create Automation' tab.
3. You'll see a pop-up in which you can name your automation and set the scheduling frequency. Depending on your requirements, you can choose between daily, weekly, or monthly. You can even set the time at which you want the process to start running.
4. Now, you need to decide whether you want to generate a brand new elink post on a regular basis OR update an existing elink post.
5. Once you have made the decision, you need to define your sources. Your source could be an RSS Feed folder, a bookmark folder, or an RSS feed.
We know how crucial it is to publish the right content, and that's why we've given you the option of specifying your own keywords.
You can also pick between 'Most recent' & 'Best results'. The 'most recent' places a priority on time, whereas 'best results' place a priority on keywords.
You also need to choose the maximum number of articles you want to be published at a time.
6. In the last step, choose exactly what you want to happen once your newsletter is published.
Do you want to get a notification informing you that your newsletter has been created?
Do you want it to be published only in your elink account?
Do you want it to be automatically sent over to Mailchimp as a draft?
Do you want to share it through Zapier?
As soon as you pick one of these options, BOOM! It is done! Now relax, have a cup of coffee while watching your content being automatically created.
Wrapping Up
It goes without saying – HTML emails allow you to personalize customer interactions in a way no other form of email can match. They improve user experience, brand consistency and, of course, customer satisfaction.
HTML emails work well for both B2C and B2B markets. They stand out in the inbox, display your content well, grab your audience's attention and result in desired clicks.
So, what are you waiting for? Head over to elink.io and start creating an HTML email today. ✨
Further reads:
How to Embed Custom RSS Feeds (HTML Code) on Your Website?
9 Best Email Cleaners in 2022 (Paid & Free)
Business Newsletter: Definition, Types, Steps to Create & Examples!
Email Campaigns: What are they & How to Ace them with Steps!
RSS to Email: Create Automated Email Newsletters Using RSS!
Top 11 Gmail Extensions for Email Marketing!
Improve Email Open Rates with these 11 Powerful Tips & Tricks!