When you hear the term "email newsletter," the first thing that comes to your mind might be a bunch of email alerts or updates. Newsletters are created to keep readers or website visitors interested in your product or services. But newsletters don't have to be only client-facing– they can also be used to speak with employees.
Newsletters can do wonders in case you are striving hard to have an open internal communication plan within your organization. Internal company newsletters play a key role in helping communicate across all employees to help ensure everyone is on the same page.
The benefits of team building through an internal company newsletter can be far-reaching. By making important information accessible for your team, you'll help create a connected and informed workplace. You can also send internal company newsletters that focus on particular departments and teams. This is especially useful as companies grow with remote workforce and offices in various geographic locations and time-zones.
How Internal Company Newsletter Helps in Improving Internal Communication?
The advantages of having a powerful structure of internal communication among team members are endless. Here are just some of the ways internal communication helps team members:
It creates a common north star.
Clarity on how their work affects the final result.
Understanding of their contribution within the team.
Clear expectations.
When a company hits an achievement, it is imperative to acknowledge the hard work of the employees that they invested in the job. This creates a sense of appreciation among the employees and showcase that their efforts are beneficial.
Great internal communication within a company helps to spread common messages to every member of a team, department or company. These common messages help those on the receiving end to become involved and invested in the larger picture.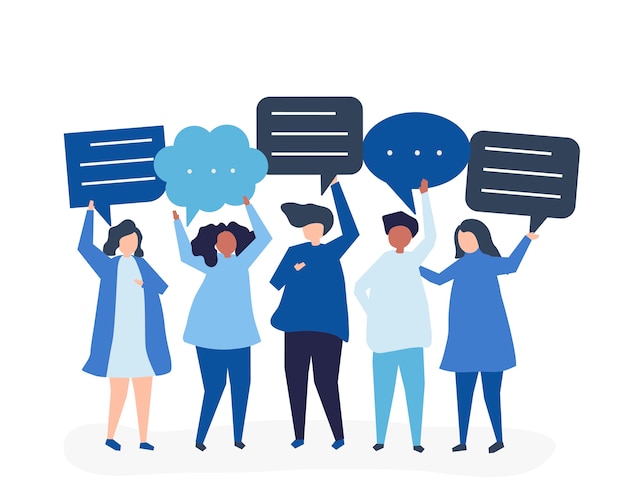 Internal communication is frequently thought of as top to bottom communication, composed by managers to share with their employees. However, it's really a two-way highway!
Related: The 15 Best Internal Communication Tools
The process of passing messages should be from both ends i.e, from the side of the manager as well as from employees.
In other words, it's not about engaging a passive audience like employees with the right messaging; instead, it's about supporting two-way networking and letting everyone know what's happening in the workplace.
85% of employees are not engaged in the workplace because their thoughts are not being delivered properly.
Employees want to feel that their suggestions matter. Therefore, creating an internal company newsletter to comfortably pass on information upwards like-
Policy feedbacks,
Change in company ethics,
Flexible working hours
Suggestion for training
will do wonders for employee morale and contribution.

And similarly, the other the way around!
Here are some of the topics that are important to keep your employees informed on as well:
Company Updates
Policy Changes
Hiring Updates
Up-coming Events
Product Updates
New training materials and more…
This helps to generate a feeling of transparency and trust among the employees. Internal communication is the root for your employees to perform above and beyond to achieve better results.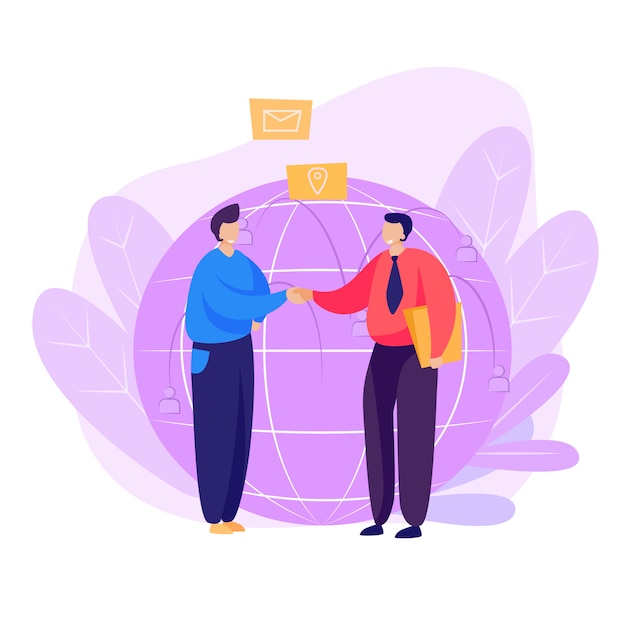 In fact, 92% of internal communication practitioners believe that internal communication drives financial performance and business productivity.
In teamwork, silence isn't golden, it's deadly.- Mark Sanborn
Therefore, An internal company newsletter is a great pathway to enhance all these factors in an organization.
Read more: How To Create An Email Newsletter
Best Practices for Internal Company Newsletter Creation
If you're creating an internal newsletter for the first time or improving your internal communication processes, read on to get some awesome tips! Pointers to Keep in Mind While Creating a Company Newsletter:
1. Name Your Newsletter
A good name for your company newsletter helps it to be more personalized and recognizable when your employees open it. Try to create something more recognizable than "The Internal Company Newsletter," or something more general.
2. Establish a Common Voice and Tone
An internal newsletter that sounds cold and too-formal isn't going to get read by anyone, as it's likely to come across dull and boring. Try to give it a shade of excitement and enthusiasm. Your ultimate goal is to have everyone in your team, department or company read your newsletter.
3. Get the Perfect Subject Line
Instead of reusing a similar subject line each time, get people excited to get the latest company newsletter by making them unique. Your subject line is the single most important reason emails are either opened or ignored. FYI 47% of email readers open an email based on the subject line. Information that can be shared in an internal company newsletter.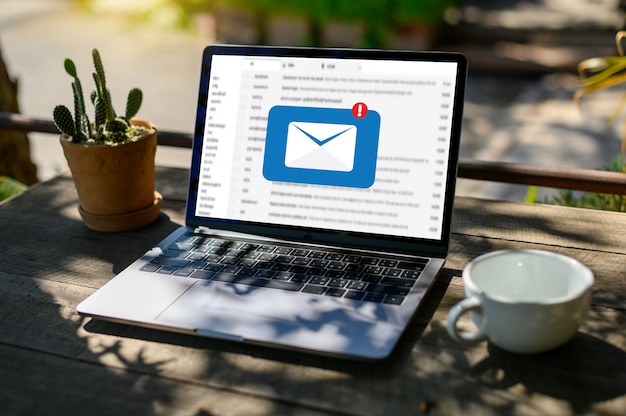 4. Sharing Content Based on Job Roles
Sending a curated internal company newsletter with relevant content related to job descriptions, responsibilities and reporting hierarchy can be very useful for old as well as new employees who have recently joined the organization. It also motivates them to work on their developing skills for better opportunities. Don't forget to mention new hires to the organization! It's important that others recognize new faces and feel comfortable approaching each other.
5. Sharing New Policies, Culture & Ethics of the organization
An internal newsletter for company employees is an effective way to share changes in employee policies, reinforce organizational ethics and cultural behavior. As organizations grow it becomes even more important to find various ways to relay the culture of the organization.
6. Sharing the Latest News, Press, and Trends
A curated company newsletter is a great way to let employees know what's happening with the whole of the organization. It's a great opportunity to share the press and how your company is being reflected in the news. This is an opportunity to share important product releases, new services added and any acquisitions there are been. You can also share where the company stands against the competition and where it stands against monthly, quarterly and yearly goals.
By keeping your colleagues in the loop, it inspires everyone at the company to work together and take pride in a common journey and mission.
Related: 20 Company Newsletter Ideas That Will Make You Stand Out
Advantages of Having a Well-Coordinated Internal Company Newsletter
Here are some additional advantages of having a consistent internal company newsletter sent out to the entire organization:
Ensures that all employees are informed about all the recent changes that are taking place in the organization.
A well-curated company newsletter helps in generating a sense of clarity among the teams with differences.
Consolidates various email threads, helping ensure nothing is missed.
It helps maintain a record of all the significant messages.
It creates a sense of trust and transparency in the organization, on different levels of hierarchy.
Now once you are done understanding these best practices, you're finally ready to start writing some content for your awesome internal company newsletter!
How to Create an Engaging Internal Company Newsletter via elink
In order to create the perfect internal newsletter for your organization, you need the best methods to create and send one. One of the best solutions is – elink.io
elink.io is the easiest and fastest platform to create email newsletters in minutes.
You start off by simply adding links for content you want to share via your newsletter. It may be a job posting page, profiles of new hires on your website, press mentions of your company, online training guides, product launches, cloud files, PDFs and more.
Each weblink added will automatically convert into a visual block with a picture, title, and short description. You can edit any of the information to make sense for your audience. Once your body is done you can add your header, body text, and footer text.
The best part of elink is that you can choose between 30+ different layouts and with a click of a button you can update the way your email content grid looks. All of the layouts have been tested with 90+ email clients and are fully responsive to look great on all devices! Once you're done customizing your email newsletter you can export it to Gmail, Outlook, Zoho mail, etc. and have it sent out to your colleagues.
Related: 15 Responsive Templates For Gmail Newsletters
Here's a step by step guide that shows how you can use elink.io to create a beautiful internal company newsletter quickly:
Step 1 – Choose a Newsletter Template
You can choose either a pre-made template or you can build a company newsletter from scratch. Either way, it's extremely simple to create a newsletter in minutes!
Step 2 – Adding Your Content
Once you have elink's editor opened you'll want to start copying and pasting links of all the important content you want to share from articles, websites, videos, cloud files, etc. elink will automatically generate an image, title and descriptive text related to the links you added.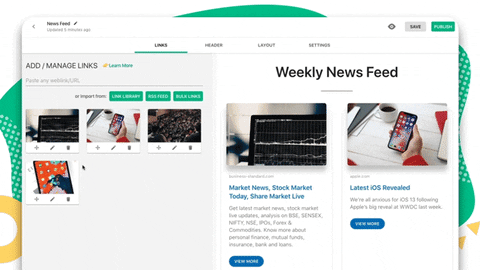 You can update those titles and descriptions to make them relevant to your audience. You can even change the image for the link by uploading a new one, scale to fit, zooming in or zooming out, etc.
Bonus Tip: elink.io's Chrome Extension is another way to quickly add links to your newsletter. This feature is extremely useful to save important content online across the internet and start creating your newsletter by bookmarking them in your day-to-day life!
Step 3 – Select and Add a Header
The first impression that employees will have is the visual presentation of the company newsletter. keep in mind that you make your header catchy and appealing. On this step, you can add your header image, body text, and footer text. Your goal is to get them excited and provide them with information that makes them want to read the newsletter and engage with it.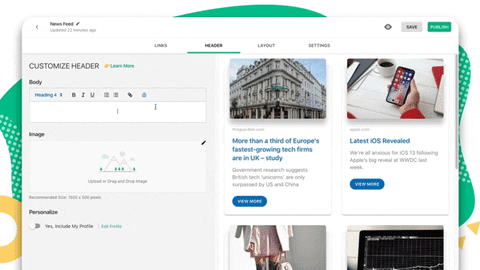 Step 4 – Choose from Over 30+ Layouts
One great part about elink is that you can choose from a pool over 30+ beautiful layouts to make your email newsletter pop. You can come back anytime and update your layout and content, even after it's been published!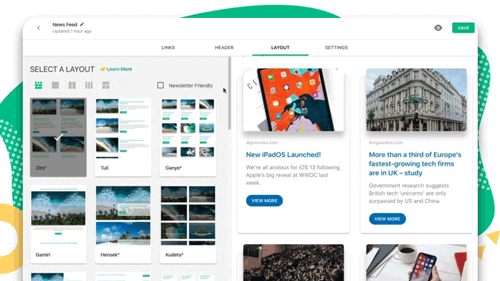 Step 5 – Designing and Customization
Here comes the fun part! Now that your email newsletter is almost done you can quickly customize colors and fonts to make it stand out and match your company branding.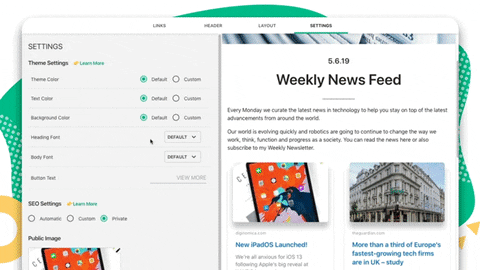 elink allows you to:
Change the primary color of your template
Custom your heading font type and color
Choose your body font type and color
Customize your call-to-action button text on templates
Step 6 – Make it Private
elink's email newsletters can be SEO friendly or private. In this case, because we are creating an internal company newsletter we're going to make it private.
Step 7- Publish & Export!
Now, the final step is to hit publish. You'll see the various ways you can share your elink. You'll want to choose the email newsletter option. You can export it via Gmail, Outlook, Zoho and nearly any 3rd party email provider that allows HTML emails.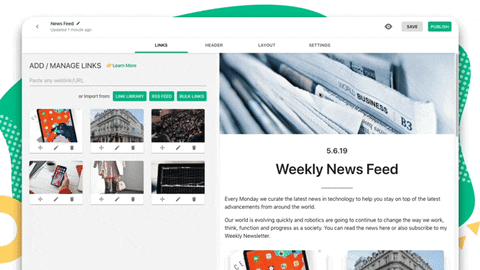 Once it's been exported. Share it with your colleagues!
Conclusion
Internal company newsletter can be an effective way to get everyone on board, create synergy and avoid confusion. After all, it's your business that benefits from overall goal alignment among the members.
Try and keep the tone of your newsletter less formal and content to the point for your readers to easily understand.
Let your internal company newsletter be the tool that brings your staff members together and makes them more productive.
Further reads:
Don't want to forget this information?
Pin it for future reference!