Find out why company email newsletters are an essential part of your marketing strategy, and explore top company newsletter ideas that will help you create engaging newsletters.
Most businesses these days are skeptical when it comes to company newsletters. With new mediums taking over the digital spectrum, email marketing seems like a thing of the past. Why stick to a dying trend when you can reach out to customers through other cool platforms? Moreover, organizations only think of newsletters as a means of boasting about their company achievements under the guise of providing valuable information to their subscribers.
As a result, the content companies usually create for newsletters is just endless drivel about their enterprise that provides no real value to the readers. Think of it from a reader's perspective.
In the current times, why would you want to subscribe to a newsletter that doesn't engage you? Especially when you can find endless content to consume online?
This is the key reason why newsletter culture seems to be taking a backseat. We think that newsletters largely go ignored, which is why they aren't really relevant in today's time.
…But
Smart marketers know that it's not the newsletters that are outdated, it's the content. In fact, it has been proven that emails generate 48$ for every 1$ that you invest in email marketing, which translates into a staggering 4700% ROI. The problem is that businesses create newsletters that comprise of half-hearted content. And where does this half-hearted content go? Straight to their subscriber's spam folder.
So let's delve deeper into why newsletters are essential and explore ideas that can help you roll out fresh newsletters that will instantly appeal to your audience.
Why Create Company Newsletters?
As discussed above, when it comes to newsletters, people only concentrate on one side of a multi-faceted medium. Companies are usually lost when it comes to content that they can add in their newsletter. As a result, what they end up building is a disorganized and dreary newsletter that appeals to no one.
If you want to build A-class newsletters, you have to think of it passionately. Your company newsletters shouldn't be unenthusiastic words strung together, just for the sake of reminding customers that your business exists. They should consist of your brand image. Every page should be a shout out to who you are as a company.
If you spend enough time trying to create newsletters that add some value to your subscribers or help them in any way, then you could extract maximum benefit from your company newsletters. Let's see how:

1. Personalization
If you nail the art of newsletter creation, then you're reaching out to your consumer directly. It's like the digitalized version of door-to-door sales. Only it's more feasible, and you can really impress your audience through creative content.
2. Still a better medium than the much coveted social media websites
Audience on platforms like Facebook and Twitter are scattered. Most people are just skimming through their timelines looking to pass time. Which is why, you can never really ensure that a desired number of audience is coming across your content, let alone actually investing time in reading it.
But that is not the case with emails.
With emails, you know who your target audience is, you contact them directly and ensure to some degree that your content isn't being completely ignored. In fact, it has been proven that email is 40 times more effective in bringing customers than the powers of Facebook and Twitter combined.
Read more: RSS to Email: Create Automated Email Newsletters Using RSS!
3. Building relationships:
 Every company has a unique personality or culture that no competitors can replicate. It's very important to bring those values to the fore and communicate them with your customers. Believe it or not, this will help you establish good relationships with your clientele.
Now that you're sold on the idea of creating newsletters for your customers, your mind must have already moved on to the next snag in your path to building a successful connection with your audience.
How do you create engaging newsletters, especially when you're time-bound?
Focusing on the first part of this question, what you need at first are some awesome company newsletter ideas that will help keep your viewers hooked to your content. So let's get straight into it!
Top Company Newsletter Ideas That Will Help Engage Viewers
1. Industry news
Sending out the latest happenings in your industry is a prominent way of providing your subscribers with value right in their inbox. It could be very instrumental in keeping your audience hooked to your niche. Moreover, you will become a valuable resource for your subscribers, because you'll be providing them with information that they might have otherwise missed.
2. How-to guides
Your customers are bound to have problems that they need a solution to. It could be one of the reasons why they follow your company newsletter in the first place. In-depth guides rich with information could be invaluable to your users. If you're selling products yourself, you could include guides related to that as well. Out of all the company newsletter ideas, this is one you should definitely capitalize on!
3. Top lists
Top lists are very interesting because everyone wants to know who is on the top or who is doing the best. Compile a list of top products or services that are relevant to your customers. And it would be a cherry on top if you're featuring in on any of these lists!
4. Blog posts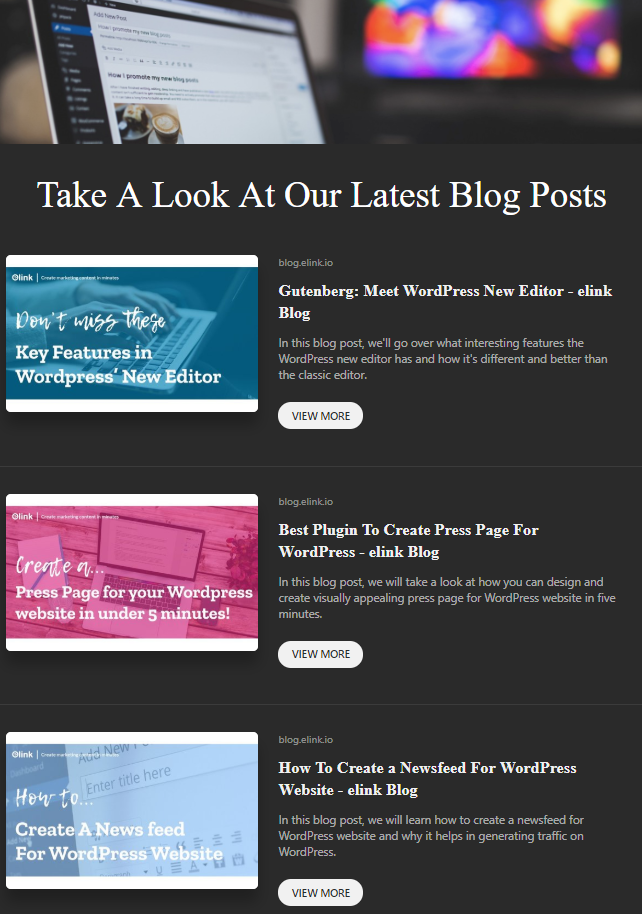 This usually makes for a great company newsletter idea. If you have a website wherein you write regular blog posts, newsletters could be a solid way to attract traffic to them. It's also very effective in getting the audience to land on your blogs because you're going to send out articles to people that are already interested in your company and it's activities. So there's a higher probability of them visiting your blogs.
5. A list of open positions for hire
If your company is hiring and looking for enthusiastic personnel that could join your team, you could send the information out through newsletters.
You could add in details about what exactly you're looking for in your prospective candidate, and it could really help you generate a good response. If you have a niche audience, then you'll automatically be reaching out to people skilled in your company's area of expertise.
Read more: Business Newsletter: Definition, Types, Steps to Create & Examples!
6. Customer stories and reviews
The benefits of this idea are multi-fold and also pretty obvious. When you add in customer stories, it helps in building trust with your audience. You could reach out to customers that have been really satisfied with the work that you've been doing, and create impressionable stories that highlight the success rate or benefits of associating with your company. At the end of the day, no matter how many new marketing avenues the digital space opens for us, word-of-mouth will always be the most impactful and honest form of marketing.
7. New product announcements
If you're a company that is alive and functioning, you're bound to introduce new products in the market. Details about the next product you're launching could be effectively communicated through your company newsletter. You could really go all out and give your subscribers ample details about the interesting features that you've added in your new product and also how it could benefit them. You could also talk a little about the products that are still in the pipeline and will be released soon. This way, your customers will start looking forward to your products.
8. Company news
You could use newsletters as a medium to share your wins or any awards that you've managed to secure. If there are any philanthropic projects or campaigns that your company is taking up, or if you're making some donations, highlight those points in your company newsletter and leave a good impression on your subscribers.
9 Frequently asked questions (FAQs)
Every company has a FAQ section, especially if you sell a product. You could post all the FAQs you get in your newsletter, along with the answers. This will be a very convenient way for your customers to have access to the queries they have. A section where your subscribers can give feedback on the answers they've received could also be included to help them further.
10. Promote specials and deals
Use your company newsletter to keep your audience posted about the special offers or deals that you've released in the market. This is a very astute way of generating leads and motivating people to buy more of your products or upgrade.
11. Coming events
If your company is a happening place, you could create a newsletter informing people about the events that you'll be hosting, giving them detailed information about what exactly the event entails and what interesting activities you have in store for them. 
12. Jokes, quotes, and fun images
Memes and GIFs are always trending on social media, so why should you stay from the bandwagon? Including fun memes related to your business or industry could help you establish a cool company persona that will never fail to impress your viewers.
13. Recommended reading
Your audience has subscribed to your newsletter, so there's a big chance that they're avid readers. Even if they're not, it's always good to recommend books that they'll be interested in reading. You could create a curated newsletter containing a list of books that you found helpful or intriguing, adding in your personal commentary about what you liked about the book and how others could benefit from reading it. 
14. Business history
Every business venture is a journey, and we feel that it would be a marvelous idea to share it with your dedicated customers. People love stories. So instead of stuffing your newsletter with monotonous facts about your company's history, you could be creative and build a whole story around it. Highlighting the hardships that your company faced or the ideas that built your business into what it is today is a great way to not only connect with your audience, but also inspire them. 
15. Updates on changes
Companies operate in a dynamic environment, so there are bound to be changes. If your company is undergoing any major changes or big mergers, or maybe you're revamping your entire product, your company newsletter could contain information about all that. This will help in building relationships with your client base, and you could also highlight how those changes will be beneficial for them. 
16. Contests
 People like winning stuff, it's a simple fact. You could formulate cool and engaging contests, and you could offer the winners interesting rewards. You could give away your own company merchandise with it, or if you're a product based company, you could add in discounts or deals for your own products. This will definitely help you generate more leads for your products, and maybe you will be able to attract additional customers.
17. Survey/poll
A business that is always well acquainted with ever-evolving customer needs is the one that thrives. This is one rule of survival when you're functioning in a dynamic environment. Incorporate a short survey or poll that will help you improve your operations in whichever way possible. Your survey could contain questions that can help you determine how much of a digital footprint you have, or how you fare when compared to your competitors or generally how satisfied consumers are with your product.
18. Resource newsletter
Researching is a big part of our daily lives, whether we realize it or not. At the end of the day, we all want to make informed decisions. Think of topics that are relevant to your audience and provide them with information on the same, so that they don't have to look in other places. You'll be acting as a source for material that they would otherwise spend hours sifting through the internet in order to procure. Think of the amount of time you'll be saving them!
19. A thank you Email (letter from the CEO)
At the end of the day, whatever a company is, it's because of their clientele. A company newsletter is a great way to humbly thank your customers, and acknowledge that your organization is grateful that they've chosen to associate with you. And if this thank you is coming straight from the CEO, it could induce your audience to connect with you more. 
20. Where else you are
We live in a world where you're as good as forgotten if you don't exist on social media. Include information about what other platforms your company hangs out on. You could share snippets of the most appreciated or popular posts you have on those platforms and increase your band of followers!
How to create these Company Newsletters?
You now have a large variety of company newsletter ideas in your arsenal, so let's address the second part of our earlier question. How do you create engaging newsletters when you're time-bound? Also, what if you're not very savvy when it comes to writing and content creation?
Don't worry! you don't have to be a seasoned content writer in order to build striking newsletters. Content curation is also an outstanding way to go about it. Instead of writing everything from scratch, you just have to gather links related to your chosen newsletter idea and add them to the company newsletter.
And to do this, all you need to have is elink!
elink is a smart content curation tool that will help you not just create, but design beautiful newsletters in a matter of minutes. Interesting isn't it?
With elink, you just have to add your links, and it will automatically organize your content into beautiful and aesthetically pleasing blocks, depending on the layout you choose. elink offers 30+ layouts that you can choose from. You can customize the background color, font of the header, link images and much more to make it completely personalized.
You can also change the SEO settings of your elink, to make it more search engine friendly.
All the examples of company newsletter ideas that you've seen above have been created via elink. Imagine creating such striking newsletters in under 5 minutes, designing and adding content included!
Also, you don't have to worry about sharing your newsletters through elink, because it is quite simple and convenient. Once you've published your newsletter on elink, you have the option of sending it via MailChimp, Gmail or any other 3rd part email provider, or you could simply copy the HTML code and embed it wherever you want.
When it comes to curated newsletters, we think elink is the future!
Related: Elink's Responsive Company Newsletter Templates
Wrap Up
Now that you have a wide range of company newsletter ideas with you, you can use these to create content that has meaning and depth.
Remember, content is king, and that is the only way your company newsletter will be a hit among your subscribers. If you work hard to provide customers with your best, then your honesty will show and definitely resonate with the audience. We've also suggested a great tool that will make your task exponentially easier, so get started already!
To sum up, here's an infographic on 20 company newsletter ideas we mentioned above:
Further reads:
Don't want to forget this information?