Want to learn how to create the perfect employee newsletters? Need some super cool employee newsletter ideas? Read on to find out how you can create an awesome-looking employee newsletter in minutes with elink!
Managers, team leaders, and executives are all focused on how to increase communication with hardworking employees and keep them well informed about organizational news, events, updates, policy changes, training, and more!
Internal communication helps you share your vision, mission, and values with your employees. It a huge component of any strategy, as it helps you achieve specific goals.
There is so much happening in an organization on a daily, weekly, monthly, and quarterly basis. There are policy changes, new tasks, new projects, important events, the latest news, and so much more!
So how can we all do a better job keeping employees informed and keeping those lines of communication open?
Employee Newsletters are Important!
Communication that occurs inside an organization is called internal communication. This subcategory of communication is extremely critical for organizations of all levels in order to survive and thrive in the marketplace, keep their employees alligned with a north star and ultimately succeed against competitors.
Employee newsletter is one of the best ways for formal internal communication to occur across teams, departments and the entire organization. It's a fantastic medium to get messages across effectively and consistently. It's not good enough that your newsletters go out to your employees, it's important that they are crafted thoughtfully to engage your audience and ensure important information is passed on.
Newsletter content which is engaging, fun and informative can help increase the readership of an employee newsletter. However, you must not lose sight of your communications objectives. By keeping your content relevant, you can make sure your newsletter gets the attention it deserves and accomplishes it's set goals.
Employee newsletters keep employees informed about your business and brand, all while building a trusted relationship. 
What You Can Do With Employee Newsletters?
Internal employee newsletters are must-have tools for keeping teams informed company-wide. This is especially true for larger organizations where teams are distributed across departments, offices, geographic locations and time zones. It's important that email newsletters effectively communicate what's happening around the business.
With employee newsletters, you can:
1. Share internal news updates: If a newsletter is implemented right with a predictable cadence, it can be an invaluable mouthpiece for internal stakeholders throughout the organization. The resulting content can be a 360-view of what is going on in an organization.
2. Keeping everyone informed on important changes: No one likes feeling out of the loop.
3. Funnel content to internal pipelines: Make sure everyone knows what PR is up to. You want to share your successes, and get everyone in sync on your company's top messages.
4. Putting an end to multiple, endless email threads: Instead of news being sent out piecemeal through multiple email threads, you can just send one awesome daily, weekly or monthly email.
5. It is a great way to discuss goals: The company goals and visions should be clear to everyone. Instead of just talking about them with every team in your company, use internal newsletters to communicate and reinforce them through different communication mediums.
Read more: The Best Newsletter Creator – Elink!
List of Creative Employee Newsletter Ideas:
The first rule of employee newsletters is that they should be informative and relevant to your employees. While many companies produce and send newsletters, it's not always easy to come up with content ideas for them. To help you create fun and engaging newsletters, we've compiled a list of 20 creative employee newsletter ideas that you can use to inspire fresh engaging content.
1. Job openings for new employees
Including job openings in your employee newsletter is a strategic way of motivating your employees to give their best. If you add in the promotional opportunities available within your company, it helps inform your employees that there is potential for growth in their workspace.
If you are a global company with offices in different parts of the world, you could include job opportunities available in other countries as well. Employees may be motivated to take their talents to various offices as you grow!
Read more: RSS to Email: Create Automated Email Newsletters Using RSS!
2. Recommendations
Sending regular recommendations of important news articles, business books, videos, podcasts, etc. can help your employees continue to enhance their professional skills. Sending recommendations around various topics and trends via daily or weekly newsletters is an awesome way to engage your employees.
You can encourage your employees to participate by sharing their favorite books, videos, podcasts, applications, tools, articles, and more. Email newsletters are a great way to connect employees with common interests and goals to increase their knowledge. This type of information sharing can aid in the overall performance and growth of individuals, teams, and ultimately the organization.
3. Events for employees
Events are one of the most common employee newsletters that are sent out. Information on events like seminars, business meets, employee outings, training sessions, and business programs can be all be shared using internal newsletters.
Announce company-wide events or events the company is sponsoring to maximize promotion and attendance. Company events can help employees learn, create connections with their colleagues, encourage teamwork, and more.
Make sure to mention the event dates, timings, venue of the meet, and any other specific requirements in your event newsletter.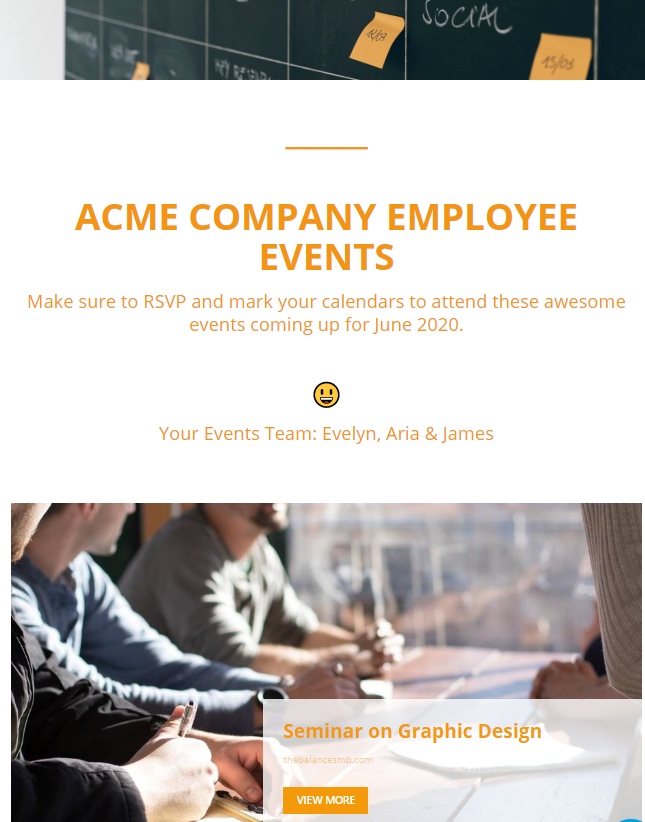 Read more: Business Newsletter: Definition, Types, Steps to Create & Examples!
4. Milestones
If your company wins an industry award, gets placed on the Inc. 500, or any great milestone, let everyone know what the award is all about, why it's important, and how it'll help raise the company's goodwill and visibility with customers.
Sharing awards and milestones give a sense of achievement to the employees that their hard work is being recognized throughout the world. This helps in boosting employee morale and helps increase productivity.
Mention award details, date, and the platforms where it was published in.
5. Employee surveys
As with customers, there are numerous beneficial reasons to survey your employees. Many companies conduct employee surveys as a way to improve their business and make better decisions. There is a direct correlation between business success and employee satisfaction.
Surveys help increase employee satisfaction, create a positive working environment, examine the workplace climate, gather business ideas, and make better policies and rules.
Surveys give employees a chance to offer their feedback and sentiment on their teams, organizational changes, or policy updates. With employee newsletters, you can email surveys and get valuable feedback to make focused decisions.
6. Feedback
Like surveys, feedback also helps in improving business by acquiring valuable insights from employees about policies, work culture, corporate decisions, etc. Sending feedback forms via newsletters is a faster way to obtain quick feedback from employees. Feedback helps you make better decisions, helps employees do their best work, and it makes you a better leader. Ready to give it a try? Make professional feedback forms on elink and share via employee newsletters.
Read more: 15 Must-Have Business Marketing Tools in 2021
7. Financial Reports
Financial reports are important pieces of information that represent how well your business is doing quantitatively. These include profits, losses, conversions, net revenue, net sales, new customers, etc.
Sending financial information to all employees can be risky, but if done right, it leads to transparency in the organization. Positive results increase the motivation of the employees and push them forward to do more for the organization.
8. Employees of the Month
Recognize achievement! Give recognition to special employees by highlighting him or her in your newsletter. Keep it short and sweet, but provide enough information to show your staff that their work is being noticed and appreciated. This will lead to healthy competition among employees and make them cross new boundaries for this super cool incentive. Make an employee profile with a nice picture, display their achievements, and send them via newsletters.
9. Inspiration and Motivation
Motivation is the internal and external factor that stimulates desire and energy in people to be continually interested and committed to a job, role or subject, or to make an effort to attain a goal.
Motivational quotes create positive energy among employees. It freshens up their minds and inspires them to achieve their goals and targets.
Quotes are a great way to shake things up and give people something to feel motivated and inspired.
You can share motivational quotes for better teamwork in the form of employee newsletters every day and spread the power of positivity.
10. Policy Changes
In order to keep up with the times, you've decided to restructure some of your company policies. It becomes crucial to share these changes with the entire organization to avoid errors in the workplace. Employee newsletters are the fastest ways to do just that!
Sending an email newsletter notifying employees about external and internal changes, as well as changes to company mandates and policy keeps them informed and brings them up to speed with the changes.
11. HR Circulars
An organization's business and operating climate can change frequently, which can also affect the role of human resources.
HR policies also change with changes to the organization's decisions and policies. HR changes are crucial to help avoid any legal allegations or lawsuits.
These changes need to be noticed immediately by the whole of the staff. HR policies and employee contracts can be shared in the office environment by making clear and concise employee newsletters.
Here is one such example
12. Employee Calendar
The purpose of the calendar is to record:
Annual Leave
Parenting Leave
Unpaid Leave
Working Days
Non-Working Days
Strike Days
Attach notes to particular dates
Important dates
Events
Retreats
Employee calendars are really important as they organize schedules and plan out future endeavors. You can make monthly employee calendars and share them with your employees using newsletters.
This will save you a lot of time and keeps your employees updated on important dates.
Read more: Classroom Newsletter: What, Why, and How to Create it?
13. Frequently Asked Questions (FAQs)
Running a business is hard, but it becomes even more difficult to perfectly explain your business ideologies and products to employees. It is guaranteed that there are gonna be a lot of questions.
Help them understand your company, product features, service upgrades and more with an FAQ newsletter. It's a great way to help your employees who may be wondering about a feature, but just haven't taken the time to ask you.
Here is a sample FAQ newsletter made in elink.
14. Top 10 Lists
Top 10 lists are popular because they're easy to read. No one can resist a good listicle. Make a list of the top ten best places for ordering food in the area or the top ten best movies or books setups—the list can be of anything, so get innovative. If ten items are too long, try three or five-item lists. Both organizations and the employees can make their favorite listicles of any top 10 things and send them to everyone via newsletters.
15. Letter from Management
Receiving direct messages from CEOs, executives and managers to employees is extremely important. Apart from helping humanize the brand, it helps employees feel that their work is being appreciated and there is a line of communication from the top.
Sending regular newsletters that contain messages from management will help strengthen the bond your employees have to your brand. Messages can include thank you messages, goals for the coming years or snippets of upcoming products and vision for the future and can be sent through employee newsletters.
16. Company Retreats
Your organization and its employees are giving it their all to achieve the organizational goals with utmost dedication and hard work.
It only seems fair to give them a little break and plan a cool and fun company retreats from time to time.
It could be a day affair or the whole weekend, whatever you've planned for the retreat can be expressed and shared with your employees via newsletters.
This will give them prior information about the event so that they can plan their schedule accordingly and also receive their feedback about the retreats.
17. Holiday Greetings
It's the Holiday Season and you want to give the greetings to your employees on this auspicious occasion.
Make a cheerful newsletter on holiday greetings and spread the joy of holidays to your employees.
And guess what! elink is the best tool to create beautiful holiday newsletters…
18. Training Resources for Employees
Internal newsletters are a great way to train, onboard new employees, and get them up to speed with your organization and their jobs. It's a scalable way to create standardizations when onboarding and helping new and existing employees learn about their jobs and changes in the company.
Share various links to training resources and link them in your newsletter on elink.
Here is an example of a training resource newsletter
19. Company Blog
You can internally promote your company blogs within the organization in the form of employee newsletters. The employee can give their insights about the blogs and suggest changes if needed.
They can also promote the blog on various platforms like Linkedin, Facebook, Quora, Instagram, etc.
Make an elink newsletter linking all your blog posts in a single place and share it with your employees.
Read more: How to Create an Internal Company Newsletter?
20. Birthdays and Work Anniversaries
Celebrating work anniversaries, birthdays, or other personal events is a great way to encourage employees to get to know each other.
Not everyone can remember everyone's important dates, so a compiled newsletter listing monthly anniversaries and birthdays helps to maintain a record, as well as bring out a personal touch in the organization.
Employees feel appreciated if their important events are celebrated and brings a nice positive change in the working environment.
And that's it!
How to Create a Perfect Employee Newsletter?
In order to create the perfect internal newsletter, you need two things:
1. Time to create an awesome looking newsletter that your employees will enjoy reading.
2. A medium to create and send out that awesome newsletter.
If you have none of the above, don't panic. We have the perfect solution for you.
We know that sharing and curating relevant content in a newsletter, and making it visually appealing at the same time, can take up quite a lot of your precious time. This is where elink.io comes in.
elink.io is content curation and content management tool that helps anyone send out visually appealing and responsive newsletters in a matter of minutes!
elink.io works by letting users choose a newsletter template and simply add weblinks of various types of web content (articles, websites, blog posts, YouTube videos, cloud files, etc.) they want to share!
elink automatically converts those web links into visual tiles with a picture, title, and a short description that you can edit. You can add a header, some intro text, your company logo and/or tagline and hit submit. It's that easy!
The best part? You can switch between elink' 30+ different and beautiful templates anytime you want and preview and test each one to see which one fits your design needs. All the templates are responsive and look perfect on all devices.
Employee Newsletters are a great way to establish a genuine relationship with your employees. If you want your employees to read your newsletters, we highly recommend creating fast, interesting email newsletters using elink.
Now save and organise links with smart search to create beautiful Newsletter & webpages!
Here is an infographic on the 20 employee newsletter ideas for you to save and refer to as and when needed:
With these 20 employee newsletter ideas, we are confident you won't run out of awesome employee communication ideas!
So start reaching out to your employees using email newsletters today!
Before you go, let us know which of these employee newsletter ideas is your favorite by tweeting us @elink_io
Further reads: 
Don't want to forget this information?
elink it for future reference!