Did you know? Only about 63% of elementary school teachers believe that communicating academic progress with parents is a part of their job (source). These numbers aren't the best, and that shouldn't be the reality!
Why? Well, researchers (source) have found that optimal communication between parents and teachers can have a significant impact on the child's emotional, intellectual, and physical needs.
When a child's development comes at stake, the importance of parent-teacher communication becomes altogether more important.
What can you do as a teacher to improve communication from your end? You can use a variety of methods like parent-teacher conferences, phone calls, social media, etc. but that can be a bit cumbersome for you.
The one-stop solution then becomes… CLASSROOM NEWSLETTERS!
Without any further ado, let's dive into the A-Z Guide on Classroom Newsletters!
What are Classroom Newsletters?
First up, a classroom newsletter is an organized way to inform all parents and students of a particular classroom about the events, news, discussions, etc.
It is one of the most efficient ways of connecting with the parents of your students and keeping them informed about the day-to-day classroom activities.
There are no set guidelines for what should be included in a classroom newsletter, but here are some fair ideas that you can include in yours, depending on the kind of information that you want to give out to the parents –
Announcement of forthcoming events
Invitations to class events or open-house meetings
Reminders
Lists of things that parents should collect or save for class projects
Thank you notes for the families who are helping out
Descriptions of study units and suggestions for ways to complement units at home
Library Schedule
Reprints of papers that you think are interesting and should be read
Explanations of rating policies, standardized assessments, and other ways of measuring and reviewing student performance
Explanations of expectations of conduct and effects of misbehavior
Highlights of community resources such as museum displays, plays, concerts, or television shows
Children's writing and works of art
News about classroom pets, outings, celebrations
Although, we've already talked about how important it is for you to communicate with parents to ensure the well-being of your students, let's still take a look at all the reasons why you should invest your time into making classroom newsletters…
Why are Classroom Newsletters Important?
1. Home to School Connection
One of the most primary reasons why you should make classroom newsletters is to develop a connection between home and school. There needs to be a consistency in values being taught at school, and the values being enforced at home for a positive change to come about in students.
Parents don't need to be in the classroom to support their kids, but they need to understand what you anticipate from their children. Connecting with them through positive interaction allows them to reinforce the correct learning behaviors and actions of the classroom that will help students excel.

2. Parent Involvement
Classroom newsletters are also an important way of ensuring parent involvement in their children's education. Let's take a look at all the reasons why parent involvement is beneficial for both parents and students…
Benefits to Students
Higher grades and test results, placement in advanced programs.
Class promotions, you earn more credits
Better attendance at school and completion rates for homework
Improved social skills and behavior help students to properly acclimate to school environments.
Increased self-esteem
Benefits to Parents
Interact more with their children, making them more receptive to their emotional and intellectual needs.
Have more faith in their parenting skills
Have a clearer understanding of the role of the teacher and the curriculum
Are more likely to respond to requests for support from teachers at home as they hear what their children are learning.
Have higher opinions and feel more dedicated to their children's schools
Become more interested in decision making at school and in the neighborhood.
…and much more!
By now you must be thinking about the various ways in which you can probably make the most out of the idea of classroom letters!
With that, we're hoping that we have you on board with the idea of making classroom newsletters! With so many benefits, it would be foolish to not invest one's time in creating a visually-stunning newsletter!
Now that you know the nitty-gritty of classroom newsletters, let's get to what you came for. The tool that will help you create classroom newsletters in minutes is…*drumroll*…elink.io!
Everything You Need To Know About elink.io
You have a lot to compete within your subscribers' inboxes. That's why using a powerful newsletter creator like elink.io is critical to designing an email newsletter that people want to click through!
elink.io is a content curation platform that you need to have in your tool kit regardless of your industry. It is easy on the budget, simple to use, and comes with all the features you need to create and share beautiful newsletters, webpages, and more.
Simply put, elink is the fastest, coolest, and most efficient way to create and share newsletters on any topic in a visually appealing, smooth way. Just add links to the content you need to share, and elink will create a stunning newsletter for you in minutes.
The platform offers over 50 pre-built templates, so you don't need to think about the design aspect, and you can focus on growing your company. Moreover, you can add your own images, text, bullet lists, numbered lists, buttons, social icons, and dividers in your header and footer body. What could be better than that?
The best part? Unlike most other newsletter creators, elink.io lets you collaborate with your team in real-time. So you and your team can work together on bundling, creating, and sharing content. You can even add a search bar in the newsletter and make it easy for your readers to find what they are looking for.
There's more! elink has a robust RSS reader that lets you add RSS feeds of the publications you love. You can bundle links directly from the RSS Reader and create a stunning newsletter in seconds.
And, the most amazing feature of elink is – content automation! Using elink's nifty automation tool, you can automate content creation for your newsletters, websites, and more. All you have to do is pick sources and add filters in order to make your content more effective and relevant.
Okay, so now that we have convinced you to try elink (hooray!), let's understand how you can create a stunning classroom newsletter with elink.
Are you excited to use elink? Give yourself a big start by creating your very own elink account. Just follow these simples steps…
How to Create Classroom Newsletters using elink? (Steps)
Step 1: Choose a Newsletter Template
The coolest thing about elink is that you don't have to worry about all the tricky design rules. With elink's stunning newsletter templates, you're already way ahead when it comes to designing.
Now, here's what you need to do: choose a template and customize it the way you want. We've quite a splendid collection to choose from, so take your time to find the one that fits your needs the best.
By the way, you can also create a newsletter from scratch. It's totally up to you.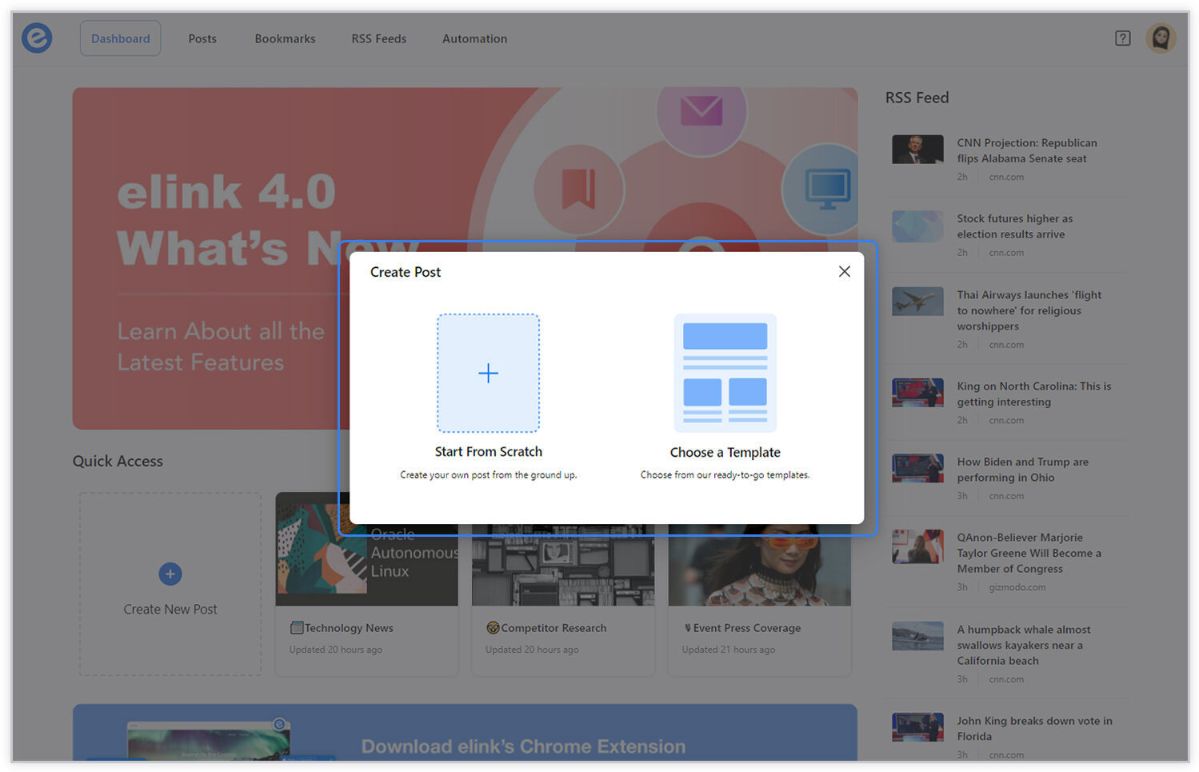 Step 2: Add Links to the Newsletter
Here comes the fun part. You can add links to the content (articles, videos, products, etc.) that you want to show up in your classroom newsletter.
elink is so robust that it will automatically generate an image, a title, and a short description with each link. Of course, you can modify and customize any of this information if you want.
elink is also an RSS reader and a bookmark manager so you can quickly select your preselected links directly from the link library or the RSS feeds or enter them manually.
Step 3: Add Header
We know that a compelling email header design decides whether the reader would read your entire newsletter or bail on it. That's why we've given you the option of designing your header body the way you want.
You can add images, text, bullet lists, numbered lists, buttons, social icons, and dividers in your header body. elink even lets you choose from over 6 font sizes for your header body.
What's more? You can also use elink's Canva integration and design an eye-catching banner directly in elink.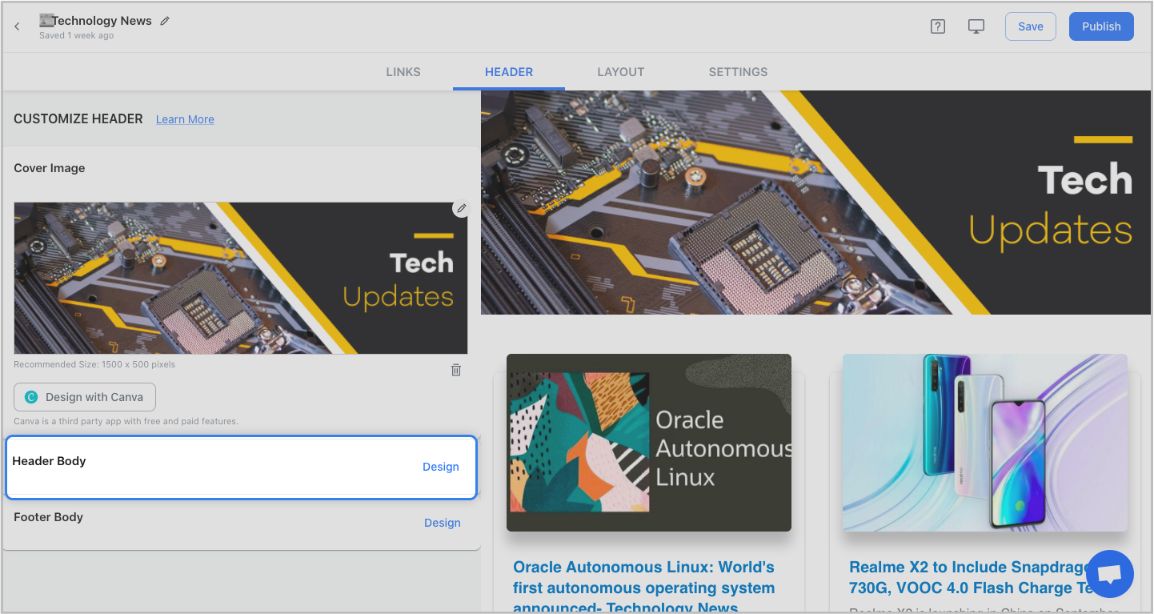 Step 4: Add Footer
An email footer is a place where the recipients would look for details about your brand. It is a place for transparency, clarity, and good design – exactly what elink provides.
You can add images, text, bullet lists, numbered lists, buttons, social icons, and dividers in your footer. Moreover, you can link the social icons with your own social media accounts in seconds.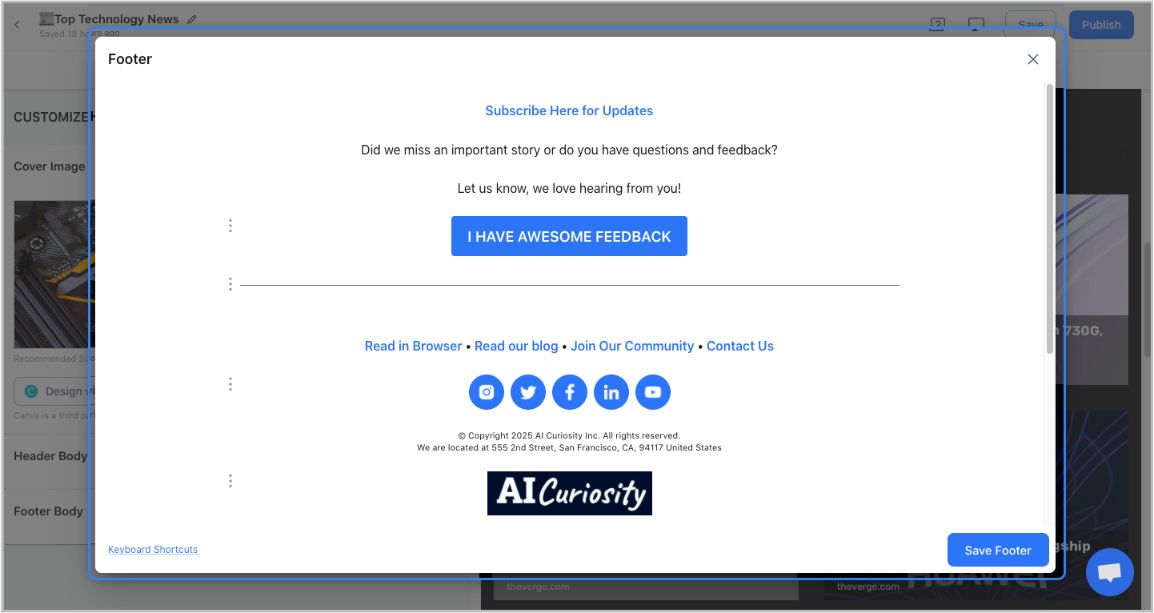 Step 5: Choose a Layout for your links:
Just jump right in and don't worry about wasting valuable time designing the layout of your classroom newsletter. elink has already done all the heavy lifting for you. You can choose your favorite layout from all the different options with a simple click of a button and elink will change the formatting of those tiles to your chosen style.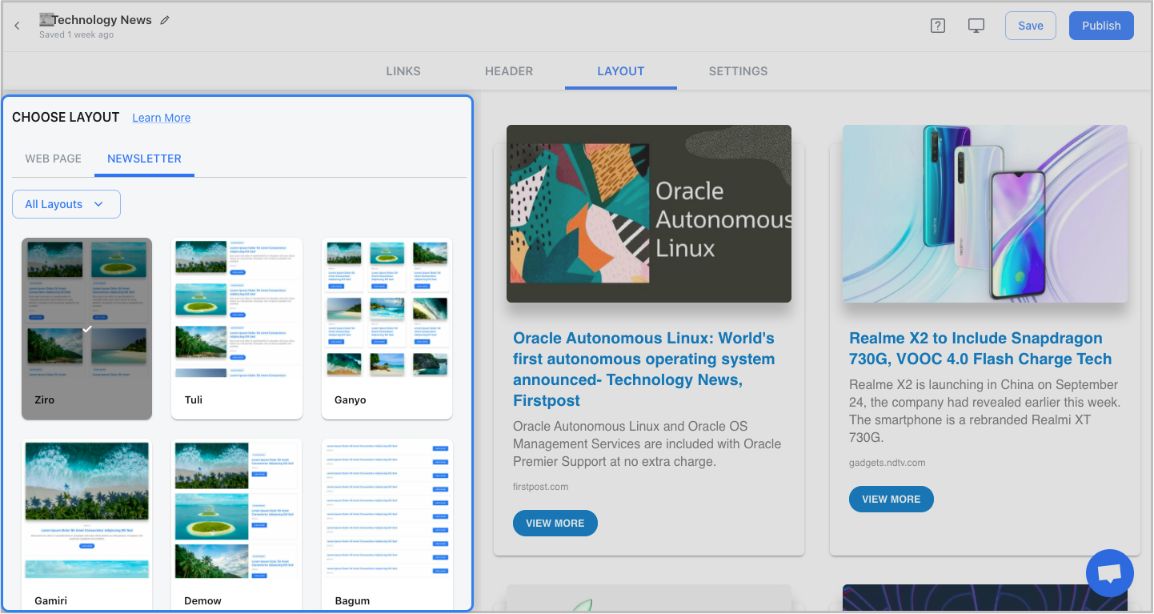 Step 6: Design and Customize
You'll get a perfect combination of colors in our templates. But, if you want to change the colors, you can do that too. Apart from that, you can also customize the font styles, button text, and more – in just a few clicks.
One of the most robust features of elink is that you can even add a search bar if you are adding a bunch of links such as resources etc.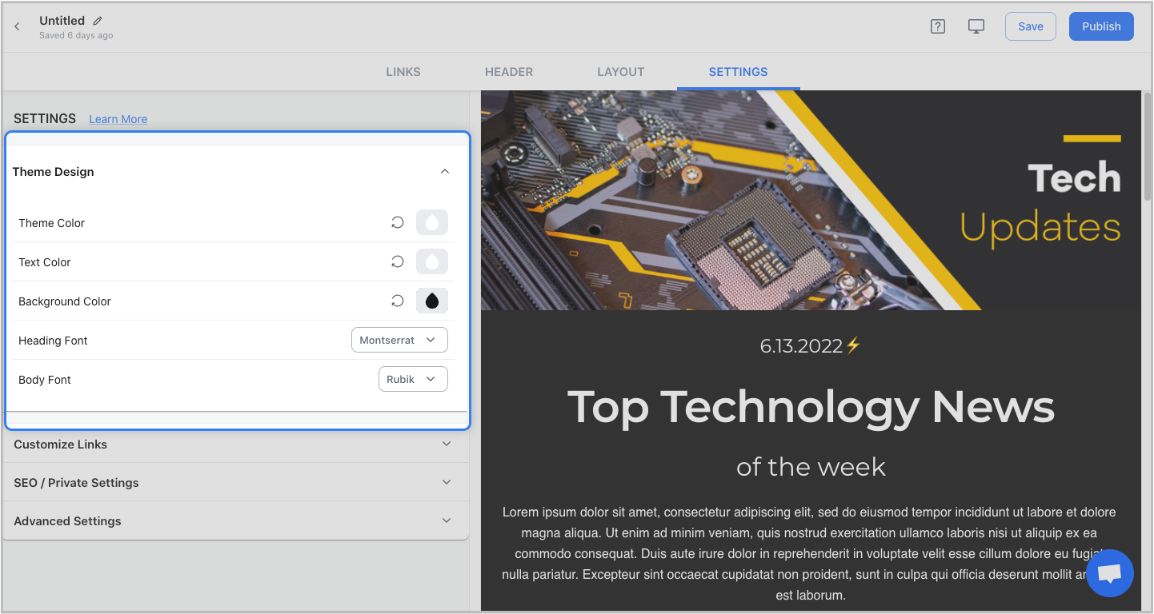 Step 7: Share Your Newsletter
Yay! You've now created a stunning classroom newsletter that is ready to be shared with the world. Now, hit the 'Publish' button on the far right corner of the screen, and a pop-up will appear, allowing you to customize your content URL.
Once you have customized the URL, another popup will appear where you need to select the 'newsletter' option. From there, you can share your masterpiece via Gmail, Mailchimp, or any other third-party email marketing tools like Get Response, Mailchimp, etc.!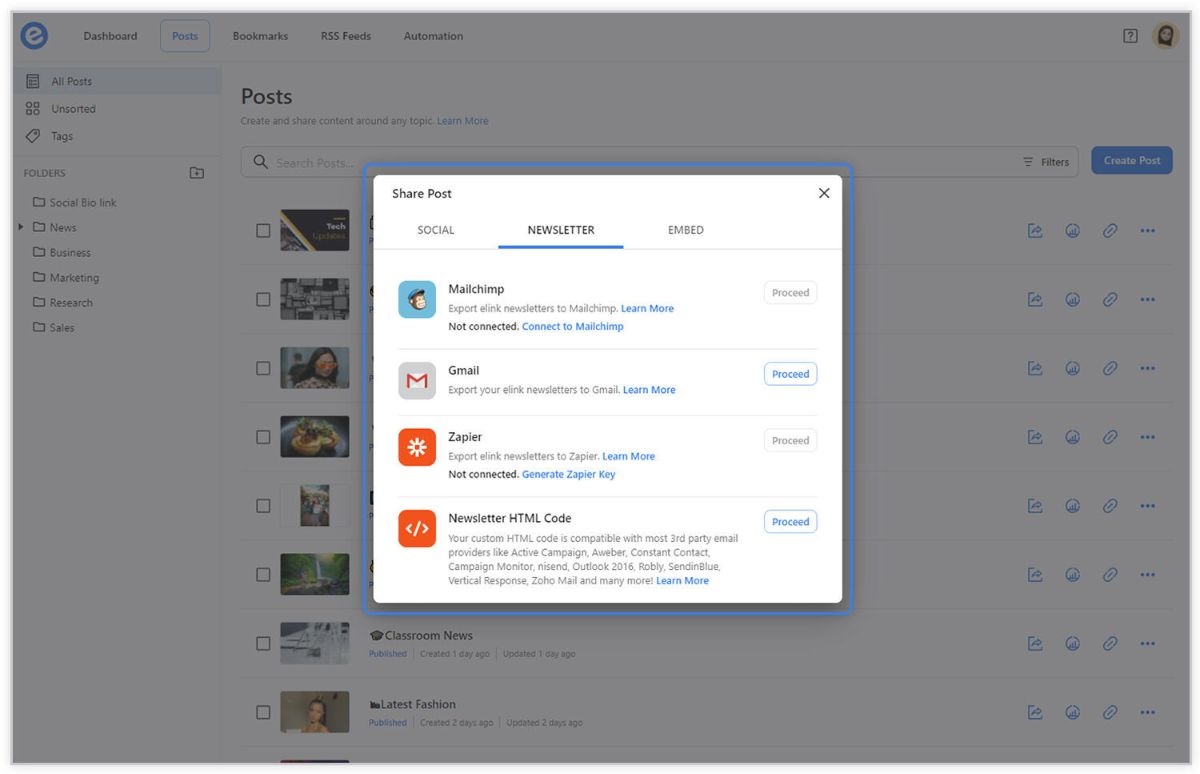 Now here is the thing: there isn't any specific sauce that you can add to the recipe of awesome newsletters. Nothing is ever truly guaranteed. But, there are a few tips and tricks that you can learn and implement. In fact, just pick them up and run with them right away.
Check out our Templates here!
Examples & Free-to-Use Classroom Newsletter Templates
We know that being a teacher isn't an easy job. With so many tasks to handle, from managing student progress to making and checking classroom assignments, it isn't a cakewalk.
When you already have so much on your plate, creating newsletters from scratch seems like a laborious task, but don't worry!
We've got you covered with some fun and interesting examples and free-to-use templates that are just some simple edits away from being sent out!
Let's take a look at some of these examples…
https://about.elink.io/curation-example/student-birthdays
https://about.elink.io/curation-example/curated-student-project-template
https://about.elink.io/curation-example/curated-student-syllabus-pages
https://about.elink.io/curation-example/curated-project-resources-page
https://about.elink.io/curation-example/curated-classroom-news
https://about.elink.io/curation-example/curated-book-recommendations
Final Words
Be sure to not make the newsletter extremely lengthy and send it at a regular frequency so that the parents start expecting the newsletter at a particular time! If you take your newsletters seriously, the parents are bound to do so too!
There you have it! The complete guide to creating a beautiful classroom newsletter that is sure to get the parents involved in your classroom affairs!
Did we miss out on something in our A-Z Guide on Classroom Newsletters? Let us know by tweeting to us @elink_io! We'd be happy to hear from you! 😃
Further reads:
School Newsletter: What is it & How to Create it? (Free Templates Included)
7 Awesome School Newsletter Templates!
10 Educational Newsletters You Should Sign Up For!
Newsletter For Parents: How to Create & Send them?
What are Editable Newsletter Templates & Where to Find Them?