Great businesses are about good choices.
When it comes to business communication, one of the best ways to communicate with your target audience is via email newsletters!
Want to know why? Let's take a look at some of these statistics (source)…
About 3.9 billion people use email daily.
About 73% of millennials prefer that business communications occur via email.
35% of marketers send their audience 3-5 emails per week.
Almost 78% of marketers have seen a growth in email engagement in the last 12 months.
80% of business professionals think that email marketing increases customer retention.
59% of customers have said that marketing emails have influenced their purchase decisions.
31% of marketers have said that email newsletters are the best way to nurture leads.
Business newsletters are one of the most efficient ways of reaching your audience.
'Why', you may ask? That's because social media and social media posts are generally controlled by algorithms that end up determining whether or not your followers on social media will see your post.
Business newsletters offer you a sure-shot way of reaching your audience. What's more? They are also extremely ROI positive and generate far more returns than what you invested in sending those business newsletters in the first place.
When email business newsletters have so much to offer, it would be foolish not to tap into this opportunity for your business's expansion.
Before we look at all the curated business newsletter templates, let's brush over the basics of what business newsletters are and why we need templates!
Let's read ahead!
What is a Business Newsletter?
A business newsletter is an email newsletter that is sent to people for external and internal use. It generally comprises engaging content, announcements, and promotions.
The purpose of writing business newsletters is to keep your target audience informed about the latest developments in your company, provide them with engaging content that they might find interesting, and stay on customers' minds.
External newsletters are sent out to customers and website visitors to keep them engaged with your products or services. Business newsletters can be a really exciting way of sending coupons and discounts, the latest content, upcoming products, updates, reading lists, and so much more with their customers!
Internal newsletters are used for maintaining internal communication within the company and organization and building a sense of community. It can contain updates about the company, new announcements, latest articles or press mentions, news about milestones and achievement, policies, trends and so much more!
Is it feasible to make business newsletters from scratch?
No matter the size of your business, creating a newsletter from scratch can be a significant investment, from hiring a design team to ensuring that the programming of the newsletter is done just right, it's a heck load of work.
Especially when you have ready-made templates available for creating a newsletter, it doesn't make sense to start the process right from scratch.
That's where business newsletter templates come into the picture!
Want to know more about why business newsletter templates are a great option?
Let's scroll ahead!
Why are Templates the Best Way to Create Business Newsletters?
Apart from the fact that using business newsletter templates would save you a lot of resources and investment, here are all the other reasons why you should use them…
1. Increased Flexibility
When you use business newsletter templates, you end up getting more flexibility. In this case, increased flexibility means that these templates are easy to update and there is consistency in the design of the newsletter.
2. Easy to Use
Business newsletter templates give you a library of options to choose from. They offer a diverse range of templates that have preconfigured interactions, saving you from the trouble of programming or configuring anything.
Templates can be extremely empowering because they give you so many choices and independence!
Read more: Marketing Strategies to Take Your Business to the Next Level
3. Reduced rework!
Once you've hit 'publish', your newsletter is out for the world to see but that also means that you need to create the newsletter and all of its design elements right from scratch.
Using business newsletter templates means that you don't have to spend all your time building or creating newsletters from scratch every time. You can use the pre-existing templates again and again depending on the topic or occasion!
4. Reduced Development Time
Business newsletter templates give you the liberty to make a newsletter in a very small span of time. If you were to make a newsletter traditionally, it would take up a lot of time.
In that regard, templates can be your life-saver whenever you need to send out a newsletter quickly or update the content on an already published business newsletter.
5. Lets You Focus on Content
The most important reason why you should opt for using business newsletter templates is the fact that you can focus on creating content instead of thinking of the design, positioning, programming, and coding of the business letter!
6. Reduced Scope of Error
Using a pre-programmed business newsletter template reduces the margin of error by A LOT. All the templates created by various platforms are subjected to several tests on different conditions to reduce the possibility of them having programming bugs.
Without any further ado, let's dive into the complete list of the best business newsletter templates curated just for you!
List of Curated Business Newsletter Templates
Want to know about the secret tool that helped us create these awesome business newsletter templates?
Using elink, you can build and design beautiful newsletters for any email service provider in a couple of minutes. Elink is one of the quickest ways to create a curated email newsletter by just bundling web links.
Here is the complete list of the best business newsletter templates that are out there in 2021, created using elink.io…

Company Newsletters are an amazing way for you to maintain an ongoing relationship with your customers and clients, and to stay on top of their minds. It can include periodic updates, news, promotions, and events happening in your company!
Read more: 20 Creative Employee Newsletter Ideas!

Team newsletters are a great way for you to share valuable information with your workmates and peers to keep everyone on the same page. It can be used to provide your team with important updates, nurture team relationships, and support the onboarding of new team members.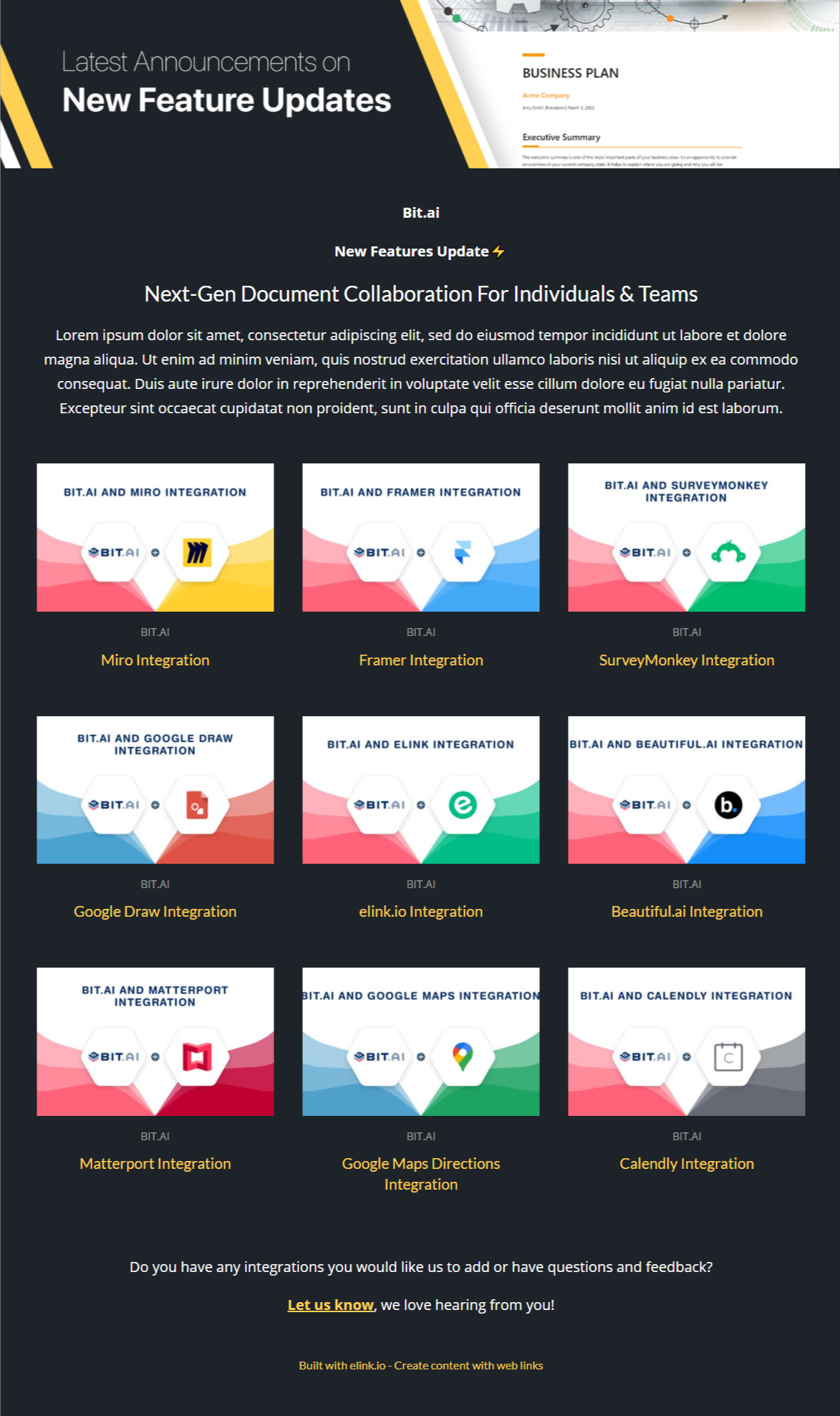 You can easily send out product updates and new feature emails, which essentially act as an announcement that catches your audience's attention. You can curate all the new features of an app or product in a single place and share it with your fans! This newsletter acts as an exclusive look at introducing an updated product or feature.
Using the clients' page newsletter, you can showcase all the clients that you work with or have worked with in the past in one place. Not only does this solidify you as a solid brand amongst your customers and client, but it also acts as a great way to attract new partnerships and business.
Training your employees, new or old, is a must! Employees need continuous training to be in touch with the latest skill sets and knowledge of cutting-edge tools to perfect their skillset and keep evolving. If you have a lot of training videos to share with your team, then this template is perfect for you!
Keeping up with the competition is extremely important for a business to survive in the business environment. You must share strategic information about a competitor's product offerings, new product development, and benchmarking reports, to ensure that your company does not fall behind.
Employee newsletters can be a great medium to promote communication within the organization. Using this newsletter template, you can communicate across teams, departments, and the entire organization. Employee newsletter can be a fantastic method for you to get messages across, effectively, and consistently.
Coming out with a new eBook? You can promote the content of your eBook using this template!
You can show-off all the social media posts, news articles, and press releases where your company has gotten featured. It enhances the reputation and credibility of your company! Check it out!
How to Create a Business Newsletter Using Elink's Templates? (Steps)
Have you got what you want to create in mind?
Awesome!
Now, let's take a look at all the steps of creating a business newsletter using Elink's extensive template library…
Step 1. Choose a Business Newsletter Template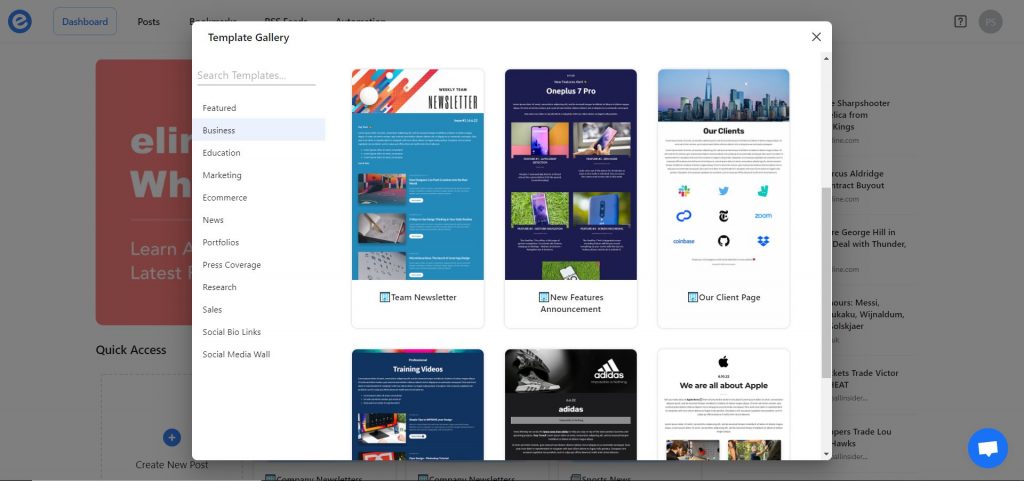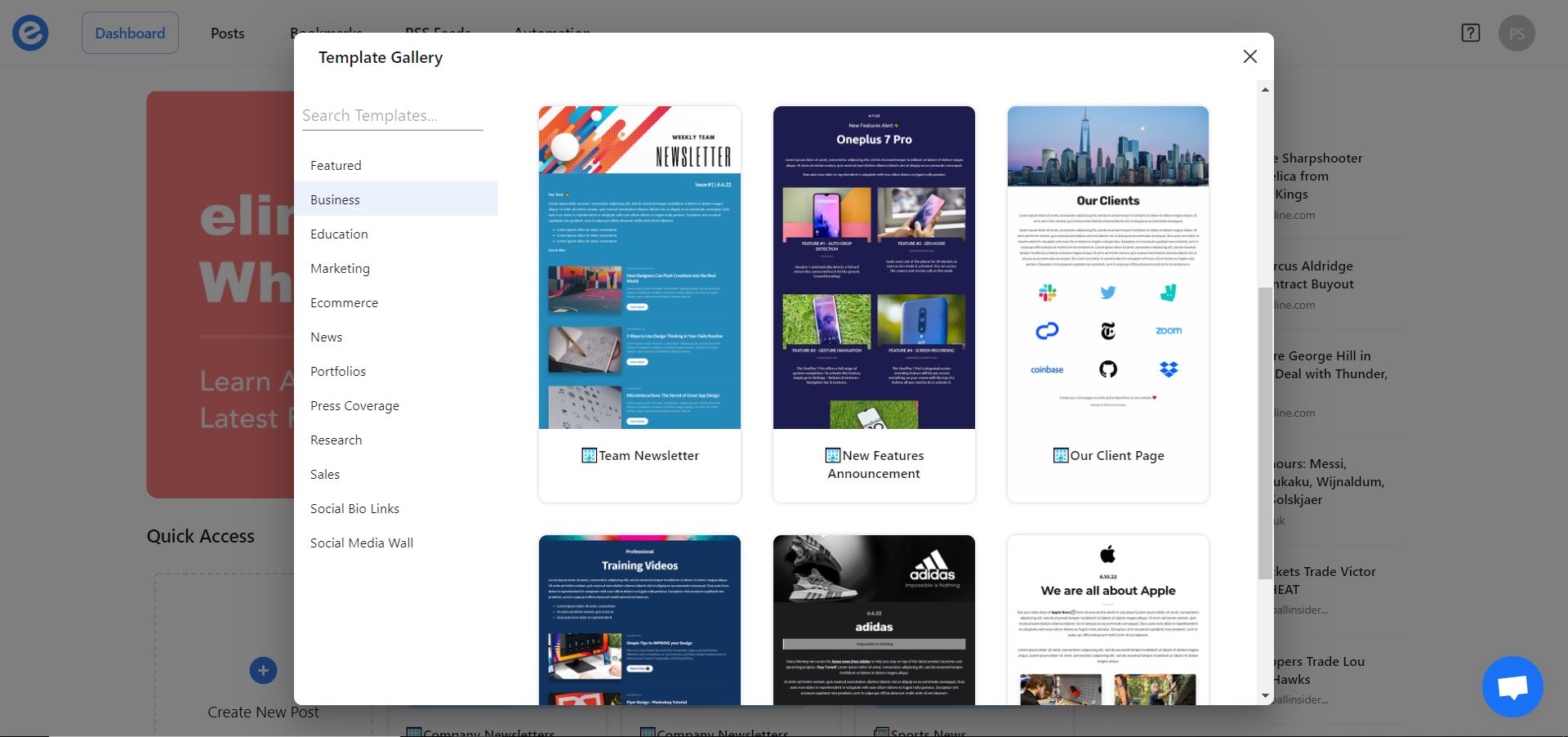 The first step is to pick out a template of your choice from Elink's extensive template library. These templates are fully responsive and beautifully designed. The only task that you need to do is just pick!
Read more: The 10 Best Email Newsletter Services In 2021
Step 2. Add Your Links!
After you've picked out the template of your choice, copy and paste links to the posts, articles, podcasts, videos, or literally any other source that you want to share with your readers. Elink will automatically generate an image, title, and descriptive text for each link.
You can customize the image, title, and description for each link making it more personal.
Step 3. Add a Header
Add a header image, title, and a short description to your newsletter. You can even add your company's logo and tagline to make it more brand-centric.
Step 4. Choose from over 30+ Layouts
You can even choose from over 30+ awesome layouts to suit your design needs and add a personal touch to the look of the newsletter.
Step 5. Design & Customize!
You can further customize the design of the newsletter by changing the theme color, text color, background color, heading font style, body font style, call-to-action-buttons, social image and so much more!
Step 6. Publish and Export!
Once you're satisfied with what you've created, it's time to hit 'publish'! After you've published the newsletter, go to your dashboard, and select the 'newsletter' button. Using that, you can integrate elink with your Gmail account and send out your business newsletters!
Wrapping Up!
There you have it, folks! The easiest and most efficient way to create business newsletters!
Using elink, communicating with your clients and customers becomes seamless and hassle-free! Think about your content, and we're here to do the rest for you!
Don't just take our word for it, give elink a try and find out for yourself! Cheers!
Do you have any doubts on how to use elink's business newsletter templates? Feel free to reach out to us on Twitter at @elink_io. We'd love to hear from you!
Further reads:
5 Stunning Nonprofit Newsletter Templates You Need To Use!
7 Awesome School Newsletter Templates!
6+ Awesome Newsletter Templates for Teachers!
Travel Newsletter Templates You Need to Check Out!