Email marketing, especially a newsletter, when done right can bring significant interest and business to any size company. There are quite a few marketing channels available to marketers, from Facebook, Twitter, Instagram, and the list goes on…
However, email consistently leads the way as being the most preferable marketing method by both marketers and customers.
It's True…..
Contrary to popular belief, customers don't really hate email! They just hate getting too much of it. Especially when it's irrelevant content. An average person receives 121 mails per day . The whole human race send 293.6 billion emails per day.
According to radicati's report, in 2018, the majority of email traffic came from the business world, which accounted for over 124.5 billion emails sent and received per day. Yet, email marketing has one of the greatest ROI's $32 for every $ 1 spent compared to all the other marketing channels.
GetResponse newsletters are a great way to personalize!
As marketers, our job is to put out content that is relevant to the consumer and at the same time, do it in a manner that doesn't take up too much of our time. So what can a business do to make sure they are putting out the right content that not only gets a response but also urges the receiver to perform the intended action?
Studies show that marketers who are using personalization to make their emails more relevant are getting a 139% increase in click-through rates, and are generating 6x more sales from their campaigns. Cool right?
This personalization of newsletters, however, comes at a cost. Creating personalized newsletters take up a lot of time and effort, an asset that's hardly available to marketers.
Technology has done its part in making email marketing easier and effective, by producing a number of marketing solutions for every category of business. The best marketing tool will definitely depend on:
Your budget
Size of your list
Type of industry you are in and much more!
Using email marketing service like GetResponse can provide you the tools to make a newsletter, but it still requires a lot of time and work on your part to craft that perfect newsletter that makes your time spent 'worth it'.
Related : How to Turn Boring Plain Text Emails into Responsive Gmail Newsletters
Elink.io: The Ultimate tool for GetResponse newsletter templates
As fellow marketers, we decided to do something about reducing the time spent creating email newsletters! We came up with a tool that's already being called "every marketer's BFF"!
Elink.io is content curation and marketing tool that helps you create newsletters in minutes. Yes, you heard that right. Minutes!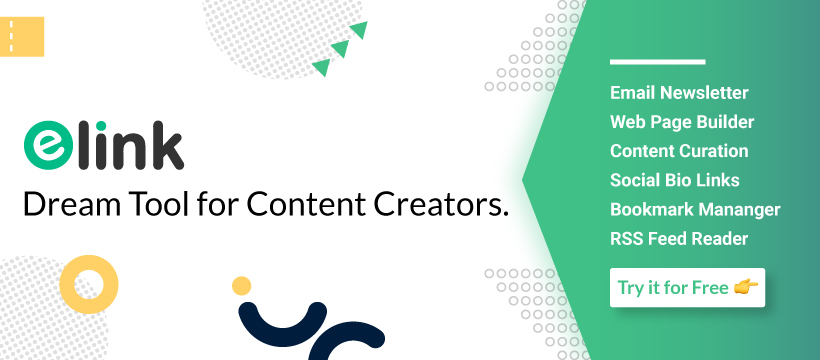 Just enter the links to the content you want to share as a newsletter and elink will generate a title, an image and a short description of each link. Give your newsletter some intro text and a header and bam! elink will pop out your newsletter's  HTML code that you can copy and paste into GetResponse.
The best part is, elink's templates are modern, responsive and as a result, look great on all devices!
Let's go through the steps of creating a newsletter in 5 minutes!
1. Select a template
You can either choose to build your elink press page from scratch or can use one of our awesome prebuilt press page templates. Either way, it's extremely easy to create a press page in minutes! Each template is responsive, so you don't have to worry about the appearance of your links on different devices with varying screen sizes. The best part is, you are not stuck with your layout. Come back at any time even and give it a new look. Even after it has already been published!
2. Add your links (videos, articles, product pages, etc)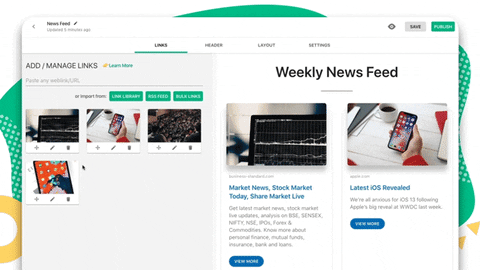 Next up, copy and paste links to the articles, videos, podcasts or other sources you want to share with your audience and elink will automatically generate an image, a title and a short descriptive text regarding each link. The best part is that you can change those titles and descriptions to make them SEO friendly and concise enough to get the viewer's attention. You can even change the link image by uploading a new one or zoom in or zoom out of the current image to display the best possible view.
You can even make use of elink.io's Chrome Extension to quickly add links to your newsletter quickly. It's a smart way to save relevant content across the web and start creating your newsletter as you go through your normal online life!
Step 3: Select Header and add a catchy image, title & introductory text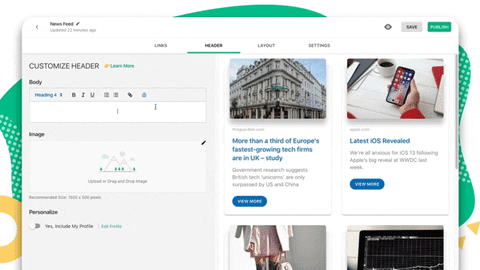 The first thing your subscribers are going to read is your title. Make sure you make it catchy and appealing enough. Give a title to your newsletter, add a header image and short introductory text. This is your opportunity to engage your audience and encourage them to read on.
Step 4: Choose over 30+layouts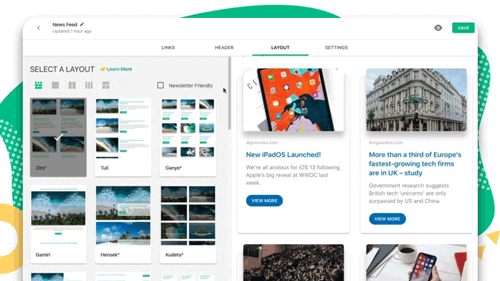 Choose from over 30+ finest layouts to suit your design and add your touch into it.
Step 5: Design and Customize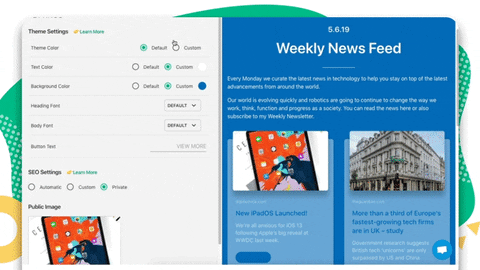 6. Publish & Export!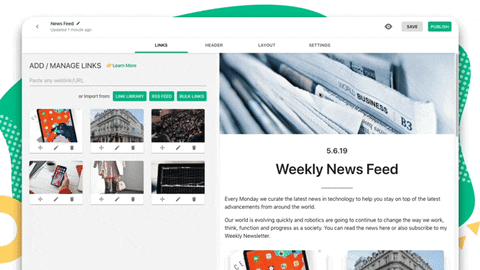 After publishing, go to your dashboard and select the newsletter button. Copy the HTML code and get ready to export your newsletter to GetResponse!
How to export the HTML to your GetResponse account?
In your GetResponse dashboard,

click on create newsletter.
Choose the HTML source editor option.
Paste your HTML from elink in the GetResponse editor. You can even preview your newsletter or send it as a test to yourself to make sure everything looks as intended.
Add all the recipients and schedule your newsletter for takeoff!



Congrats! You are now able to send an epic newsletter which looks good on all devices in a matter of minutes!
Share this hidden gem with your fellow marketers and enlighten them to the power of elink.io!
PS: If you don't use GetResponse, you can still send out visually appealing newsletters using Gmail, Constant Contact, ActiveCampaign or any other marketing service in minutes with elink.io!
Here is a quick video tutorial of how you can create a getresponse newsletter in elink.io:
Further reads:
Don't want to forget this information?