Email marketing, especially a newsletter, when done right can bring significant interest and business to any size company. There are quite a few marketing channels available to marketers, from Facebook, Twitter, Instagram, and the list goes on…
However, email consistently leads the way as being the most preferable marketing method by both marketers and customers.
It's True…..
Contrary to popular belief, customers don't really hate email! They just hate getting too much of it. Especially when it's irrelevant content. An average person receives 121 mails per day . The whole human race send 293.6 billion emails per day.
According to radicati's report, in 2018, the majority of email traffic came from the business world, which accounted for over 124.5 billion emails sent and received per day. Yet, email marketing has one of the greatest ROI's $32 for every $ 1 spent compared to all the other marketing channels.
GetResponse newsletters are a great way to personalize!
As marketers, our job is to put out content that is relevant to the consumer and at the same time, do it in a manner that doesn't take up too much of our time. So what can a business do to make sure they are putting out the right content that not only gets a response but also urges the receiver to perform the intended action?
Studies show that marketers who are using personalization to make their emails more relevant are getting a 139% increase in click-through rates, and are generating 6x more sales from their campaigns. Cool right?
This personalization of newsletters, however, comes at a cost. Creating personalized newsletters take up a lot of time and effort, an asset that's hardly available to marketers.
Technology has done its part in making email marketing easier and effective, by producing a number of marketing solutions for every category of business. The best marketing tool will definitely depend on:
Your budget
Size of your list
Type of industry you are in and much more!
Using email marketing service like GetResponse can provide you the tools to make a newsletter, but it still requires a lot of time and work on your part to craft that perfect newsletter that makes your time spent 'worth it'.
Related : How to Turn Boring Plain Text Emails into Responsive Gmail Newsletters
Elink.io: The Ultimate tool for GetResponse newsletter templates
Step 1: Choose a Newsletter Template
The coolest thing about elink is that you don't have to worry about all the tricky design rules. With elink's stunning newsletter templates, you're already way ahead when it comes to designing.

Now, here's what you need to do: choose a template and customize it the way you want. We've quite a splendid collection to choose from, so take your time to find the one that fits your needs the best.
By the way, you can also create a newsletter from scratch. It's totally up to you.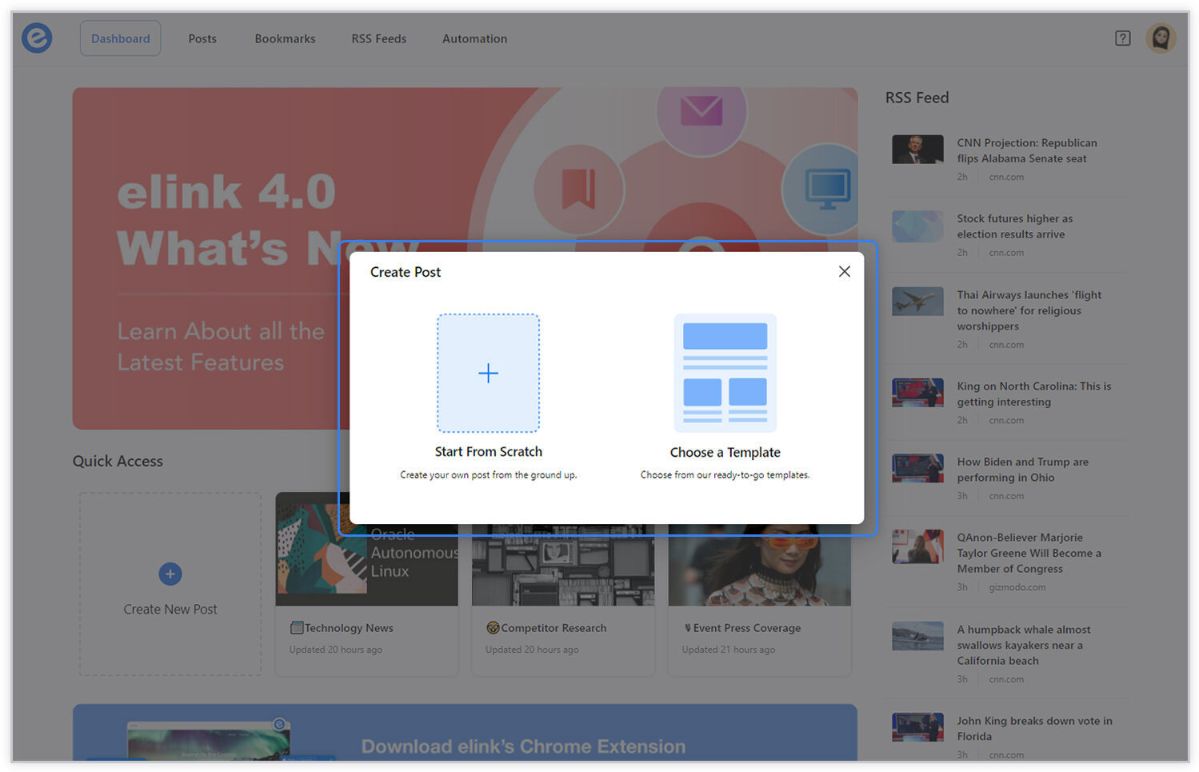 Step 2: Add Links to the Newsletter
Here comes the fun part. You can add links to the content (articles, videos, products, etc.) that you want to show up in your GetResponse newsletter.
elink is so robust that it will automatically generate an image, a title, and a short description with each link. Of course, you can modify and customize any of this information if you want.
elink is also an RSS reader and a bookmark manager so you can quickly select your preselected links directly from the link library or the RSS feeds or enter them manually.
Step 3: Add Header
We know that a compelling email header design decides whether the reader would read your entire newsletter or bail on it. That's why we've given you the option of designing your header body the way you want.
You can add images, text, bullet lists, numbered lists, buttons, social icons, and dividers in your header body. elink even lets you choose from over 6 font sizes for your header body.
What's more? You can also use elink's Canva integration and design an eye-catching banner directly in elink.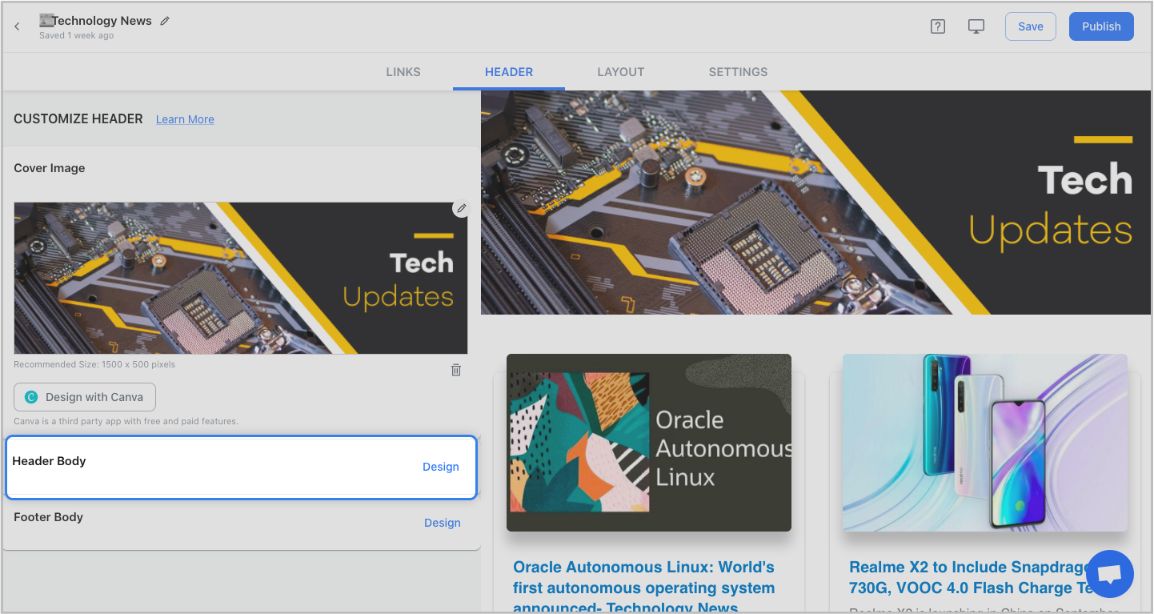 Step 4: Add Footer
An email footer is a place where the recipients would look for details about your brand. It is a place for transparency, clarity, and good design – exactly what elink provides.
You can add images, text, bullet lists, numbered lists, buttons, social icons, and dividers in your footer. Moreover, you can link the social icons with your own social media accounts in seconds.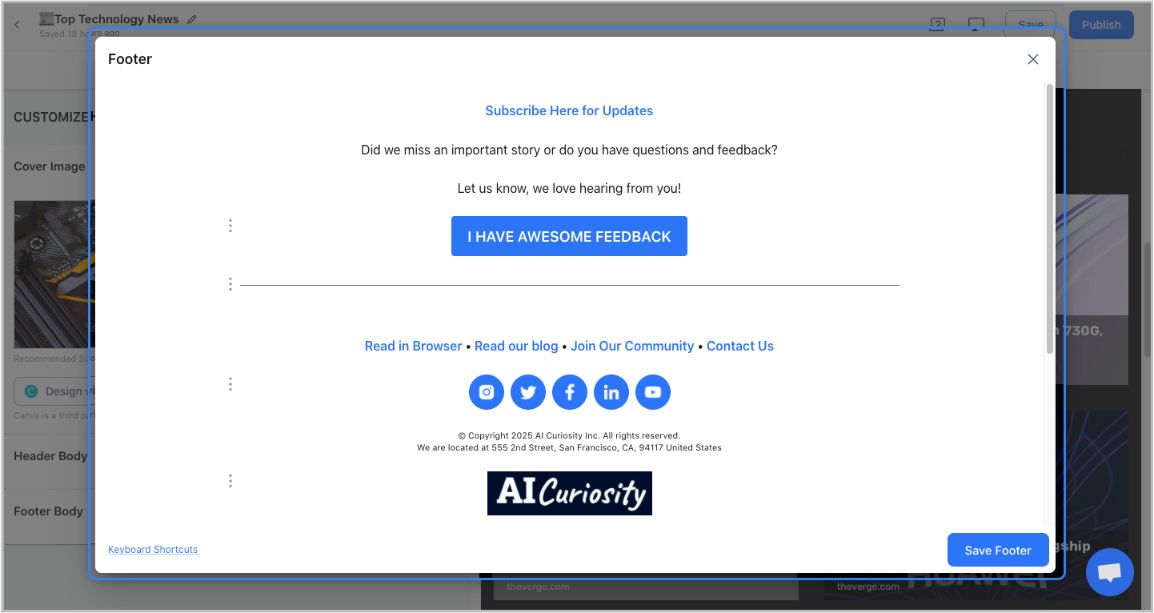 Step 5: Choose a Layout for your links:
Just jump right in and don't worry about wasting valuable time designing the layout of your GetResponse newsletter. elink has already done all the heavy lifting for you. You can choose your favorite layout from all the different options with a simple click of a button and elink will change the formatting of those tiles to your chosen style.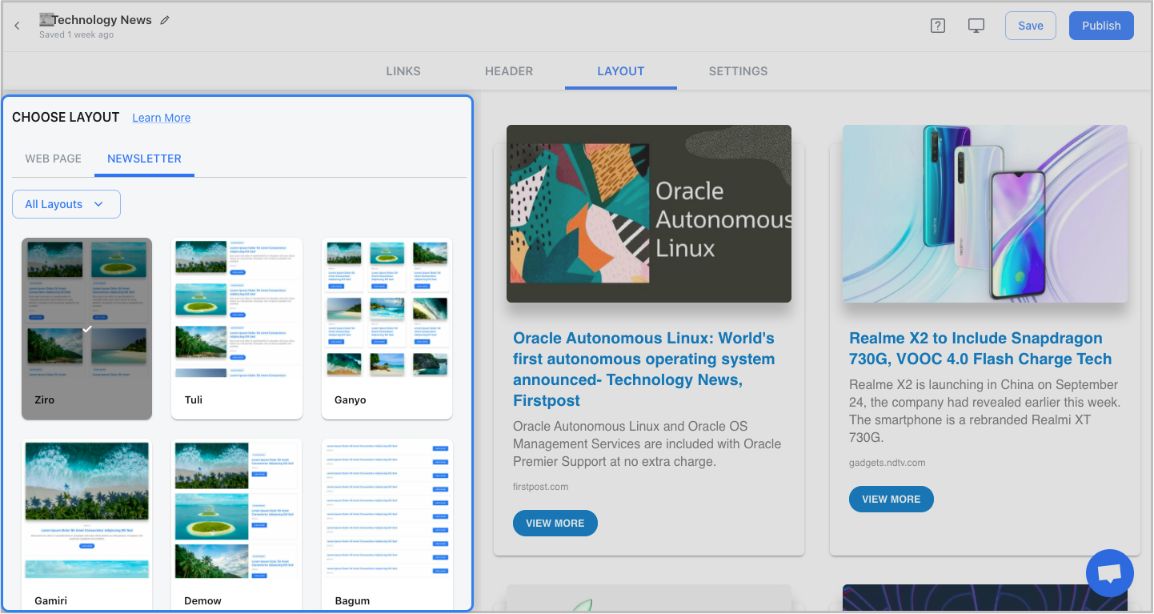 Step 6: Design and Customize
You'll get a perfect combination of colors in our templates. But, if you want to change the colors, you can do that too. Apart from that, you can also customize the font styles, button text, and more – in just a few clicks.
One of the most robust features of elink is that you can even add a search bar if you are adding a bunch of links such as resources etc.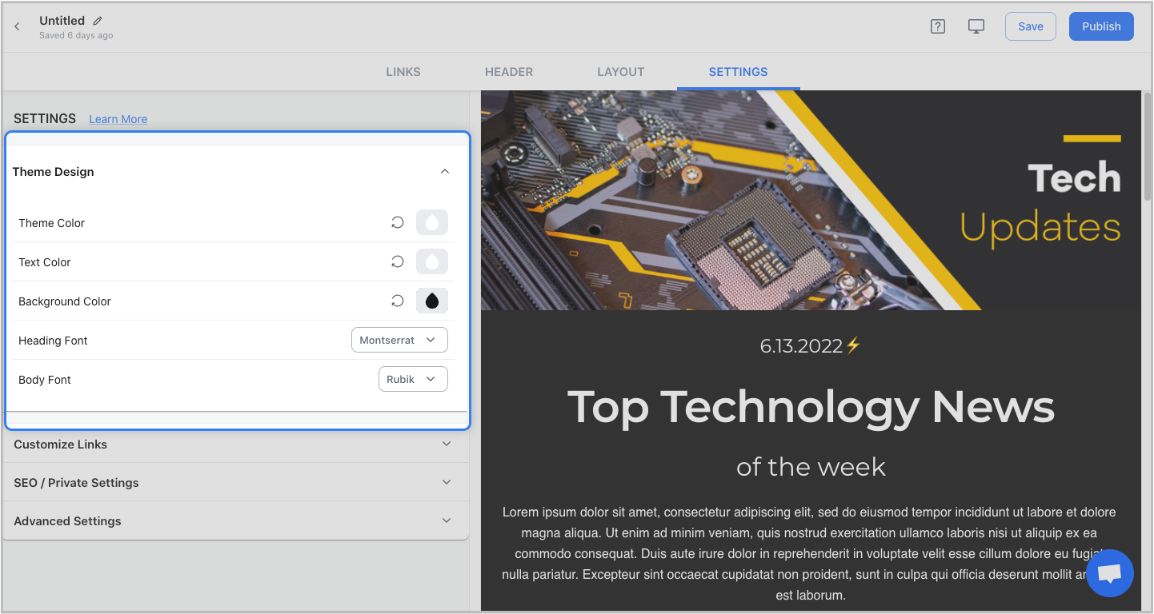 Step 7: Share Your Newsletter
Yay! You've now created a stunning GetResponse newsletter that is ready to be shared with the world. Now, hit the 'Publish' button on the far right corner of the screen, and a pop-up will appear, allowing you to customize your content URL.
Once you have customized the URL, another popup will appear where you need to select the 'newsletter' option. From there, you can share your masterpiece via Gmail, Mailchimp, or any other third-party email marketing tools like Get Response, Mailchimp, etc.!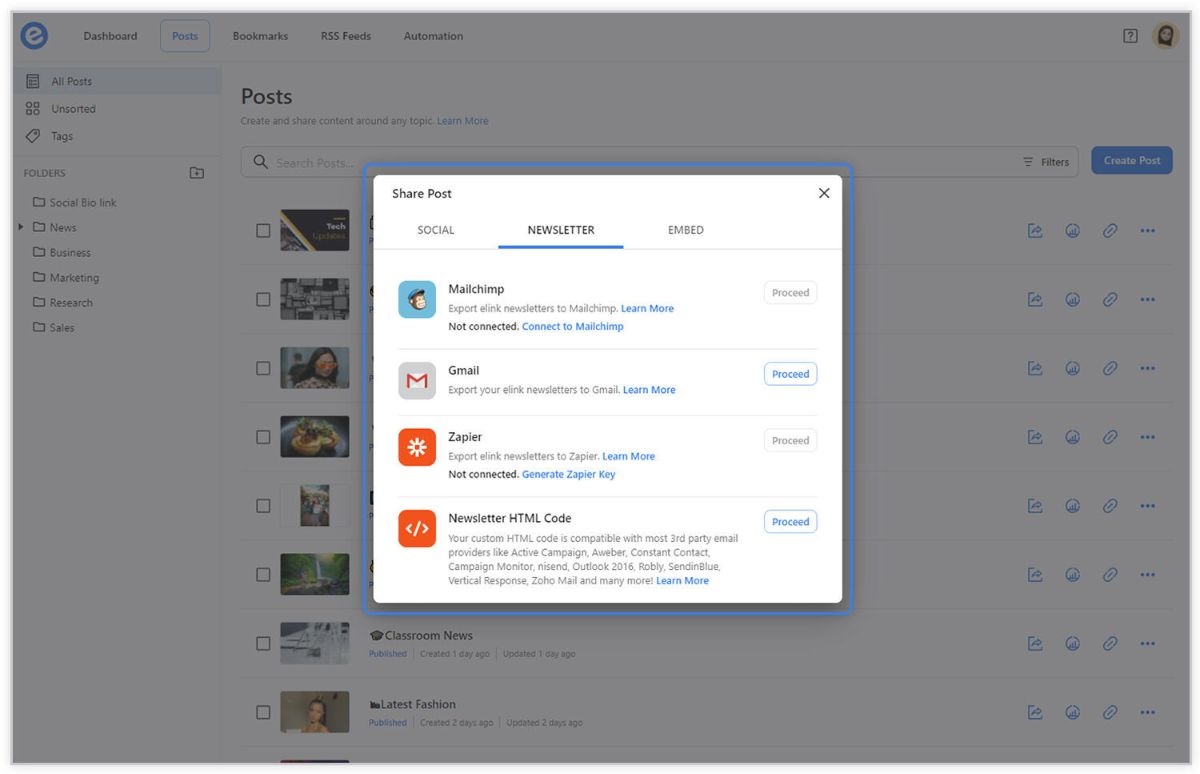 Here is a quick video tutorial of how you can create a getresponse newsletter in elink.io:
Further reads:
Don't want to forget this information?