Let's take a look at some of the best looking real estate email templates that will definitely help you close more.
According to a report from the National Association of Realtors, among ALL generations of home buyers, the first step in the home buying process is looking online for properties for sale.
Well, surprise surprise! People don't want to get out of their house, drive around and look for "for sale" signs anymore. They want to search their dream home while lounging on their couch scrolling through their iPads or during their lunch breaks at the office.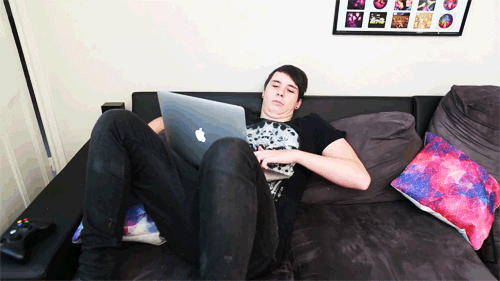 For real estate companies and agents, this means that your internet marketing efforts are crucial to the success of your business. You can no longer play hardball with social media or try to avoid the internet altogether.
Like it or not, it is one of the most crucial paths to your professional success and you need to deploy serious online strategies and tactics to win.
YOUR BIGGEST MARKET IS ON THE INTERNET!
That's right. At 35%, millennials are the largest share of home buyers, a share that has grown consistently over the last 4 years. If you are unaware, millennials are considered the generation born from the early 1980's into the early 2000's and range in age from 18-36. Which means that there's a whole new generation of people who are ready to move out of the parent's house and are looking for their dream home.
Even though it's a good thing for realtors to have such a huge percentage of people looking for homes to buy, the millennials are also one of the toughest generations to market to. Being a part of the digital revolution, millennials are no longer swayed by traditional media like television, radio or print. This means those print ads on a newspaper shouldn't be primary way you do your marketing.
To market to millennials, real estate agents need to be where their audience is- the internet. According to polling by Ipsos, the average millennial with a household income of at least $100,000 spends 53 hours per week online. That's a lot of hours dedicated to a single activity!
If you want to get the attention of your target audience, its imperative that you start rebuilding your strategies catered towards the internet generation!
BUT WHERE DO I EVEN BEGIN?
We know this new paradigm shift can be overwhelming. We are not asking you to forget all your real estate knowledge or take it behind the barn. The knowledge is still as useful as it was earlier. What is changing is the medium to deliver that knowledge to the right people.
One of the best places for real estate agents to start with their digital marketing efforts is email. Email is the fastest way to modernize your approach towards pitching and closing deals and gaining healthy returns. Email marketing can help realtors in many ways:
Email allows realtors to reach out to a large audience base quickly.
Helps convert prospects into clients by sending emails on a timely basis with the help of drip campaigns.
Help get new leads and referrals by embedding subscription forms on websites or blogs.
Make smarter decisions and optimize strategy based on campaign stats and reporting.
EMAIL – YOUR NEW BEST FRIEND
According to a study by McKinsey, Email is 40 times more effective at acquiring new customers than Facebook or Twitter. 40 TIMES! Email marketing is one of the most cost-effective marketing mediums for every size business.
It has been shown that mail marketing yields an incredible 4,300 percent return on investment for businesses?!!
That is equivalent to $44 ROI for every dollar spent!
It is about time that realtors leverage this massive opportunity provided by email and gain the attention of their target audience. That place happens to be on their audience's smartphones!
THE RIGHT WAY TO SEND EMAILS
By now your mind is probably overflowing with all kinds of ways email newsletters will change the way you reach out to prospects and clients.
But let's take a pause here and evaluate what you know about email. If you have ever sent an email to a prospect or client or anyone for that matter, we bet your email would've looked something like this:
You may ask "what's wrong with this email?" and the answer is everything!
You see, people on an average receive 121 emails per day. The human race as a whole gets 193.3 billion emails every single day!! If you are planning to send the email that looks exactly like any other promotional email, how are you going to get your prospect's attention?
The best way to capture their attention is to stand out through design. The stats are there to prove it, as according to Adobe, two-thirds of people would rather read something beautifully designed than something plain. 
When it comes to real estate, nothing beats visuals. If you cannot show pictures of great looking houses in your email, what's the point of even sending an email? Real estate is all about the visual appeal of properties.
You don't need to settle on an e that includes plain text and hyperlinks. No more settling!
Imagine, if you took nearly the same amount of time that you took to create a plain text email template and turned it into a visually appealing email newsletter that looked something like this?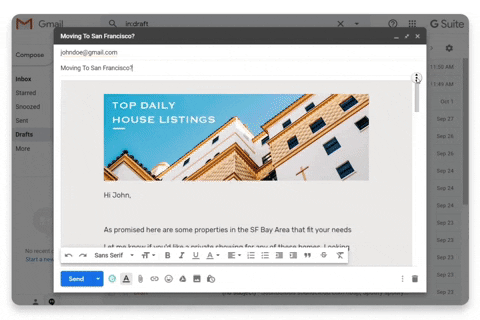 You're sharing the exact same information, but instead of sharing a bunch of boring text and hyperlinks, you've transformed that information into a professional customized email to engage your customers and clients.
I would bet you're feeling a bit of enthusiasm here!
So without further ado, let's get straight into the process of creating awesome looking and professional real estate email templates in under 5 minutes!
The fastest and easiest way to send email newsletters is through elink.io.
elink.io is web app that allows anyone to send beautifully looking and responsive newsletters in minutes!
elink.io works by letting users choose a newsletter template and simply add the web links to the content they want to share as a newsletter! It can be web links to websites, articles, videos, cloud based documents and much more.
elink automatically converts those web links into visual blocks with a picture, title, and a short description. You can add a header, some intro text, your company logo and/or tagline and hit submit. It's that easy!
With a total of 17 mobile-responsive and aesthetically pleasing real estate email templates, you will never run out of ideas on how to make your newsletter stand out. You can test different designs to figure out which template your audience prefers the most.
Let's explore each of these 17 real estate email templates and help you choose the one that fits your needs!
Real Estate Email Newsletter Template #1: Ziro
Real Estate Email Newsletter Template #2: Tuli
Real Estate Email Newsletter Template #3: Demow
Real Estate Email Newsletter Template #4: Legian
Real Estate Email Newsletter Template #5: Gamiri
Real Estate Email Newsletter Template #6: PhiPhi
Real Estate Email Newsletter Template #7: Semniyak
Real Estate Email Newsletter Template #8: Nova
Real Estate Email Newsletter Template #9: Arie
Real Estate Email Newsletter Template #10: Samui
Real Estate Email Newsletter Template #11: Samui-X
Real Estate Email Newsletter Template #12: Sanur
Real Estate Email Newsletter Template #13: Chang
Real Estate Email Newsletter Template #14: Tao
Real Estate Email Newsletter Template #15: Lathao
Real Estate Email Newsletter Template #16: Keya
Real Estate Email Newsletter Template #17: Phuket
Real Estate Email Newsletter Template #18: Phuket-X
Real Estate Email Newsletter Template #19: Krabi
Real Estate Email Newsletter Template #20: Krabi-X
Real Estate Email Newsletter Template #21: Kuta
HOW TO USE THESE TEMPLATES IN YOUR GMAIL
Just follow these simple steps to use these real estate email templates in your Gmail account to send out newsletter quick and easy.
Go to elink.io and make an account. It's super easy to set-up and costs only 15-cents day!
Select any of the 17 templates for your email. Choose the best email newsletter template with images to share with your audience. Don't worry; you can come back any time to update your layout. Yes, even after you have published your newsletter!
Add the links you want and elink will automatically generate a picture and a short description of the link, making it visually appealing!
Give your email newsletter a title that's catchy enough to grab your audience's attention from the get-go! We recommend choosing the "Header 1" template to add a visual banner and short description of what the content is about. Format the text to make sure your audience does not miss out on any important information.
You can even personalize your email newsletter by adding your brand logo and tagline.
Hit publish. You'll come to your dashboard that shows your published content. Click on the newsletter button, and from there you can integrate with your Gmail account or nearly any other third party email provider. elink will send over your email newsletter as a draft to your Gmail account. From there you can send it off to your clients!
These real estate email templates allow you to send out professional looking emails and newsletters quickly and easily. Spend more time closing more deals and wow your prospects with an amazing looking email with elink.io!
Which one of these real estate email templates is your favorite? Comment below and let us know!
Don't want to forget this information?
Pin it for future reference!